Minneapolis and NYC Rally in Solidarity With Portland Shooting Victims
Minneapolis, MN – A politically motivated mass shooting of five people during an Amir Locke march in Portland left Brandy "June" Knightly, a 60-year-old advocate for the vulnerable, dead. Two days after the act of domestic terrorism, solidarity rallies were held across the country, including Minneapolis and Brooklyn.
Content Advisory: Violence, Death
Portland Mass Shooting – February 19, 2022
The Portland mass shooter has been identified as 43-year-old Benjamin Jeffrey Smith who went by "Polybun" on the internet. Smith is a known alt-right wing extremist and was a member of the counterculture "furry" community before being ostracized for his violent views.
According to his roommate of seven years, Smith "talked about wanting to shoot people all the time, how much he hated Antifa and Black Lives Matter" and that he wore a t-shirt that read "Kyle Rittenhouse true patriot." In the time leading up to the mass shooting, his roommate said Smith's anger was worsening.
Social media accounts owned by Smith show that he follows far-right agitator and 'news performer' Andy Ngo, while widespread Twitter conversations link Ngo's disinformation-laden content as a factor in radicalizing Smith.
The night of the shooting, Benjamin Smith is said to have threatened a group of women who were voluntarily providing traffic safety, calling them "terrorist c*nts" before shooting five of them.
June Knightly, also known as T-Rex, was killed and four others injured by Smith's bullets, one of them paralyzed from the neck down. The other four injured are expected to survive.
Smith was shot in the hip by a protester who returned fire on him, preventing him from shooting others. He's expected to survive. Smith is under police detention in the hospital and faces nine charges including one count of second degree murder with a firearm.
In a narrative war similar to how the police operate when they inflict violence on someone – Smith, the shooter, was initially lauded as a "homeowner" and the victims were demonized in the initial reports run by mainstream media repeating police reports – misleading the public to believe the shooting was from a mutual confrontation with a homeowner.
Background
The February 19 gathering that Smith perpetrated the mass violence at was a protest seeking justice for Amir Locke. 22-year-old Locke who was killed by Minneapolis Police on February 2 during the execution of a no-knock warrant.
A flyer posted to social media featured an image of Amir Locke and called for a gathering on Saturday, February 19, at Normandale Park in Portland to stand in "Solidarity with MPLS" and called for "Justice for Amir Locke" and "Justice for Patrick Kimmons and all others."
Another flyer with the same language featured an image of Daunte Wright and had the text "Justice for Daunte Wright." A few hours before the 8 p.m. march, Kim Potter, the former police officer who killed Wright during a traffic stop in 2021 was given a 24-month prison sentence.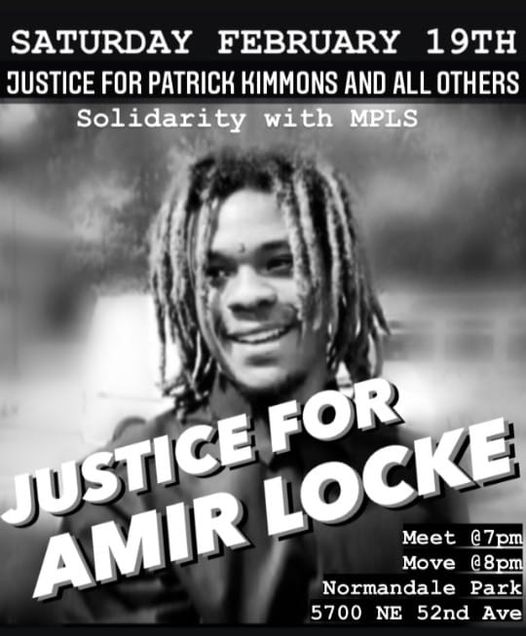 Kimmons was 27 when he was killed by Portland Police in 2018. His mother Letha Winston has been involved in organizing since her son was killed and holds weekly protests. She was present at the park when the mass shooting took place. Winston spoke at length about the mass shooting in an Instagram live post on February 22.
Protests for racial justice and against police in Portland have been incredibly frequent over the last years. Following the police murder of George Floyd in Minneapolis in May 2020, Portland saw anti-police protests for 104 straight days/nights and nearly everyday from September 2020 until Summer 2021.
Shortly before the mass shooting by Smith on February 19, Portland Police Officers Zachary Kenney and Reynaldo Guevara killed a man in Southwest Portland. Portland Police killed four people total in 2021 and shot a total of eight.
For generations the state of Oregon has been host to a wide variety of some of the most explicit and violent white supremacist organizations in the U.S. Portland, the state's largest city, has seen a sharp rise in appearances by far-right extremist groups such as Patriot Prayer and the Proud Boys. Their actions have produced dozens of injuries, arrests, and several deaths.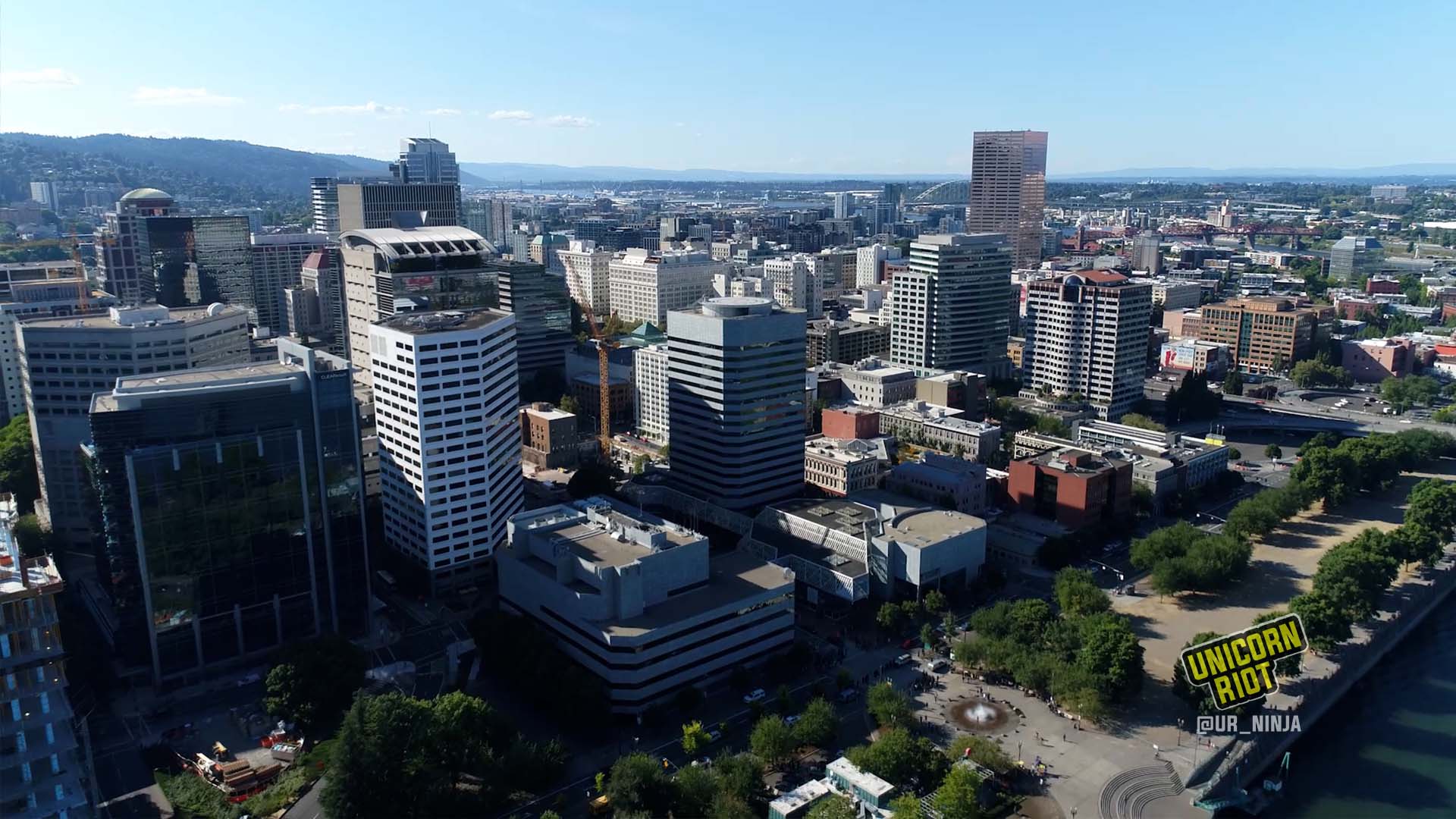 Solidarity Rallies Held in Minneapolis and Brooklyn
Two days after the mass shooting, a few dozen people in Minneapolis braved frigid temperatures and held a rally to stand in solidarity with the victims. Unicorn Riot was live on the evening of February 21 outside the Hennepin County Government Center.
Organized and emceed by Monique Cullars-Doty, the Aunt of Marcus Golden who was killed by St. Paul Police in 2015, the Minneapolis rally featured two other speakers aside from Cullars-Doty before dispersing.
Cullars-Doty spoke about respecting Portland's protest history, saying they've "consistently and regularly stood with the Twin Cities when it comes to the police homicides and Portland goes hard." She said she felt it was important that the Twin Cities showed that solidarity back to Portland and mentioned Patrick Kimmons being killed by Portland Police and gave props to his mother for organizing.
Two other participants spoke during the rally about showing solidarity with Portland and that Minneapolis has had to deal with it's own rash of violence against protesters.
Since the movement for Black lives started, over a dozen car attacks on protests have occurred in the Twin Cities. This includes a deadly attack in Uptown Minneapolis by Nicholas Kraus that killed Deona Marie and injured others as they protested for Winston Smith, who was killed by a federal task force in June 2021.
Back in 2015, neo-Nazi Allen Scarsella shot five protesters seeking seeking justice for Jamar Clark while outside of the 4th Police Precinct.
Present at the scene when Deona Marie was killed, a young protester named Aria spoke to the crowd about the trauma that she and her friends now have to deal with following the deadly attack.
Aria said it said her and the protesters were "building community" when they were attacked while playing volleyball (with a ball Aria had in her car). She said it was important to build community so that when protests are attacked, people know who they are surrounded by, "so that you can work together to potentially save the lives of others."
"Until the systems of white supremacy and capitalism in this country go down, nothing else will go down, and we're gonna keep coming out. So fighting in those arenas against capitalism and white supremacy is how we're gonna stop having to come together under these horrible circumstances. Solidarity with Portland."

Aria, speaking during Minneapolis to Portland Solidarity Rally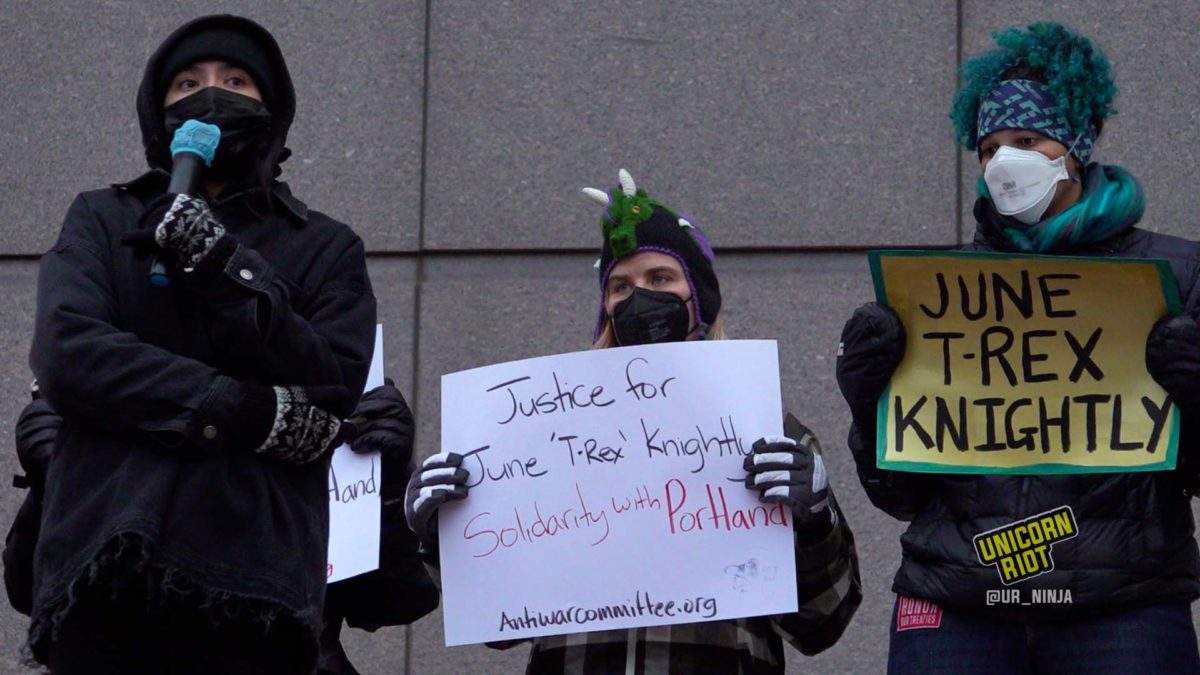 The same night, February 21, New Yorkers also gathered to honor and support Portland and the victims of the attack on the antifascist and antiracist march.
According to contributor Andy Ratto, after an anonymous announcement was posted Sunday on social media, around 50 anarchists and other leftists met at 6 p.m. in Herbert Von King Park in Bed Stuy, Brooklyn to mourn and hold space.
Banners were placed around the area with messages including "Mourn the Dead – Fight Like Hell for the Living" and "For our dead and disappeared – not a moment of silence but a lifetime of struggle."
The crowd spent the evening mingling, making new connections, listening to music, sharing zines, and lighting candles around a small fire in the park. At one point, the Parks Department and the NYPD entered the area and demanded that the fire be put out, but attendees refused and the police left. An American flag was burned in the fire.
A vigil and memorial has been managed for the last week at Normandale Park in Portland. A GoFundMe that's been put together to "cover expenses for our wounded and fallen comrades" has raised over $138,000 as of February 24.
---
Follow us on X (aka Twitter), Facebook, YouTube, Vimeo, Instagram, Mastodon, Threads, BlueSky and Patreon.
Please consider a tax-deductible donation to help sustain our horizontally-organized, non-profit media organization: