Palestinians Killed While Resisting Israeli Forces in Silwad Led to More Protests
Silwad, Occupied West Bank, Palestine – On April 14, 2022, Omar Muhammad Alyan, age 20, was killed during confrontations with Israeli occupation forces who stormed Silwad, a town east of Ramallah in the Occupied West Bank. Alyan was one of three Palestinians killed in the West Bank that day during Israeli incursions, including lawyer Mohammed Assaf, 34, in Beita and 16-year-old Qusay Hammareh in Husan. City-wide strikes and confrontations followed Alyan's funeral.
Israeli forces entered Silwad with troop carriers, army reinforcements, special forces, and Shin Bet intelligence agents as they surrounded houses of resistance fighters in the 'Ras Ali' area. The Israeli operation was reportedly organized to capture a man named Ahmed Al-Shabrawi, accused by occupation authorities of participating in the killing of an Israeli settler in 2015.
During the incursion, resistance fighters opened fire at Israeli forces and dozens of young men threw stones and Molotov cocktails at their vehicles. Several youth were shot with live bullets by Israeli forces and as noted, Alyan died from his injuries during confrontations.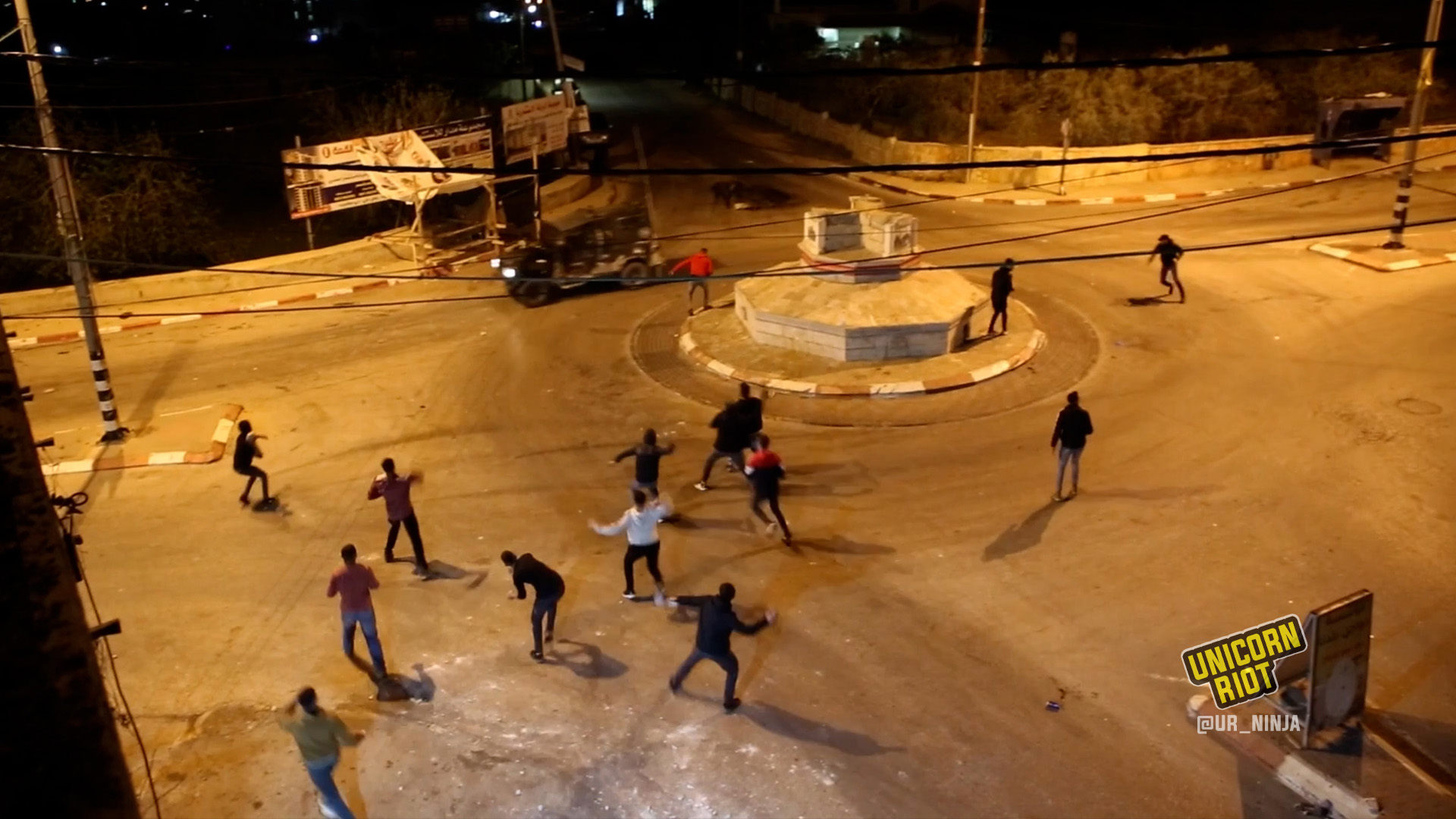 The next day, Unicorn Riot covered the funeral for Alyan, who was shot in the chest by Israeli forces. We heard from his uncle, Jamil Abu Kweik. Kweik said his message to the Israeli occupiers was to "leave our lands."
"You must leave our lands. This is our message to the occupation, leave our land, leave our land. Every day we have martyrs, the wounded and the prisoners. And for every action there is a reaction. Violence begets violence and persecution begets persecution."

Jamil Abu Kweik, uncle of Omar Muhammad Alyan
After taking a farewell look at Alyan's body, the funeral procession took off from his family's house. Mourners then packed the streets of the town, chanting slogans against the Israeli occupation. In an atmosphere of sadness, mourners performed the funeral prayer at Silwad Elementary Boys School, then the procession continued on to the burial site where they buried Alyan.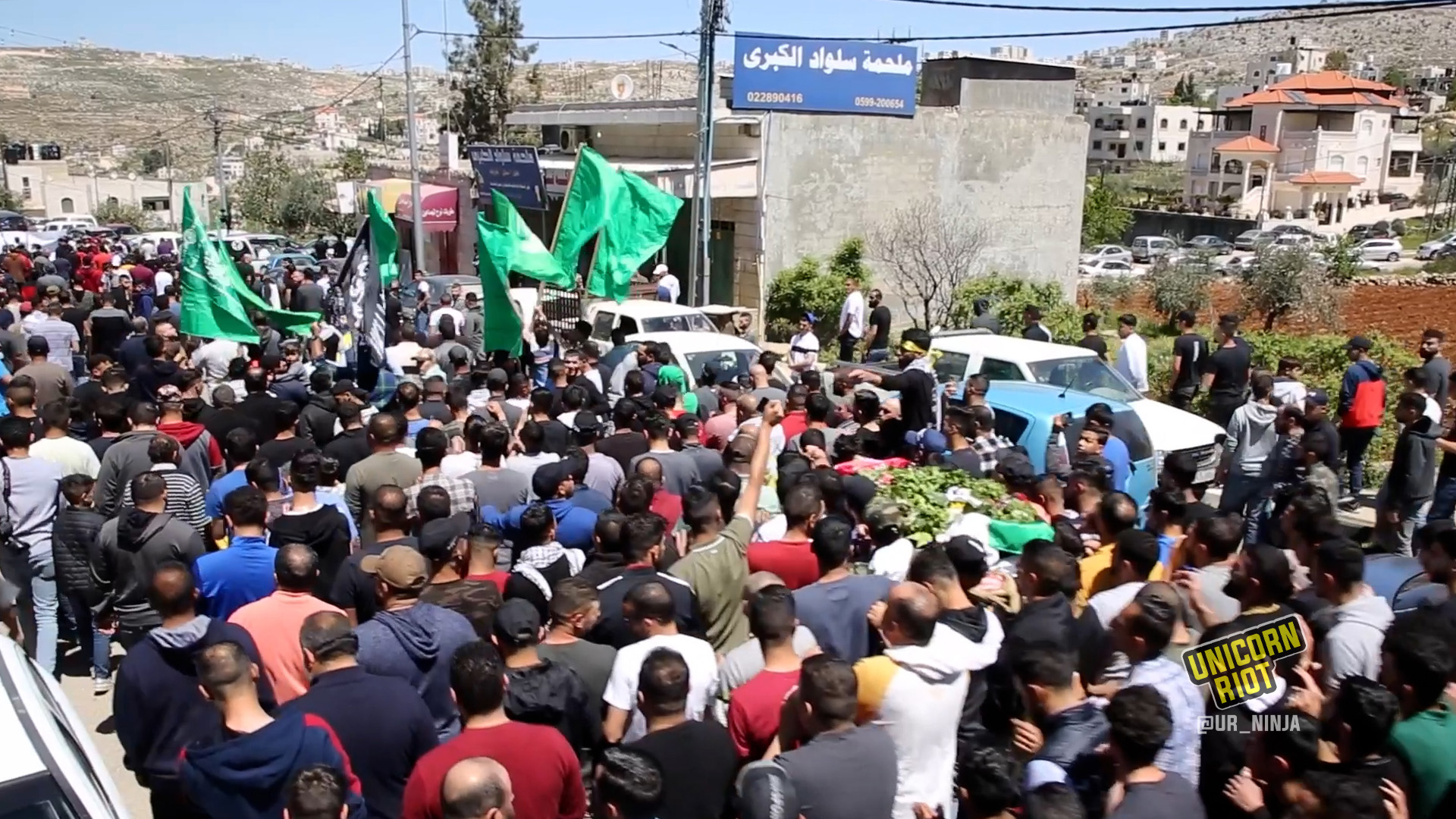 Also on April 14 in Jenin, two other Palestinians were killed by Israeli forces, Mustafa Abu al-Rub and Shas Kammaji. To mourn the five Palestinians killed on that day, general strikes occurred in Ramallah, Al-Bireh and Bethlehem. The strikes included all aspects of commercial life, and the public and private sectors, including educational institutions in the Ramallah and Al-Bireh governorate.
After the funeral, confrontations occurred between local youths and the Israeli occupation forces at the Beit El checkpoint, near Ramallah. Palestinians lit burning tires as the Israeli army threw tear gas canisters from behind concrete blocks on the hills to disperse the demonstrators.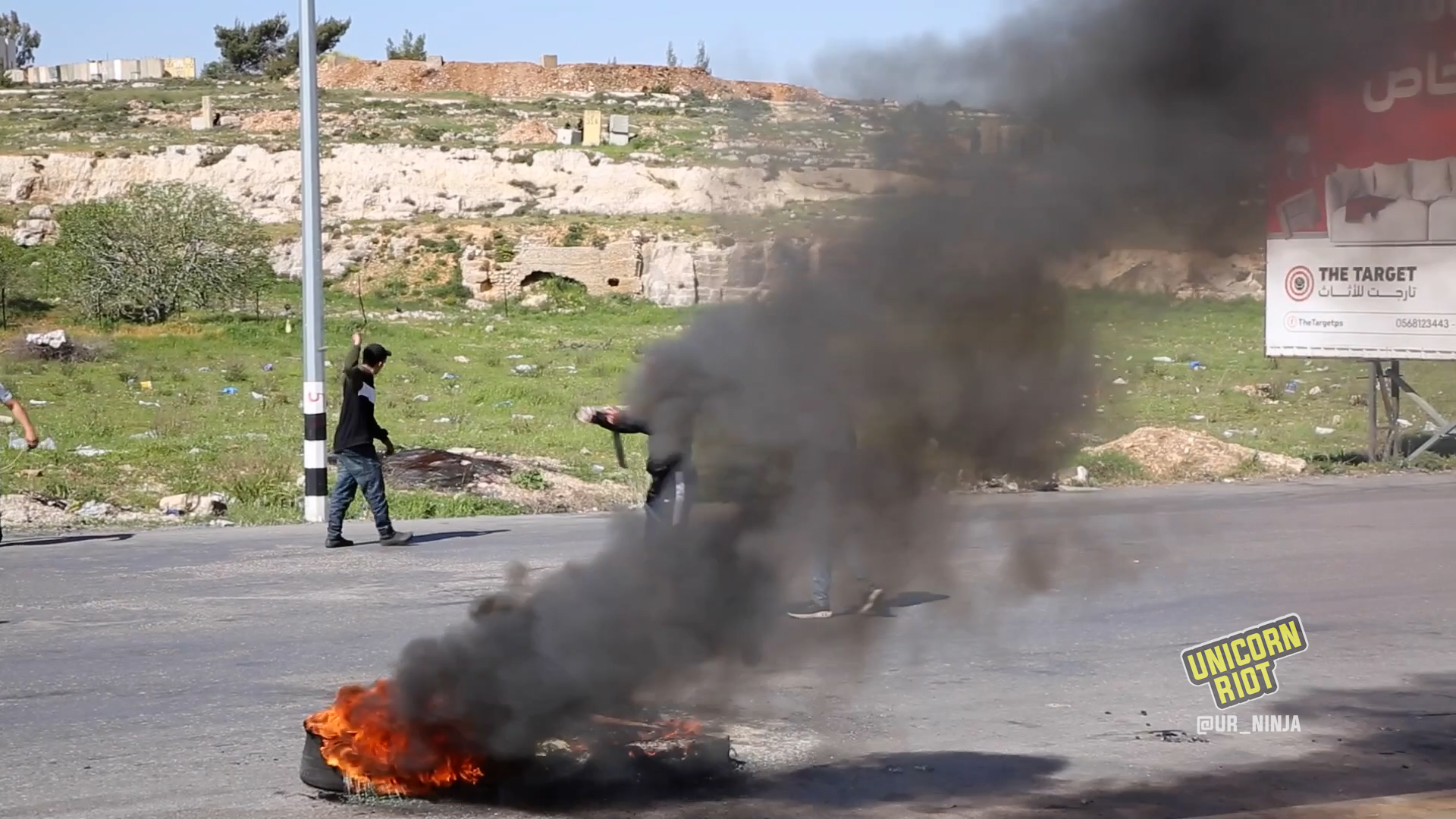 Unicorn Riot's Coverage from Palestine:
---
Follow us on X (aka Twitter), Facebook, YouTube, Vimeo, Instagram, Mastodon, Threads, BlueSky and Patreon.
Please consider a tax-deductible donation to help sustain our horizontally-organized, non-profit media organization: