Last Friday Prayer of Ramadan at Al-Aqsa Draws 160K Despite Strict Measures by Israeli Forces
Old City, Occupied East Jerusalem, Palestine – At least 160,000 people gathered at Al-Aqsa Mosque on April 29 to perform the last Jummah Friday prayers of Ramadan 2022. After an early morning storming of Al-Aqsa by Israeli forces left dozens injured, and despite strict security measures preventing freedom of movement and access to the mosque, masses of worshippers gathered for prayer.
After the Fajr dawn prayer on Friday morning, Israeli forces attacked worshippers, storming the mosque's courtyard from the side of Mughrabi Gate.
The Palestine Red Crescent Society, a humanitarian organization that provides frontline medical services, said that 42 worshippers at Al-Aqsa were injured by Israeli forces shooting rubber bullets and tear gas. Red Crescent Society also confirmed that one of their medics was beat by Israeli forces who initially prevented medic crews from entering Al-Aqsa Mosque.
In the morning, Israeli forces deployed iron barriers at various alleyways of the Old City and checked the identities of the citizens entering Al-Aqsa Mosque and Old Jerusalem, preventing hundreds of citizens under 45 or those who hold permits from entering, even beating and arresting some.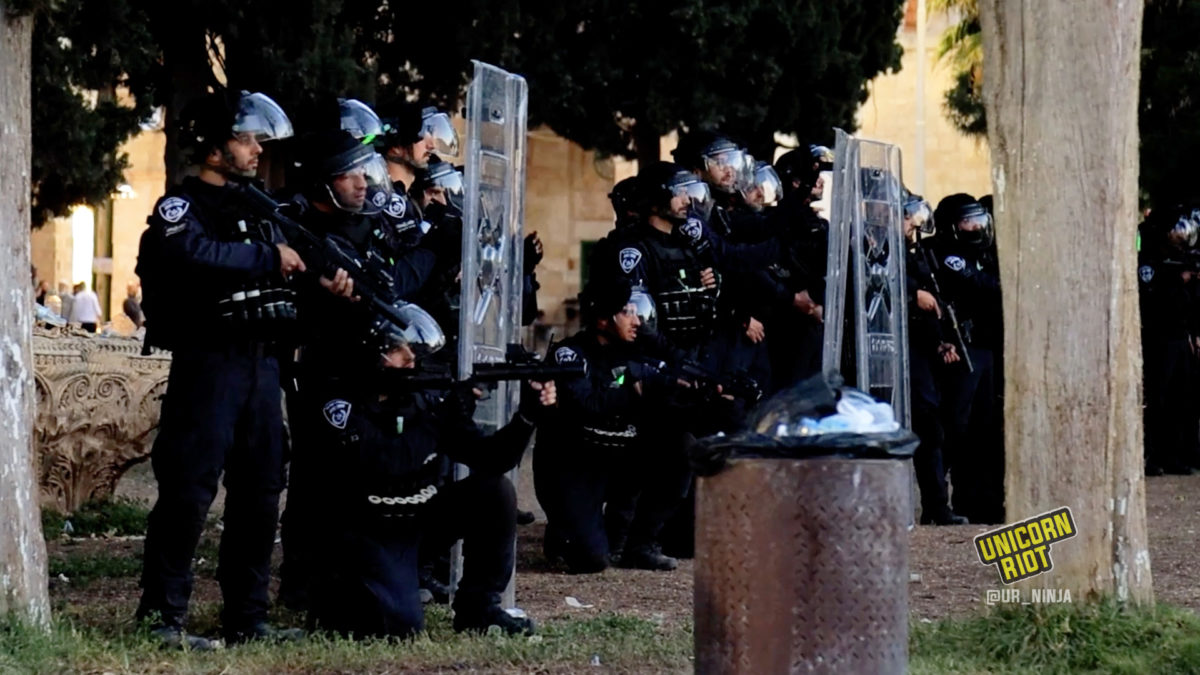 At the Qalandia checkpoint, north of Occupied Jerusalem, Israeli forces assaulted a number of young men who tried to enter the city to perform prayers at Al-Aqsa, before arresting them.
Despite Israeli violence and strict measures against movement in Jerusalem, over 160,000 people reached Al-Aqsa from across occupied Palestine, West Bank, and Jerusalem to perform prayers.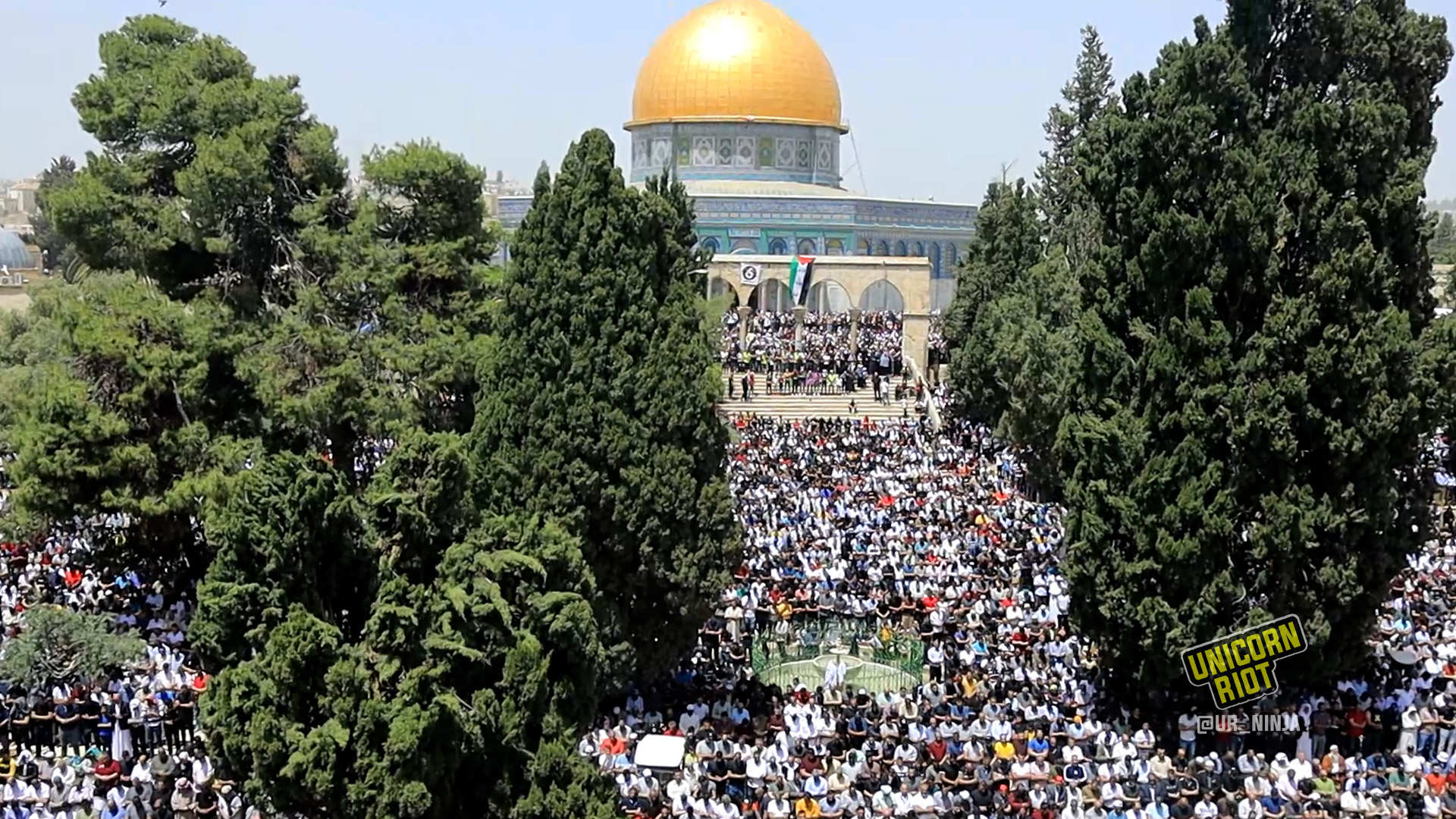 Worshippers Saed Anas and Khader Berish expressed to Unicorn Riot their thoughts on the importance of Al-Aqsa and a gratefulness for being able to make the journey to pray during such a holy time and despite the Israeli measures to restrict their ability.
"Al-Aqsa Mosque is not only for Palestine, rather, it's for the Arab and Islamic nation and the whole world."

Khader Berish, worshipper at Al-Aqsa Mosque
In the afternoon, worshippers and those gathered in the courtyard of Al-Aqsa chanted slogans like "I swear to God, the Most High, the Great, that we protect the blessed Al-Aqsa Mosque."
With temperatures topping out at 87 degrees Fahrenheit, worshippers were doused with water hoses later in the afternoon by Red Crescent members.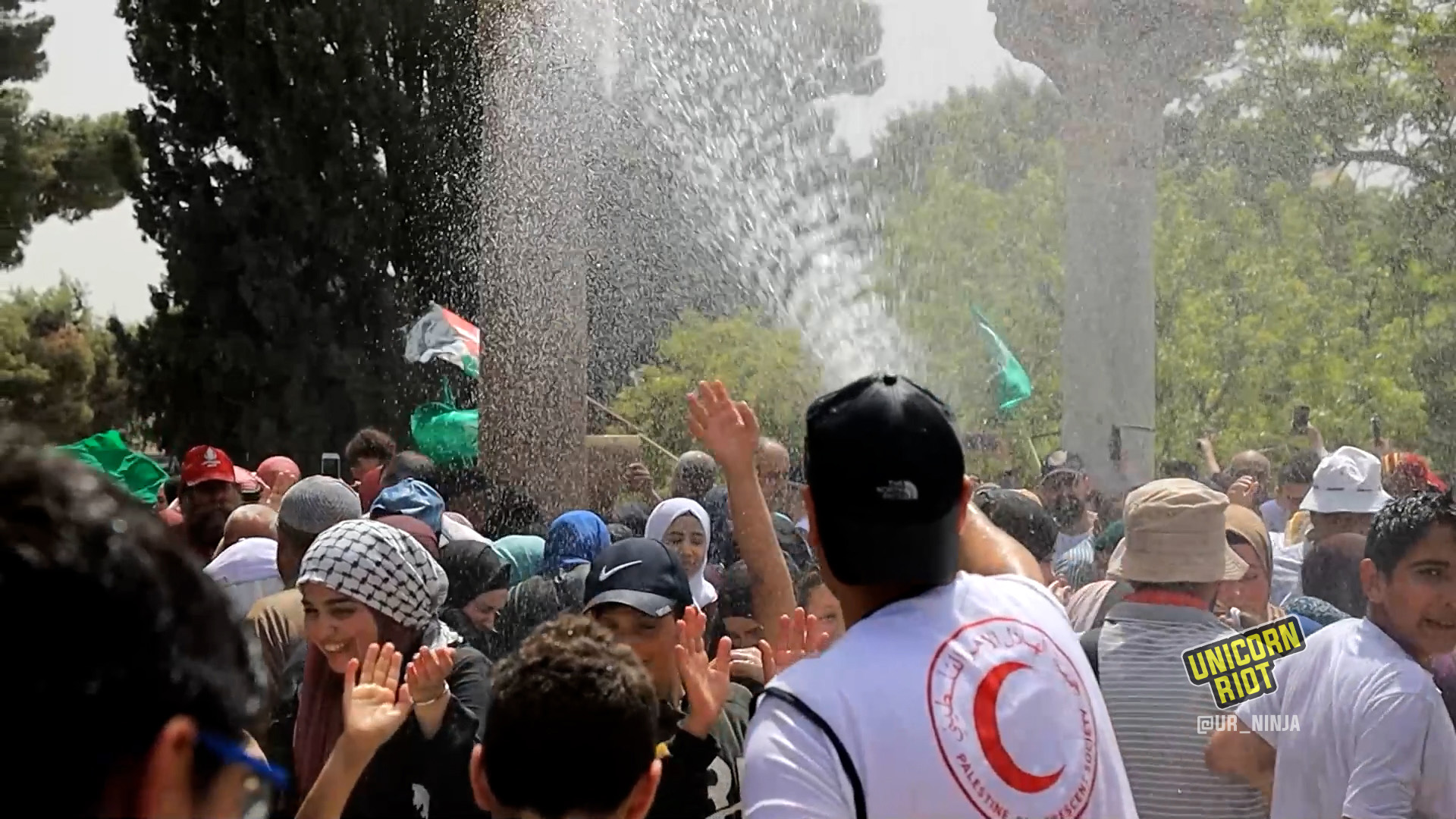 The Al-Aqsa Mosque, revered as one of the top holy sites in Sunni Islam, is located atop the hill on Temple Mount or Haram esh-Sharif (Ar: الحرم الشريف) in the Old City of Occupied East Jerusalem, which also houses the Western Wall, the most revered site in Judaism.
Since 1967, Israel has occupied the Old City of East Jerusalem, although Muslims have historically managed the site since Saladin captured Jerusalem in 1187. Currently the Temple Mount is managed by the Jerusalem Waqf Council, the latest iteration of a centuries-long series of religious trusts, funded by the neighboring Kingdom of Jordan.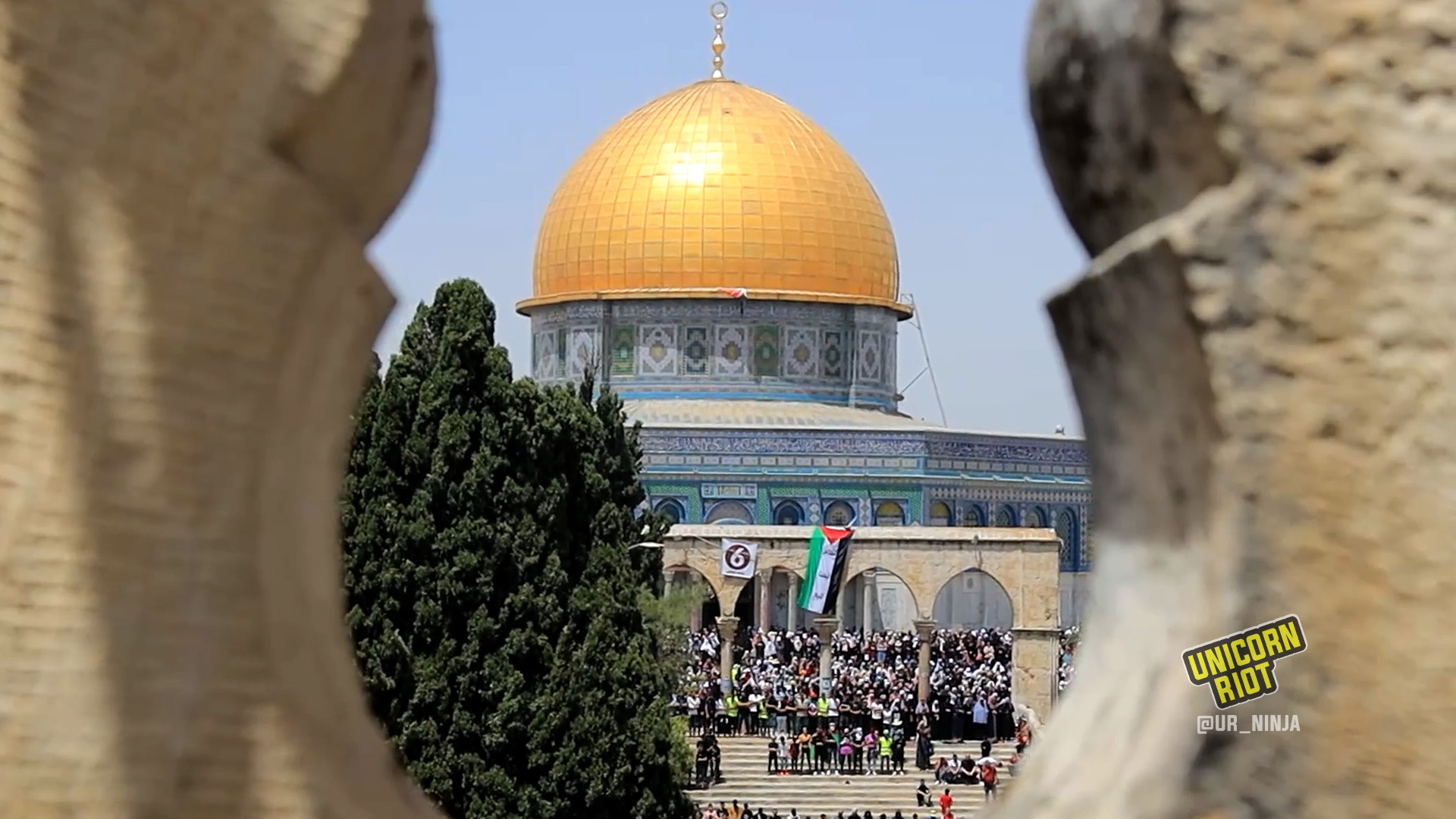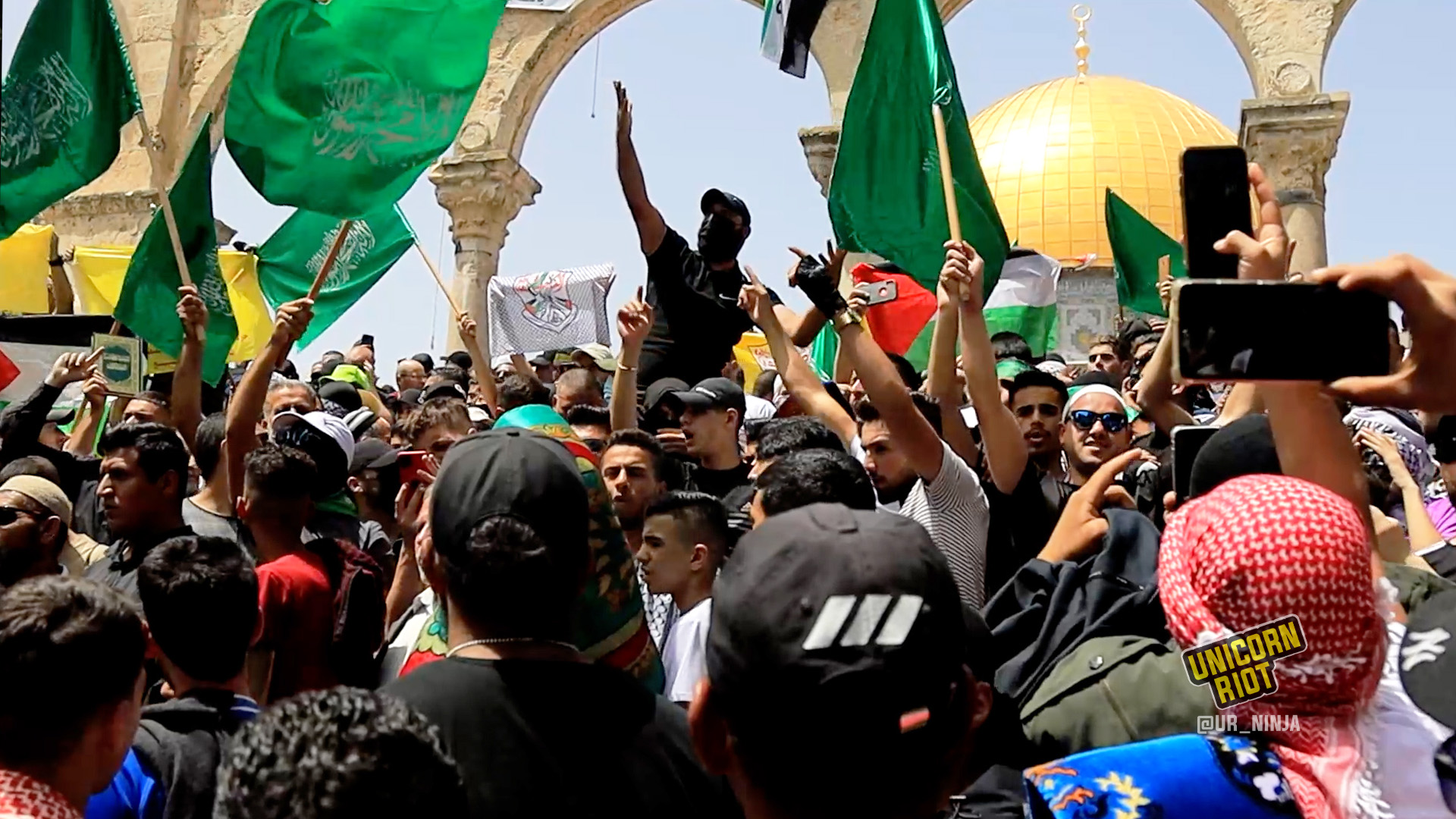 Over the years, the Temple Mount has been a hotspot in the Israeli-Palestinian conflict and for the last two weeks, Israeli forces have stormed Al-Aqsa Mosque dozens of times leading to hundreds of arrests and over 1,000 injuries. On April 14, 400 people were detained and at least 153 were injured.
Eid al-Fitr, the "festival of breaking the fast" of Ramadan 2022 is predicted to be Monday, May 2, but alters across the globe as it depends on when local religious authorities spot a new moon.
Earlier during Ramadan, Unicorn Riot published a story on clown-clad musaharati, traditional Ramadan drummers, attempting to bring joy to the children in the besieged Gaza Strip.
Unicorn Riot's Coverage from Palestine:
---
Follow us on X (aka Twitter), Facebook, YouTube, Vimeo, Instagram, Mastodon, Threads, BlueSky and Patreon.
Please consider a tax-deductible donation to help sustain our horizontally-organized, non-profit media organization: