Palestinians Speak Out During Biden's Visit
Bethlehem, Occupied West Bank, Palestine – United States President Joe Biden visited the Palestinian territories in mid-July 2022 and met with Palestinian President Mahmoud Abbas. During a televised speech with Abbas, Biden publicly stated support for an independent Palestinian state. To gather the pulse of the Palestinians in the leadup to Biden's visit with Abbas, Unicorn Riot heard from numerous residents of Palestinian descent including citizens, activists, resistance members, the Deputy Mayor of Bethlehem, a Greek Orthodox Parishioner, and more.
July 13, 2022, Ramallah
Taking place a couple days before Biden arrived in Palestine, a press conference was held at the Al-Haq Center for Applied International Law in Ramallah featuring U.S. citizens with dual-nationality (Palestinian-Americans) who say they've been subjected to repression and persecution from Israeli forces. "The voices of Palestinian Americans here need to be heard and we wanted to give them this platform on behalf of al-Haq and the Carter Center to express their concerns," said Wissam Ahmed, of the Al-Haq Foundation.
The stated aim of the press conference was to highlight how Israeli violations of Palestinian rights are enabled by the silence of the U.S. government.
"In advance of President Biden's arrival in the region. We take this opportunity to remind the U.S. government, especially the State Department, that Palestinian Americans expect their rights as U.S. citizens to be given equal protection and attention to those of other U.S. citizens of dual nationality. The continued denial of the right to self-determination for the Palestinian people by the Israeli occupation under its apartheid regime also impacts American citizens and the right to life, liberty and the pursuit of happiness."

Fadi Karfan, activist
Stories were told of persecution, aggressive policing, and family land being stolen by Israelis along with statements read to the press and audience.
Sahar, who lives in California, stated that Palestinian land inherited from her father has "been confiscated by Israeli settlement" in Beit El and her husband's land was confiscated in Psagot. Sahar said that U.S. authorities have been informed her private land is being stolen, yet she hasn't "seen any actions from them."
What pains her more, she said, was "that the settlers' organization" receives "our [U.S.] tax money and donations every year" and continues "stealing our land." In September 2021, Unicorn Riot took a closer look at the U.S.-based nonprofits that enact dispossession in the West Bank, with IRS tax-deductible 501(c)(3) status.
A representative from the Carter Center expressed that the center was urging "the administration to call for protection of the rights of Palestinian American citizens who face administrative detention, denial of travel, family separation and lack of access to the property in Palestinian territory." They also called for a "stronger response to the killing of U.S. citizen and journalist Shireen Abu Akleh, which the U.N. and human rights groups have attributed to Israeli military action."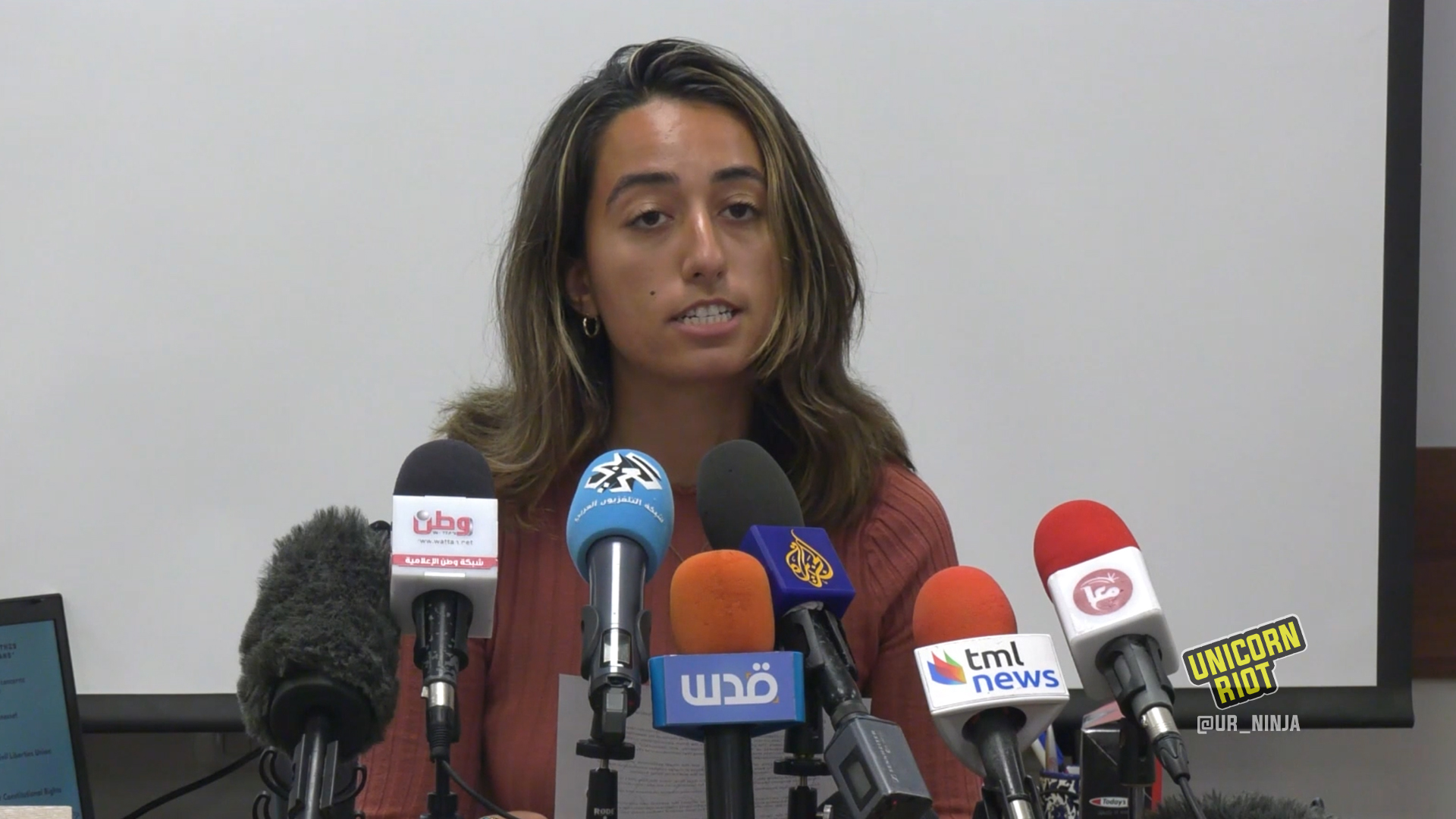 ---
July 13, 2022, Bethlehem
As Biden was preparing to visit Bethlehem and the Church of the Nativity, we heard from various Palestinian citizens who reacted skeptically to the possibility of political progress from the visit. However, many we spoke with including Issa Thaljieh, a Greek Orthodox parishioner at the Church of the Nativity as well as Maher Al-Qanati, the Deputy Mayor of Bethlehem Municipality, expressed hope.
Thaljieh said the whole world is reflecting on the visit and said he was hoping to see "a possible change in the political framework and a possible change in internal, external and global peace." While the deputy mayor stated he had "great hope" that Biden would support the "educational sector and Palestinian hospitals."
Palestinian citizen Khaled Abayat said that most Palestinians are frustrated with their living conditions, "from the continuation of settlements, the wall and the daily barriers that we see." Abayat said that the visit being so quick and for only one day with President Abbas, it's not long enough, yet he hoped "that this visit will bring us some hopes and ambitions."
"We hope that President Biden's visit will be a visit with a new political horizon for the Palestinian people and behind this visit there is a political and economic solution as well."

Moaz Lahroub, Palestinian citizen
Nayef Emad stated he felt that Biden's visit "is the same as previous American leaders' visits" in that they've all been "against Palestinian rights" and he expected "nothing new in this visit." Emad said the visit comes during a tour that is geared "to push Arab leaders to join the Israeli train for normalization and open relations with the Israelis."
Speaking from a youth perspective, Mohamed Ahmed stated he felt the visit wouldn't benefit Palestinians, "either on the economic or political dimensions" and felt that the situation will actually "get worse, because America and Israel are one front."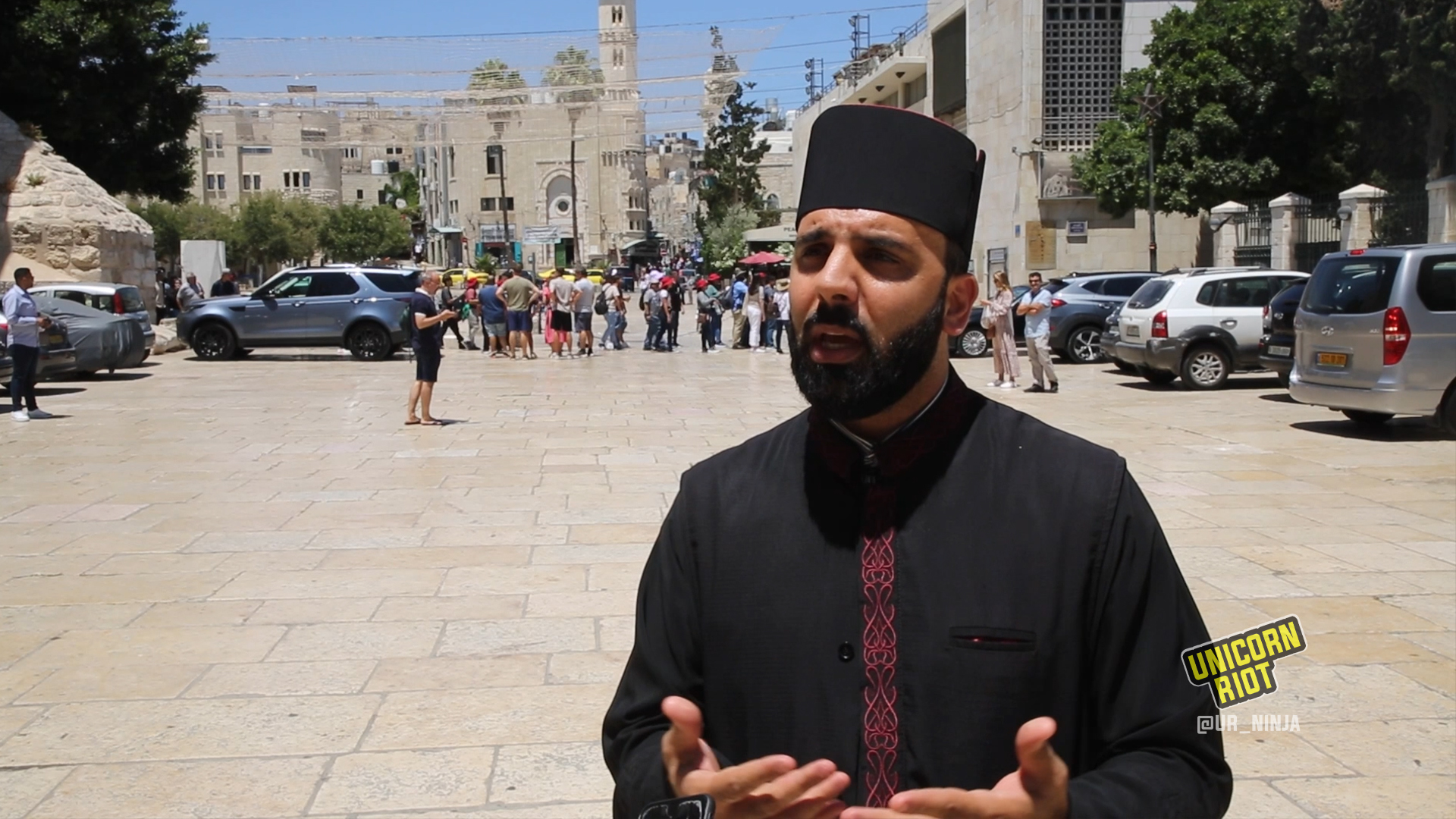 ---
July 14, 2022, Gaza City
A day before Biden met with Abbas, national and Islamic factions in the Gaza Strip organized a protest in the Square of the Unknown Soldier in the center of Gaza City. Speakers at the event focused attention on American policies which support the Israeli occupation. Many expressed condemnation of the visit which they felt came in support of Zionism.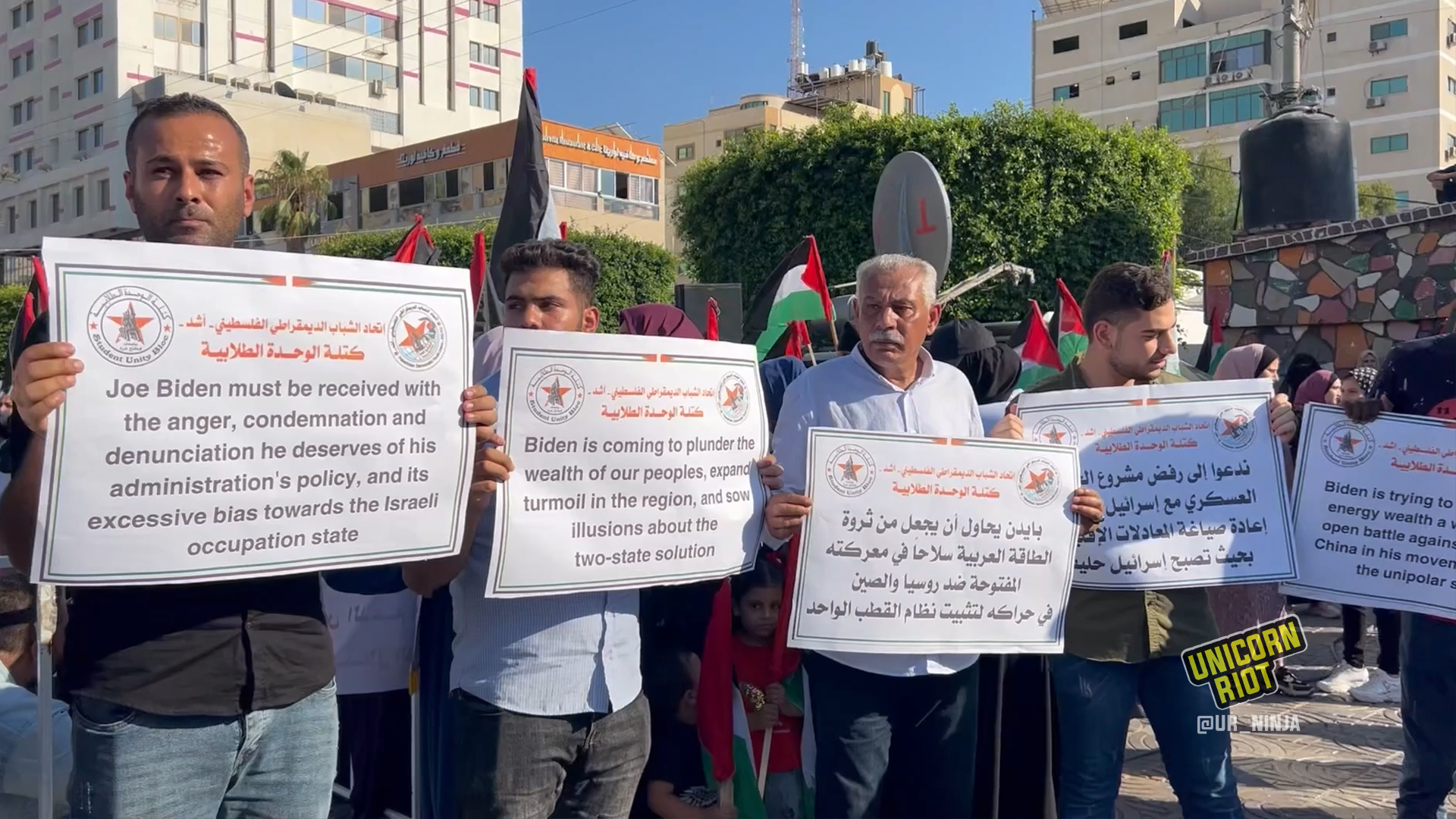 ---
July 15, 2022, Bethlehem Protest
As Biden visited the city of Bethlehem, dozens of Palestinians gathered at the nearest road to the airstrip Biden landed on to express their condemnation with his visit. Participants raised banners calling for "justice" and others rejecting his positions in support of Israel.
Youth activist Mohamed Abed stated he was there to convey the message "to the American president that you are not welcome in Bethlehem and you are not welcome in Palestine." He said he views the U.S. president as "a character hostile to the Palestinian people and to our dreams as a Palestinian people" because "U.S. policy is very biased towards the Israeli occupation."
Continuing that thought, Youssef Agha, a Palestinian political activist, said "Biden's visit is unacceptable and unwelcome." Agha said that "the statements issued by the American president express bias towards the occupation." When Biden visited Jerusalem he made many statements that many viewed were in support of Israel, including saying that "you do not have to be a Jew to be a Zionist."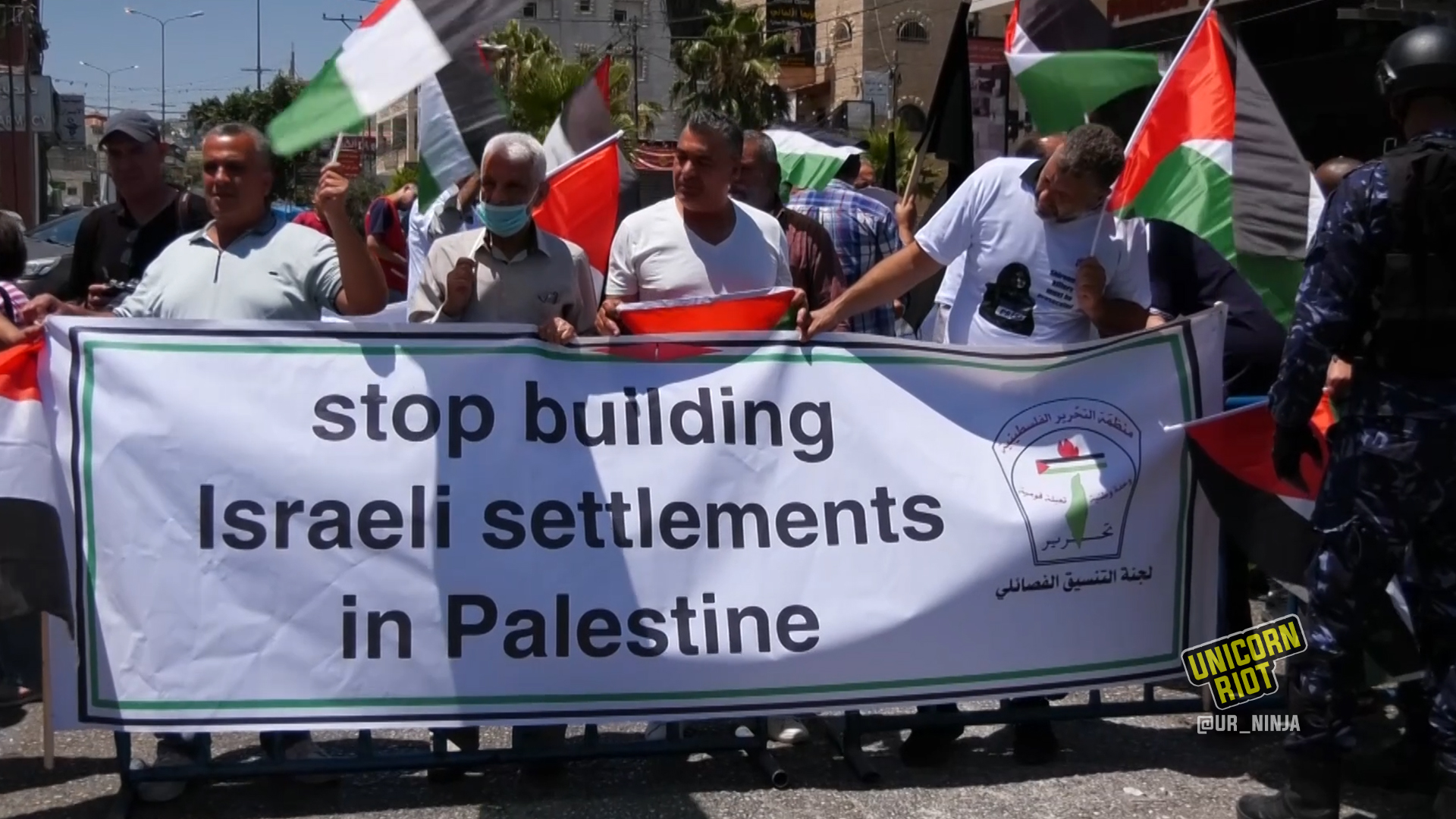 ---
July 15, 2022, Bethlehem, Biden Meets Abbas
On Friday, July 15, U.S. President Joe Biden arrived in the city of Bethlehem in the southern West Bank, after coming from Jerusalem and speaking with Israeli officials. Two Palestinian children dressed in traditional Palestinian dress received Biden and presented him with a bouquet of roses. An official reception ceremony took place at the Palestinian presidency in Bethlehem, where the American and Palestinian national anthems were played.
Palestinian President Mahmoud Abbas greeted Biden who stayed for a short visit of about two hours. They reportedly spoke about the stalled peace process and strengthening bilateral relations. Palestinian-Israeli negotiations have been suspended since 2014, due to Israel's refusal to release Palestinian prisoners, and the continuation of settlement construction in the West Bank.
Biden made statements in support of Palestinian rights and independence and called for Palestinians and Israelis to "enjoy an equal measure of freedom and dignity."
"I'm very proud to be with you today as president of United States and we can count ourselves among the earliest supporters of a two-state solution. As I stand with you today, now, as President of the United States, my commitment to that goal of a two-state solution has not changed."

U.S. President Joe Biden
Biden signaled that even though "the ground is not ripe at this moment to restart negotiations, the United States and my administration will not give up on trying to bring the Palestinians, the Israelis and both sides closer together."
After the public press conference with Abbas, Biden went to one of the most holiest Christian religious sites, the Church of the Nativity before leaving to Saudi Arabia.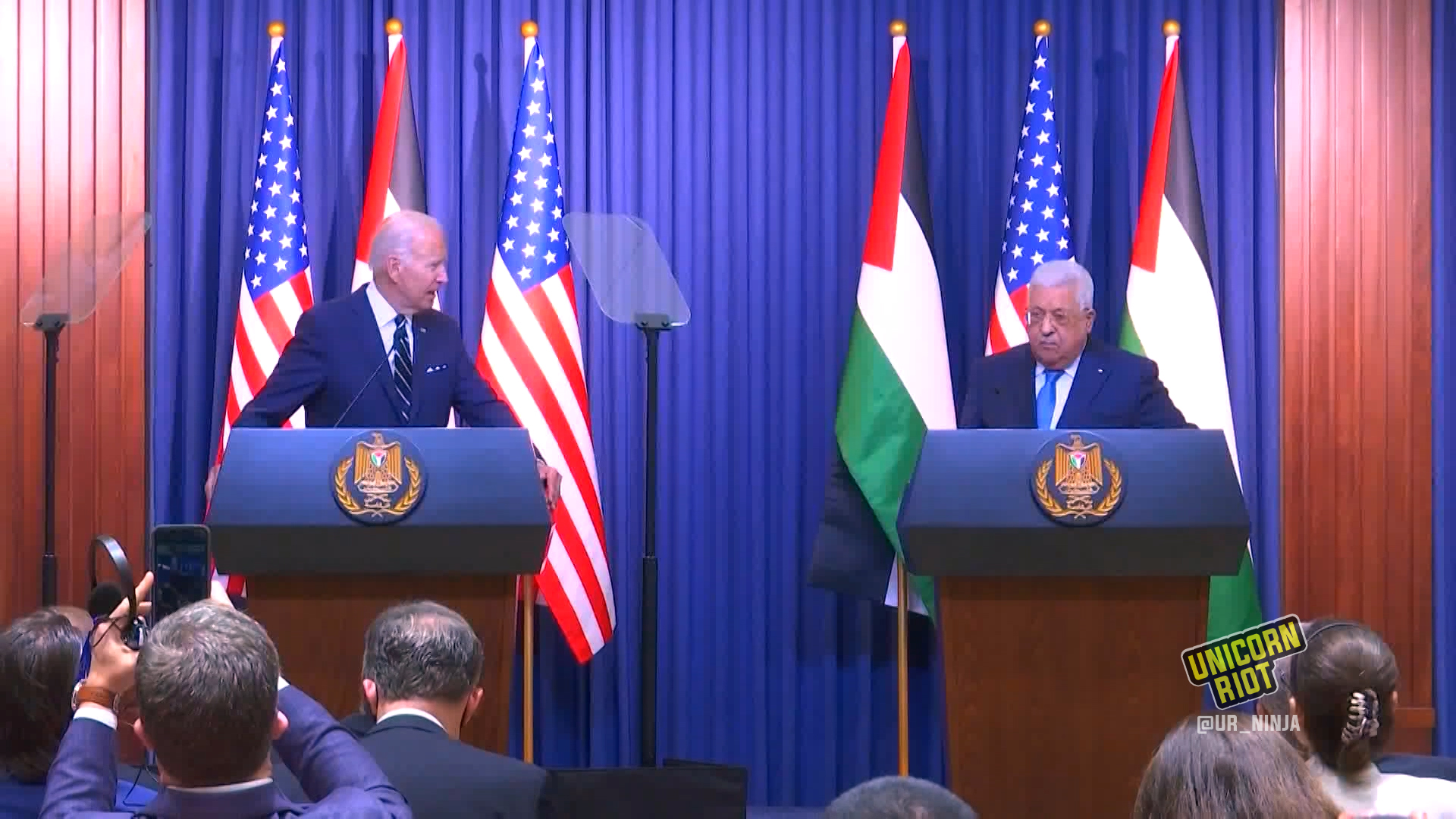 For more from Palestine, see below.
Unicorn Riot's Coverage from Palestine:
---
Follow us on X (aka Twitter), Facebook, YouTube, Vimeo, Instagram, Mastodon, Threads, BlueSky and Patreon.
Please consider a tax-deductible donation to help sustain our horizontally-organized, non-profit media organization: