Protesters Call Attention to Development and Gentrification in Philadelphia
Philadelphia, PA – A number of groups are rallying and marching on Saturday afternoon around concerns regarding how space and development in the city are controlled, the day's call is about "democratizing development." The group is gathering at FDR Park in South Philly.
Follow our livestream here:
Organizer flyers included some of the key concerns. According to an event page the attendee groups include "Philly Thrive, Sunrise Movement, VietLead, Save UCTownhomes, Save the Meadows, RECLAIM, PSL, Cobbs Creek EJ".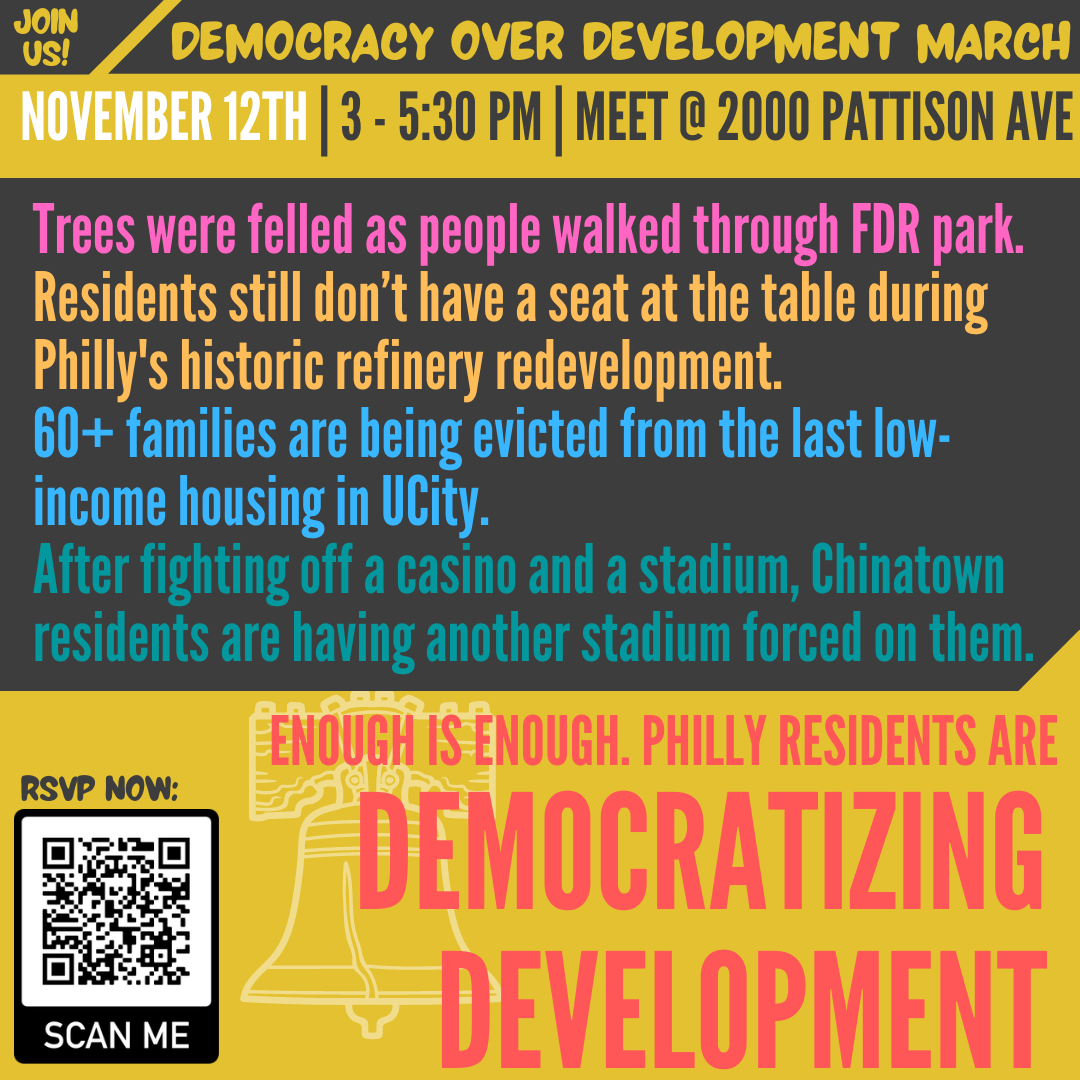 One major concern is the redevelopment of a massive Southwest Philly refinery site which was the site of a massive, dangerous fire in 2019. Highly toxic hydrofluoric acid was released, and an explosion launched a section of a tank all the way across the Schulykill River. On October 11 the Chemical Safety and Hazard Investigation Board (CSB) released its final report on the disaster including a gripping video animating the sequence of events. Despite the many decades of chemical exposure on nearby neighborhoods, the public has been largely shut out of the redevelopment process (including a recently shelved, long sought community meeting with the development company).
Another issue raised by organizers is the rapid redevelopment of FDR Park itself, which they argue put people at risk by felling trees without warning. Unicorn Riot released a closer look at the park site in September.
Another topic raised by organizers is the impending eviction of 70 families on Market Street. UC Townhomes residents have been struggling to reprieves from eviction this year — the Save the Townhomes campaign has pushed for more time and demanded 'just compensation' for the sale deal, part of a long history of displacement including eminent domain in the 1960s.
Organizers are also calling attention to Chinatown residents who are "having another stadium forced on them" after "fighting off a casino and a stadium."
---
Please consider a tax-deductible donation to help sustain our horizontally-organized, non-profit media organization: