Protesters Converge on State Capitol in Solidarity with Alabama Prison Strike
Montgomery, AL – On the 19th day of the statewide prisoner work strike on Friday, about 100 people gathered in front of the Alabama State Capitol Building in support of the thousands of prisoners currently striking.
On Oct. 7, the Alabama Department of Corrections (ADOC) confirmed that five facilities remained at a standstill due to the historic statewide work stoppage. Posts to a private Facebook group run by family members of striking prisoners confirmed that prisoners at five facilities continued to strike as of this week.
The ADOC admitted the ongoing strike has caused significant disruptions to the functioning of the prisons. "All facilities remain operational," the department wrote in a press release on Sept. 28, 2022. "However, these work stoppages have affected food services given that inmate workers make up a large part of the facility support workforce."
Prisoners are demanding significant changes to the state's prison and judicial systems, including reform of the state's sentencing law and parole board policies, and a demand that the Habitual Felony Offender Act (HFOA) be repealed.
The HFOA was passed in 1977 and its mandatory punishments include a life without parole sentence for anyone convicted of a Class A felony with any three prior felonies on their record, and a life sentence for anyone who was convicted of a Class B felony with any three prior felonies on their record.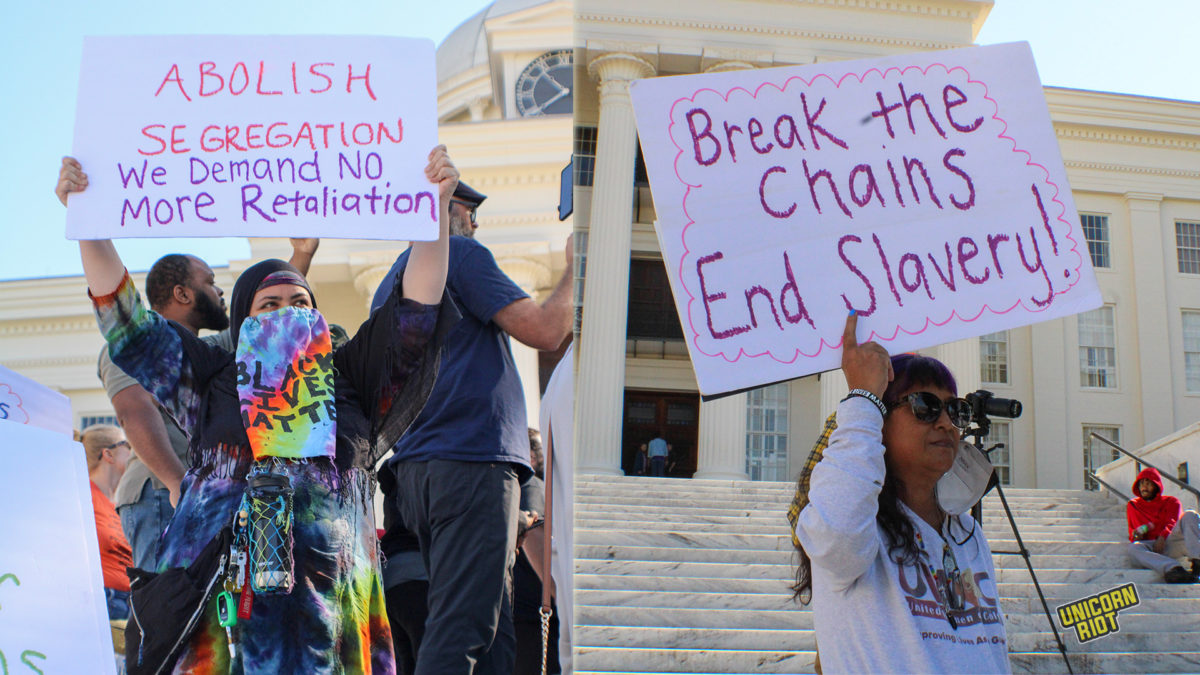 Friday's protest was organized by Both Sides of the Wall, an organization of prisoners and their supporters. Many of those in attendance have loved ones who are currently on strike or are formerly incarcerated themselves.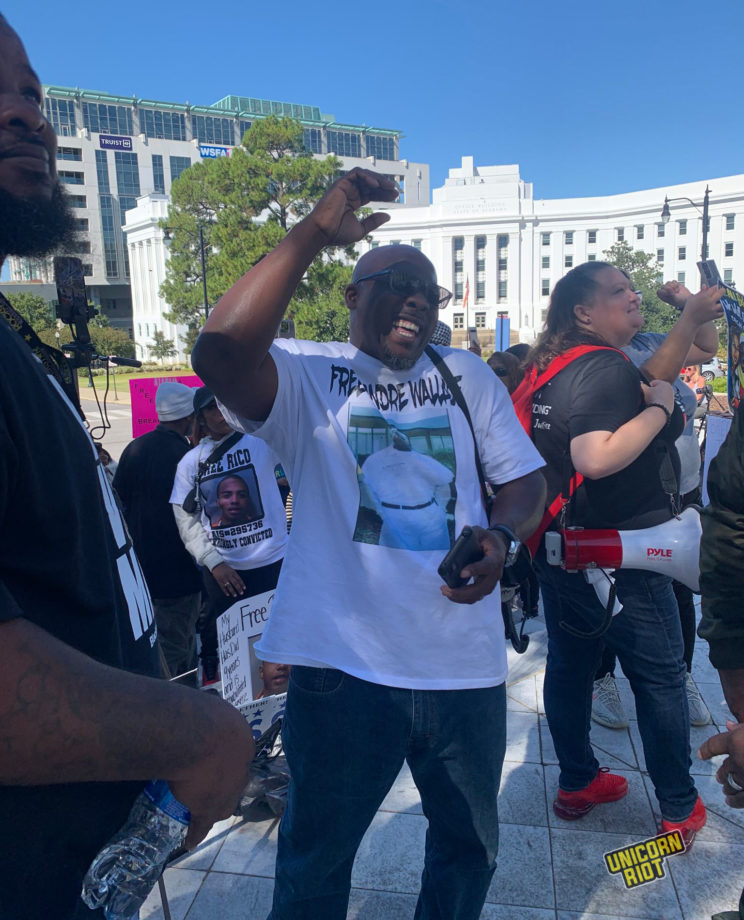 "They have been killed, they have been abused, they are being tortured right now as we speak," said Eric Buchanan, a formerly incarcerated person who spoke at the rally.
"They are retaliating against our brothers right now by giving them very little food to eat. I even pushed my plate back while I was eating supper last night," Buchanan continued. "I said 'Lord help me to push my plate back' as if I was still in the struggle with my brothers."
Striking prisoner Swift Justice told Unicorn Riot at the beginning of the strike: "Our meals consist of two bologna sandwiches in the morning time and two bologna sandwiches at dinner time. And when you do the calorie intake on that right there, a bologna sandwich with cheese, and on wheat bread, only equals up to 240 calories. So basically what we're getting daily on that right there is just barely reaching 1000 calories a day."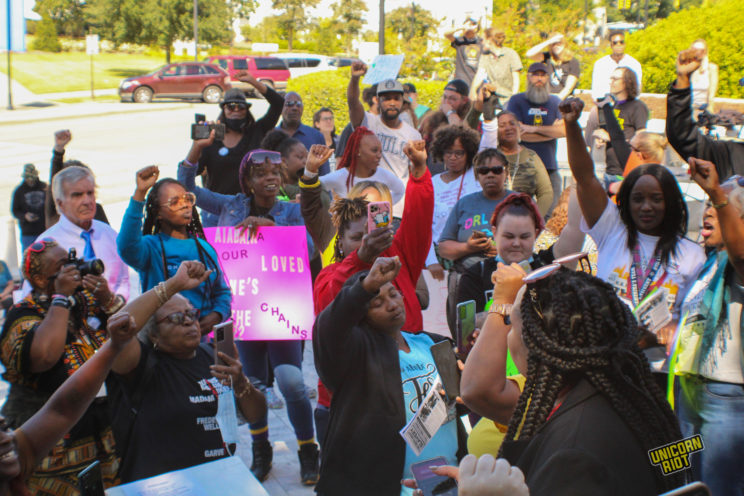 Nikki Davenport, wife of imprisoned striker Kinetik Justice, said she came out to the rally "to protest the fact that they're not releasing anyone on parole, they're not trying to rehabilitate, educate or let people have a second chance to be productive members of society."
"They're warehousing them and using them for slavery."

Nikki Davenport
According to Davenport, prison authorities placed Kinetik in solitary confinement for his participation in organizing the strike and cut off all his communication. "They blocked three different numbers that I've had," said Davenport. Last week, Davenport continued, "they cut all his clothes off of him and put him in a crisis cell like he was suicidal."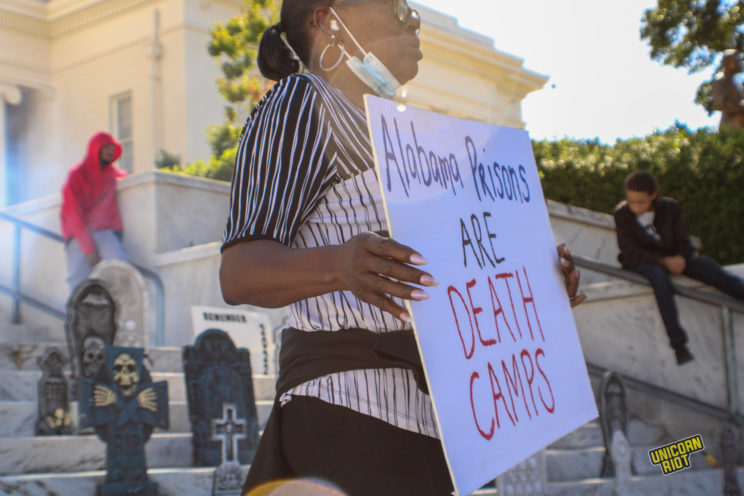 Striking prisoner Bernard Jemison spoke to the crowd via phone from inside one Alabama prison:
"They place us in an environment that is so hostile, so violent, so hopeless, so drug infested, I could go on and on. And our governor say the remedy to these issues is to build new prisons. But who is going to work at these new prisons? I don't think she realizes, we've got one officer watching six dormitories by himself."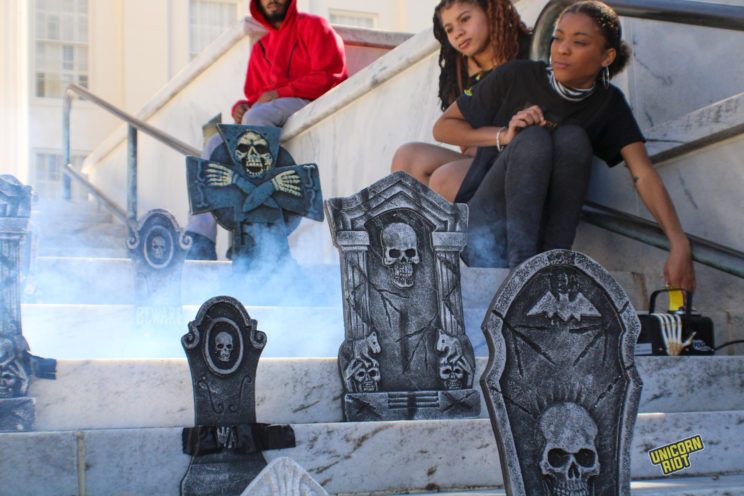 ---
Striking prisoners shared the following statement with Unicorn Riot Friday before the protest in Montgomery:
**********
Media Advisory for immediate Release
Date: October 14th, 2022
From: All confined citizens in Alabama prisons.
Since the peaceful labor strike within the Alabama Department of Corrections began on September 26, those who are striking have faced relentless attempts to break our spirit by the correctional staff. We have been starved, placed into solitary confinement and suicide cells as retaliation, and forced into dangerous situations as ADOC tries to turn us against each other. In spite of this, international media and activists have turned their attention toward Alabama and its inhumane treatment of and policies around incarcerated individuals. The world is watching.
We will not relent under these retaliatory tactics. Our brothers, particularly those with health conditions, addiction and mental health challenges, have faced challenges not only to their psychological well-being but also their very lives.
Especially alarming is ADOC'S intentional "bird feeding" food deprevention, which presents a severe health risk to those who suffer from diabetes and other illnesses that require a wellness diet.
Unlike the ADOC we value life.
By no means are we waving a white flag of defeat. We are still demanding our concerns be heard before our Legislators and other elected officials. We also demand that our outside representatives be given a platform to be our voice and the public hear our arguments.
At this time, some have chosen to return to work to ensure that ADOC does not continue to target the most vulnerable in our population. Others will continue to strike.
We will continue to escalate our strike, peacefully, until our voices are heard.
Alabama Confined Citizens
**********
---
Follow us on X (aka Twitter), Facebook, YouTube, Vimeo, Instagram, Mastodon, Threads, BlueSky and Patreon.
Please consider a tax-deductible donation to help sustain our horizontally-organized, non-profit media organization: