Attacks and Collective Punishment, a Cycle of Palestinian-Israeli Conflict
Occupied West Bank, Palestine – 2022 has been a deadly year of violence between Israelis and Palestinians with several Palestinian attacks in March, near-daily deadly Israeli raids, a rise in settler violence against Palestinians and a war in August. Despite the death and drama, last week many Palestinians across the region celebrated 35 years of the Palestinian Islamic Jihad Movement (PIJ). The target of Israel's Operation Breaking Dawn in August, the PIJ is labeled as terrorists by many Western governments including Israel and U.S. and viewed as resistance fighters by many Palestinians.
---
A handful of attacks by Palestinians in March and April 2022 killed nearly a dozen people inside Israel. In retaliation, Israeli occupation forces have conducted thousands of deadly raids across the occupied West Bank and have bombed and demolished several several homes of the alleged attackers and their families.
The West Bank has been under military occupation since 1967; the UN Office for the Coordination of Humanitarian Affairs (OCHA) monitors occupation conditions, raids and movement restrictions, and releases detailed reports regularly.
Family home demolitions are a policy of collective punishment by Israeli forces, a war crime by the 1949 Geneva Convention's standards. Demolishing the homes of attackers, resistance fighters and political prisoners is intended to stop commando operations and militant resistance to Israeli's ongoing occupation of Palestinian lands. Demolitions do not require convictions by Israeli courts.
In late July 2022, Israeli forces blew up the homes of the families of the two prisoners who killed a guard at the gate of the Ariel settlement.
Ibrahim Assi, the Mayor of Qarawat Bani Hassan in the Salfit Province, where the homes were demolished, said the Israeli forces unfairly practice "collective punishment" and that the policy "violates all international law."
"Today, they demolished the house of Yahya Assi, the father of the (Ariel) attacker, Youssef Assi. They also demolished the house of the father of the perpetrator, Yahya Mari and they blew up the entire house. What the Israeli occupation has done is the policy of collective punishment. They pressured the people with an unfair decision. Demolishing the homes of the parents of the perpetrators of an Israeli attack."

Ibrahim Assi, Mayor of Qarawat Bani Hassan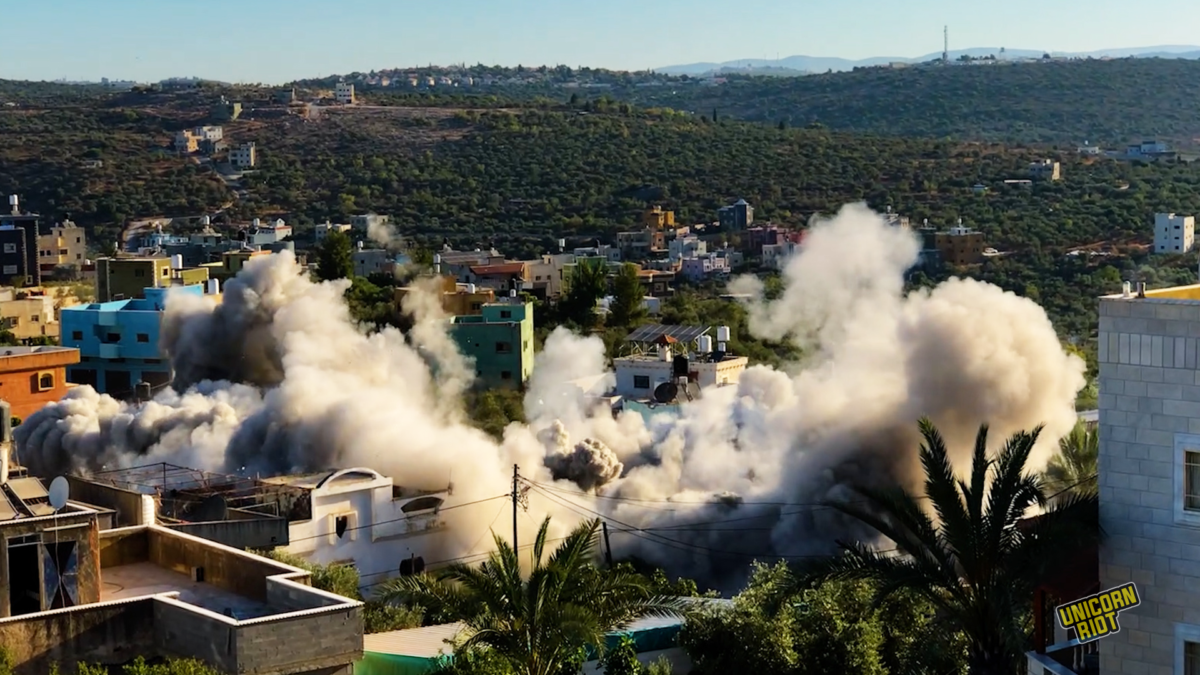 In May, the families of Assi and Mari were informed their homes were slated for demolition and a week before they were blown up, Israeli's High Court of Justice rejected the families' appeals.
Mohamed Mari, the father of alleged attacker Yahya Mari, who sits in an Israeli prison, said that the house that was blown up was in his father's name, not his. Mari said that ten people lived there and that an Israeli court rejected their appeal and decided to demolish the home.
"We told them we have no problem, we hope God will give us better," said Mari, who wished for his son's spirits to be "high inside prison."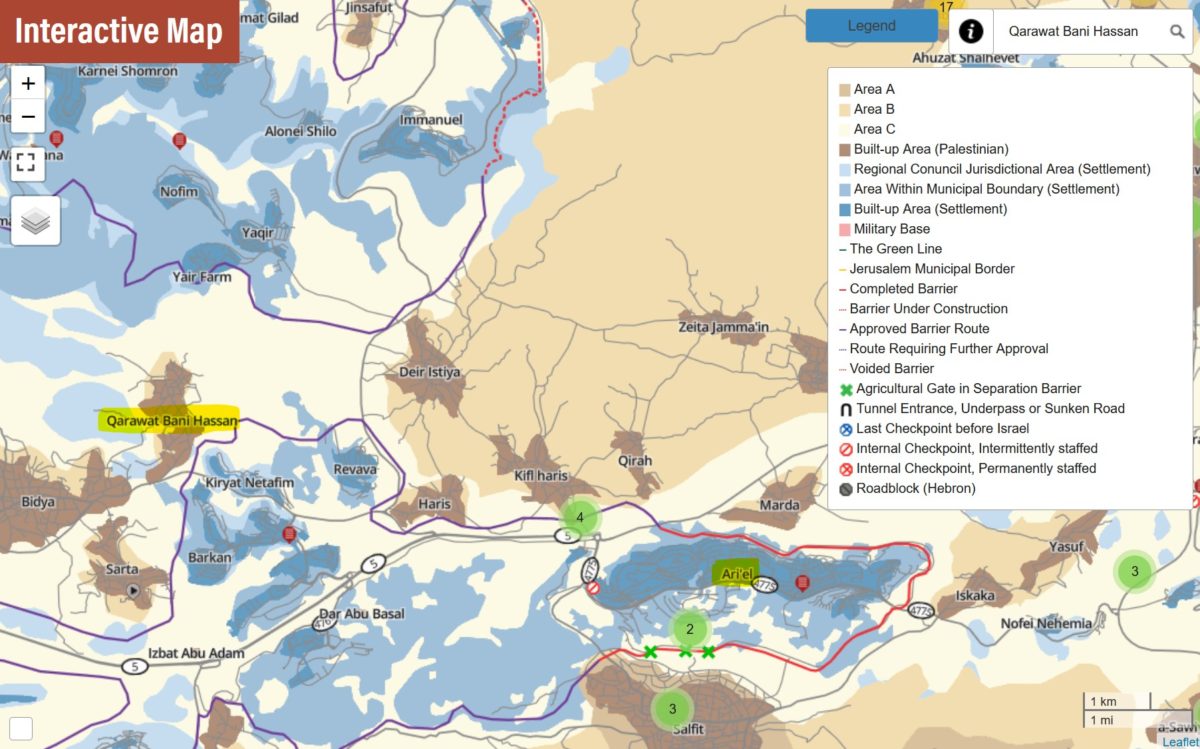 A month before the Assi and Mari house bombings, Israeli forces blew up the home of Diaa Hamarsheh, who killed five Israelis in late March in Bnei Brak, east of Tel Aviv. Despite all 11 family members who were living in the Hamarsheh home saying they had no knowledge of, or involvement in, the attack on the Israeli settlers, the home was still blown up and the family was displaced.
---
On Sept. 28, Israeli forces conducted a deadly raid on Jenin Refugee Camp as they targeted the father and brother of another attacker, Raad Khazem. Khazem killed three and injured six during a mass shooting on the widely popular Dizengoff Street in Tel Aviv on April 7, 2022. He was killed the next day in a gunfight with Israeli forces.
Raad's father Fathi Khazem has become an a new symbol of Palestinian resistance after refusing to surrender to Israel since April. A former security officer with the Palestinian Authority (which frequently works in tandem with Israeli security forces), Fathi Khazem has been sought after for arrest by Israel since Raad's attack and has been speaking out to mourners of his son.
The Sept. raid on Jenin targeting Fathi and his son, Abdul Rahman, was heavily resisted by Palestinians throwing rocks and molotov cocktails, burning tires, and firing live ammunition back at Israel who killed four Palestinians and shot at least 44 others.
One of the four killed was Fathi's son and Raad Khazem's brother, Abdul Rahman Fathi Khazem. Abdul was allegedly responsible for shooting at soldiers at a roadblock two weeks earlier. He was killed in between homes near the entrance of the camp. Khazem's family home was then targeted with a missile from an Israeli drone.
Israeli soldiers reportedly invaded several tall buildings during the raid, ransacking them and using the rooftops for sniper posts. They also reportedly fired live rounds at several schools amongst other tactics like pretending to withdraw and then shooting at Palestinians re-gathering in the streets.
After losing his second son to Israeli gun fire this year, Fathi Khazem publicly spoke at the funeral for Abdul Rahman while being flanked by armed paramilitary fighters. He said he was "satisfied" with his son Abdul.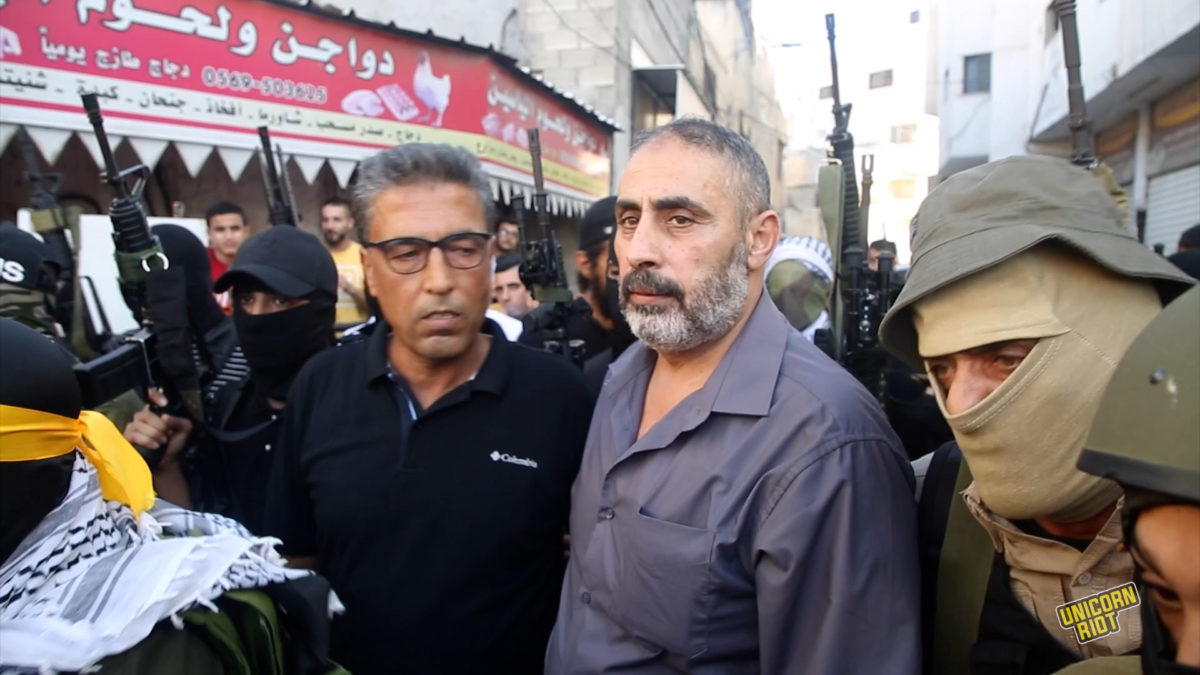 Another of those killed during the raid was shot in the head by sniper fire. After the funeral on Sept. 28, Palestinian citizen Wael Selah said Palestinian territory has been occupied "for more than seventy years" and said Palestinians are resisting with "simple weapons" that don't "parallel" the weaponry of the occupying Israeli forces.
"We don't go to them, they are the ones who came to us. We have been occupied by this Israeli occupation for more than seventy years. Today we bid farewell to four of our martyrs who rose on the battlefield by a brutal attack, by a war between a brutal force and resistance with simple weapons. We, in Jenin have no weapons to parallel this occupier but we have determination and our motto that was raised before everyone, either victory or martyrdom."

Wael Saleh, Palestinian citizen
Saleh called out what he felt was a lack of international support saying, on the whole, "the Israeli aggression against [Palestinians]" is tolerated. Several Palestinian towns and cities held strikes with full work stoppages in response to the deadly raid. For more from Jenin, see stories below.
---
Meanwhile in October 2022, tens of thousands of Palestinian people participated in simultaneous rallies in the Gaza Strip, Lebanon, Syria, and Sana'a, commemorating the 35th anniversary of the PIJ. The Palestinian Islamic Jihad was established in 1987 with the goal of creating an independent Islamic Palestinian state.
One of the founders Abd al-Aziz Uda, or Sheik Odeh, is said to reside in Damascus, Syria. Sheik Odeh is listed as one of the FBI's most wanted terrorists and is wanted for the charges of Racketeering Influenced and Corrupt Organization (RICO); Interstate Transportation in Aid of Racketeering; Conspiracy to Murder Persons in a Foreign Country.
PIJ has been on the U.S. State Department list of Foreign Terrorist Organizations since 1997. In 2019, the State Department said that Iran sponsors PIJ via the Islamic Revolutionary Guard Corps (IRGC). Israeli media reported in August that PIJ general-secretary Ziyad al-Nakhalah met with Iranian Gen. Hossein Salami, head of the IRGC. (More on PIJ here.)
Hundreds of fighters from PIJ's military wing, Al-Quds Brigades (AQB) or Saraya al-Quds, revealed homemade rocket launchers during the anniversary celebration. Missile launchers were also displayed as the organizers emphasized factional unity and the continuation of the struggle against the Israeli occupation.
Leadership of PIJ and AQB were heavily targeted with bombings, assassinations, and missile strikes in August 2022 in a three day span of Israeli attacks. Dubbed "Operation Breaking Dawn" by Israel, PIJ leaders call the war the "Unity of the Squares" and declared it a victory for all Palestinian paramilitary groups.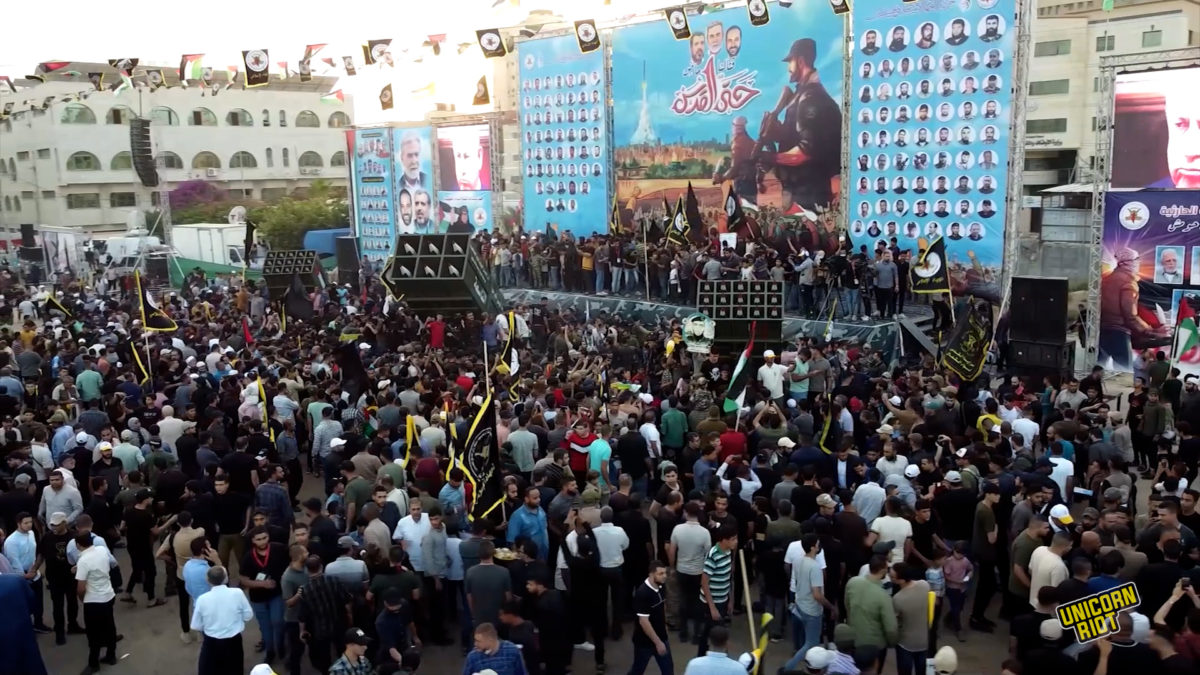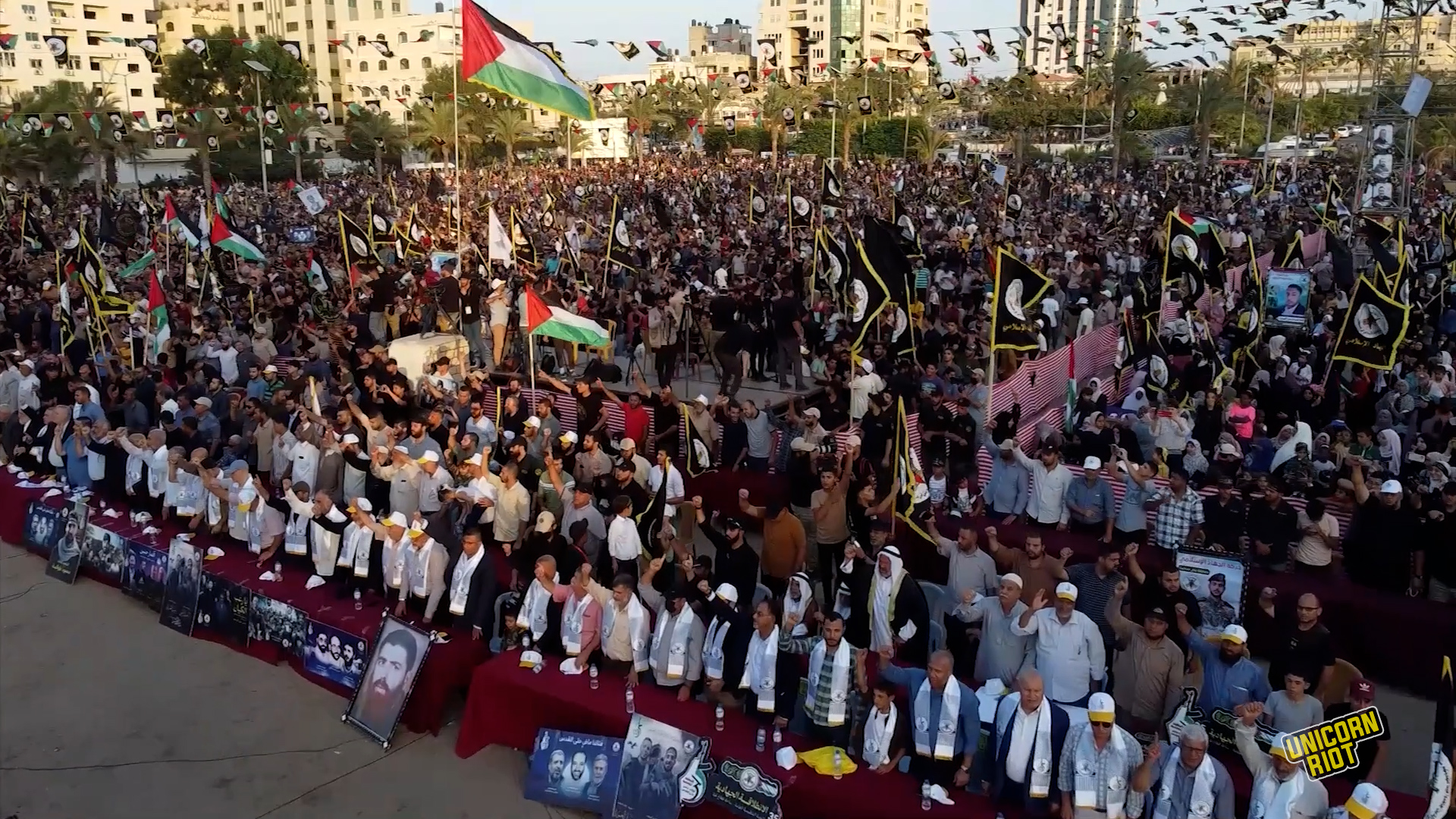 For more from Palestine, see below.
Unicorn Riot's Coverage from Palestine:
---
Follow us on X (aka Twitter), Facebook, YouTube, Vimeo, Instagram, Mastodon, Threads, BlueSky and Patreon.
Please consider a tax-deductible donation to help sustain our horizontally-organized, non-profit media organization: