Two Animal Rights Activists Found Guilty, Face Sentencing of up to 10 Years
Abbotsford, B.C., Canada – Two of the three defendants from the Excelsior Hog Farm trial—Amy Soranno and Nick Schafer—were found guilty on two felonies on July 9, 2022, one for break and enter to commit mischief, and one for mischief. Roy Sasano was acquitted.
The trial stems from an April 2019 non-violent direct action meant to shed light on the treatment of the pigs and piglets inside the Excelsior Hog Farm. Tactics like that action are "required to prompt real, tangible change," Amy Soranno told Unicorn Riot.
"The Excelsior Hog farm footage has consistently been broadcast in the media for over three years now, and our goals around transparency and accountability have been propelled forward significantly, due to the more 'extreme' actions of us and the other activists and the subsequent high-profile court case."

Amy Soranno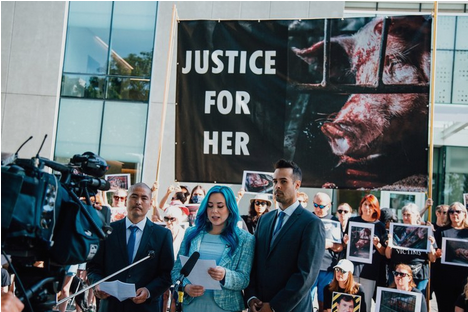 For Soranno, activism "feels as necessary as oxygen," and as a child even before she knew what an 'activist' was, she said she "just knew that when things are inherently wrong, we must take action to stop it."
Schafer, who has a background in film and photography, got into activism through attending local protests and documenting what was happening.
"This snowballed into now documenting mass actions, lockdowns and other civil disobedience events, which are something I find very important and don't ever want to stop capturing."

Nick Schafer
Soranno and Schafer are now awaiting their sentencing hearing, which is set for August 26, 2022. They view the hearing as illegitimate, though, because they say the verdicts are unjust.
"If the jury had closely listened to the presented evidence and followed the deliberation instructions set out by the courts, they wouldn't have found us guilty. The evidence did not meet the threshold for the charges, but unfortunately the jury seemed eager to put activists behind bars, even if that meant criminalizing non-criminal behavior."

Amy Soranno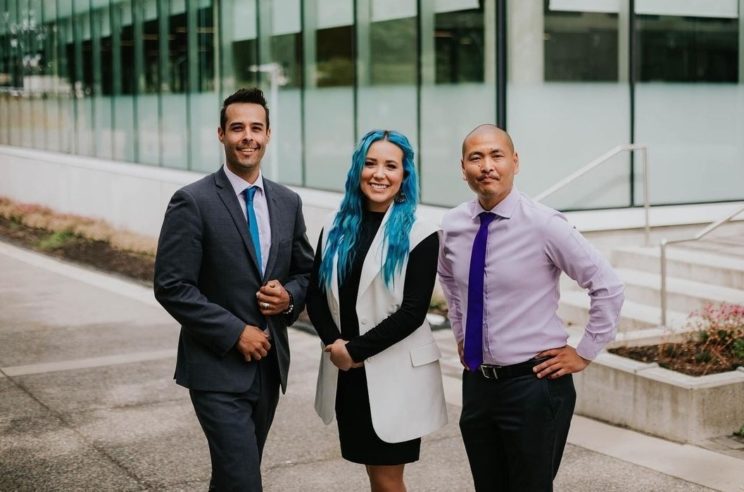 If the sentence comes back lenient and they end up with no criminal record and no jail time, Schafer said he and Soranno will probably not appeal. However, if the sentence is significantly higher than that, he said they will certainly consider appealing.
"One of the major things is [BC Supreme Court Justice Frits Verhoeven] refusing us the right to show, or even speak about, any animal neglect or cruelty footage. We couldn't even counteract what the farmers were claiming with clearly documented footage."

Nick Schafer
Soranno added that Justice Verhoeven said the animals were "irrelevant."
"Had those piglets been puppies, the world would be rallying around us, but considering most of the world views pigs as ingredients, we are convicted as criminals."

Amy Soranno
Schafer said that when most people are faced with the truth, they completely agree with his views that animals don't deserve to be treated cruelly. "I would just ask: would this be ok if these animals were cats and dogs? There is no difference."
"If people who oppose us take a step back and really acknowledge what we're talking about here—not wanting animals to suffer—then surely, we can all agree on some level that it's wrong," said Soranno. She continued, "Who in their right mind wants animals to suffer? This topic shouldn't be controversial."
As for how their verdicts may affect the animal rights movement, Schafer said that he doesn't want their verdicts in court to discourage people.
"I want it to inspire people and be the catalyst for them to join the fight and fight harder, I want this to be the thing that inspires you to join us."

Nick Schafer
He pointed out that the more people they have fighting alongside them, the more change they can make, and with less of a chance of repercussions: "200 of us attended the Meat the Victims action in 2019, with 65 who were on or in the farm property. Out of those 65, only two of us have been unjustly convicted, but also have grounds for appeal."
When speaking of repercussions, Soranno highlighted that the owners and operators of Excelsior Hog Farm, who she believes are the real criminals, have repeatedly engaged in criminal animal abuse, but face impunity.
"Collectively, we need to do better. I hope our case encourages everyone to stop supporting such violent and abusive industries and go vegan. I also hope this case prompts much-needed legal change to help protect animals."

Amy Soranno
---
Unicorn Riot coverage of Animal Rights Activism: