Workers Turn Black Friday into 'Make Amazon Pay Day'
Worldwide protests and strikes occur against the tech giant
"Make Amazon Pay" – "The Tower must go" – "The wrong Amazon is burning" – "Solidarity with Amazon strikers worldwide" – activists projected a series of giant slogans on the Amazon Tower being built in Berlin.
More than 100 people protested in solidarity with the Black Friday strikes by Amazon workers in Germany and around the world. The action, called "Make Amazon Pay," was part of a global day of action against the large technology and logistics company, which is known for its anti-union policies. According to the initiative, actions took place in more than 30 countries worldwide.
"Amazon is not welcome in Berlin"
The activists, many of whom originated from the housing, climate and anti-gentrification movements in Berlin, had multiple reasons to participate in the Make Amazon Pay action. One of the primary concerns was the construction of the Amazon Tower next to a big shopping mall in between the popular neighborhoods of Friedrichshain and Kreuzberg. The tower, which is slated to be finalized in 2023, will be one of Berlin's tallest skyscrapers. Amazon wants to use the building to set up a research and development center on about 55,000 square meters, using 28 of the 35 floors.
Locals and activists fear that the tower's construction will exacerbate dramatically rising rent prices in the already highly gentrified neighborhoods and that material and social exclusion of the old tenants and workers will prevail. Additionally, many of them are critical of a company that is known for its union-busting, ecological damage and cooperation with racist state authorities.
Before the COVID-crisis, a small wave of protests unified these perspectives, and organizers stated they hope to revive those connections on the road to the opening ceremony of the tower. Even if it is unimaginable to stop the construction of the tower, activists and locals say they hope there is still a chance to push the highly unpopular tenant Amazon away. The precedent has been set – when Amazon made moves to set up its HQ2 facility in New York City, continuous protests thwarted the plans. The company, which planned to operate out of a tower similar to the one in Berlin while its sprawling corporate campus was built, canceled the project in February 2019.
Organizing efforts among workers in Berlin have a promising future. At the Black Friday rally, Boris Bojilov, a union organizer from the services union ver.di spoke about the working conditions at Amazon and the current attempts to organize. So far, he said, ver.di has only achieved a higher level of organization and strike power in the large fulfillment centers, such as those in Bad Herzfeld or Leipzig.
Recently, however, there have also been attempts to organize workers in the small distribution centers, where many migrant workers are employed on the basis of temporary contracts. Until now it was extremely difficult to organize workers there as there is a high turnover rate and unions traditionally did not put a lot of effort into organizing temp workers. But as recently as June, ver.di succeeded in establishing the first ever works council in Germany at a distribution center in the small city of Wunstorf near Hannover. In Wunstorf, around 200 employees prepare tens of thousands of parcels every day for the subcontractors' delivery teams. Now, works council elections are also taking place in Berlin-Mariendorf. Workers in Bojilov hope to develop a strike force and that next year's Black Friday rally in Berlin will also be attended by strikers.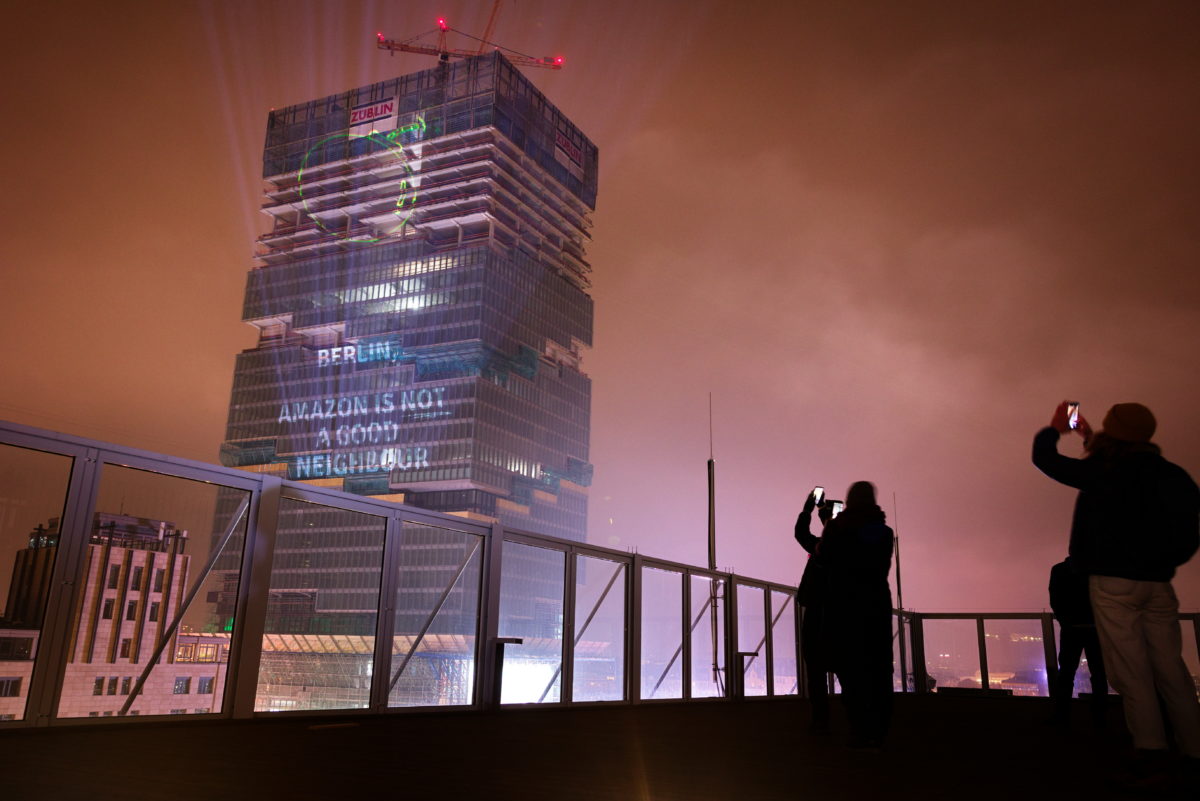 Who is Behind the 'Make Amazon Pay' Campaign
The 2022 Black Friday international day of action against Amazon was organized by UNI Global Union, the global federation of service sector unions, and Progressive International, an alliance founded in May 2020 to unite and mobilize progressive forces around the world.
"We all know that the price of everything is going up, as is the temperature of our planet. Instead of paying its workers fairly, its taxes in full and for its damage to our environment, Amazon is squeezing every last drop it can from workers, communities and the planet." Daniel Kopp, coordinator of Make Amazon Pay at Progressive International, said. "In the face of the cost of living scandal, global debt crisis and climate emergency, we are coming together to Make Amazon Pay."
The Make Amazon Pay coalition is made up of over 80 trade unions, civil society organizations, environmentalists and tax watchdogs including Amazon Workers International, Oxfam, Greenpeace, 350.org, and Tax Justice Network. The coalition demands Amazon pays its workers fairly and respects their right to join unions, pays its fair share of taxes and commits to real environmental sustainability. This is the third year in a row that the coalition organized worldwide actions on Black Friday. The slogan "Make Amazon Pay" appeared for the first time during Black Friday protests in support of the German Amazon strikers in November 2017 when a local campaign organized a small blockade at a distribution center in Berlin and a so-called "traffic light strike" at a Fulfillment center in Leipzig.
An International Strike Movement
In Germany and France alone, workers in 18 warehouses went on strike in a cooperative effort between ver.di and the French Confédération Générale du Travail, or CGT, union.
"It was very important to celebrate this year's day of action together, because you can't confront a major global corporation like Amazon on a local, regional or national level alone," Monika Di Silvestre, who is responsible for ver.di's trade union work at Amazon, said.
Strikers from the fulfillment center in Koblenz visited their colleagues in France on the day of action; conversely, workers from the Metz site, which was on strike, visited Koblenz.
Amazon employees in Germany want collective bargaining security, a fixed income and good jobs. They have been fighting since 2014 and have secured some important successes. Hourly wages have increased and health protection has improved in some cases. But none of these successes are yet covered by collective agreements. Amazon can take it all back at any time.
And the company is doing just that. The hourly bonuses of two euros that Amazon paid to the more than 20,000 employees in Germany in the spring of 2020, during the first Coronavirus wave, were simply canceled that summer. French unions called for a higher cash bonus for the period preceding Christmas, during which employees at warehouses are asked to do a lot of overtime work.
As at every strike, Amazon announced that there had been no signs of disruption to operations.
"At Amazon, preparations for Black Friday week began months ago, and our teams are looking forward to processing customers' orders in a timely manner," Amazon's press spokesman Michal Schneider said.
This does not mean that strikes haven't affected individual fulfillment centers as minimal delivery delays and reduced capacities happen. But the biggest problem is that Amazon can overcome the strikes because of its wide and international distribution network. Most products can be delivered to German households from fulfillment centers in other countries like Poland or the Czech Republic who are not on strike.
Workers and activists also protested in different cities in the U.S. In St. Louis, several dozen workers left their work, an action which was the second wildcat strike in the facility. In North Carolina, Amazon employees joined activists in protesting for better working conditions at the giant sites near Durham and Raleigh. In New York, people protested outside Amazon founder Jeff Bezos' private residence on Fifth Avenue.
Related [2019]: Amazon Workers Strike on Prime Day in Shakopee, Minnesota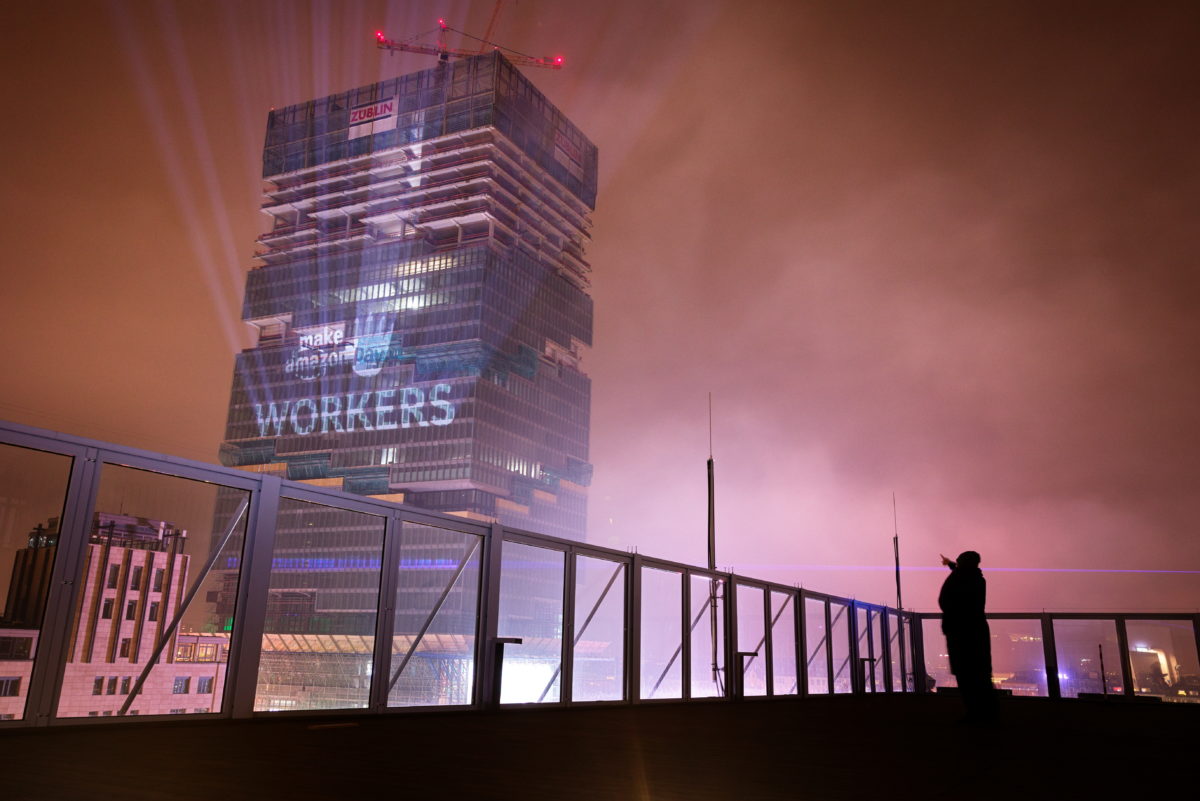 Global Protests
In Bangladesh, thousands of garment workers in Amazon's supply chain rallied for union recognition, better pay and conditions, and for Amazon to sign the Bangladesh Accord. Nazma Akhter, President of the Sommilito Garments Sramik Federation, detailed some of the issues workers in Bangladesh face.
"Garment workers, like those I represent, toil to swell Amazon's coffers often without any recognition that we are even Amazon workers. Amazon is the third largest direct employer in the world, but when you take us in the supply chain into account, it is even larger. At work we can face sexual harassment from management and victimisation when we try to organise in a trade union against that violence and for better pay and conditions."
"In Bangladesh, we are on the frontline of climate breakdown, so we know climate justice and social justice cannot be separated. We have to Make Amazon Pay all its workers a decent wage in dignified workplaces and for its environmental damage," Akhter added.
In Japan, workers in the recently formed Amazon Workers Union protested in front of the headquarters of Amazon Japan in Tokyo. In India, thousands of workers, street vendors and supporters rallied in over 20 cities including outside parliament in New Delhi. In South Africa, the Liesbeek Action Campaign protested Amazon's new African headquarters, which is being built on sacred land. In Ireland, environmentalists gathered outside Amazon HQ in Dublin against the new planned data centers in the city. Actions were also organized in Poland, the UK, Luxembourg and other countries.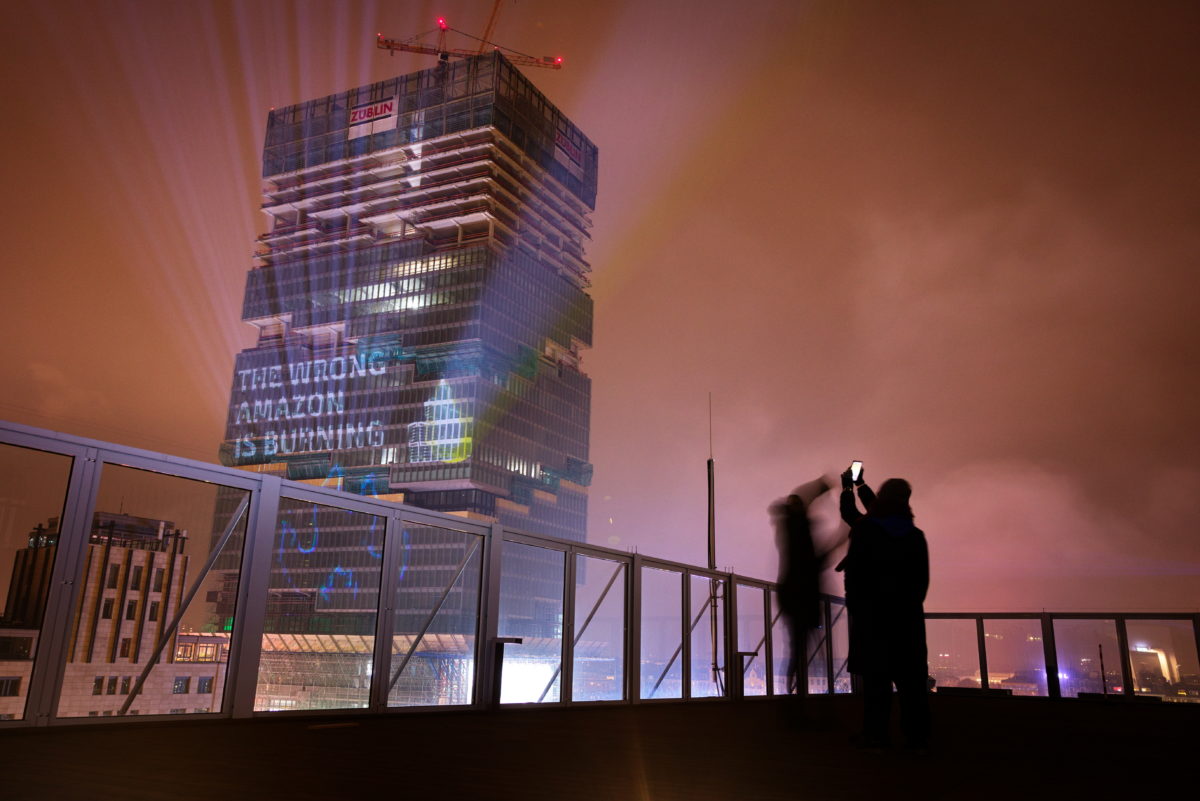 Amazon's Labor Regime
According to ver.di, the number of Amazon employees has steadily increased for years. In the span of a decade, Amazon's workforce grew to 566,000 employees worldwide by 2017, up from 17,000 employees in 2007. In a total of 30 countries around the world, Amazon operates dozens of shipping centers. In India, for example, there are currently 41. In Europe, Amazon maintains locations in Germany, Austria, Switzerland, Poland, the Czech Republic, France, Italy, Spain, Holland and the United Kingdom, among other countries. In 2020, the total number of employees broke the one million mark for the first time. During 2021, the number of full- and part-time employees continued to rise, reaching a peak of around 1.6 million. In Germany, Amazon currently employs more than 20,000 people. In the USA, Amazon is the country's second-largest employer with 800,000 employees.
Amazon's fulfillment centers are the industrial factories of the current capitalist era. They are typically located in structurally weak regions where jobs are scarce. They are often located near small towns or on the outskirts of a big city with highway or rail access. Thousands of people working for Amazon perform strenuous and repetitive work every day on tight work shifts that require complete accountability for time and tasks. It's a job that benefits a large part of society that orders goods on the internet or often relies on package delivery. Ordering from Amazon has become an important reproductive pillar like the post office or water utilities.
Adapted to today's technological needs, the factory system has been modernized for the new capitalist era, and computerized algorithms and all-round control create the defining elements of this modernized factory system. Amazon's "Chaos Principle," the warehousing system organized by the algorithm, attempts to streamline the ordering process to speed up and meet delivery times. Every worker's trip to the toilet, every cigarette, every conversation can, and in many cases will, be viewed. The possibilities of direct control have become cheaper and more widespread in recent decades. There is no longer even a need for the "theft protection" argument for installing cameras, which some employees had argued against in the past.
A study from 2016 by Sabrina Apicella at the Rosa Luxemburg Foundation explores the question of why there is actually a strike at Amazon in Germany. Her central argument is "that the transformation of sales work is characterized firstly by the introduction of technical and digital devices and software, and secondly by its Taylorization, i.e. the increasing fragmentation into its smallest components and artificial recomposition (outsourcing of customer contact, new hierarchies)."
One of the findings of the study is that the strikers are not primarily concerned "only" with higher wages. Rather, the working conditions and the lack of ability for workers to have a say, are central. Workers have repeatedly emphasize that they feel like machines while working at Amazon. The workers perceive the tight work specifications and the technical control as an attack on their bodies, which are compared in serious jokes with robotization or even cyborgization, i.e. with an externally imposed mechanization.
For more media from Germany, see our Germany archive page.
---
Follow us on X (aka Twitter), Facebook, YouTube, Vimeo, Instagram, Mastodon, Threads, BlueSky and Patreon.
Please consider a tax-deductible donation to help sustain our horizontally-organized, non-profit media organization: