Activists Fight Against Criminalization of Homelessness in New Haven
New Haven, CT – New Haven's Amistad Catholic Worker is a place of refuge for New Haven's homeless population. Its director, Mark Colville, is also a local celebrity: spearheading campaigns targeting the city's criminalization of homelessness, clearing of encampments, and hostility toward public services on city land.
Each week, Colville works to prepare meals for the hundreds of homeless New Haven residents that have fallen through the cracks of the city's support services. On any given day, around six New Haven residents also call his backyard home, creating what Colville calls a "Human Rights Zone."
Located in "the Hill," a historically Black neighborhood in New Haven, Colville's service apparatus works to accommodate the needs of those living at the Catholic Worker and along Ella T. Grasso Boulevard. While no official tally exists of homeless individuals in New Haven, estimates place the number at around 600 experiencing "the literal definition of homelessness" but with thousands more experiencing housing insecurity. 
Colville has long worked to and isn't afraid of defying city ordinances. "Not only have they not sanctioned or legalized this, it's under constant threat. There's always a standing threat that they're going to shut it down," Colville said.
Colville is also a longtime peace activist and member of the King's Bay Plowshares 7 who broke into the Kings Bay Naval Base in Georgia to protest the use of nuclear weapons; he served a year and a half in jail.
But the Catholic Worker is not only a place of refuge, but of community. Those living at the Catholic Worker agree to live in community with their "neighbors" as Colville emphasizes when speaking of the Catholic Worker's residents. If there is any violation or if Colville's neighbors complain, the operation is at risk of being shut down. Colville said, "what we're doing is completely illegal, completely against zoning laws. So if you can't get along with your neighbors, you can't do it."
As proof of this philosophy, Alexander, Colville's next-door neighbor, happily works every Sunday morning to prepare pancakes and hot coffee for the Catholic Worker's backyard residents. The Catholic Worker's philosophy, which Colville helped to found, is not about service but mutual aid. "I work with the group to help them get to a system of mutual accountability and nonviolent conflict resolution in addition to information counseling for folks in need," Colville said.
To foster this sense of community, Colville hosts Sunday breakfasts and invites all residents of the Hill to join him in preparing, eating, and cleaning up. On Jan. 12, a number of neighbors joined Colville for a serving of pancakes and hot chocolate. The Catholic Worker also serves breakfasts on weekday mornings for residents living along Ella T. Grasso Boulevard. Colville indicated that he serves up to 60 residents weekly.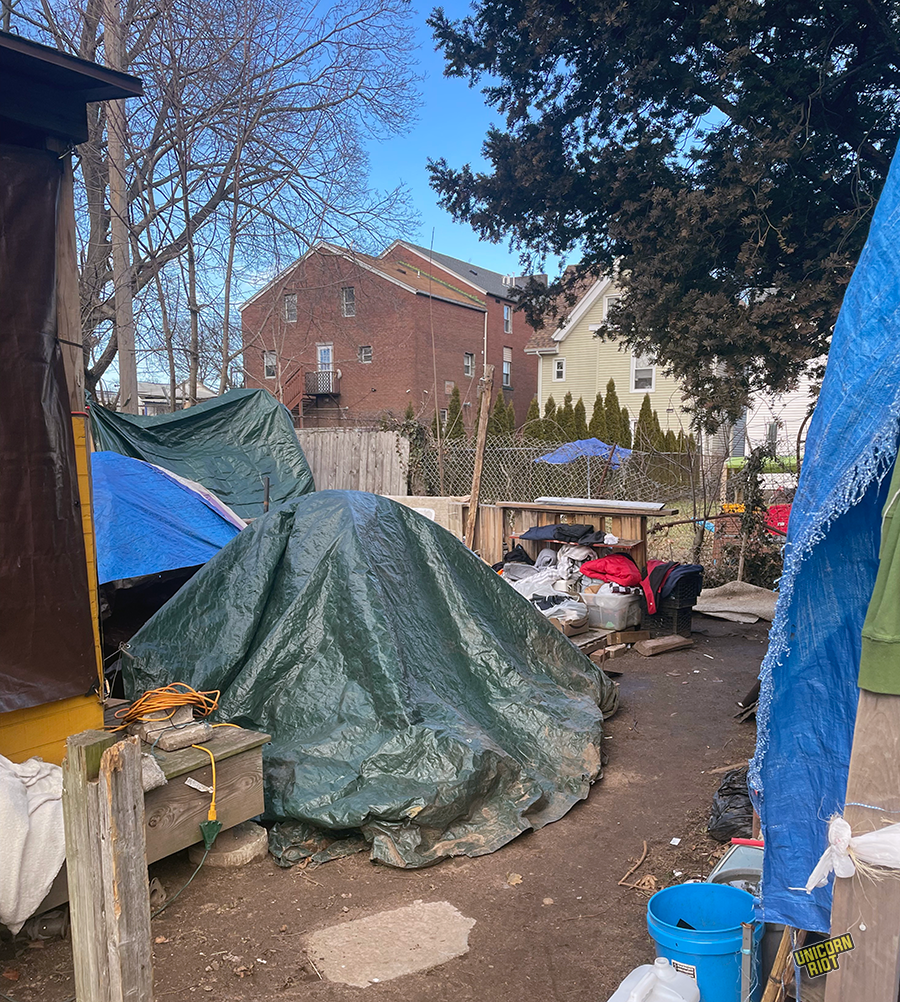 Colville's Human Rights Zone is a physical representation of New Haven's failure to meet the needs of its residents and the result of decades of divestment from primarily Black and Brown neighborhoods in the city. For Colville, it is not only that the city is failing to meet the needs of its residents, but that it actively works to criminalize their existence: "people who are homeless have the right to take refuge on public land…when the state does not provide them with adequate affordable housing."
Yale University's Lowenstein Clinic recently issued a report (PDF) detailing the extent of New Haven's criminalization of homelessness, declaring, "the city condones the criminalization of some of its most marginalized residents." A variety of laws work in tandem to criminalize homelessness, including those that make loitering and vagrancy illegal. An incident of eviction gained attention in August 2022 after a group of Yale students were brought by the Parks Department to remove the belongings of unhoused residents from a city park.
The laws, enforced by the New Haven Police Department, which recently drew the nation's ire for paralyzing Randy Cox in the back of a police van, are responsible for enforcing the city's ordinances, and activists and residents have decried the NHPD's arbitrary enforcement of laws. Donna, a resident of the Catholic Worker expressed that she is frequently approached by NHPD officers when panhandling and told that she could be arrested.
But New Haven's Director of Health & Human Services, Mehu Dalal has remained firm in his stance that "[the city] is not in the position to legalize encampment on public lands." But with shelters full, and with nowhere else to turn, New Haven's homeless residents have little choice but to sleep on the streets.
Dalal stressed that Connecticut had recently received a grant of $2.5 million from Jeff Bezos's Day 1 Families Fund and would be opening public comment on how to spend the money. But activists have criticized New Haven's willingness to outsource public services to nonprofit organizations instead of addressing the problem themselves.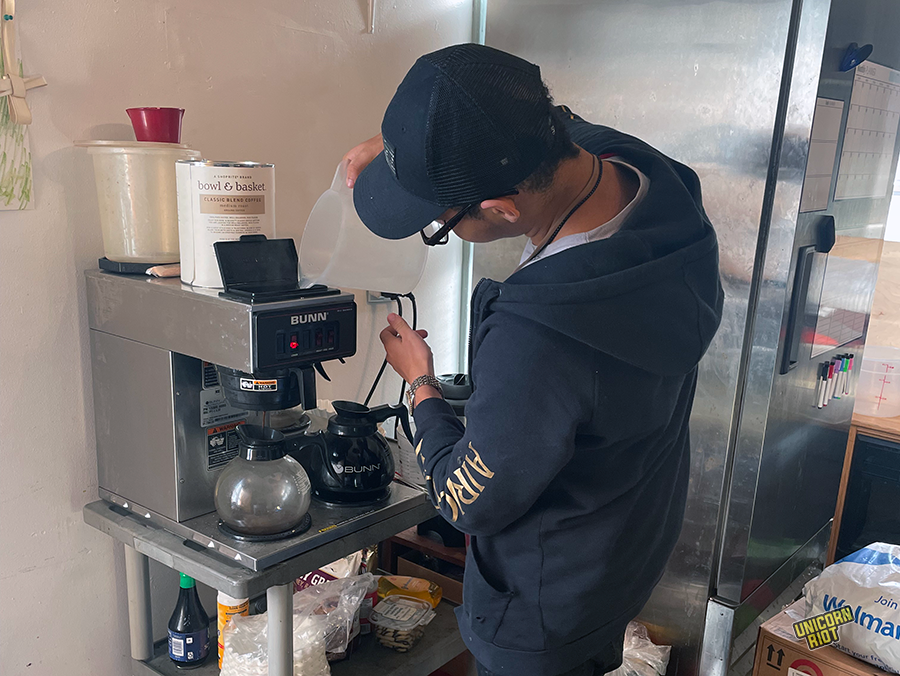 A recently formed advocacy group, U-ACT, or Unhoused Activists Community Team, is currently led by Tyrell Jackson and Keith Petrulis, who both live along Ella T. Grasso Boulevard, is lobbying the city for a list of demands, including, "Stop[ing] evictions of unhoused people from public land." They rally weekly in front of City Hall with Colville after breakfast is served on Tuesday mornings.
Colville has stressed that until New Haven passes the proposed Homeless Bill of Rights, unhoused residents will continue to experience violence at the hands of the police and state. And even then, the Catholic Worker will continue working to build systems of care and community support to take care of New Haven's residents, whether the city is able to help or not.
Cover images: A green, weather-worn house stands tall, with a Black Lives Matter poster displayed in the front window. An "Amistad" sign is hung over the front porch. Donna, a resident of the Amistad Catholic Worker stands in the kitchen of the house, smiling, as she heats up hot chocolate for the Sunday community breakfast. All photos by Theia Chatelle, a journalist based in New Haven, CT. Her writing has appeared in The Nation and CounterPunch. All socials @theiachatelle.
---
Please consider a tax-deductible donation to help sustain our horizontally-organized, non-profit media organization:

Follow us on X (aka Twitter), Facebook, YouTube, Vimeo, Instagram, Mastodon, Threads, BlueSky and Patreon.