Administrative Detention and 'Medical Neglect' in Israeli Prisons Lead to Deaths and Protests
Gaza City, Gaza, Palestine — Around 4,700 Palestinians are jailed in dire conditions in Israeli prisons with at least 866 of those prisoners being held indefinitely on 'administrative detention' without charges, trial or release date. Deaths inside Israeli prisons since 1967 have risen to 235, including a high-profile prisoner death in late December and another in February 2023.
Human rights organizations and prisoners have long demanded an end to administrative detention and practices of 'medical neglect' which they contend occur regularly in Israeli prisons.
In efforts to draw attention to the deadly policies, prisoner hunger strikes and acts of disobedience inside Israeli jails are growing – 35 consecutive days of organized disobedience actions inside Israeli prisons occurred earlier this year. Outside, Palestinians continually gather to protest Israeli policies and honor fallen prisoners.
In our video below we feature three actions addressing some of the issues faced by many Palestinian prisoners and their families:
We were on the ground in late December 2022, when the mother of prominent prisoner Nasser Abu Hamid, who died in custody, asked for her son's dead body to be given to the family. Israeli forces responded to a protest at the Qalandia Checkpoint by shooting live fire at the crowd.
A week before that, we filmed a large crowd hold a demonstration outside of the Red Cross Headquarters after Hamid's death.
Last summer, we covered a march entitled 'We will not let our prisoners down,' in Gaza City that stood in solidarity with hunger striking prisoners Khalil Awawdeh and Raed Rayan.
---
Administrative Detention and Hunger Striking
Administrative detention is a controversial policy carried out by Israel's occupational government in which Palestinian prisoners are routinely held for months, sometimes years, without charges, court dates or any evidence of crimes.
International human rights organizations have continuously called for an end to administrative detention noting that it violates international law.
According to the Fourth Geneva Convention, a set of international humanitarian laws adopted in 1949, the use of administrative detention is allowed in emergencies only, or during an occupation, of which Israel as the occupying power is allowed administrative detention "for imperative reasons of security" which shall include procedures for appeals "with the least possible delay."
Over the years, dozens of Palestinian prisoners have increasingly held hunger strikes to demand their release from administrative detention. Several prisoners are currently staging hunger strikes, including Raed Rayan whose health has deteriorated severely.
Palestinian prisoner Khalil Awawdeh nearly died from his hunger strike late last year. He had been held on administrative detention for several months before starting a hunger strike demanding his release. After six months of the strike, he ended it on Aug. 31, 2022, when a deal was made for an Oct. 2022 release. However, as of March 2023, Awawdeh has yet to be released from prison.
Administrative detention is not the only controversy inside Israeli jails and prisons. In January, 40 Palestinian prisoners were sent to solitary confinement by Israeli authorities in attempts to thwart a mass hunger strike. Furthermore, jail authorities then started giving inmates less food, have cut the shower time of prisoners to less than four minutes and are consistently and violently raiding the cells of Palestinian prisoners.
In response to the punitive measures, a series of disobedience actions occurred for 35 days straight throughout February and March in the Israeli jails. Last week, Palestinian prisoners called victory and stopped their planned mass hunger strike "after the halting of Israeli repressive measures against the prisoners."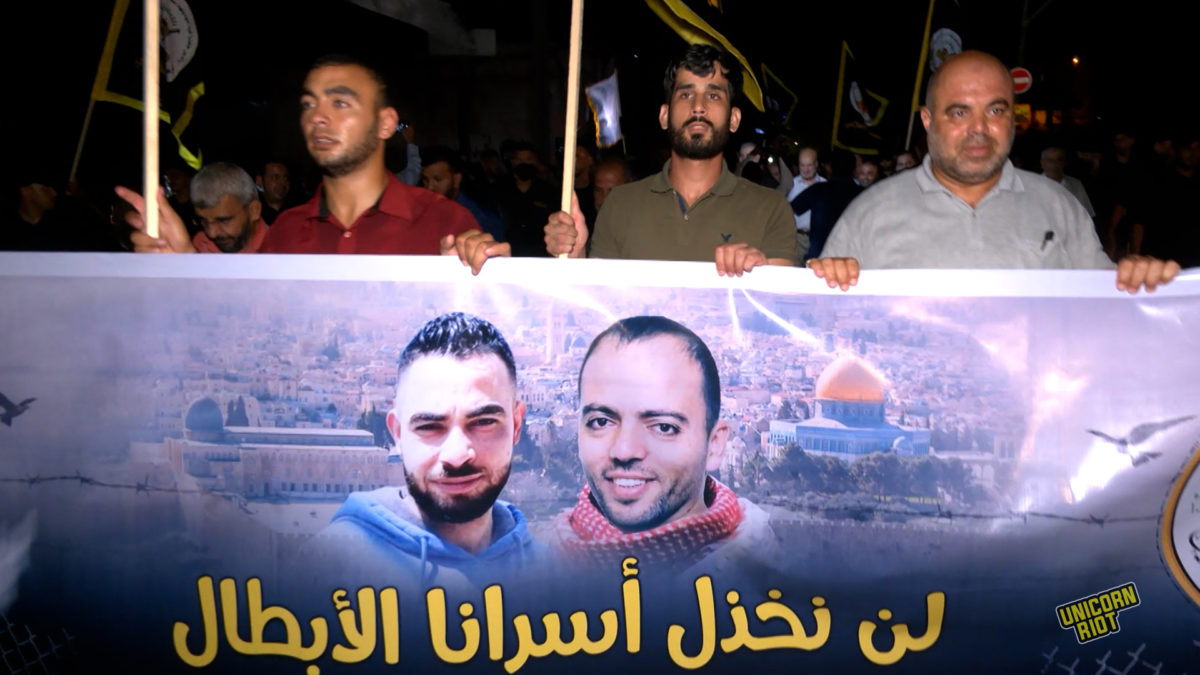 ---
---
'Medical Neglect' and the Death of Nasser Abu Hamid
Medical treatment, or lack thereof, for Palestinian prisoners has a long, well-documented, and controversial history. Doctors are not regularly available in the jails and over two hundred people have died in Israeli custody over the last 56 years.
On December 20, 2022, high-profile prisoner Nasser Abu Hamid, who had been incarcerated since 2002, died of cancer while in Israeli custody. Claims of "deliberate" medical neglect were instantly reported after Hamid's death.
Abu Hamid was the co-founder of the armed wing of Fatah, al-Aqsa Martyrs' Brigade, and was given seven life sentences plus 50 years for several murders during the second Intifada. Four of his brothers are also serving life sentences. Al-Aqsa Martyrs' Brigade is labeled as a terrorist organization by Israel, the European Union, Canada, Japan, New Zealand, and the U.S.
Abu Hamid was diagnosed with late-stage lung cancer in August 2021, had surgery in October and fell into a coma in January 2022 for 12 days. In August 2022, a tumor had been detected in Abu Hamid's head and his health rapidly deteriorated.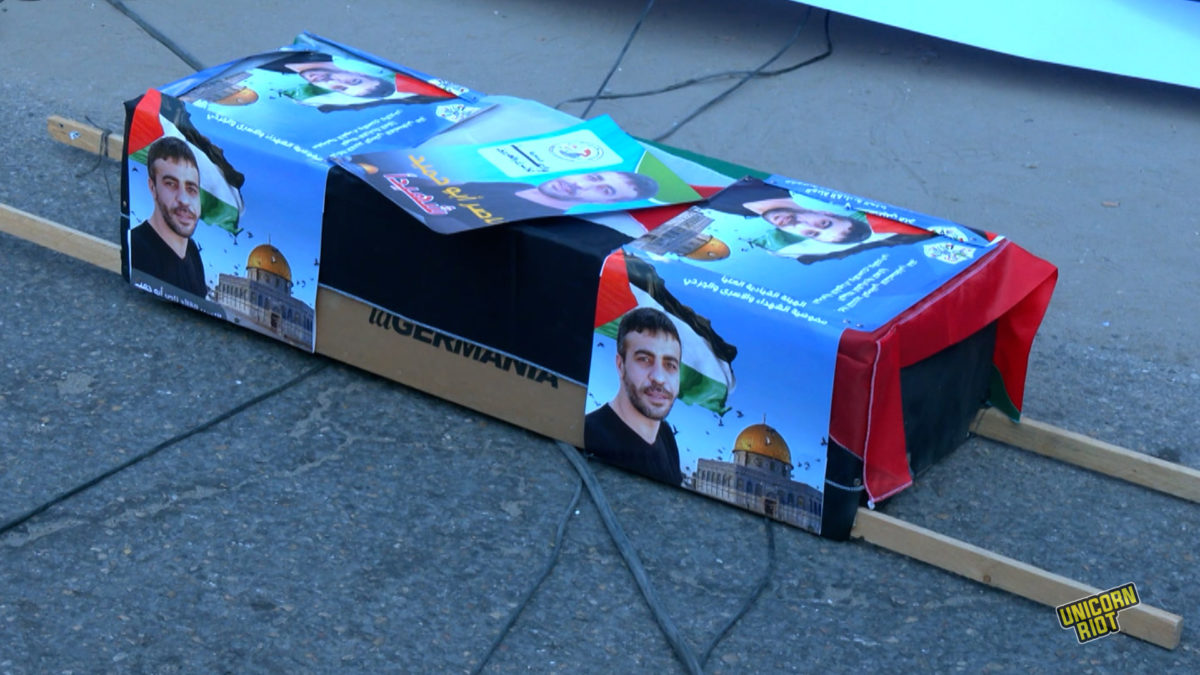 Palestinians that Unicorn Riot spoke with on the streets of Gaza after Abu Hamid's death consistently blamed his death on medical negligence. Some also claimed that being tortured for years in Israeli prisons initially led to his cancer, a claim that was also noted in a statement to the United Nations.
The Organization for Defending Victims of Violence and the Khiam Rehabilitation Center for Victims of Torture, a non-governmental organization in special consultative status issued a statement to the United Nations Human Rights Council in February calling Abu Hamid's death an "execution" from "willful medical negligence."
"Because of the torture and the disease, he contracted cancer, which began to devour his body moment by moment, and he lay under artificial respirators in the Ramla prison clinic, unconscious, shackled by the hands and feet, and his body no longer responded to treatments, and the Ramla prison clinic lacked the lowest therapeutic and life necessities.

Despite all the calls and reports about the seriousness of his health condition and the need to release him and transfer him to his home or abroad for treatment, the occupation authorities refused and he was fighting death under willful medical negligence, suffering from cancers in the lungs and in the brain."

Execution of The Prisoner Nasser Abu Hamid in Prison, statement to the U.N. Human Rights Council on Feb. 5, 2023 submitted by Khiam Rehabilitation Center for Victims of Torture
The statement read that they hold "Israeli occupation fully responsible" along with "all governments … because the international silence encourages the occupying state and contributes to the killing and oppression of Palestinian prisoners, and they bear part of the responsibility." Read the statement in full below.
A.HRC_.52.NGO_.216_200223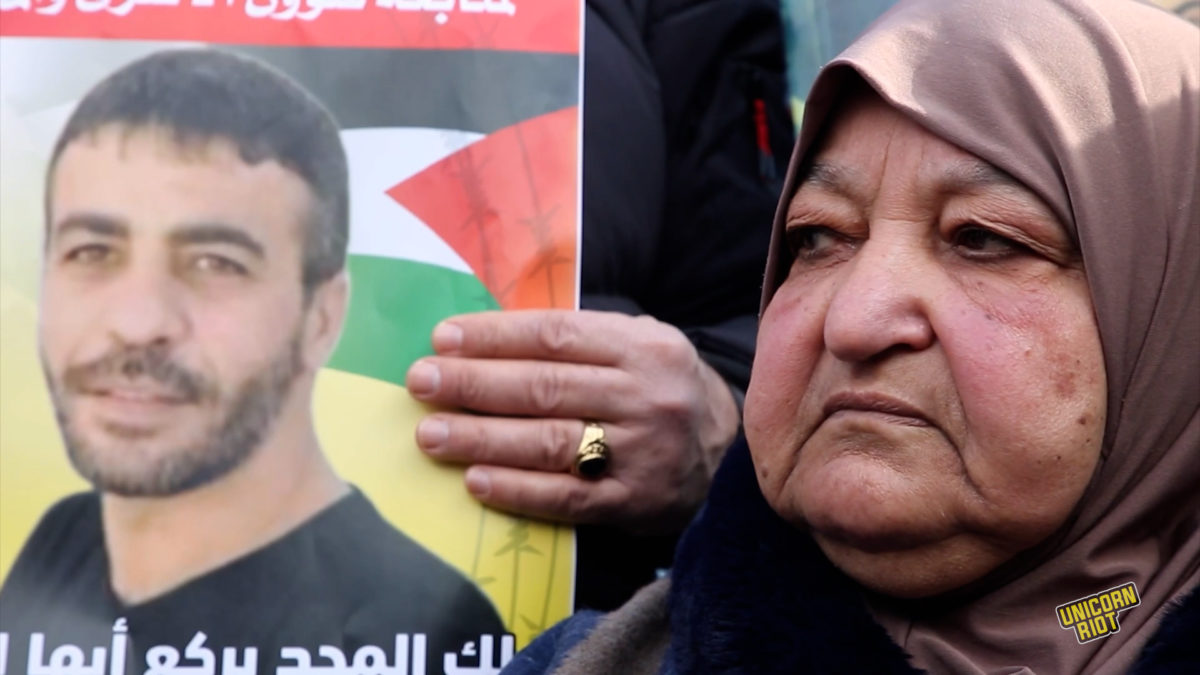 ---
Israel Has Kept 117 Dead Palestinians in Their Morgue, Refusing to Return Them to Their Families
In a disturbing trend, since 2016 the Israeli government has kept the bodies of at least 117 dead Palestinians in their morgue and have not given them back to their families, violating religious laws and customs.
This is also the case with Abu Hamid. In late December 2022, then-Israel's Defense Minister Benny Gantz, said to Israel's Army Radio that "terrorist Nasser Abu Hamid will not be returned to his family."
A week after Abu Hamid's death, a march was led by his mother in which they marched with an empty coffin draped in a Palestinian flag and demanded his body be given to the family.
"We want our sons. Just because they resisted and struggled, their corpses shouldn't be kept with a criminal enemy in the mortuary. Our sons resisted and struggled to defend the land, al-Aqsa and Palestine. We want our sons buried in the land of Palestine."

Mother of Nasser Abu Hamid
The march started at the entrance of the al-Am'ari camp in al-Bireh and ended near the Qalandia military checkpoint as Israeli forces opened fire with live bullets, sound grenades, and tear gas. Eleven civilians were injured, no arrests were made.
At least two dozen Palestinian prisoners suffer from cancer inside Israeli prisons with many claiming the lack of medical care could lead to another death at any moment.
Prisoner activities are dynamic and their support networks are ongoing. Continuous updates to prisoner conditions and strikes can be found at Palestinian Prisoner's Society's website.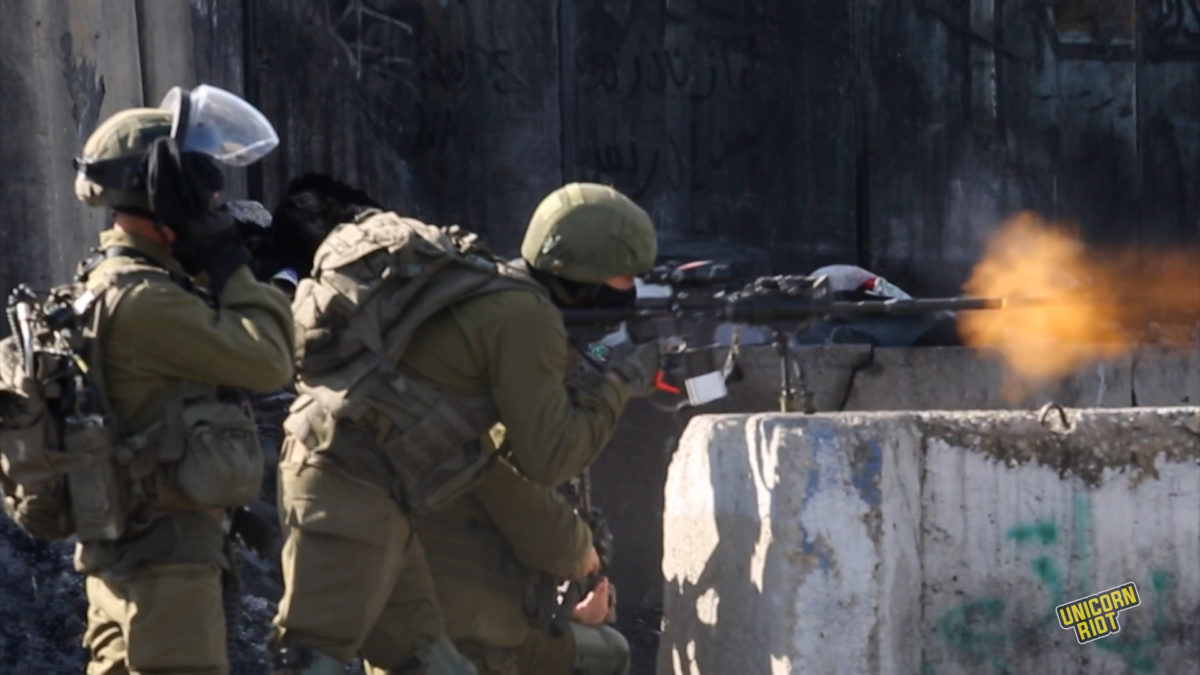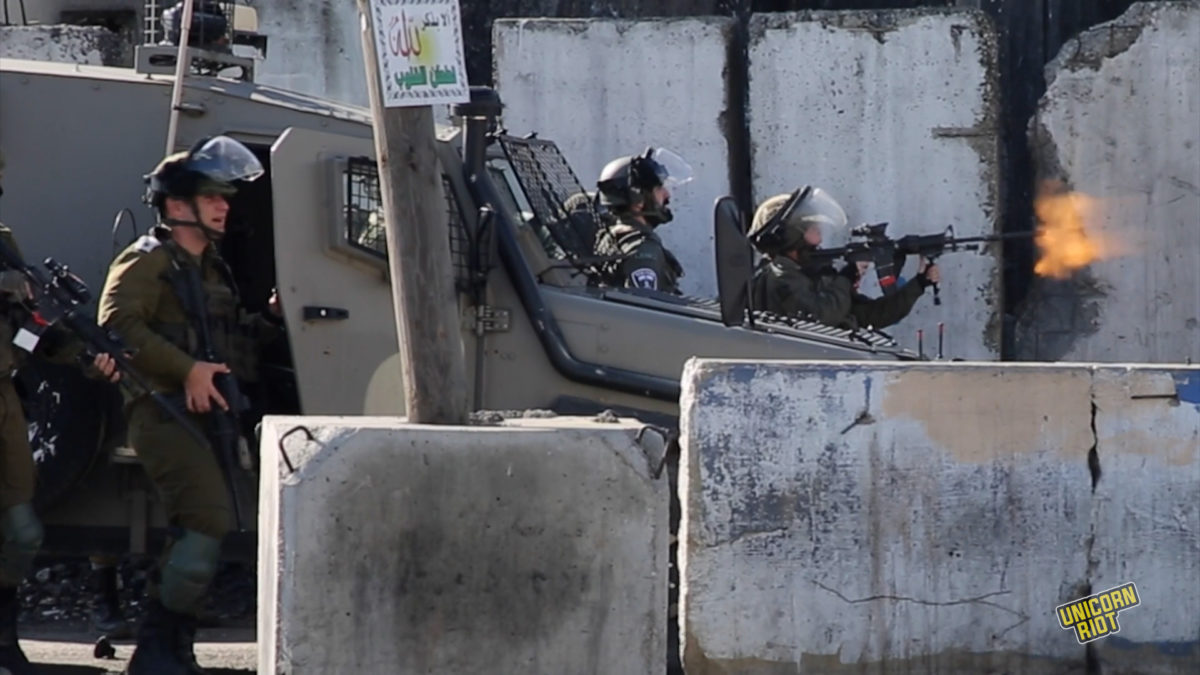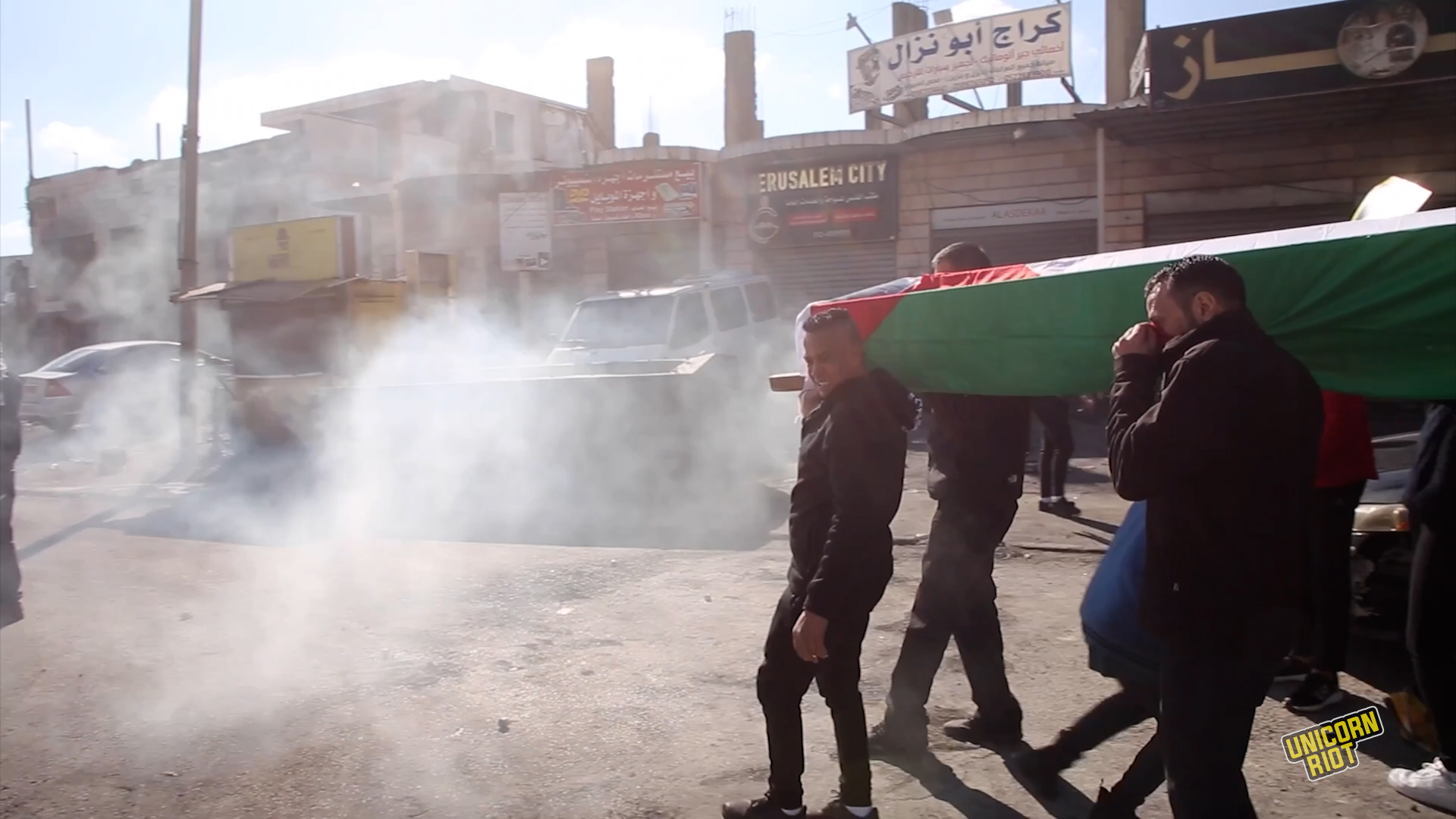 For more from Palestine, see our archives.
---
Follow us on X (aka Twitter), Facebook, YouTube, Vimeo, Instagram, Mastodon, Threads, BlueSky and Patreon.
Please consider a tax-deductible donation to help sustain our horizontally-organized, non-profit media organization:

---
Unicorn Riot's Coverage from Palestine: