Prisoners in Greece: Hunger Strike as a Weapon
Responding to the Greek government's continuous attack on prisoners' rights, inmates have waged seven hunger strikes in prisons across Greece over the last three years — many of which have been successful.
According to the prisoners and their supporters, authorities target certain incarcerated people and challenge their rights, rewrite laws which they've seemingly chosen not to follow themselves, and have made a consistent practice of transferring prisoners vindictively.
On Tuesday, January 10, 2023, 10 imprisoned Turkish and Kurdish hunger strike prisoners were released. Before the 10 striking prisoners were released, the last prisoner who went on a strike in Greece was Thanos Hatziagelou, an anarchist from Thessaloniki. Since 2020, there were four other strikers: Vasilis Dimakis and Kostas Sakkas during April and November 2020, Dimitris Koufontinas in January 2021, and Giannis Michailidis in May 2022.
Meanwhile, in solidarity with the striking prisoners, Greek anarchists and community members have been supporting the inmates, holding demonstrations, and re-occupying squats.
The Eleven Turkish and Kurdish Political Refugees
In 2018, 11 Turkish and Kurdish political refugees were convicted, without concrete evidence, of allegedly being members of a Turkey-based militant group known as DHKP-C. The prisoners appealed and when the trial started, they went on a hunger strike for 97 days refusing to eat anything, except sugar, salt and water.
Finally, at the third court hearing, on Jan. 10, the release request for 10 out of 11 prisoners was accepted. As the only piece of evidence in the trial, the last prisoner admitted to transferring and concealing a bag of guns. The 10 prisoners have since been released on bail and are going through their second trial.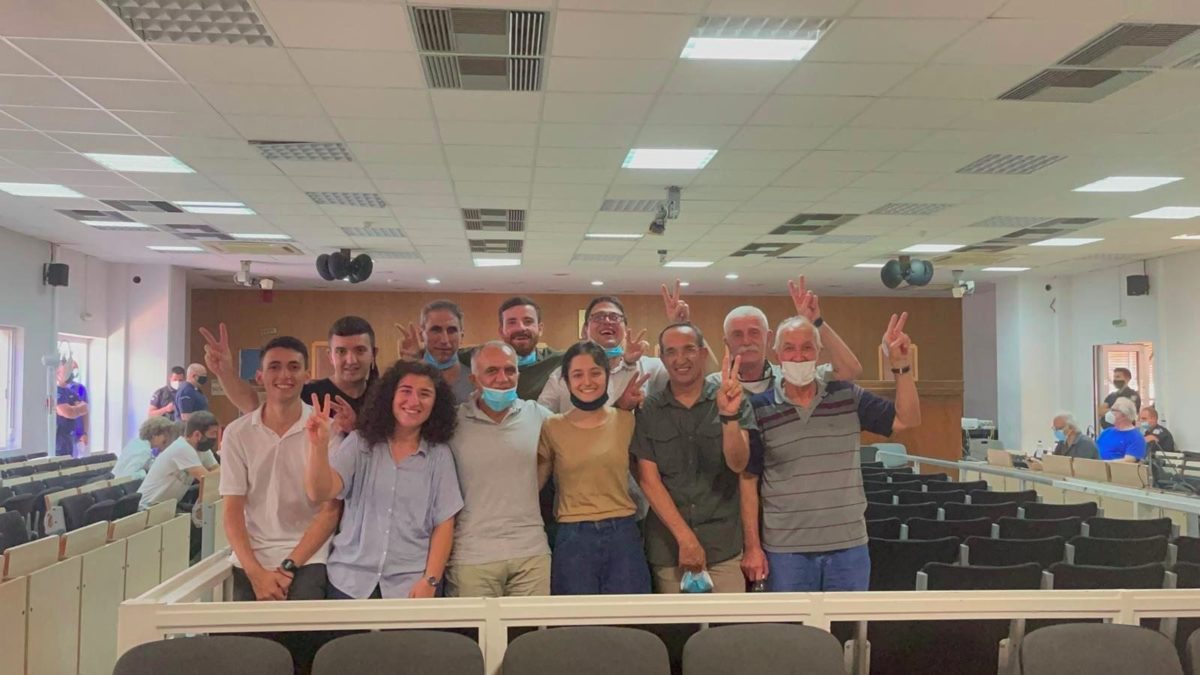 In the first trial for the charges, the prisoners were physically beaten inside one of the court hearings — as reported by their lawyers — before they were convicted based on the anti-terrorist law of Greece and sentenced to 33 years. Yet, no terrorist actions were brought up in court by the Antiterrorist Agency of Greece (Δ.Α.Ε.Ε.Β.).
DHKP-C (Devrimci Halk Kurtuluş Partisi-Cephesi or Revolutionary People's Liberation Party/Front) is a political group in Turkey which espouses a militant Marxist-Leninist ideology, and is labeled as a terror organization by Turkey, Japan, the U.S. State Department since 1997, and others. DHKP-C members have carried out several armed actions, most notably the kidnapping and assassination of Turkish prosecutor Mehmet Selim Kiraz, who was handling the case of Berkin Elvan, a 15-year-old teenager killed by the police in 2014.
The group has never carried out an action in Greece, and there is no evidence connecting the 11 prisoners with the organization. Their arrests were made in Athens on Nov. 28, 2017, 10 days before Recep Tayipp Erdogan, the President of Turkey, visited Greece.
The Sudden Transfer of Thanos Hatziagelou & Victorious Hunger Strike
Days before Christmas Eve on Dec. 18, 2022, the prison council of Korydallos, the biggest prison in Greece, decided to transfer prisoner Thanos Hatziagelou to Thessaloniki, and then to a prison in Serres, despite not providing an explanation or a written order.
Since his arrest in February 2022, Hatziagelou, an anarchist, has been outspoken from prison, accepting responsibility for several bombings of 'Organisation Anarchist Action' in Thessaloniki since 2016.
Hatziagelou immediately started a hunger and thirst strike on Dec. 19, asking for a written order for his transfer. The Greek state refused to respond and he continued his strike. He wrote in a public letter that he was willing to "die with dignity" in a strike for his rights.
Judges who ruled in the case decided not to order a written transfer, but instead they ordered Hatziagelou to be force-fed, a measure labeled as torture under international treaties. But the doctors in the hospital of Serres, where he was hospitalized, refused the force-feeding order.
Anarchists traveled on New Year's Eve from Thessaloniki to the hospital of Serres to celebrate the New Year beside Thanos Hatziagelou.
On Jan. 4, anarchists symbolically recuperated the evicted Terra Incognita squat in Thessaloniki, in solidarity with Thanos Ηatziagelou. The recuperation took place at 10 a.m. and police intervened at 1 p.m. The operation featured heavy police tactics with SWAT teams, anti-riot police and several motorcycle police officers. Police arrested 21 people and gave them all several charges, including resisting and violent acts against police officers.
Konstantinos Papathanasiou, the secretary of anti-crime policy, decided to transfer Ηatziagelou from the hospital in Serres to the hospital in Korydallos. After that, Hatziagelou stopped the thirst strike and continued the hunger strike. On Jan. 15, Hatziagelou was transferred by van from Serres to Korydallos hospital and stopped the hunger strike too, as his demands were finally met after almost one month.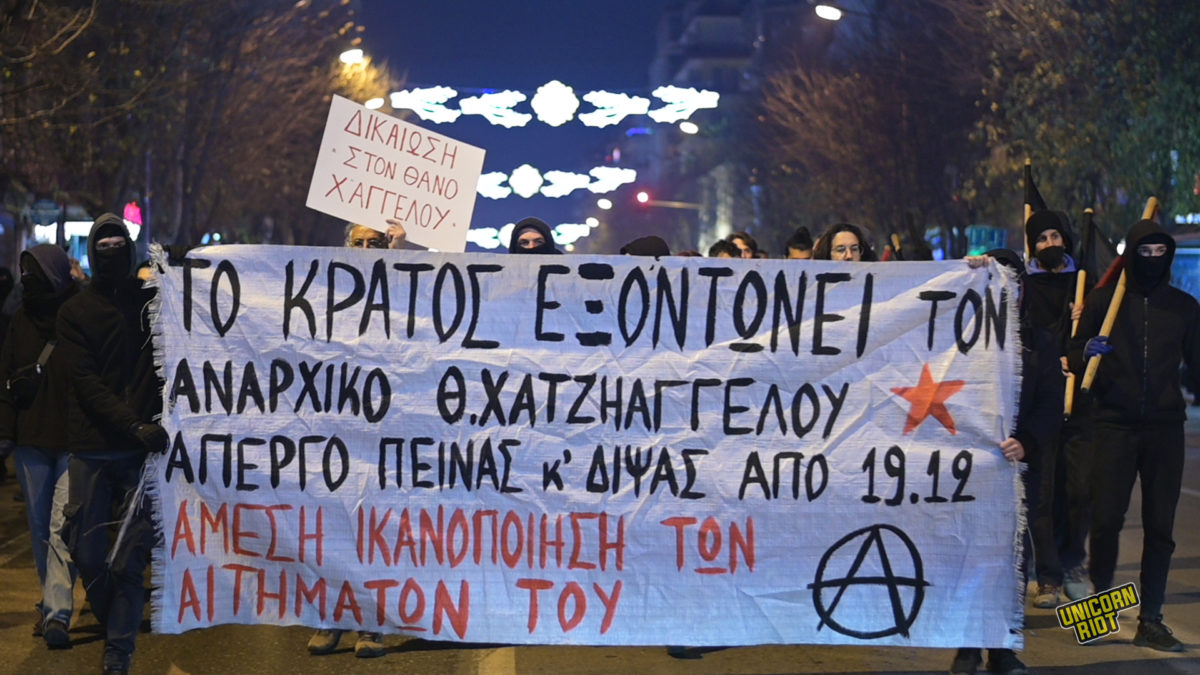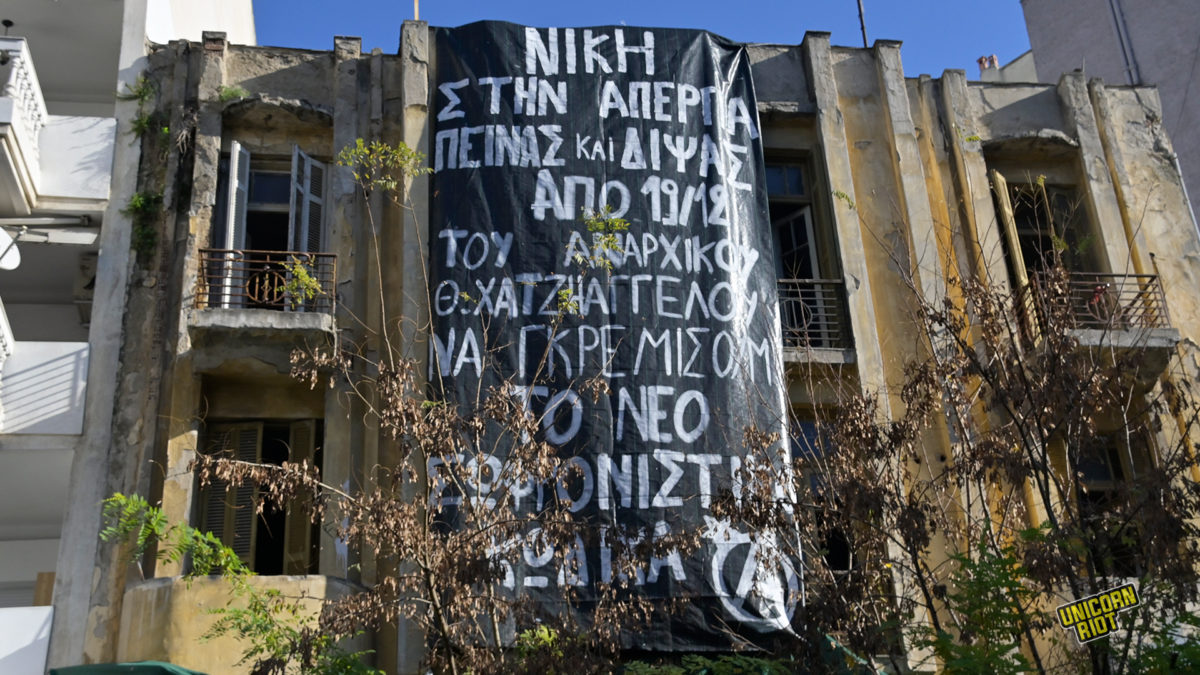 Giannis Michailidis: A Strike that Sparked Police Brutality in Athens
Last year, another anarchist prisoner, Giannis Michailidis, went on a 68-day hunger strike. Michailidis has served nine years in prison, after being arrested in an encounter with police officers. He started a hunger strike in May 2022, demanding his release on bail.
When he made the demand, Michailidis had served three-fifths of his 20-year penalty and two-fifths of his sentence for breaking out in 2019. He was studying in the Agricultural University of Athens, taking several educational furloughs from prison, until a prosecutor in 2019 decided to veto any further leaves.
While he was on hunger strike for his release, two other major cases came into court where inmates were released on bail: the case of the rapist, Dimitris Lignadis, and the case of the policeman who killed Alexis Grigoropoulos, Epaminondas Korkoneas. Both of those convicted criminals were released in contested court decisions at the same time Michailidis was asking for his release based on fulfilled law requirements.
This practice of double standards led to social turmoil and brought thousands of people into the streets demanding Michailidis' release and protesting against the release of Lignadis and Korkoneas.
Police prohibited a demonstration in Athens on July 28, the same day that the prosecutor refused Michailidis for a second time. This brought a riotous reaction by protesters in the streets. In response, riot police gave one of its most memorable crescendos of police brutality in 2022, gassing and beating protesters. The next day, Michailidis ended his strike after 68 days.
Dimitris Koufontinas: The Revenge of the Family
In 2020, the Greek government enacted a law tailored to target a leader of the notorious now-defunct far-left militant group 17N, Dimitris Koufontinas. The provision disallowed prisoners convicted of terrorist attacks the ability to stay in county jails. Koufontinas had been in a county jail in Volos since 2018. On December 20, 2020, he was suddenly moved from Volos, confirming he was a target of the new law. The government didn't even respect its own law, transferring Koufontinas to Domokos, instead of Korydallos, his first jail, where he should have been placed, based on the new law 4760/2020.
During the transfer, which was described by Koufontinas as more of a kidnapping rather than a lawful order, policemen took him at 3:30 a.m. without telling him where he was going. A couple weeks later on January 8, 2021, Koufontinas started a hunger strike, which provoked intense political debate across Greece.
Named after the date in 1973 when the U.S.-backed military junta massacred students at Polytechnic University in Athens, Greece, Revolutionary Organization 17 November, or 17N, was a far-left urban guerrilla organization that waged a deadly 27-year campaign across Greece. 17N's first assassination targeted the CIA station chief in Athens, Richard Welch. From 1975 to 2002, the group assassinated several U.S. officials, wealthy Greek industrialists, and police officers. In 1989, 17N killed Pavlos Bakoyannis, the husband of Parliament member Dora Bakoyannis (who is the sister of Kyriakos Mitsotakis, the current Prime Minister of Greece).
Several international organizations, such as Amnesty International, intervened in favor of Koufontinas asking the state to hear Koufontinas' lawful demand and have a hearing on each transfer, and not to judge each ruling based on the past actions of the prisoner. Doctors, well-known academics, political parties, the Union of Judges and Prosecutors of Greece, and even a police trade unionist, called on the Greek government to respect the general rule of law and save his life.
Α former MP and Minister of New Democracy, Aris Spiliotopoulos, said at the time, "[The] death penalty does not exist in our country. Revenge has no place in our penal system," while Costa-Gavras, the well-known Greek director, said that: "If they let Koufontinas die, it will look like revenge." (Costa-Gavras' acclaimed 1969 film 'Z' is a lightly fictionalized version of a real-life 1963 political assassination that led to the 1967 junta takeover carried out by unites trained by NATO and the CIA.)
All of this took place during the pandemic, where strict measures kept people off the streets. Many went to social media to express their frustration. It was during this period that Facebook then banned the profiles of several photojournalists posting photos of demonstrations (ex: Marios Lolos, Tatiana Bolari, and Lefteris Partsalis) and journalists posting on the issue, saying that referring to Koufontinas' name is against the community rules.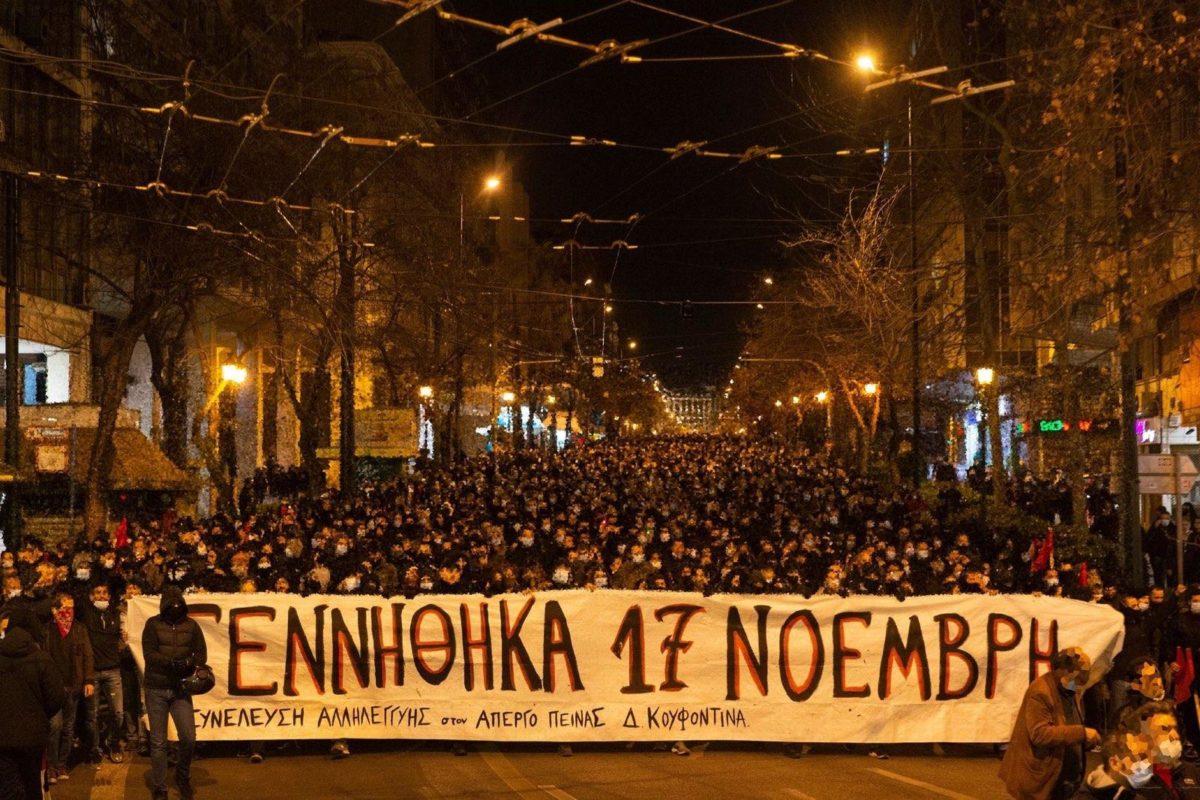 In the end, after 65 days — several of them in the ICU — Dimitris Koufontinas ended his strike on March 14 without getting his demands met. However, one year after the decision for his transfer, on December 7, 2022, the Supreme Court of Greece ruled in favor of Koufontinas' request. Now the lawfulness of each transfer will be brought to a court hearing.
Vasilis Dimakis-Kostas Sakkas: Prisoners Struggling for Educational Rights
Two other prisoners in Greece have used hunger and thirst strikes in prison to demand better educational rights. Vasilis Dimakis and Kostas Sakkas are two prisoners who've expressed willingness to study and have been retaliated against by the Greek state with extra punishment for their actions, cutting their furloughs or transferring them.
Sakkas held a successful five-day hunger strike for his education. Originally Sakkas was studying in Athens while he was imprisoned in Korydallos (Athens) for a bank robbery in Thessaloniki. However, the council responsible for prisoner transfers decided to keep him in Athens until a sudden decision from the director of the jail, Maria Stefi, who decided to transfer him to Nigrita Prison in Serres on November 9, 2020. After five days of a hunger strike, he was transferred back to the jail of Korydallos in Athens, to continue his studies.
Vasilis Dimakis went on a hunger and thirst strike three times because of the challenges he encountered when trying to study Political Science in Athens while being incarcerated. The first time was in 2018, when the SYRIZA-ANEL government left him for 30 days on hunger strike without an answer to his demand for access to the university. Later, Dimakis went on two other hunger strikes in 2020 and 2022.
In 2020, his rights were restricted again. This time, his fellow students stood beside his demands to return to his studies. In March 2022, he again started a hunger strike, which was short because his educational demands were accepted. While on educational leave, on March 18, Dimakis broke his electronic wristband and escaped. Dimakis was arrested by police in the port city of Piraeus on March 23.
---
See past Unicorn Riot reporting on anarchist and political prisoners in Greece:
---
Follow us on X (aka Twitter), Facebook, YouTube, Vimeo, Instagram, Mastodon, Threads, BlueSky and Patreon.
Please consider a tax-deductible donation to help sustain our horizontally-organized, non-profit media organization: