#NoKidsInPrison Art Installation Highlights Youth Incarceration Driven By Target
Part 9 in the series: 21st Century Jim Crow in the North Star City
Saint Paul, MN — The #NoKidsInPrison traveling art installation highlighted artwork from several cities across the U.S. along the theme of abolishing youth imprisonment; including art inspired by youth incarceration in Minneapolis driven by Target Corp. 
The Minneapolis based non-profit law firm Legal Rights Center (LRC), which provides free legal aid for low income residents, partnered with Performing Statistics, a national arts organization that's dedicated to ending youth incarceration, for the #NoKidsInPrison campaign and immersive art exhibition which ran from September 29 through October 8 at the Black Youth Healing Arts Center in St. Paul.
LRC's youth fellowship program, developed by Community Strategy Program Director Lupita Herrera, has driven the End Youth Prisons MN campaign and art installation. Herrera, the daughter of Mexican immigrants, told Unicorn Riot that the program started with a simple vision: she wanted to bring young people into the organization, "Because often times we say youth are the future but I don't agree with that. … They are 'the now!'"
Two years ago she created a youth-centered 'Know Your Rights' curriculum and workshop to inform youth and families like her own who do not have access to resources about their basic rights living in the U.S. "The legal system is basically like a third language and really hard for folks in our communities to understand." Quickly the 'Know Your Rights' program expanded into a full fledged paid fellowship. "We started off with three young people and now we have about 12 that are trained on legislative policy stuff, our 'know your rights' trainings, and now they've been working on this exhibit this whole time," she said.
Youth fellows worked at the exhibit every day, greeting guests, answering questions, soliciting feedback from visitors, and leading tours, like Adia Hickman who gave Unicorn Riot a walk through while filming this short documentary about the installation.
Installation Background
The #NoKidsInPrison installation is a collaboration of more than 150 youth artists and activists from various cities over the past decade. Kate DeCiccio, co-director of Performing Statistics, told Unicorn Riot that the project began as a summer program in Richmond, VA where youth recently released from detention partnered with a local arts agency. The art they made was used to organize and impact local policies. The installation has traveled around the country and has expanded over the years to include youths from several cities including New York, Los Angeles, Philadelphia, New Jersey, Connecticut, Maine, and Minneapolis. After its stint in the Twin Cities the exhibit heads to Chicago.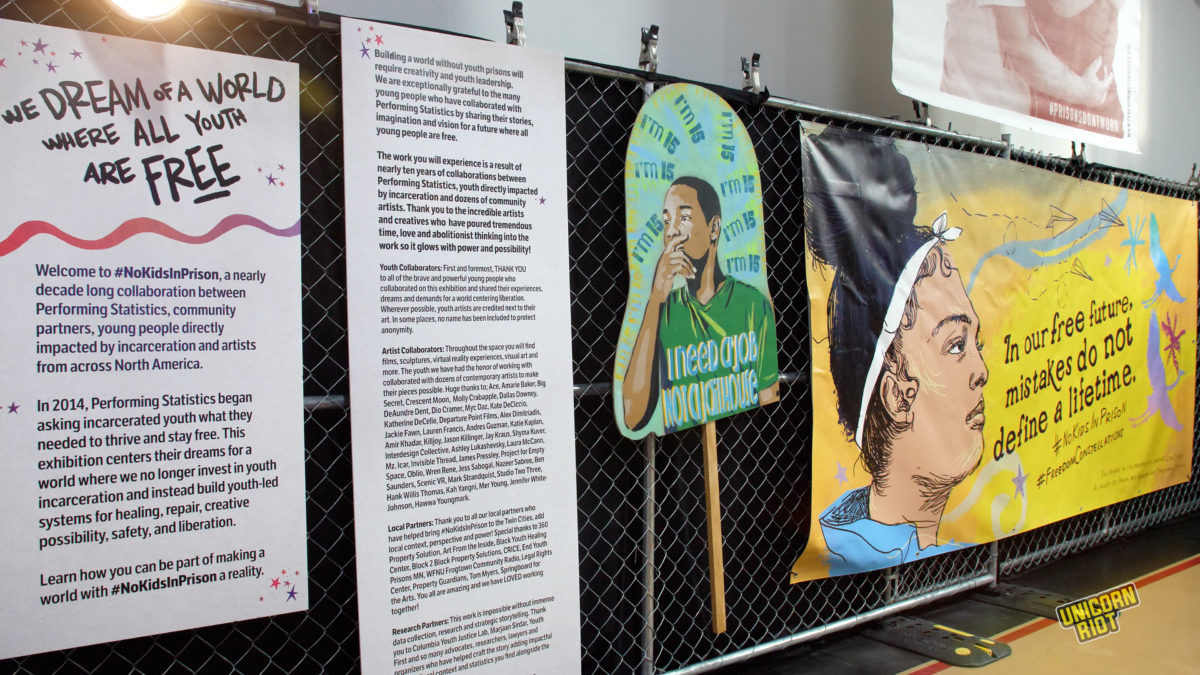 Immersive Art
The art installation is multimedia and immersive. All of the artwork is grounded in the audacious vision of "what becomes possible when all youth are free." Throughout the tour visitors are confronted head on with issues of racial injustice.
Guests could interact with the art which was showcased in a diverse display of mediums including testimonials and songs recorded by youth playing on headphones, a classroom where visitors could learn about the impacts of the school-to-prison pipeline, a makeshift prison cell with a virtual reality headset that simulates being in solitary confinement, a prison phone booth with a young man's testimonial playing through the earpiece, short documentary films featuring formerly incarcerated youths playing on video monitors, a historical timeline of youth incarceration in America, and a do-it-yourself collage-making station with messages of hope.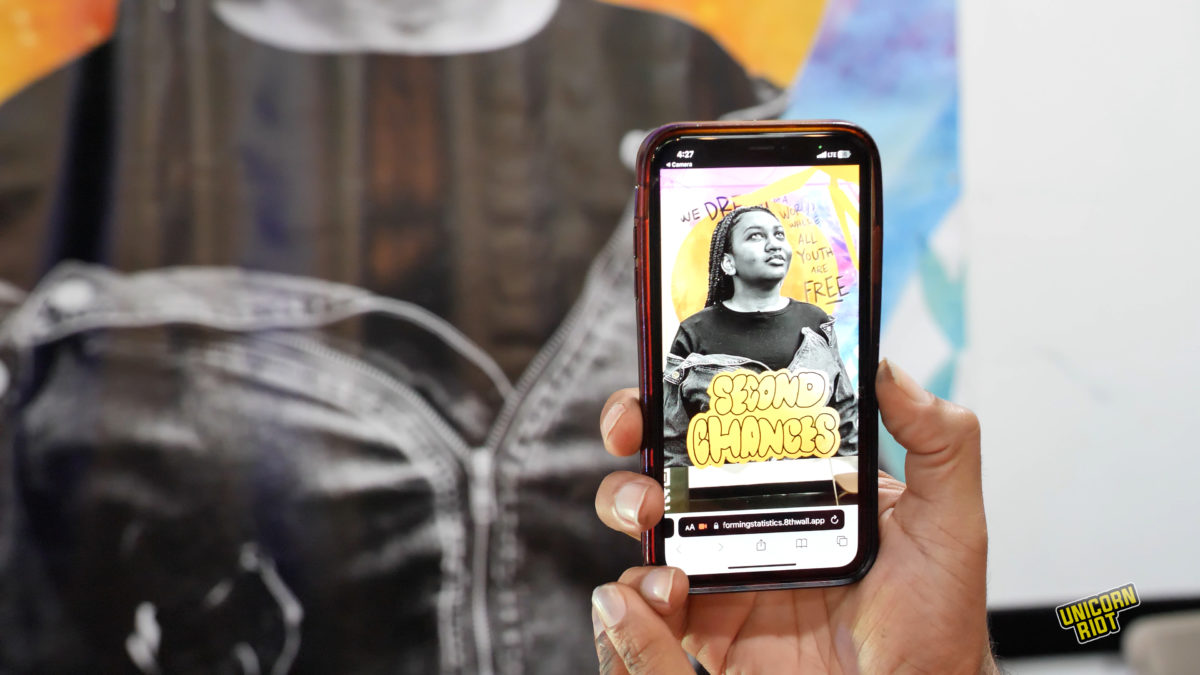 Art Targeting America's Retail Darling
One of the latest exhibits added to the installation is called "TARGET(ing) Youth" which takes aim at Target Corp for driving youth incarceration in Minneapolis with its long standing surveillance and policing partnerships. Hanging on a retail rack in the middle of the showroom were Minneapolis police uniforms with cash falling out of the shirt pockets with Target's bright red bullseye stamped over Benjamin Franklin's face. Also hanging on the rack were the uniforms of the downtown helpers in the neon green polo shirts that say DID on the back.
Next to the uniforms was a row of white t-shirts that read "TARGETING & SURVEILLING MN YOUTH SINCE 2004" in red circling around a surveillance camera with a red Target bullseye on the front. Hanging over the rack was a surveillance tower which gave guests the feeling when they're out shopping of being watched by the all-seeing eye up above hiding inside the black surveillance globes.
The Target exhibit references Mahdi Ali, the 15 year-old who was arrested in 2010 for a triple homicide at a Minneapolis convenience store and convicted when he was 16 for a crime he has always maintained he did not commit. During Ali's trial Jake Steinhour who was a Target forensics analyst in 2011 testified in court that the pants worn by the killer in the surveillance video from the store "appeared to be similar to a pair of jeans police seized from Ali's apartment days after the shooting." It was never disclosed during Ali's trial that Target funded the Minneapolis police, the city attorney's office, and the county attorney's office who prosecuted the case and where the presiding judge formerly worked.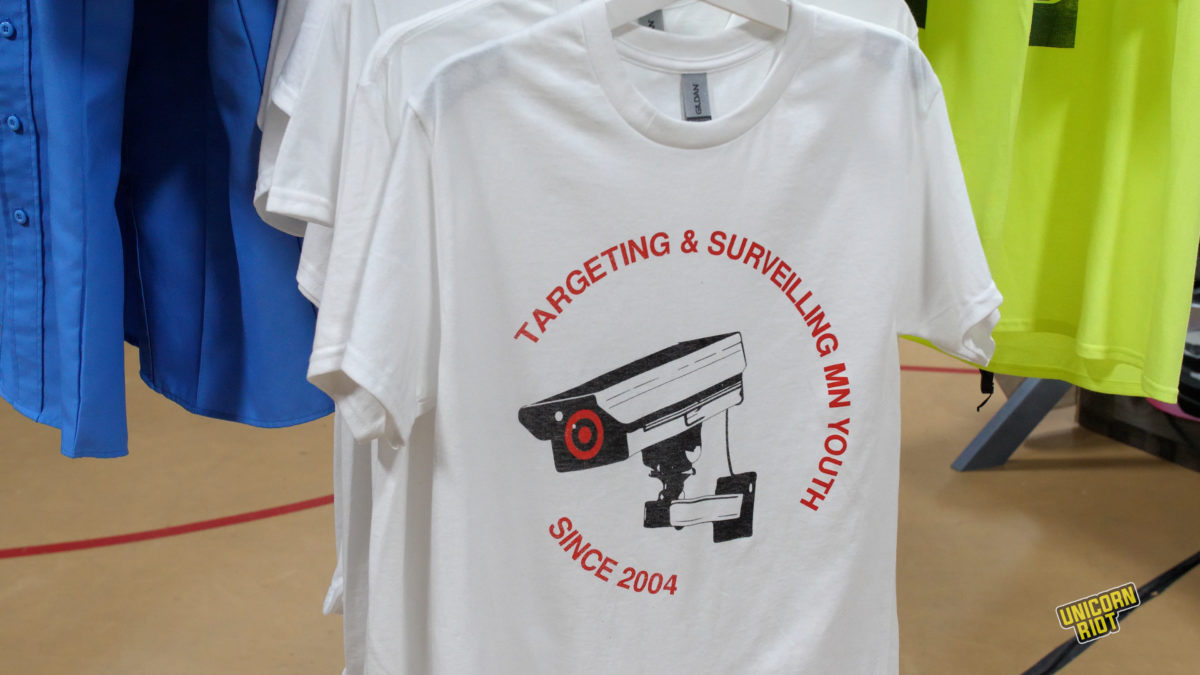 How Target Helps Drive Youth Incarceration
The exhibit was inspired by Unicorn Riot's reporting on Target's SafeZone surveillance program created in 2004, and the Downtown 100 (DT100) program created in 2010. Through the SafeZone surveillance system, Minneapolis police and the DID staff monitor Target-donated surveillance cameras in efforts to crack down on "lifestyle" offenses: shoplifting, panhandling, vagrancy.
The DT100 was a quarterly list of 100 names of youths, nearly all of them Black, who frequented downtown Minneapolis and had the most police contacts. Target surveillance has been used to prosecute youths on the DT100 for minor infractions that typically don't cross the threshold for criminal offenses. Near the shirt rack in the showroom was a pair of headphones where visitors could listen to a song created by youths on the DT100 called Keep It 1hunnit. "They got 100 people that they keep on the list, 100 laws to be followed, 100 tickets to give," raps Batmn da Kyd, a Minneapolis based hip-hop artist who was formerly on the DT100.
The over policing of young people on the DT100 pushed many youths in need of housing and resources into the criminal justice system. While the list in its original form no longer exists, the harm it caused in communities across the Twin Cities has lasting effects. Demands from Target by community members were listed on a corkboard hanging on the retail rack next to the police uniforms.
LRC's Caelyn Steele told Unicorn Riot that the Target exhibit was full circle for her. She said when she was 15 she was able to tour Target's headquarters with her high school class. "They showed us some … super high tech room. They were very discreet about it," she said, "like, 'Oh, this is just where we have our security and our cameras.' And when I was … young, I didn't really think much of it." But Steele said after reading Unicorn Riot's investigative series and talking to young people directly impacted by mass surveillance, she reflected back on that school field trip to Target a decade ago.
"I realized how intense … this room was and how it was actually the main hub of … targeting and basically incarcerating young Black people in Minnesota. So yeah, it was a full circle moment … I think a lot of people need to become more aware … that aren't … about how much Target covers up what they're actually doing and their actual intentions and motives as a company."

Caelyn Steele, LRC Campaign Lead for End Youth Prisons MN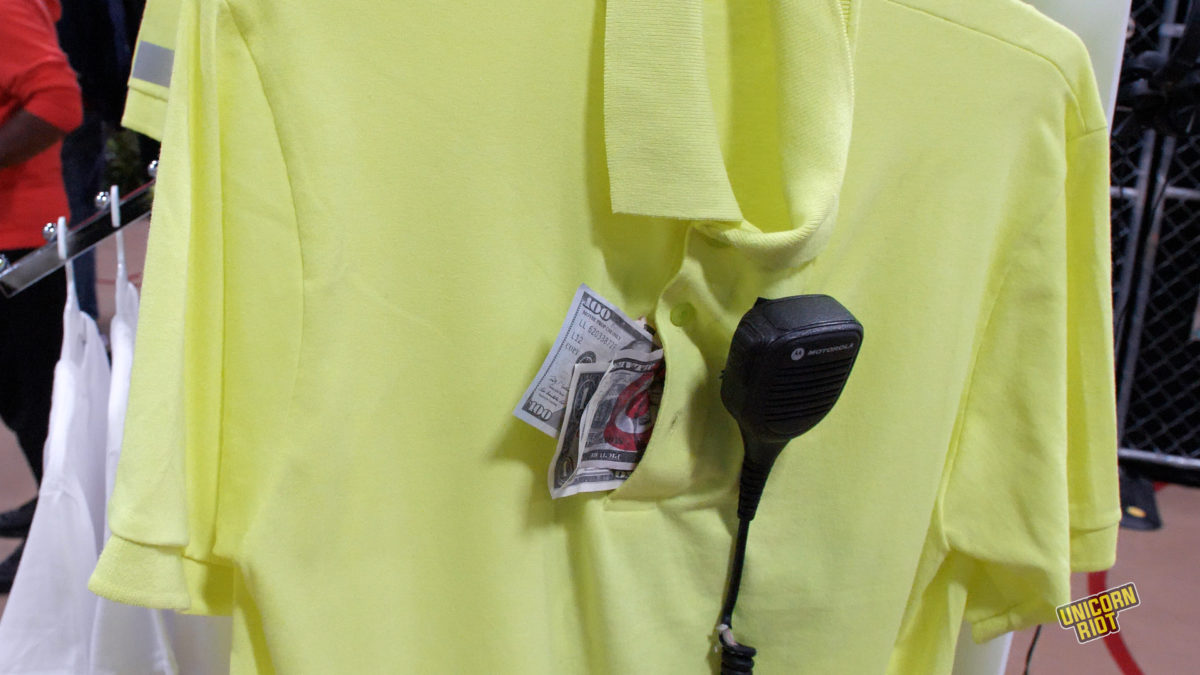 A Timeline of Youth Incarceration
This exhibit featured a wall collage of newspaper clippings and historical documents featuring past injustices against children. Mounted to the wall were two touch screens where visitors could scroll through a comprehensive timeline on the history of youth incarceration in America.
According to the exhibit, the first youth prison in the U.S. opened in New York in 1825. While Minnesota opened its first youth prison in 1867, the same year the city of Minneapolis was incorporated. Currently the north star state spends $145,000 per year to lock up each youth, while only investing $12,382 per child annually in public education. View the timeline here.
The Art of Carjacking
"Don't Jack Our Future" is an exhibit featuring two removed passenger car seats where visitors could sit and listen to headphones playing audio of a formerly incarcerated girl who talks about her past as a car thief. "I knew what I was doing was wrong," she said, asking for a second chance on life.
Simulated Solitary Confinement
One of the most powerful exhibits was the one on solitary confinement. In the showroom was a makeshift prison cell and inside this tiny cell was a twin bed and a pair of virtual reality glasses for guests to try on. In virtual reality visitors could glimpse into the life of prisoners living in isolation; and visitors could look out the narrow prison cell window and see barbed wire fencing separating the prison from the outside world.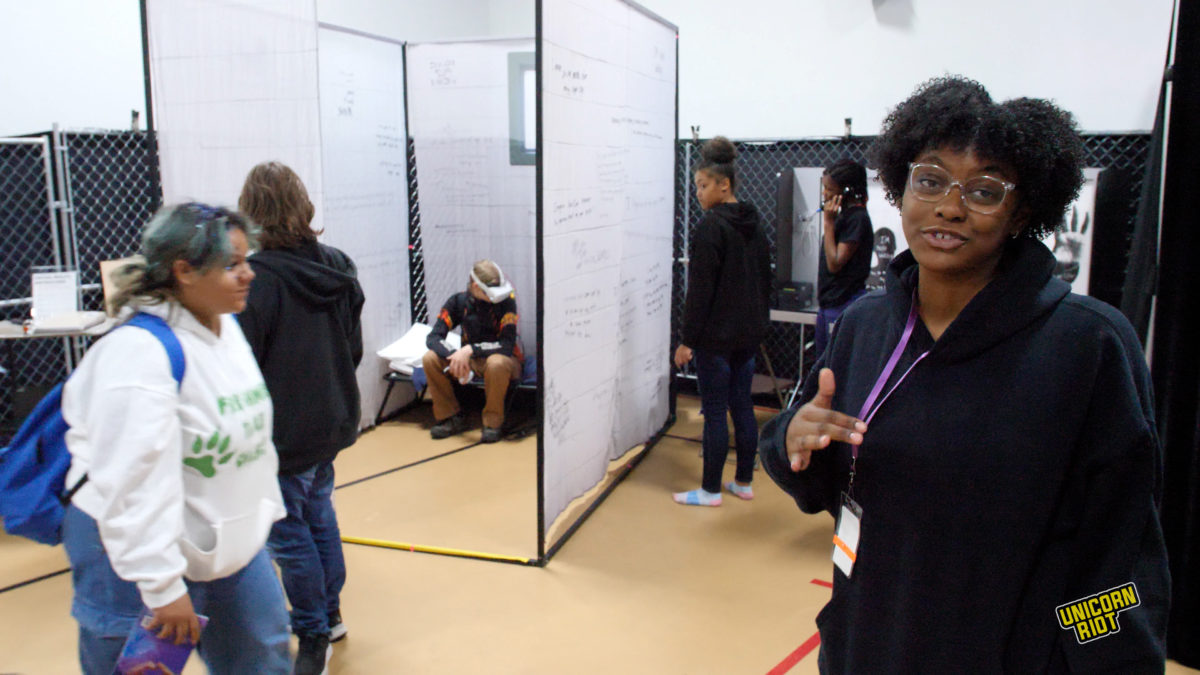 A Hopeful Future
A group of students from De La Salle High School, a Catholic school in Minneapolis, came to view the art installation on the day Unicorn Riot was filming. John, who is the resource manager for the school's Black Student Union, told Unicorn Riot that he loved the exhibit and hopes in the future we can abolish prisons. "I hope that one day we can, as a society, just eliminate the evil of incarceration." Adding, "I wish we lived in a world where that just wasn't a problem anymore."
Marrea Taylor-Knighten is an LRC youth fellow and a cousin of John. She told Unicorn Riot she also hopes for a future where prisons are abolished. "I think we've all seen the lasting impacts that they have, not only on those directly impacted but families, friends, everyday people. Their stories need to be told."
Michael Harrell was originally a youth fellow but was recently hired as the Community Legal Educator to replace Herrera who is now a program director. Harrell said it takes a village in order for things like this to stop. He told Unicorn Riot that his hope for the future is "To end youth prisons!"
Steele told Unicorn Riot that she believes everyone is affected by mass incarceration and we all have a role to play in charting a more just future. "I think it's important for all of us to really think of how [prisons] fail and how it doesn't work and … imagine ways where we don't have to put young people in cages."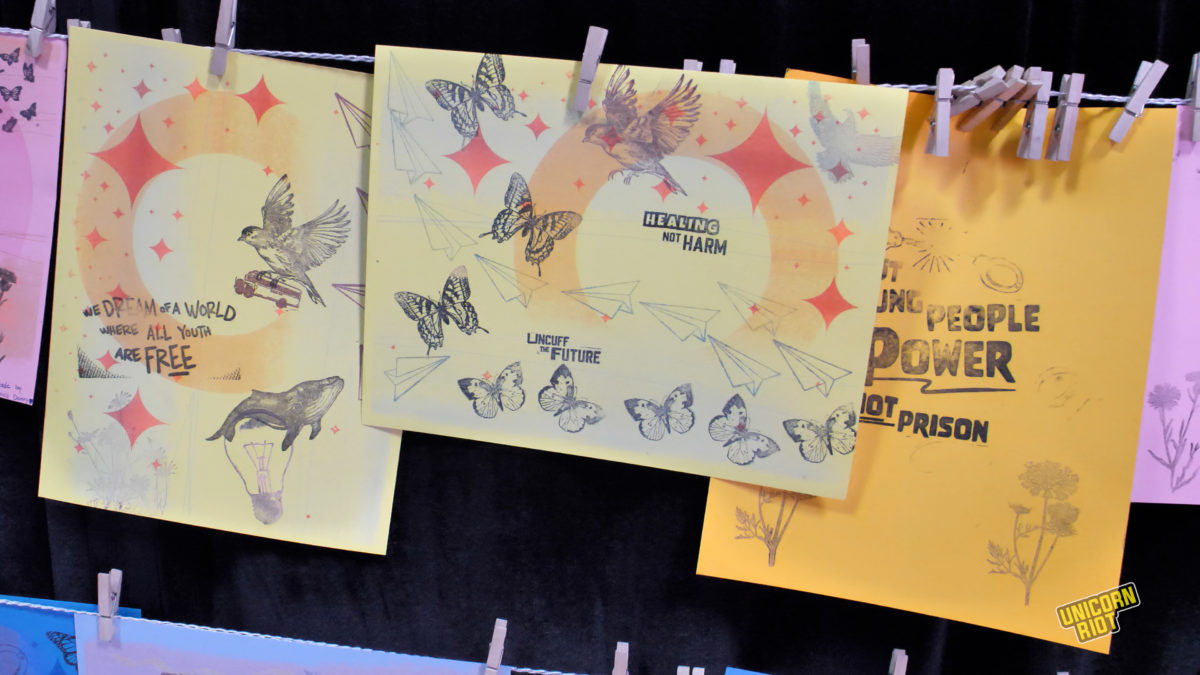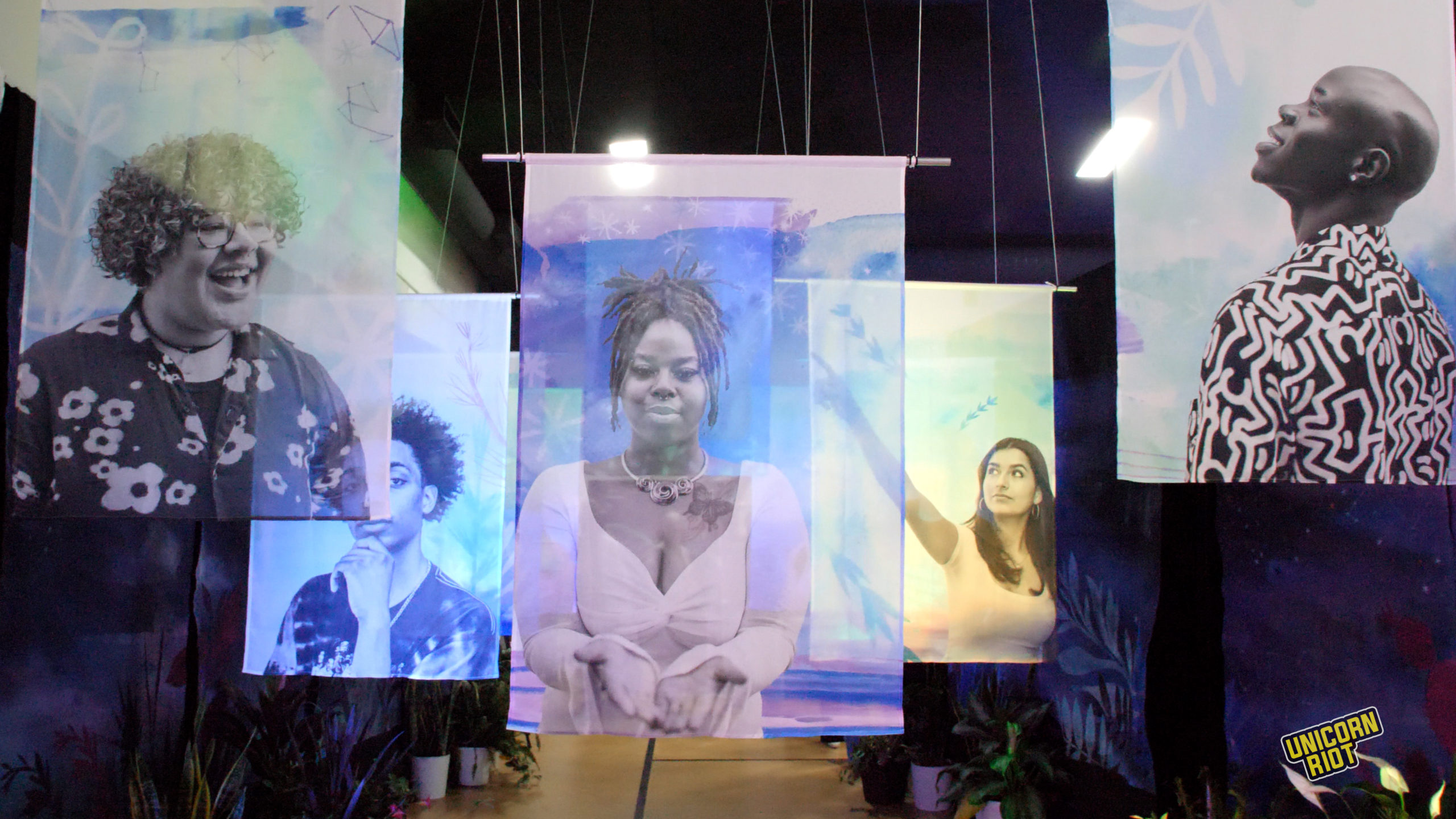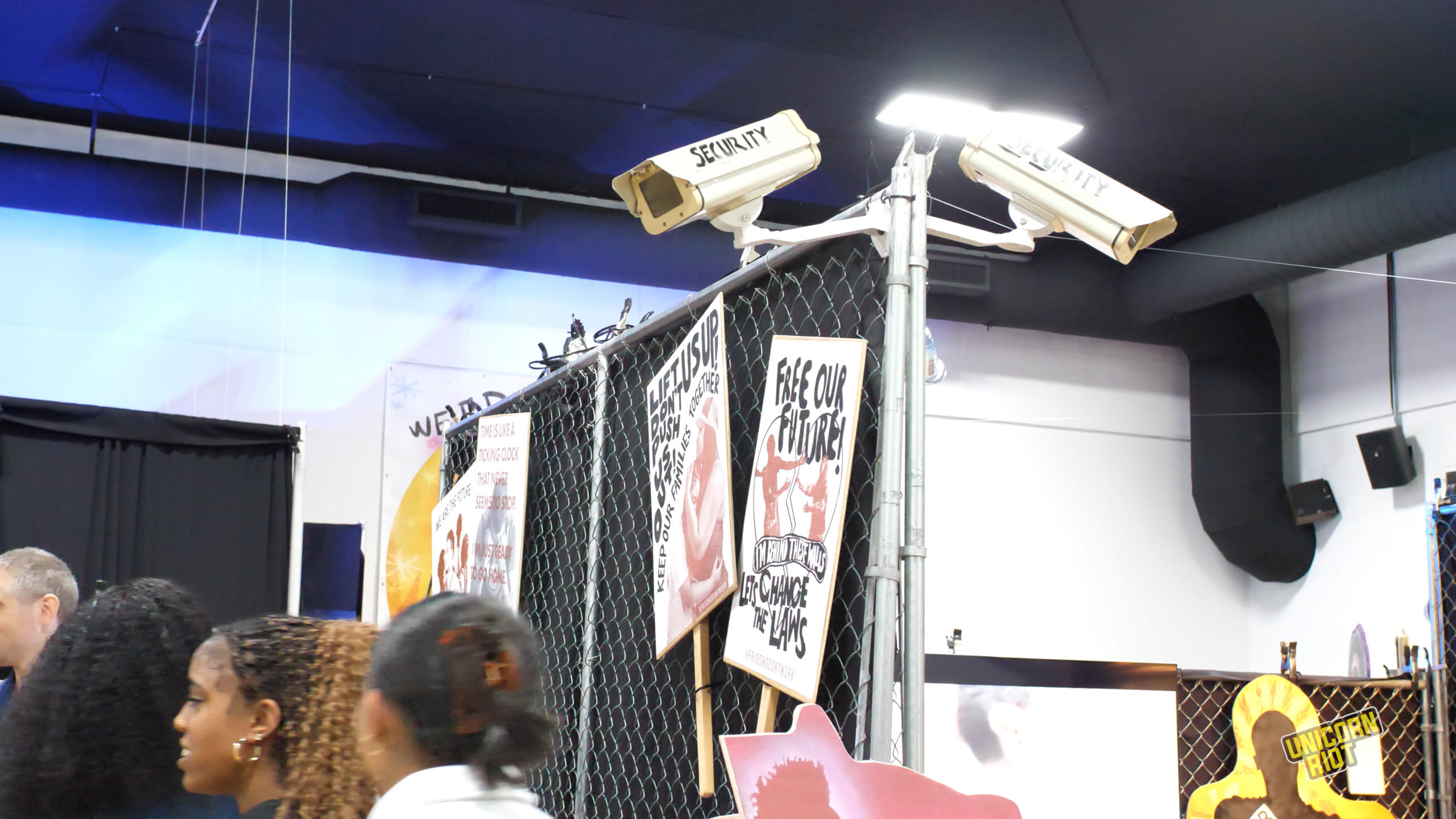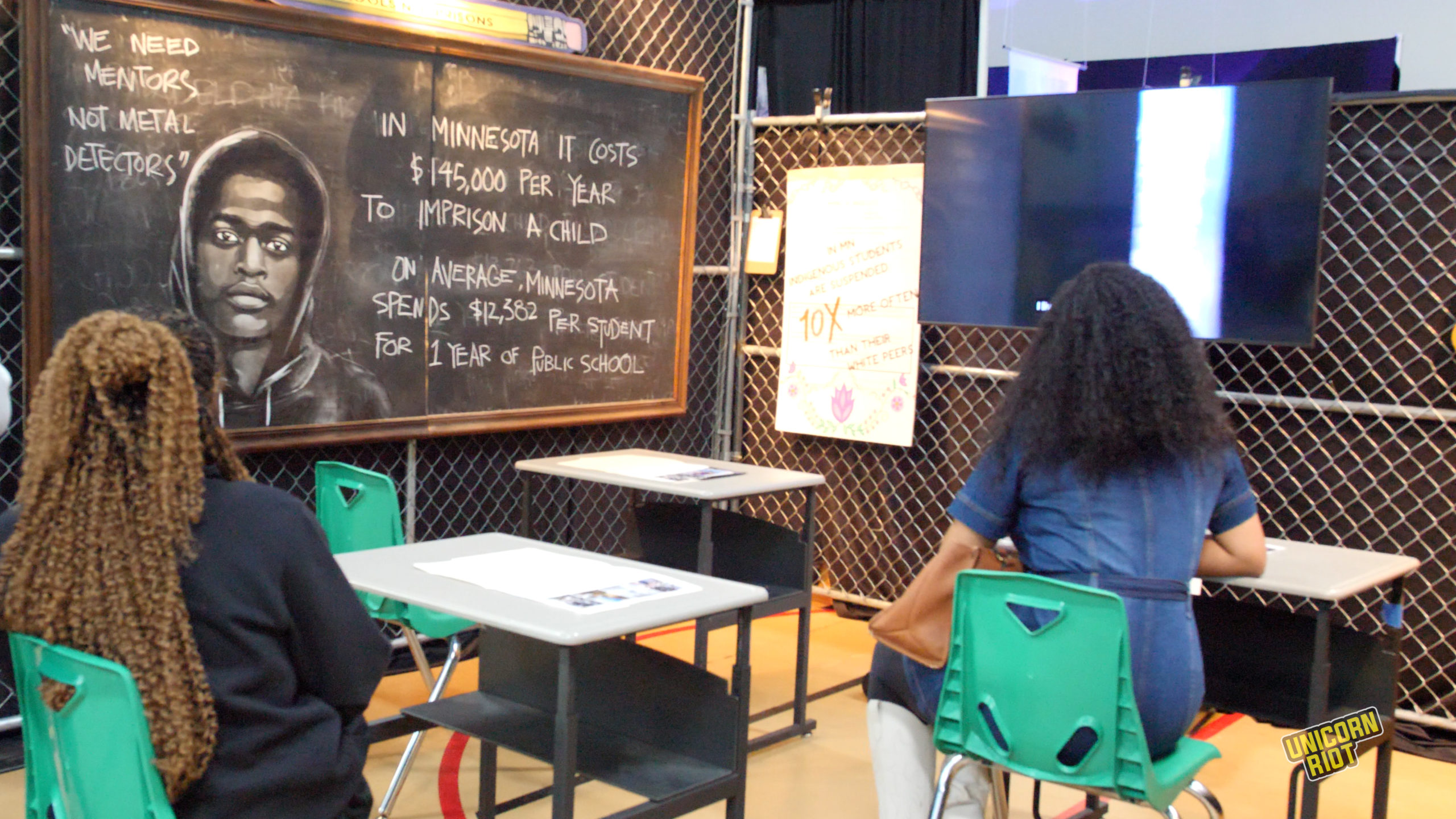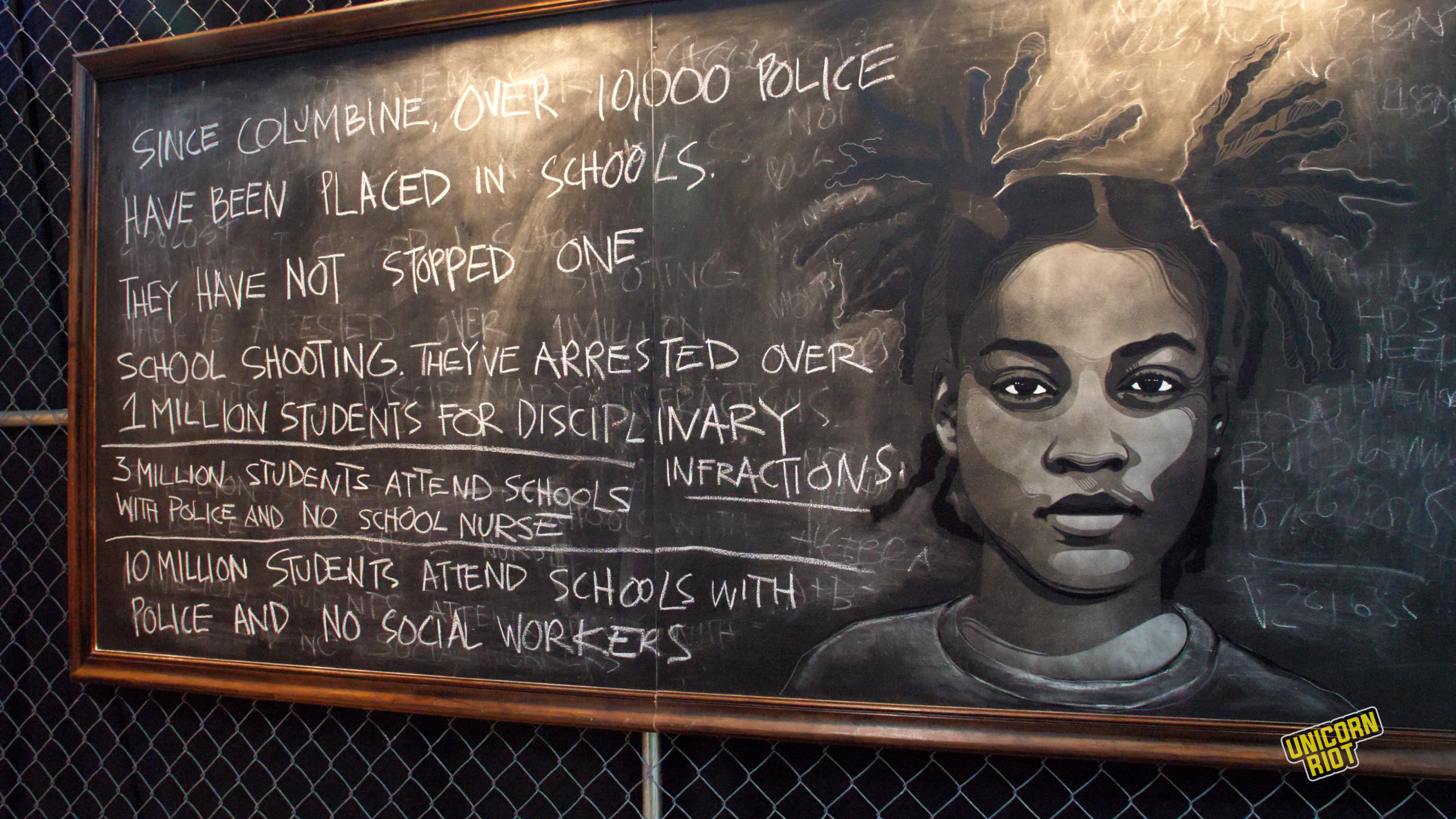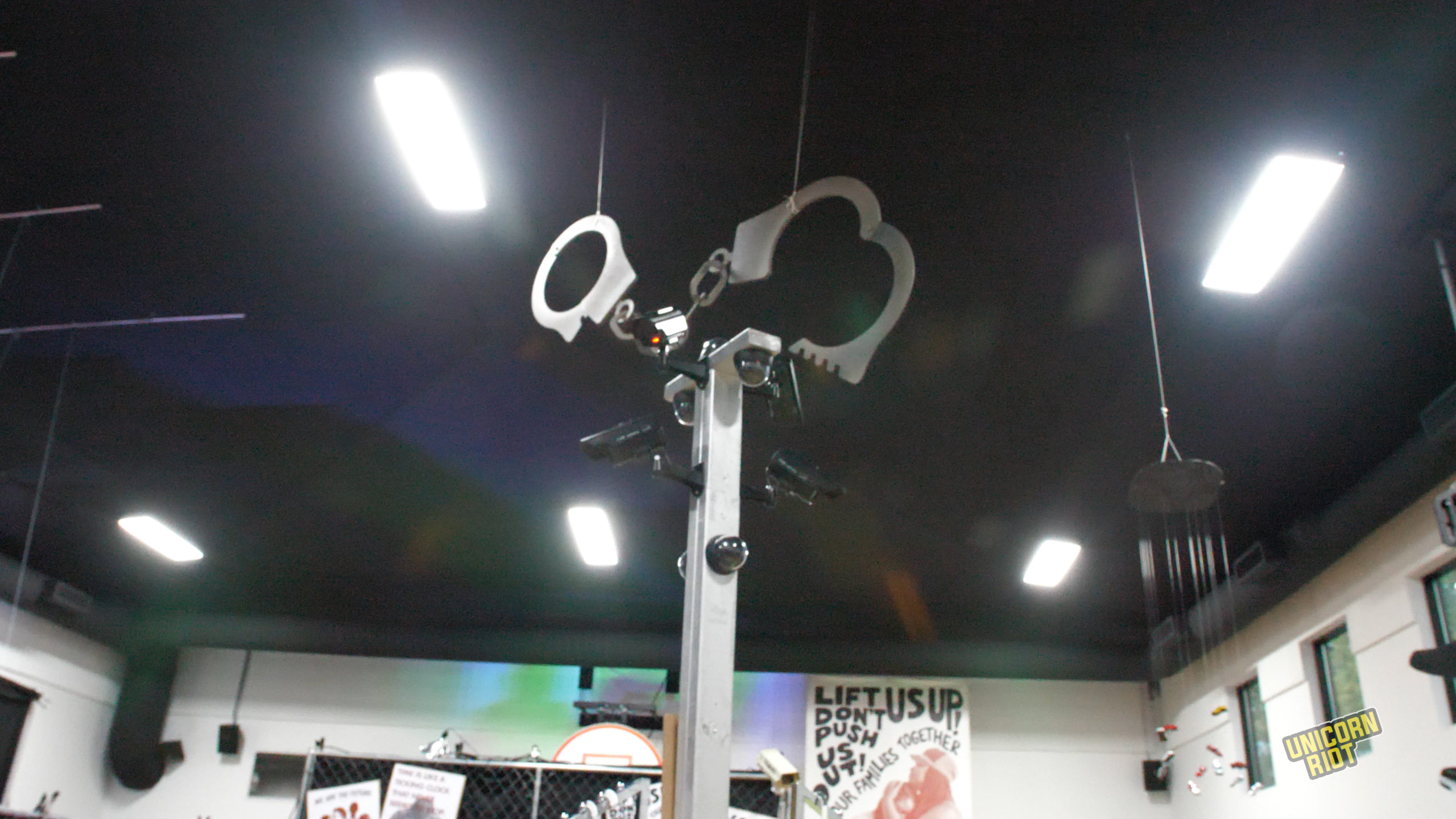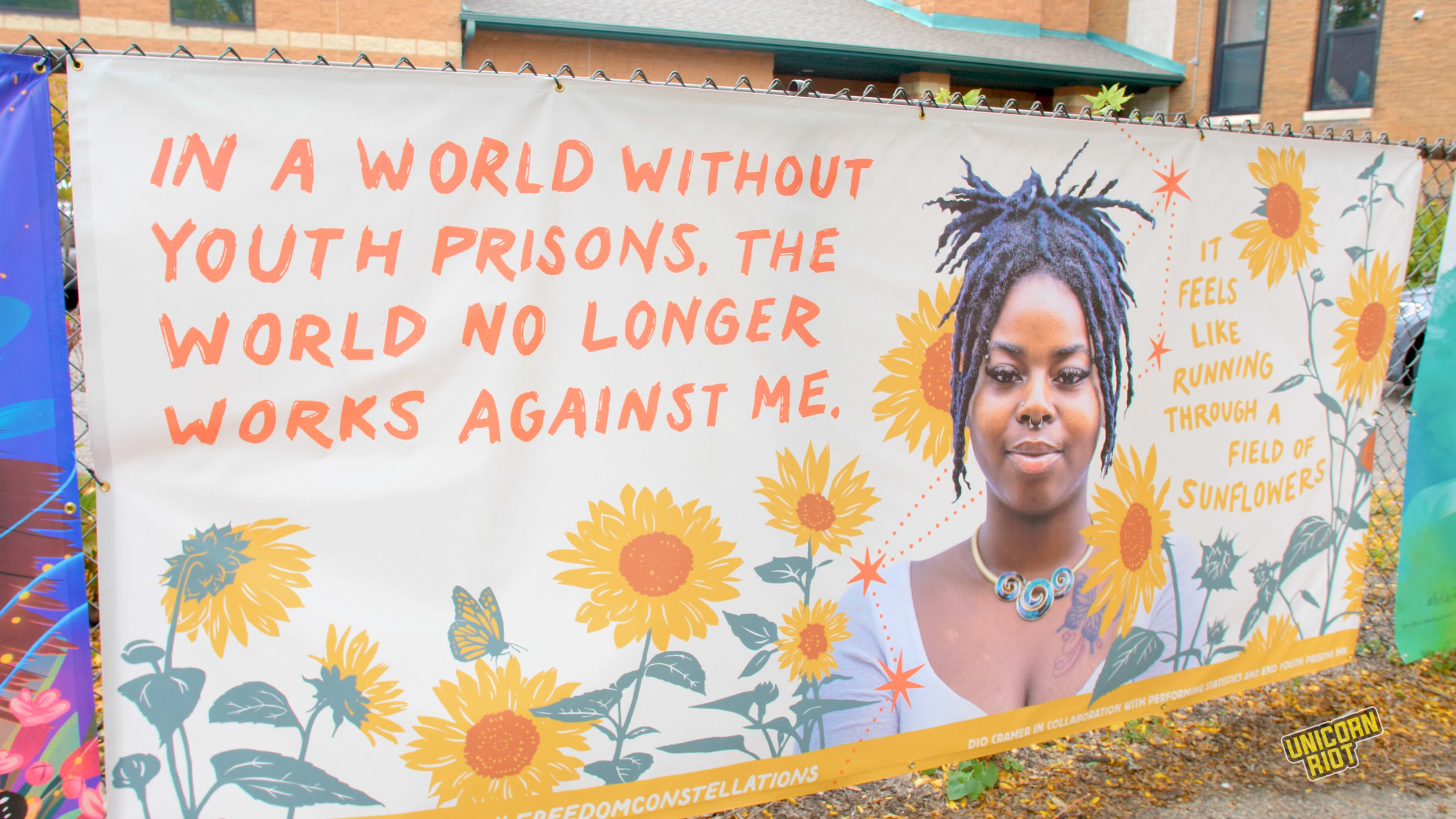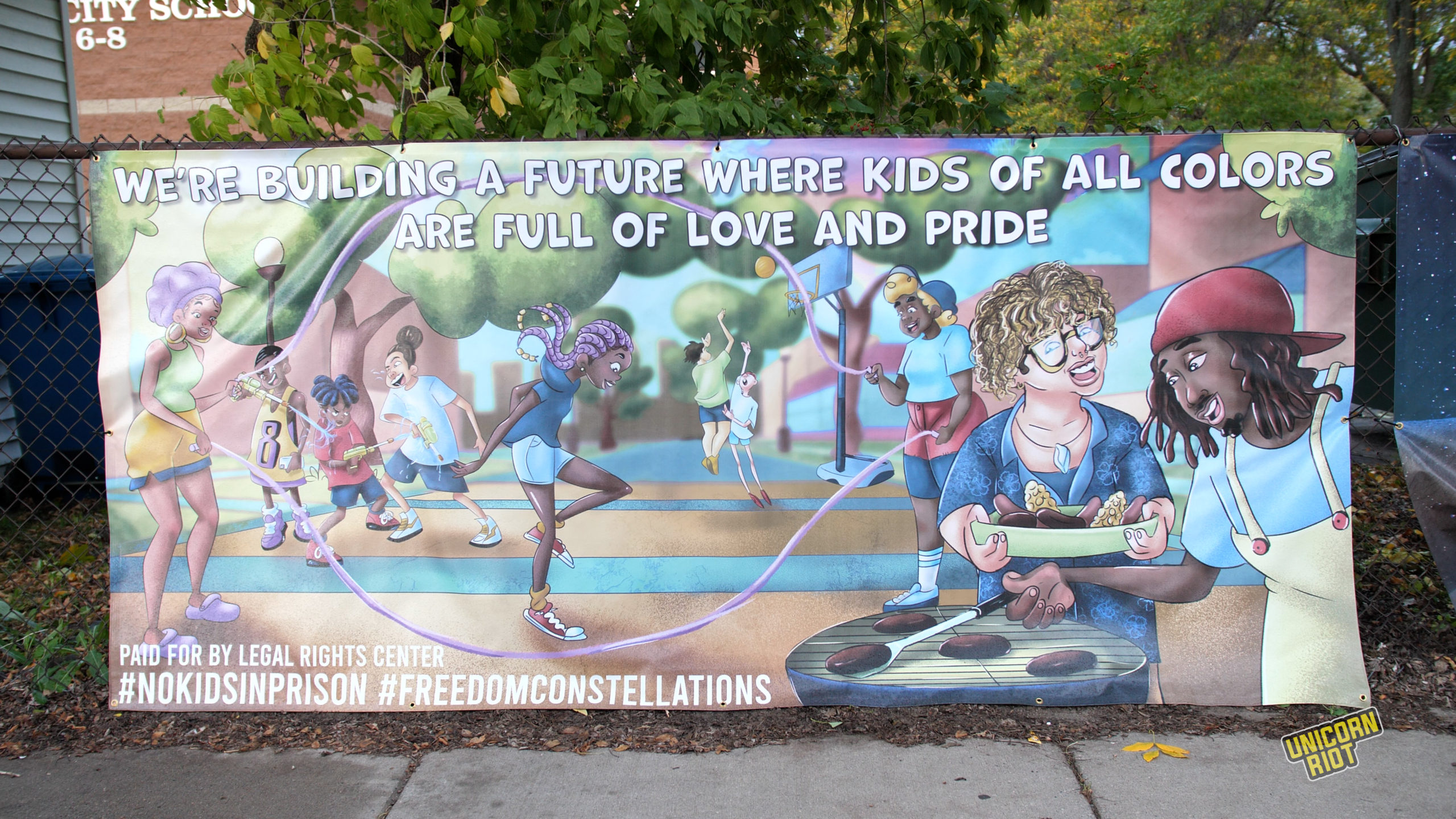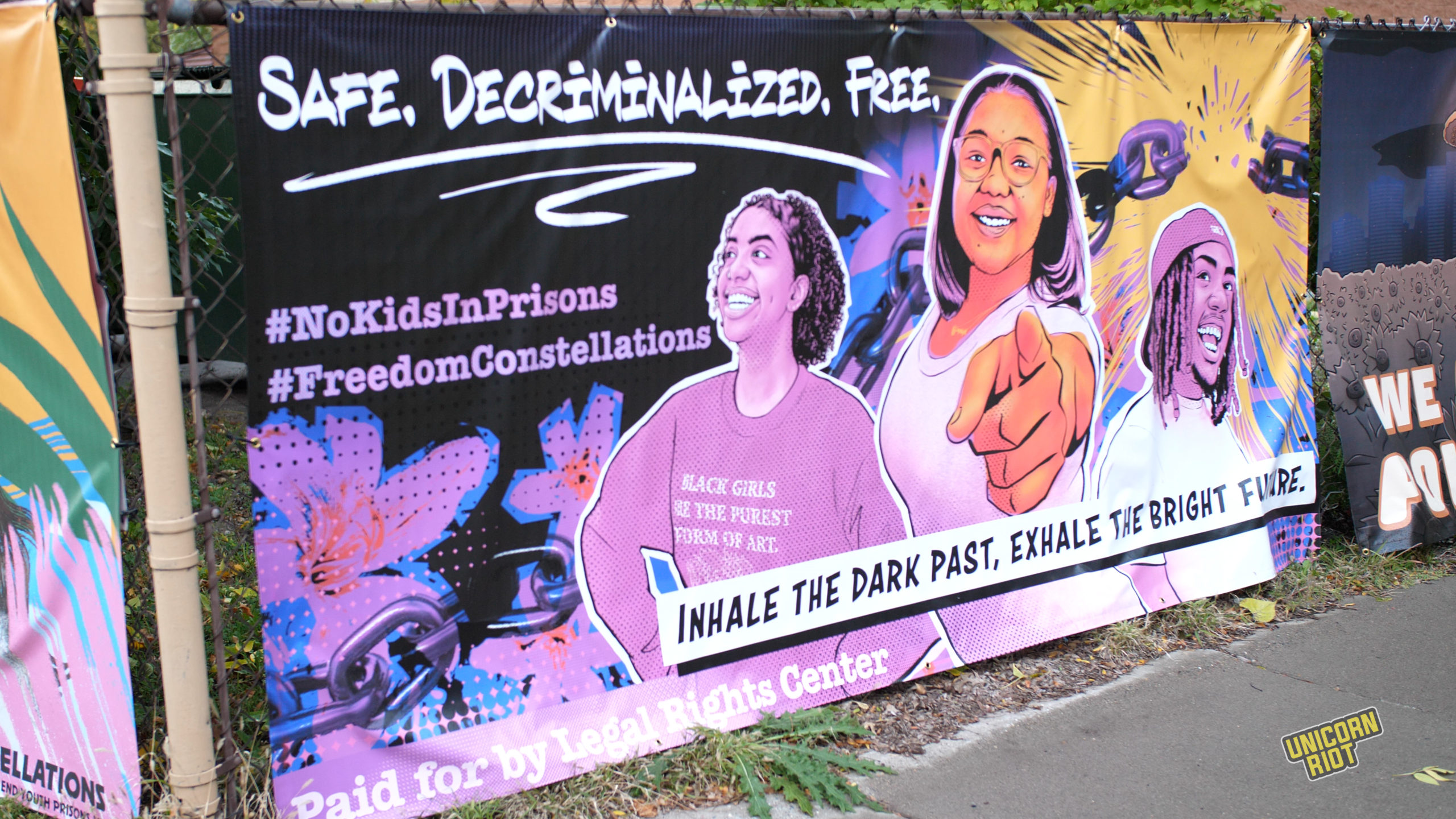 Images by Niko Georgiades for Unicorn Riot.
---
---
About the author: Marjaan Sirdar is a South Minneapolis based freelance journalist. He is the host of the People Power Podcast and author of the investigative series, 21st Century Jim Crow in the North Star City: How Target Corp., the City of Minneapolis, and Hennepin County, Created a Domestic Spy Program That Rolled Back Civil Rights On its Black Population, published by Unicorn Riot. You can follow him on Twitter @peoplepowerpod1.
Professional Disclosure: The author of this report consulted for Performing Statistics on the exhibit TARGET(ing) Youth.
---
Follow us on X (aka Twitter), Facebook, YouTube, Vimeo, Instagram, Mastodon, Threads, BlueSky and Patreon.
Please consider a tax-deductible donation to help sustain our horizontally-organized, non-profit media organization: