Civil Disobedience Inside Minnesota's Stillwater Prison
In the midst of a near-record heat-streak, around 100 people incarcerated in Minnesota Correctional Facility-Stillwater staged an act of civil disobedience by refusing to go back to their cells for a staff-induced lockdown on Sunday, Sept. 3. Men housed in B East expressed grievances over no air conditioning, no clean or cold water, and whole units intentionally being locked down with no recreation time nor showers. Authorities say a modified cell release schedule over the Labor Day holiday weekend was from a staffing shortage and Department of Corrections (DOC) Commissioner Paul Schnell said he knows it's "exceedingly hot."
During the incident, which started Sunday morning, no officers were hurt or taken hostage and they were free to move around. The inmates, workers in the prison's factories who had worked all week, peacefully refused to go back to their cells after not getting showers or rec. Although it's unknown what led to the inmates ultimately choosing to go back into their cells later in the day, two inmates were sent to segregation after refusing; at least one was reportedly written up for riot. The lockdown in B East, which has about 230 people living in it, and had a white tarp covering the cellblock for two days, continued until at least Wednesday, Sept. 7.
UPDATES – Prisoners Face Retaliation for Protest at MCF-Stillwater
Audio of a phone call from an unnamed inmate in Stillwater recorded by Twin Cities Incarcerated Workers Organizing Committee (TC-IWOC) on Sept. 7 provides updates from B East. The inmate said three people in the unit were now charged with "kidnapping" and "threatening staff" and that 30 others were sent to segregation as a consequence for their participation in Sunday's protest. "They telling y'all out there in the world that it was a peaceful process but they in here giving these guys all this time and trying to keep them in prison even longer just because of this." Listen below and read the transcript at the bottom of the article:
Hearing news of Sunday's prison protest, family members of inmates, community advocates, and press appeared outside the prison. Marvina Haynes, the sister of Marvin Haynes and Alissa Washington, the fiancé of Cornelius Jackson, spoke to Unicorn Riot on Sunday. Both Haynes and Jackson claim innocent of the charges against them and are housed in Stillwater. See our investigative series and film on Marvin Haynes' case.
Marvina Haynes hosted a press conference outside the prison the next day, Monday, Sept. 4. Watch moments of the protests on Sunday and Monday in our video below.
Marvina was able to get a recording of Phillip Vance, who gave a testimonial from inside B East as to why people were protesting. He said it was the continual lockdowns after working all week, among other issues like not having access to showers and clean water. Watch the following video from around the 2:35 mark to hear from Vance.
Stillwater prison has a long history of rebellions, uprisings, and activism dating back to the 1960s and beyond. Notorious for its old structures and being built in 1914, the state's largest prison, MCF-Stillwater, is regularly overcrowded and understaffed. Stillwater houses up to 1,600 people and has factories where inmates work for state's scandal-plagued prison industry company, Minncor.
The facilities replaced the Minnesota Territorial Prison in Stillwater, which preceded Minnesota becoming a U.S. state. The Prison Mirror, a prisoner newspaper, has been published since 1887 at the Stillwater prison. A twine manufacturing plant preceded Minncor in 1890.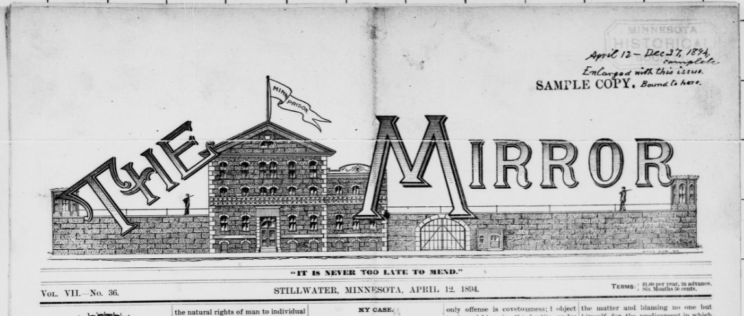 Five years ago in Stillwater, corrections officer Joseph Gomm was killed by an inmate. All prisons in Minnesota went on lockdown which persisted for weeks before getting lifted, except in Stillwater, where it continued for over a month. The act of collective punishment against over 1,000 inmates led to a humanitarian crisis. Inmates reported having mildew growing on their clothes after being denied laundry and showers during the lockdown.
MCF-Stillwater: Prison Officials Create "Humanitarian Crisis" [Sept. 2018]
The recent protests didn't stop after Monday. On Tuesday night, prisoner advocates protested in front of the current residence of Governor Tim Walz. David Boehnke, an organizer with TC-IWOC, presented a phone call with Amani Fardan, who's serving a life sentence and currently housed in Stillwater.
Fardan's cell is in A East, across the hall from B East. He said his unit was not on full lockdown at that point but were earlier in the day presented with a limited time out of their cell and an option whether to eat or shower.
Lockdowns force those housed in facilities to stay in their cells for extended periods of time. While each prison is different, programs and services are suspended during lockdowns and inmates regularly miss out on showers, recreational time, phone calls, and more.
Fardan gave an update on B East, stating that the unit of model workers was still on lockdown. He said that a white tarp had been placed over the front of the unit, preventing others from seeing in. The tarp remained for a couple of days until it had been pushed aside. "I don't know if that was for the tactical team, for them to go in there and do whatever. Or just to cut them off from the rest of the building."
He said he worried how it was affecting the inmates in B East and their families. Regarding all of the consistent lockdowns, he said, "locking us in our rooms is having an effect psychologically on our mental health and not helping no one. It's harming us, our families and the staff up in here."
After the audio chimed in noting the inmate had "one minute left" on the call, he said "Marvin Haynes said 'hey' and thank you for having us on your mind and advocating for us."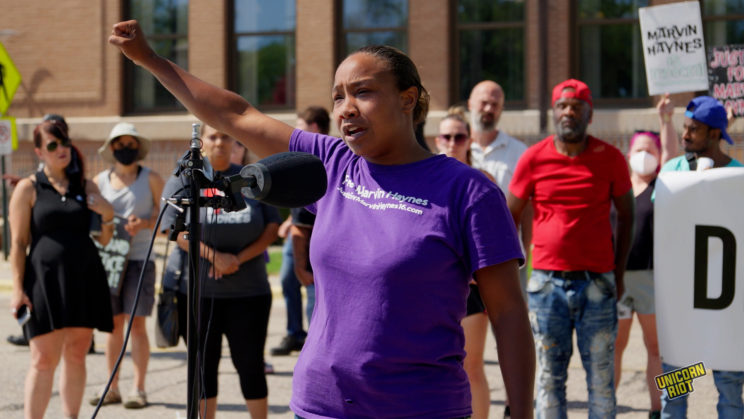 The organization Minnesota Wrongfully Convicted Judicial Reform, founded by Marvina Haynes, posted four demands for the DOC commissioner on their Facebook page in reference to the Tuesday rally:
"Immediately release Domenico Newton and Lincoln Caldwell from Ad-Seg (solitary); provide humane access to clean water, ice, showers, phone calls, and visitation rights; conduct an immediate safety investigation of the water in cells, plumbing and water source; and bring home the 1,400 low risk people on work release per statute 244.065 and share the DOC's draft MRRA policies."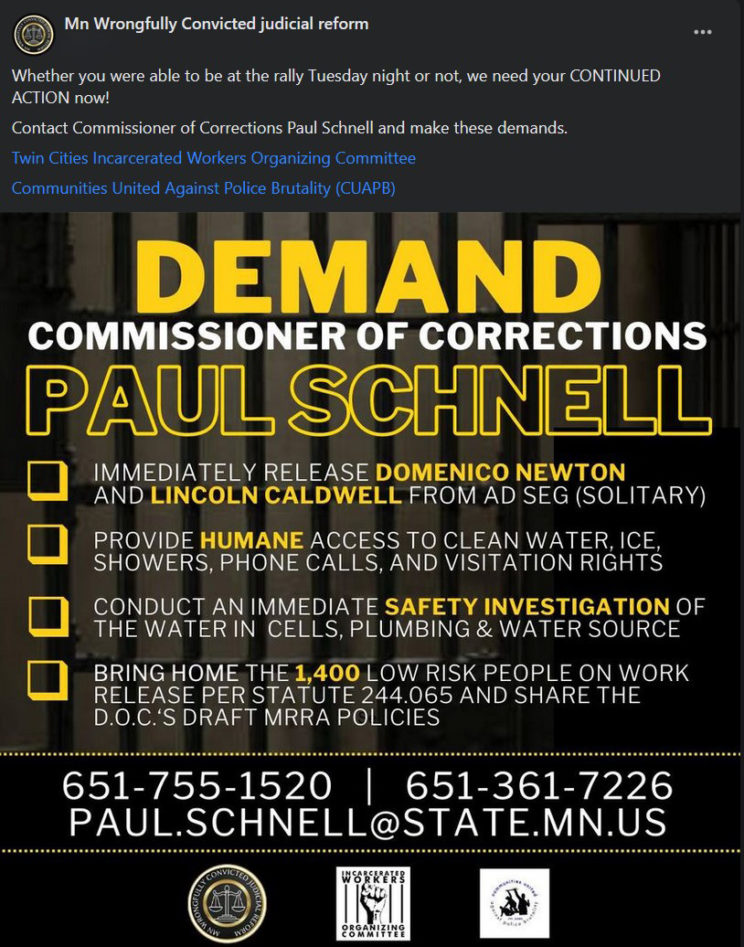 Advocates state that Domenico Newton and Lincoln Caldwell were the two people sent to segregation after the Sunday protest. Caldwell's mother Kathy said during Tuesday's protest that Caldwell was written up for rioting for the Sunday protest. She said she heard through an intermediary that the corrections officer that was in the bubble locked her son's cell so he couldn't get in and when they came around, they grabbed him because he was the only one standing outside.
Stand in solidarity with B East! ✊🏿 pic.twitter.com/8lUsrhsCwA

— CopsAreBad4MyHealth (@IamJasonSole) September 7, 2023
One of the main thing activists have been keen to advocate for is clean water. "The water is brown and comes from a well," said Lovell Oates, the executive director of Justice Impacted Individuals Voting Effectively (JIIVE), who was housed in Stillwater for 12 years. "All the water that goes and gets polluted comes back in there."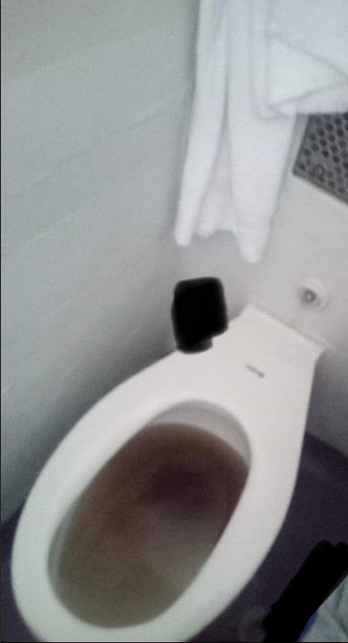 Another man formerly housed in Stillwater, Tommy Powell, said "some people get rashes from the water." "At times it's really heavy. It's like a soup. But other times, it's fine." The water is browner is cells that are near the end of the cellblocks or on the bottom of the tier, said Powell.
"This building is 109 years old, so where does that water come from? This same water has been sitting there" in the well, said Oates.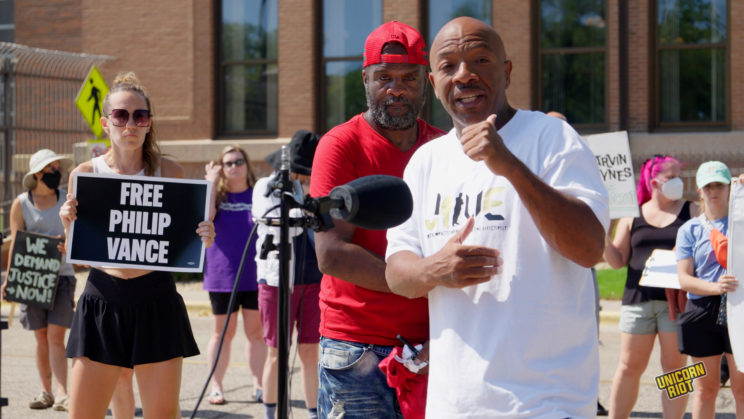 During the Sept. 4 press conference, Marvina Haynes said, "a lot of inmates come to jail with their natural long dreads and braids. Being in here, they have scalp conditions from washing their hair with the water and consuming the water and it gives them stomach conditions."
Studies at Stillwater prison from 2014-2019 found six cancer-causing contaminants in the water, at levels far exceeding those recommended by the nonprofit Environmental Working Group. The level of carcinogenic radium detected is 37 times higher than EWG's guideline.
However, the tap water provided at Stillwater is still purportedly in compliance with more lenient "federal health-based drinking water standards," meaning that they pass EPA water quality compliance status without violation.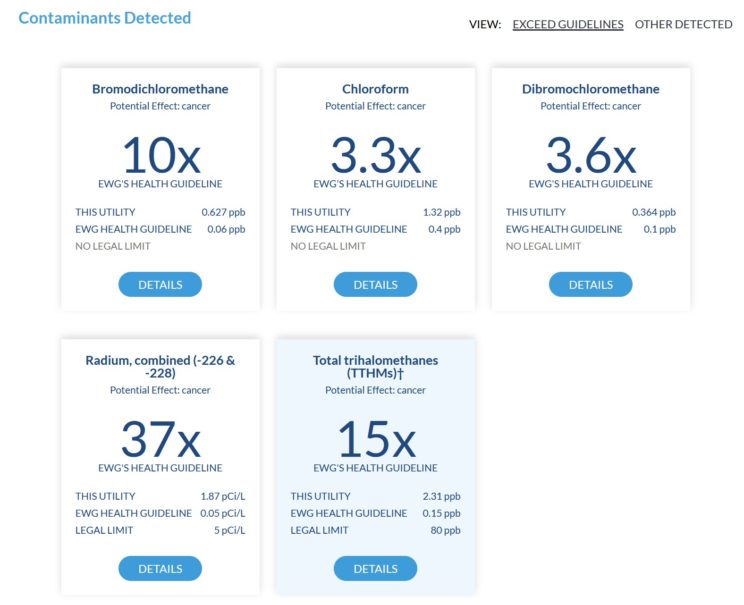 Oates noted that asbestos in the buildings has also caused stomach issues in other people once housed in Stillwater, which is known to have asbestos. Asbestos can increase the risk of cancers of the digestive system, mesothelioma, and other serious diseases.
Also causing issues is the heat in the summer. "The walls sweat" is a common three word answer to how hot it can get in the cellblocks in Stillwater. No air conditioning exists in the cellblocks where people are housed. However, some do exist in certain rooms where corrections officers frequent.
On the issue of staffing, Boehnke from TC-IWOC called on the DOC to simply utilize their early-release program rolled out on August 1. The Minnesota Rehabilitation & Reinvestment Act (MRRA) allows people to reduce their prison time. Boehnke says 1,400 people could be released right now.
"We have a staffing crisis in every prison in Minnesota. We have modified lockdowns becoming the new normal in every prison in Minnesota, and that is a humanitarian crisis. What they're not telling you, though, is it? The Department of Corrections and the commissioner, Paul Snell, has the authority to release more low risk people today that are in this prison today. There are over 1,400 people who are low risk, according to the Department of Corrections, and qualify for the work release program. There is 1,245 people in this prison today. So if we have a staffing crisis, you can address the staffing crisis by letting people home for good."

David Boehnke, Twin Cities Incarcerated Workers Organizing Committee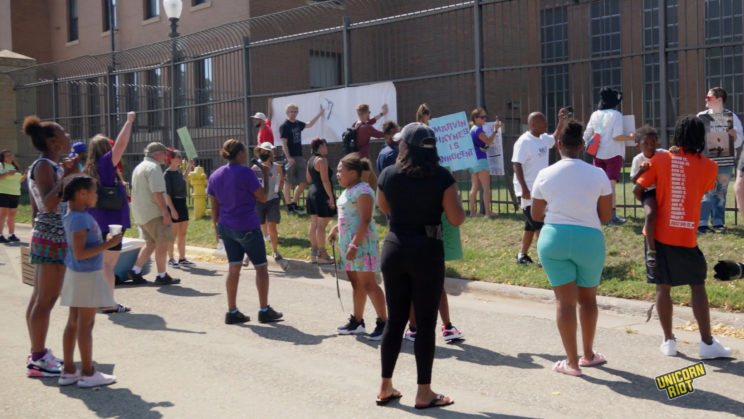 Over the Summer, Kashaun Pierce, Sr. sent a statement to Unicorn Riot from inside MCF-Faribault calling for inmates to be humanized. He said the lack of staff or funding isn't the key, its the "dehumanization of the incarcerated men and women."
"The Stillwater prison has recently been in the headlines due to what is described as assaults on correctional staff and the resulting lockdown of the inmates … Throughout the country, America is in denial of its systemic inequality, especially when it comes to law enforcement and the justice system. Now the MN DOC is requesting more funding from the Legislature to hire more correctional staff to reduce the assaulting of the staff. The problem isn't lack of funding, but the dehumanization of the incarcerated men and women the MN DOC Correctional Staff do not see, let alone treat, as human."

Kashaun Pierce, Sr., housed in MCF-Faribault, in a statement to Unicorn Riot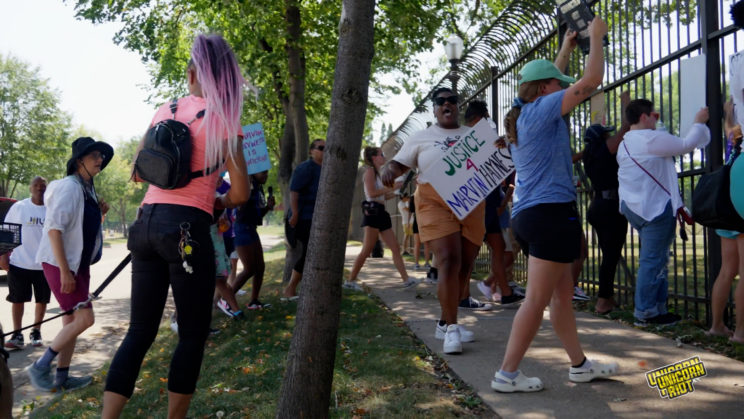 ---
Transcript of Phone Call from Unnamed Inmate at Stillwater on Sept. 7, 2023
"They telling y'all out there in the world that it was a peaceful process but they in here giving these guys all this time and trying to keep them in prison even longer just because of this, whatever they did over there.

Three people have been charged right now for kidnapping. What do they call that, a hostage, and threatening staff.

And their names are Corey Edwards and Lincoln Caldwell. The third guy, I don't know his name yet and they just sent 30 more people back to seg and we don't know what happened with them yet either.

So we're still trying to figure that out because of these people taking all of our weekend time when we work all week and locking us in and doing all of that. And continuing to take everything we have, visits, and everything else that we have for comfort.

They making us drink rusty water. The water is always brown. We try to make our own filters to put over the nozzle on the sink and everything else. But, the food be cold three times a day when it's supposed to be two hots and one cold. They doing us all wrong.

They giving us outstanding time in the hole even if we innocent and we try to tell 'em and fight for ourselves, they still giving us extra time.

Even myself, I got, they tried to charge me for a needle in a barrel for a tattoo. They gave me 25 days and they offered me 15, but I didn't take the 15 because I didn't have the barrel on my bars. Somebody else put it there and they still charge me for the tattoo needle and barrel."
This story has been updated with some of the latest developments.
Cover image screenshot from video contributed by Aaron Johnson.
---
In case you missed it:
'I Can't Take This Shit No More': Alabama Prisoner Takes a Stand [Aug. 2023]
Derrol Shaw's attempted escape from Donaldson Correctional Facility in Alabama speaks to a wider human rights crisis in the state's corrupt, neglectful and deadly prison system.
Limited Funds Stunt Minnesota's Conviction Review Unit — Families Want Expediency [July 2023]
Created to prevent, identify, and remedy wrongful convictions, Minnesota's first-ever Conviction Review Unit had completed only one official investigation in nearly two years.
Minnesota Inmate Calls on DOC to 'Value Us as Human' [June 2023]
Unicorn Riot received a statement from Kashaun Damon Pierce Sr., an inmate in MCF-Faribault. Pierce provides a short glimpse into the state prison system and calls out what he calls the dehumanization of prisoners as a fundamental issue.
The Case of Marvin Haynes – An Investigative Series & Film [2023]
Despite no evidence tying Marvin Haynes to a 2004 murder and Marvin's consistent claims of innocence, Haynes has remained in prison for nearly two decades based off of coerced testimony of jailed teenagers. We examine his case in our investigative series.
---
Follow us on Twitter (aka 'X'), Facebook, YouTube, Vimeo, Instagram, Mastodon, Threads, BlueSky and Patreon.
Please consider a tax-deductible donation to help sustain our horizontally-organized, non-profit media organization: