In 2004, Randy Sherer, a 55-year-old white man, was killed in Jerry's Flower Shop in North Minneapolis. Charged for that murder was Marvin Haynes, a young Black 16-year-old. Despite Haynes' incessant claims that he was innocent and no physical evidence linking Haynes to the murder, he was convicted and sentenced to life in prison. Haynes has been incarcerated in Minnesota Correctional Facility-Stillwater since 2006.
In Unicorn Riot's investigative series, we'll walk you through the case of Marvin Haynes — from the murder of Randy Sherer at Jerry's Flower Shop in Minneapolis' Northside, to the ensuing investigation and trial. Along the way, we'll talk to witnesses, family members, community activists, ex-cops, and politicians about the case and the broader context in which it unfolded — the tough-on-crime era that packed the nation's prisons with disproportionate numbers of Black and Brown people, and the ruthless reign of Amy Klobuchar as Hennepin County Attorney.
[Part One – Part Two – Part Three – More Soon]
The Case of Marvin Haynes follows a tortuous path created decades ago in Minneapolis by county attorneys, overly ambitious, racist cops, faulty eyewitness identification procedures, pressure from those in power to find a shooter quickly, and a series of coerced teenage witnesses. That path ends at Minnesota Correctional Facility-Stillwater, where Marvin Haynes and so many men like him sit behind bars.
Four of those teenage witnesses have since recounted their testimonies, providing statements to the Great North Innocence Project describing how they were coerced by police into going along with the frame-up. You can read their statements here. We also visited MCF-Faribault, the state prison where one of the teens who testified against Marvin is now incarcerated. Watch our 33-minute film featuring the former witness along with Marvin's sister Marvina Haynes, family investigator Robert Johnson, former Minneapolis Police Officer Sarah Saarela, and founder of Communities United Against Police Brutality (CUAPB), Michelle Gross. See the vault of case documents.
---
The first in a Unicorn Riot investigative series on the case of Marvin Haynes brings you to the interrogation room with police and 16-year-old Haynes.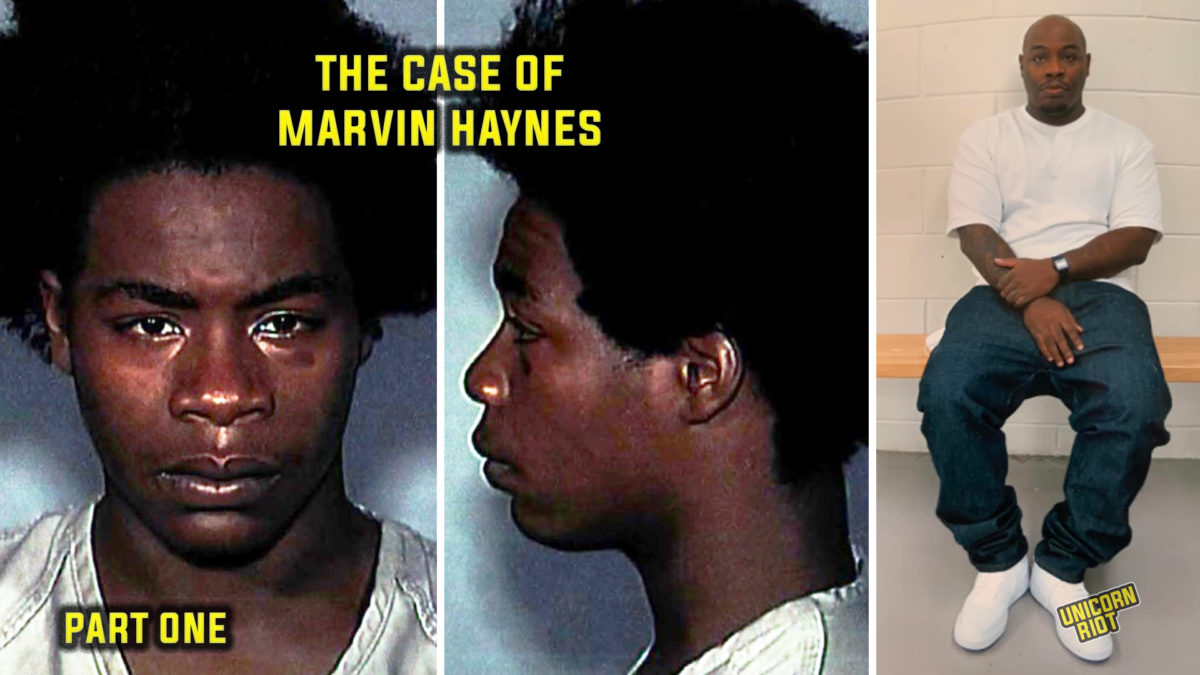 ---
We look at the murder of Randy Sherer and the context of the economic abandonment of Minneapolis' Northside in which it occurred, in part two of our investigative series.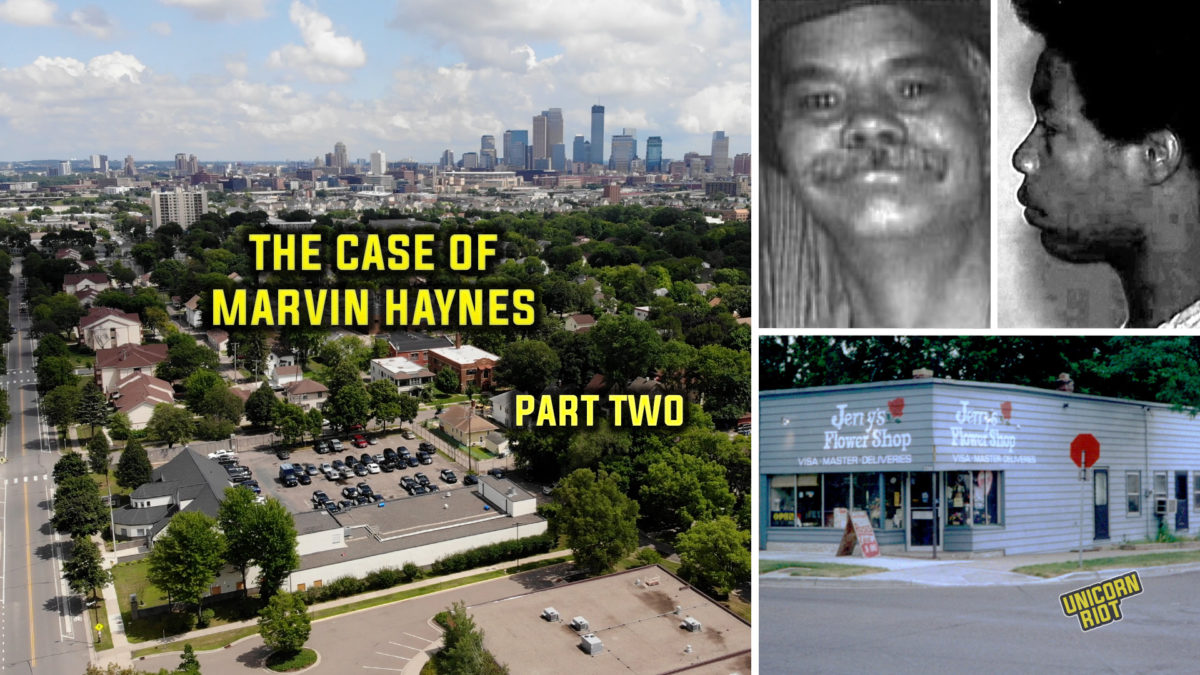 ---
We walk you through the investigation into Randy Sherer's murder and the subsequent frame-up of Marvin Haynes and make thousands of pages of case documents, police reports, interview transcripts, affidavits of witnesses, trial transcripts, and a recent report from the Great North Innocence Project available to the public.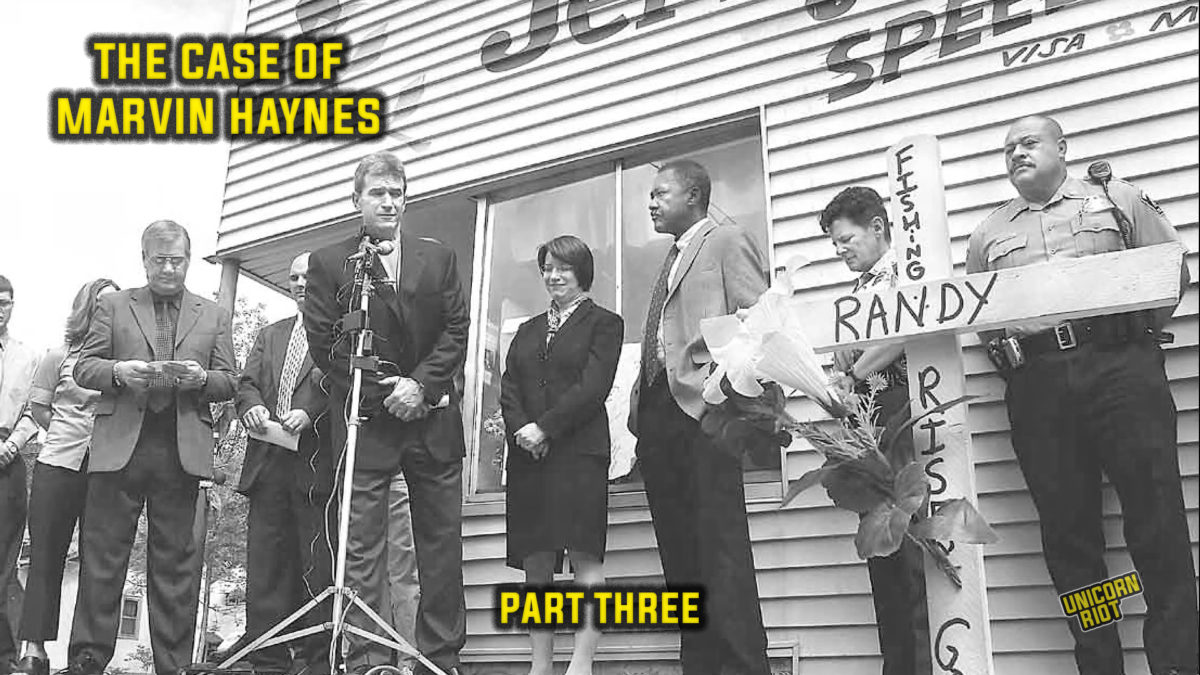 ---
More Parts – Coming Soon
---
Since 2022, Unicorn Riot has conducted interviews and reviewed thousands of pages of court documents, trial transcripts and police reports in the course of our investigation into Haynes' case. Those documents and conversations revealed a pattern of police coercing teenage witnesses, an investigation completely lacking physical evidence linking Haynes to the scene, repeated violations of police eyewitness identification procedures, and an overall pattern of racial bias.
In the midst of our investigation, one of the state's key witnesses, Marvin's younger cousin Isiah Harper, admitted to lying about Marvin's guilt at trial. Harper, who was only 14 at the time of the murder, told Unicorn Riot that cops got him to say what they wanted him to say by threatening him with decades behind bars. They continued to coerce his testimony despite him telling judges and juries repeatedly that he was lying and that the police had made the story up. The publication of this series started in early February and new parts are expected to be published every couple weeks until April 2023.
---
Documents for Download
Trial and Appeal Documents:
---
Follow us on Twitter, Facebook, YouTube, Vimeo, Instagram, Mastodon and Patreon.