Mass Protest in The Hague Calls Out Israeli War Crimes
The Hague, Netherlands — A massive pro-Palestinian demonstration marched around the center of The Hague this Sunday, where organizers and protesters were calling for an immediate ceasefire in the besieged Gaza Strip, for the Dutch government to cut ties with Israel, and for the International Criminal Court to investigate Israeli leaders for war crimes. It was likely the largest protest yet in the Netherlands since Israel's assault on Gaza began following the October 7 Hamas offensive.
The demonstration was organized at the national level by a coalition of different pro-Palestinian activist groups and leftist Dutch political parties. It follows protests large and small in nearly every city in the Netherlands since the renewed attacks on Gaza. A previous demonstration in Amsterdam on October 15 was said to include around 10,000 people.
Well over 10,000 people likely attended the latest demonstration — with protester estimates being as high as 20,000 and police saying 6,000 — and no arrests were made, according to local police. Protesters chanted loudly in support of the Palestinian cause and in opposition to the ongoing Israeli bombardment of Gaza. Activists were calling for the ICC to open investigations into war crimes committed by the Israeli Prime Minister Netanyahu and Defense Minister Yoav Gallan.
"We as Dutch-Palestinians, we don't support what our prime minister say, that he is supporting Israel unconditionally. That can't be done in our name," said Mohamed, one of the organizers of the demonstration who preferred to not give his last name, citing online harassment.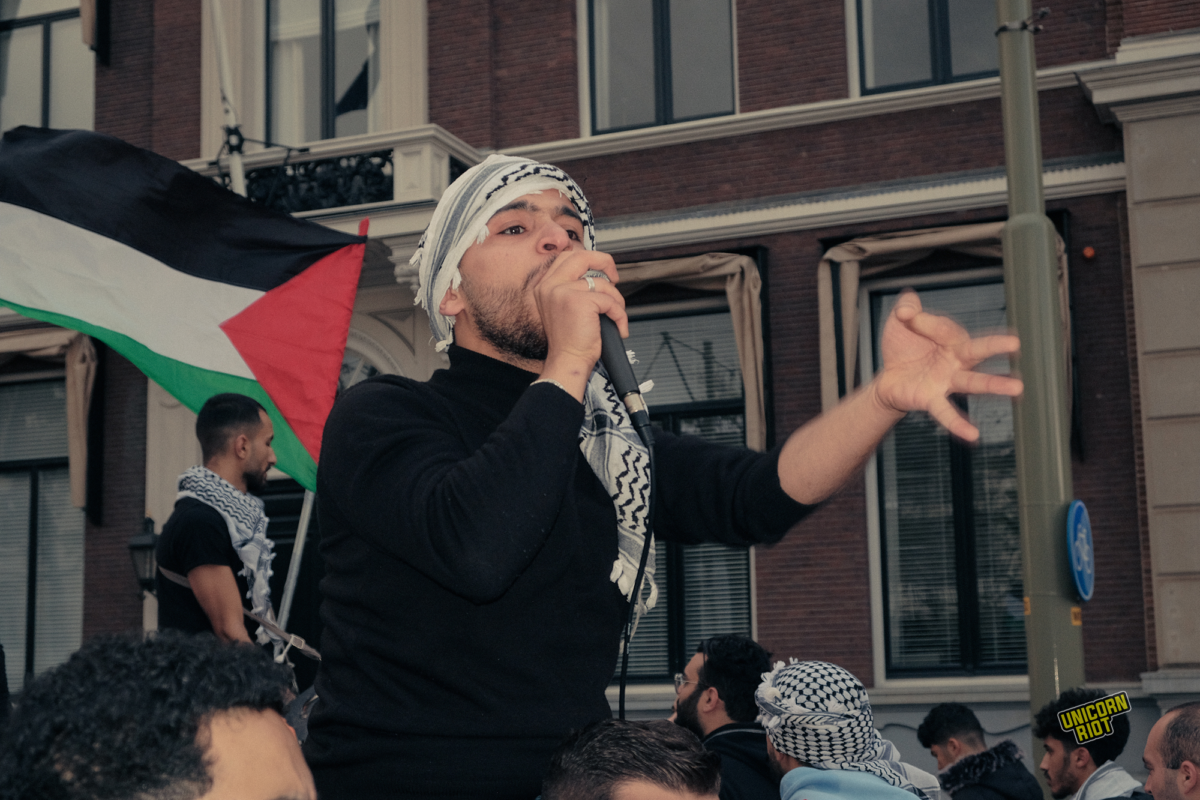 The Hague, a city in the Netherlands, serves as the host to multiple prominent international criminal courts including the ICC and the International Court of Justice. These institutions play a crucial role in the pursuit of justice for international crimes on a global scale, though critics say their focus is selective. Organizers, who made various statements on a stage before the march began, pointed to the hypocrisy of Western nations like the Netherlands in their support for what are largely seen as war crimes. These war crimes have been documented by a slew of international human rights organizations, from Human Rights Watch and Amnesty International to B'tselem and Reporters without Borders.
Those war crimes include Israel's indiscriminate targeting of civilian infrastructure, targeting of journalists, use of white phosphorus in civilian areas, and the use of collective punishment against Palestinians, including cutting off food, water, and electricity from the besieged territory.
"Right now it's very likely that Dutch weapons and Dutch aircraft components are being used to bombard Gaza. Dutch missile components, missiles that are striking hospitals … We are complicit in this," said one organizer named Benjamin, who identified as a Dutch Jew.
"The Netherlands makes the occupation possible … this must stop now," he said, to cheers from the crowd.
The Dutch government also buys Israeli weapons and military hardware. For example, a number of high-profile defense deals were made between the Netherlands and Israeli defense giant Elbit. Those include several just this year, like a deal for $305 million for a missiles system, a $55 million deal for counter-drone defense systems, and another deal worth $15 million for night vision goggles for the Netherlands Armed Forces. Elbit has also received contracts from the U.S government to assist in U.S-Mexico border wall construction. Back in 2019, Unicorn Riot covered a protest in Minnesota calling for the state to end its investment in Elbit.
"The response by the leadership of the European Union has been scandalous," noted Yanis Varoufakis, the former Greek Finance Minister, in an interview with Al Jazeera English on October 10.
"For days, they simply parroted whatever Washington D.C. and Tel Aviv were bringing out as statements … the EU simply doesn't have the moral spine to condemn the state of Israel for blockading Gaza," he continued.
Varoufakis has publicly called for the resignation of Ursula von der Leyen, the current president of the European Commission. Though technically unelected, she has in recent years assumed a leadership role in Europe's relations with external partners. She has been a fierce supporter of Israel and recently met with President Joe Biden at the White House. Critics say she has shown a glaring double standard by, on the one hand, strongly condemning Russia's targeting of civilians in their invasion of Ukraine, yet on the other hand, supporting Israel in their current onslaught.
There was a significant scandal in the EU directly following the first days of Israel's bombardment of Gaza. A Hungarian EU commissioner with links to Hungary's far-right leader Viktor Orban moved unilaterally to announce a cut of all aid to Gaza, just as Israel began killing civilians there. The move revealed the lack of unified leadership on contentious international issues among Europe's ruling elite and the reversal of the unpopular move was seen as an embarrassment to the EU.
Israel is continuing to bombard Gaza on this 25th day of the renewed escalation and has initiated a ground invasion. Over 8,000 people have been killed in Gaza, with over 3,000 of those being children, and around 21,000 have been injured.
Violence has ramped up in the Occupied West Bank as well, with armed Israeli settlers threatening, and in some cases killing, unarmed Palestinians. The US and most of the EU continues to provide Israel support, both diplomatic and material, despite the widespread continuation of massive protests.
See more of our Palestine related coverage here
---
Follow us on X (aka Twitter), Facebook, YouTube, Vimeo, Instagram, Mastodon, Threads, BlueSky and Patreon.
Please consider a tax-deductible donation to help sustain our horizontally-organized, non-profit media organization: