Hamas Attacks, Israel Responds: Thousands Dead in New War
On October 7, 2023, a coalition of armed Palestinian groups led by the Islamist Hamas movement launched a massive early-morning surprise attack against Israel in what they have coined "Operation al-Aqsa Flood." The Lebanon-based militant organization Hezbollah also supported the attacks, but limited its engagements over the past week with Israel to a few rocket and mortar attacks around the northern border and Golan Heights region occupied by Israel since 1967.
CONTENT ADVISORY: The following article includes descriptions of extreme violence and death. Reader discretion advised.
The chosen start date for the operation coincided with the Simchot Torah religious holiday at the end of the annual seven-day Sukkot holiday – thereby giving the Palestinian fighters the element of surprise. In the beginning of the attacks, a commando unit targeted the headquarters of the Israeli army in southern Gaza, jamming their communications.
Immediately after announcing the operation, Hamas launched thousands of rockets against targets in Israel. At the same time, according to Israel, around 2,500 armed Palestinian fighters successfully breached the Israel-Gaza border wall, crossing into Israel from several directions – some utilizing speedboats and paragliders to make rapid advances into Israeli territory.
Media coverage: "Al-Qassam Brigades, the military wing of Hamas, has published a video showing its Palestinian fighters taking off from Gaza in paragliders and descending onto Israeli colonies. This morning, the Palestinian resistance movement launched a surprise military… pic.twitter.com/WoSDUKXQbZ

— Quds News Network (@QudsNen) October 7, 2023
The Israeli Defense Forces were caught off guard by the attack and sent scrambling to defend; before the attack, IDF battalions had largely been assigned away from Gaza on occupation duty in the West Bank to secure intensified Israeli settler activity. As a result, at least 1,400 Israelis (including 289 soldiers) have been reported killed and 2,800 wounded to date. Therefore most of the Israeli casualties were likely civilians, with the current tally of those killed in the Hamas operation reportedly including 583 children.
Many Israelis were killed in towns and kibbutz communities near Gaza. Women and babies were also among civilians killed by Hamas, while the IDF spread unverified claims that some were beheaded. Noncombatants massacred by Hamas fighters on October 7 included at least 260 young partygoers at the trance music dance festival "Supernova" outside the Re'im kibbutz near the Gaza border wall. Many unarmed ravers were "shot in the back as they ran" in what is believed to be the "worst civilian massacre in Israeli history," according to Al Jazeera.
On the other side of the militarized apartheid border fence, at least 2,670 Palestinians, including at least 724 children and 458 women, have been reported killed by Israel so far as of October 15. All of the members of at least 50 Palestinian families in the Gaza Strip have been killed by Israeli airstrikes. The death count in both Israel and Gaza is expected to rise — especially in Gaza due to the continued Israeli military bombardment of heavily populated civilian areas. In addition to killing several journalists, in the first week of response, Israeli strikes hit at least 23 ambulances, leaving 15 health workers dead, according to the Palestinian Health Ministry as of October 13.
More than 9,600 have been injured in Gaza, while the U.N estimates one million Palestinians are now internally displaced. Over 1,000 people are currently listed as missing under the rubble of buildings in Gaza bombed by Israel; 70 percent of people in the northern part of the Gaza strip currently do not have any access to medical care as conditions worsen.
At least 155 captives were also seized by Hamas fighters, with no known reliable figures on how many of those prisoners are civilians and how many are military personnel. Hamas has since stated that it will use the captured prisoners to negotiate a swap with Israel for its Palestinian prisoners. Israel currently claims that it would never accept such a swap, maintaining that it "does not negotiate with terrorists." However it's notable that such swaps have happened before — under the same Israeli prime minister no less.
[A note about terminology: Palestinians, their supporters, and some observers often characterize the armed groups as "resistance" while Israel's supporters tend to describe them as "terrorists." Hezbollah and Palestinian armed groups are classified by the U.S. State Department as "Foreign Terrorist Organizations" since the list was established in 1997. Many observers have noted corporate media tends to describe Palestinians who passively "died" while Israelis were "killed," similar to domestic U.S. news about "officer involved shootings."]
---
'Operation Iron Swords' – Israel's Response
Ever since Israel's founding in 1948, the subsequent Israeli-Palestinian conflict has largely become a recurring footnote and oft-ignored headline in the news. Operation al-Aqsa Flood represents a significant departure from the norm as it was the first time a set of Palestinian armed groups has launched a coordinated "combined arms" surprise attack from land, air and sea — resulting in an unprecedented Israeli casualty rate.
Thus, it represents one of the biggest blows Israel has suffered since the 1973 Yom Kippur War – a war that began almost exactly fifty years before this event. It also represents the end of perceptions that Israel's security is a stable assumption within the "Green Line," the territory Israel held before the 1967 war.
Israel has since officially declared a state of war — again the first time since the Yom Kippur War. Some 360,000 Israeli reservists have been called into service to participate in what the IDF dubs "Operation Iron Swords." These additional troops will serve to bolster an IDF standing army that is already at least 170,000 strong. Operation Iron Swords has been issued with the explicit objective of eliminating Hamas' presence from the Gaza Strip entirely — an operation all but guaranteed to lead to massive civilian casualties.
The IDF has since sent massive reinforcements to take back areas inside Israel's borders briefly seized by Hamas. After heavy fighting, by October 9 they had succeeded in pushing virtually all Palestinian fighters back into the Gaza Strip, killing the remainder or taking them prisoner.
The Flotilla 13 elite unit was deployed to the area surrounding the Gaza security fence in a joint effort to regain control of the Sufa military post on October 7th.

The soldiers rescued around 250 hostages alive.

60+ Hamas terrorists were neutralized and 26 were… pic.twitter.com/DWdHKZgdLw

— Israel Defense Forces (@IDF) October 12, 2023
On the same day, Defense Minister of Israel, Yoav Gallant, announced that the IDF was "putting a complete siege on Gaza … No electricity, no food, no water, no gas – it's all closed." Gallant would go on to justify these actions with comments that appeared to dehumanize Palestinians stating, "we are fighting against human animals and we are acting accordingly."
The IDF has even gone as far as to threaten to bomb humanitarian convoys that try to enter the Gaza Strip to deliver critically needed supplies. The total siege tactics used by Israel to effectively starve the Palestinians into submission effectively amount to a war crime as stated by Human Rights Watch, among others. But despite overwhelming evidence of the IDF's consistent pattern of war crimes throughout its existence, Israel has never faced any kind of substantial consequences for these actions.
Meanwhile, the IDF continues around the clock airstrikes on Gaza. In the first three days alone, Israeli jets reportedly bombed over 1,000 targets throughout the Gaza Strip. Many of these "targets" have included airstrikes on hospitals, and other critical infrastructure nodes. Many fear that these constant air strikes are in preparation for a massive land invasion of Gaza, as thousands of Israeli reservists massed along the border.
Israeli air strikes over Gaza City this week included the use of white phosphorus, which is illegal under international humanitarian law and creates uniquely painful burns that "can reignite when dressings are removed and the wounds are re-exposed to oxygen," according to Human Rights Watch.
On October 13, at least 70 Palestinians were reported killed as air strikes bombed convoys attempting to evacuate northern Gaza in compliance with Israel's demands that all civilians leave the area. Hamas also claims that at least 13 captives, including foreigners have been killed by Israeli airstrikes on Gaza.
On the same day, the IDF stated it was giving the remaining 1 million residents of the northern Gaza Strip 24 hours to evacuate before presumably beginning a ground invasion. The United Nations criticized this ultimatum calling it an "impossible" move that couldn't be done "without devastating humanitarian consequences." By Oct. 13, the IDF had already began conducting small localized raids in Gaza.
Many Gazans have found it increasingly impossible to leave even if they wanted due to the near-total blockade, and for a sheer lack of anywhere to go. Despite Israel's demand for Gaza Strip's residents to leave many have vowed to stay; they call attention to the history of previous generations of Palestinians forcibly relocated to Gaza from what is today Israel under the threat of violence during the "Nakba" or "disaster" which they experienced during the creation of the state of Israel in 1948.
Israel also announced that as of midnight on October 14 it would cut off all internet connectivity in Gaza, further restricting the ability of aid workers and the media to report on the deepening humanitarian crisis. Médecins Sans Frontières (Doctors Without Borders) General Director Meinie Nicolai accused Israel of "an attack on medical care and on humanity" after giving Al Awda Hospital in Gaza just a few hours notice, indicating it would be leveled by airstrikes.
---
Background to the Conflict
Since 1967, Israel has occupied Palestinian territories in the West Bank, East Jerusalem, and the Gaza Strip. While building illegal settlements and systematically violating the human rights of Palestinians as they control their movements, Israel has effectively created an apartheid state in the territories.
With a population of about 2.3 million Palestinians, the Gaza Strip is 141 square miles and borders the Mediterranean Sea, Egypt, and Israel. After Hamas won the 2006 Palestinian elections in the Gaza Strip and a deadly war with rival party Fateh, Israel built further border walls and imposed an air, land and sea blockade and siege on the Gaza Strip, causing a continual humanitarian crisis and leading to the Strip being described by residents as an "open air prison."
The steady increase in the rate of land seizures by Israel and its constant military invasions of Palestinian lands over the last several decades have long served as a motivation for Palestinians to resist. Over the recent years, a growing number of young Palestinians have been taking up arms and sometimes forming into new groups like the "Lions' Den" to defend their neighborhoods when Israeli forces conduct raids.
The appointment of the hawkish far-right Israeli government late last year has only accelerated the problem in its heavy handed use of military force which have killed thousands of Palestinians over the last year, often flouting human rights and international law in the process.
The continued Israeli police and settler raids into one of the Islam's holiest sites — the Al-Aqsa Mosque in Jerusalem — has also angered many Palestinians and Muslims worldwide. A couple days before the Hamas attacks, thousands of ultranationalist settlers stormed Al-Aqsa and performed what the Islamic administrators called "Talmudic rituals," a violation of current-day Jewish religious law and norms. (These are considered proscribed acts under mainstream Israeli civil law.) Acts like these have been on the rise and are why the Hamas operation directly refers to this mosque.
Protests against the ramped up attacks and security events around Al-Aqsa Mosque have been also occurring. Last month, regular protests were happening at the eastern border of the Gaza Strip during which Israeli forces killed at least six Palestinians and left over 90 wounded by live fire. See our video below.
Israeli Operation in Gaza Destroyed 243 Homes, Killing 34 Palestinians – June 2023
Operation Breaking Dawn: Israel Kills 44 Palestinians Over Three Days – August 2022
Al-Aqsa Mosque Stormed: Israeli Police Detain 400, Injure 153 – April 2022
See more Unicorn Riot coverage from the frontlines of Palestinian territories
While more Palestinians continue to join efforts that push resistance to the Israeli occupation through both civil and armed campaigns, an unprecedented Israeli resistance movement has also recently grown against their own government's authoritarian plans to consolidate power by effectively gutting the country's judicial system.
---
Reaction in Israel
Many international analysts and government officials expressed shock at how Hamas was seemingly able to keep such a massive operation a secret from Israeli intelligence services. It's well known that the Israeli state has the most advanced surveillance and intelligence capabilities in the Middle East— and one of the most capable in the world.
A report from the Times of Israel states that an anonymous Egyptian intelligence official had warned Israel of the attack some three days before the attack; the New York Times reported CIA "routine" reports warned of "about a potential escalation in violence" on September 28 and October 5, without specifics on the attack.
Though criticism against Prime Minister Benjamin Netanyahu's government for this failure has been pronounced, overall Israeli opposition to the far-right government has largely ceased, owing to the state of shock of losing so many Israeli lives during the surprise attack.
As a result the historic Israeli opposition movement against Netanyahu's "judicial reforms" has largely suspended protests in favor of bolstering support for the Israeli state and the IDF. On October 11 a new Israeli unity government and war cabinet was announced, which includes Netanyahu's dominant Likud party and a majority of Israel's various opposition parties.
---
International Reactions — Actions Taken in Support of Palestine and Israel
Reinforcing their traditional diplomatic support, most western European nations — including the U.S. and a handful of other countries – explicitly stood behind Israel, condemning Hamas for its "terrorism." On the other side, Iran and some Arab League countries including Qatar have explicitly blamed Israel for the conflict, citing Israel's increased land seizures and continued occupation of Palestinian lands as the main reason for the conflict.
In a significant military move, the U.S. Navy deployed the USS Gerald R. Ford aircraft carrier — the largest warship ever built — to the Eastern Mediterranean for "deterrence" purposes. The U.S. also recently announced that it was providing Israel with an additional $2 billion in supplementary military aid, with possibly more on the way. This brings the total amount of U.S. military aid to Israel to $3.8 billion so far in 2023.
On Oct. 15 Washington announced it was also sending the U.S. Navy's Carrier Strike Group Two, led by the USS Dwight D Eisenhower aircraft carrier as "part of our effort to deter hostile actions against Israel or any efforts toward widening this war following Hamas's attack on Israel." In particular some analysts believe that these deployments are specifically meant to send a message to Hezbollah — which has continued to threaten that they may escalate the conflict along the Lebanon-Israel border if Israel's aggression against Gaza continues.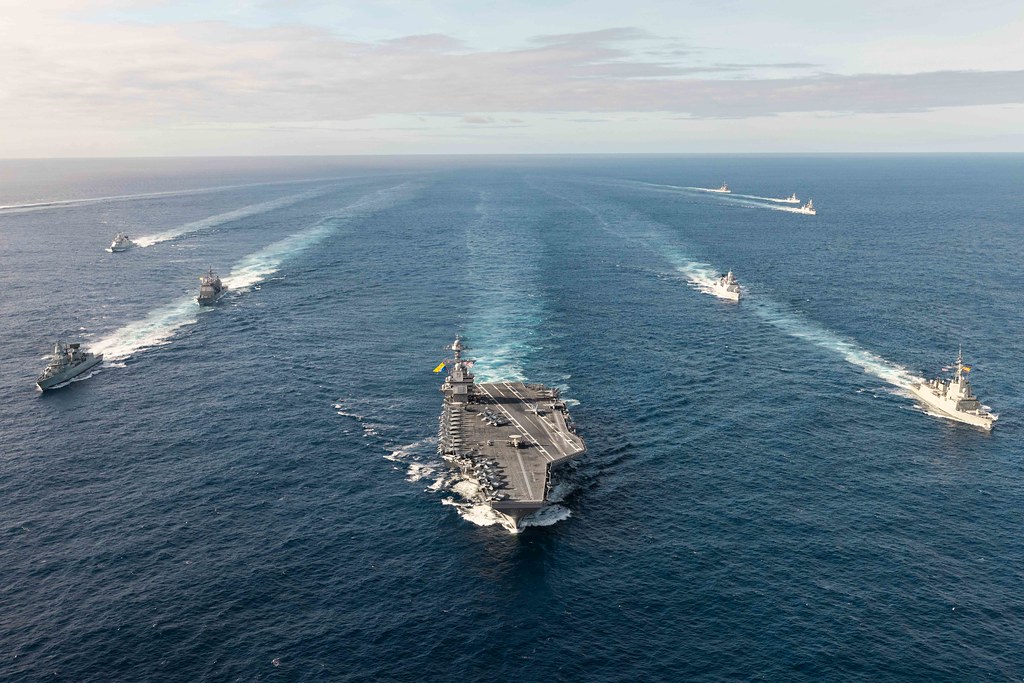 A majority of international opinion appears to be mixed, with most "urging restraint" and refusing to endorse either side. This has effectively led to a deadlock in the United Nations, where neither side has been able to agree on a joint statement on the matter.
Meanwhile in the streets, demonstrations in solidarity with both Palestine and Israel have been ongoing. Pro-Palestine rallies have been especially prevalent in countries near and within the Middle East, like Jordan, Syria, Turkey and Iran, while pro-Israeli rallies were largely contained to Western countries like Germany, France, and England. There has been continual pro-Palestinian rallies attended by thousands in the West despite countries like France banning the rallies.
On Oct. 10, dozens of anti-Zionist Jewish people from across in Minnesota gathered together in Minneapolis to grieve for the loss of lives on both sides in an event called a solidarity shiva. Watch the prayerful gathering in the video below. Jewish activists in Boston protested at Senator Warren's office on Oct. 13, "to speak out against the genocidal war on people in Gaza and call for deescalation and ceasefire."
---
The Current Situation and Possible Outcomes
As a result of the Israeli ban on food, fuel and other supplies, the Gaza Strip is currently experiencing an elevated humanitarian catastrophe that worsens by the day. Nonstop Israeli air strikes continue to fill Gaza's hospital beds and morgues, with an estimated 60 percent of the victims being women and children so far. The medical sector is also working with little to no electricity after Israel cut off power to the Strip.
Despite this, the IDF insists that it will not lift the siege until all Israeli captives are released, as its ground forces prepare for massive land invasion. For its part, Hamas remains unwilling to give up their most important bargaining chip — the hostages taken during their October 7 operation. Therefore, the main question appears to be how many lives is Israel prepared to sacrifice to eliminate Hamas. And even if Hamas is forcibly removed from the Gaza Strip then the question becomes who will replace them as the local government — if anyone at all?
Though some U.S. officials have reportedly proposed the Palestinian Authority serve as a replacement for Hamas in the Gaza Strip, such a proposal will likely be shot down, as Palestinian political analysts describe such a move as political "suicide." So long as there are so many Palestinian fighters willing to kill and die for the cause they see as resistance to the occupation, it appears unlikely that the conflict will die down anytime soon. In this case there appear to be only two foreseeable paths forward: negotiated settlement between the two parties, or the complete destruction and the possible ethnic cleansing of the Gaza Strip as one of the last independent Palestinian territories left standing.
Feature image attribution: Palestinian News & Information Agency (Wafa) in contract with APAimages
---
Dan Feidt contributed to this report for Unicorn Riot.
Follow us on X (aka Twitter), Facebook, YouTube, Vimeo, Instagram, Mastodon, Threads, BlueSky and Patreon.

Unicorn Riot's Coverage from Palestine: