Pro-Palestine Protest Attacked in Minneapolis
Minneapolis, MN — An older white man drove his vehicle through pro-Palestinian protesters and brandished both a box cutter and a knife on Sunday afternoon. The attack is part of a rising trend of violence on protesters and came as thousands of people held a busy Minneapolis intersection performing a "die-in" for the thousands of Palestinians being killed in the deadly Israeli bombardment of Gaza that followed the Oct. 7 Hamas attack.
The protest at the intersections of Hennepin Avenue and Lyndale Avenue in Minneapolis, near the Walker Art Center, was the second large gathering there in recent days and at least the fourth pro-Palestinian protest in the Twin Cities area that has drawn thousands of protesters in the last two weeks.
Unicorn Riot was on the ground (and in the air with our drone) when the car attack on the protest occurred. Watch video of the incident below.
The man first threatened protesters with a box cutter and later with a knife, said witnesses on the ground and a protest marshal. Video of the man brandishing the knife can be seen below. Some protesters hit the man's car in response. At least one person had their foot run over and another has bruised ribs from the car attack. No other injuries were publicly reported.
"It was scary, honestly, because there have been protests where people run through the crowd with their vehicles and people, like ended up dying. And then knowing he was armed, like a part of me wanted to run away. But a part of me was like trying to assist everyone else in like stopping this car from causing more harm too because there's children here. There's families here."

Raqiya Mohamed told MPR News
UPDATE: Video shows Man brandishing a knife on crowd after driving through Pro-Palestine protest

Exclusive footage released to us from demonstrators shows a man waving a knife at a group of people demonstrating in support of Palestine. pic.twitter.com/ShAFwhFe6o

— Georgia Fort (@ByGeorgiaFort) October 23, 2023
The protest on Oct. 22 was aimed at visibility with the chosen intersection between Loring Park and the Walker Art Center having a heavy amount of traffic. Protesters were holding signs and waving flags on the pedestrian bridge and off the sidewalks before taking the intersection for a die-in to commemorate the thousands of Palestinians dead. Chants heard included "Free Palestine," and "Up with Palestine, down with occupation," calling for an end to the Israeli occupation and "genocide" of the Palestinian people.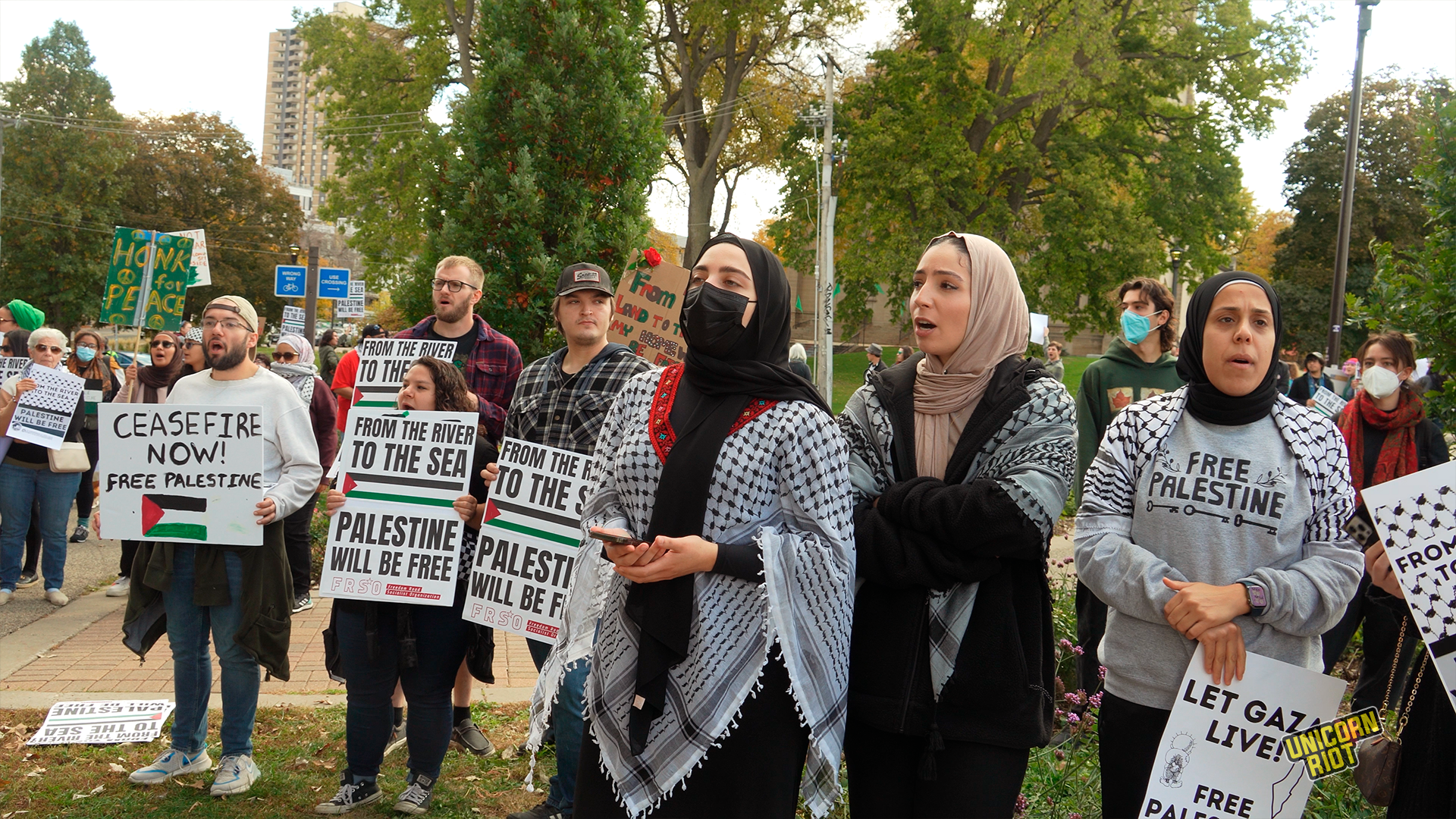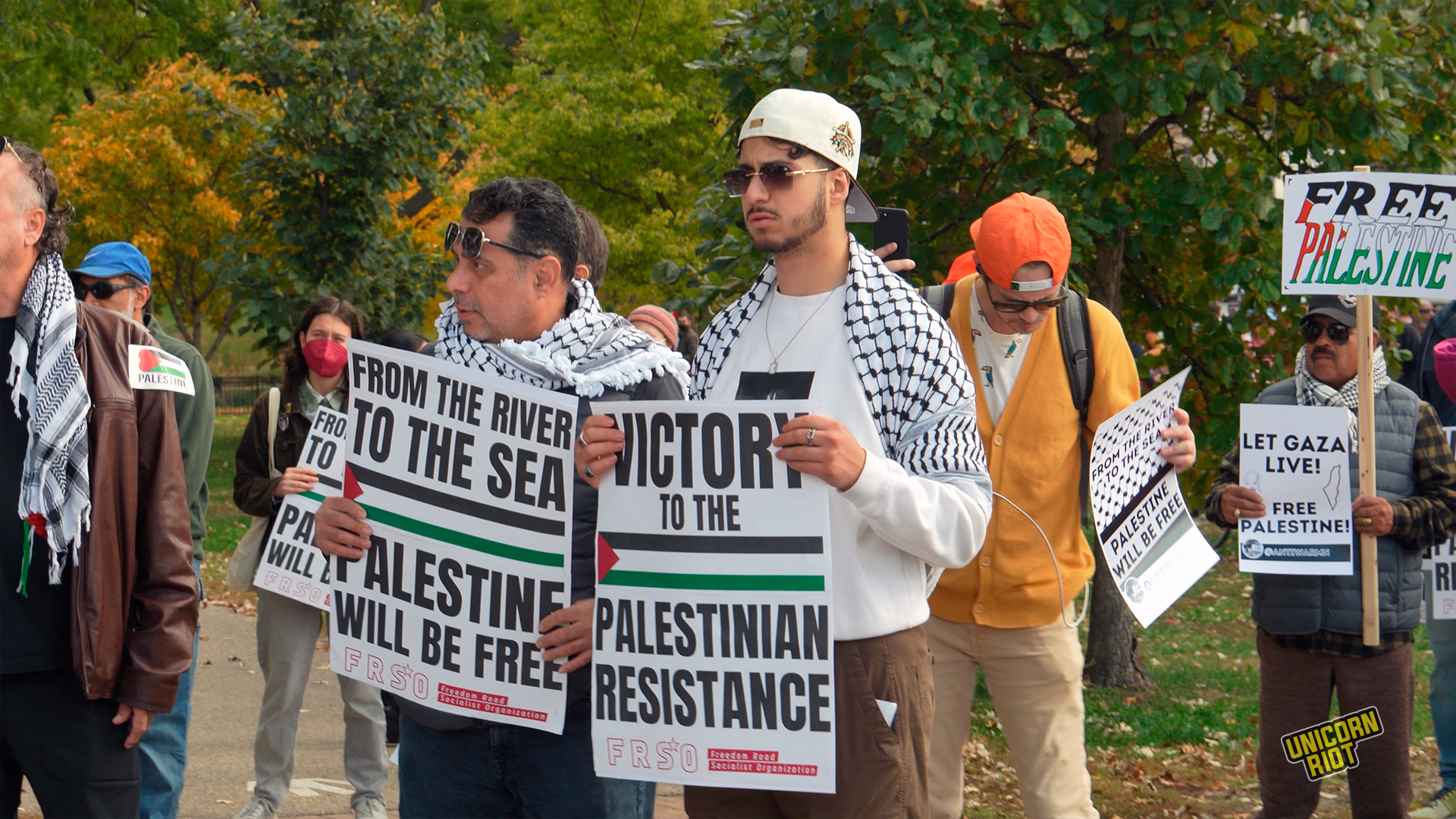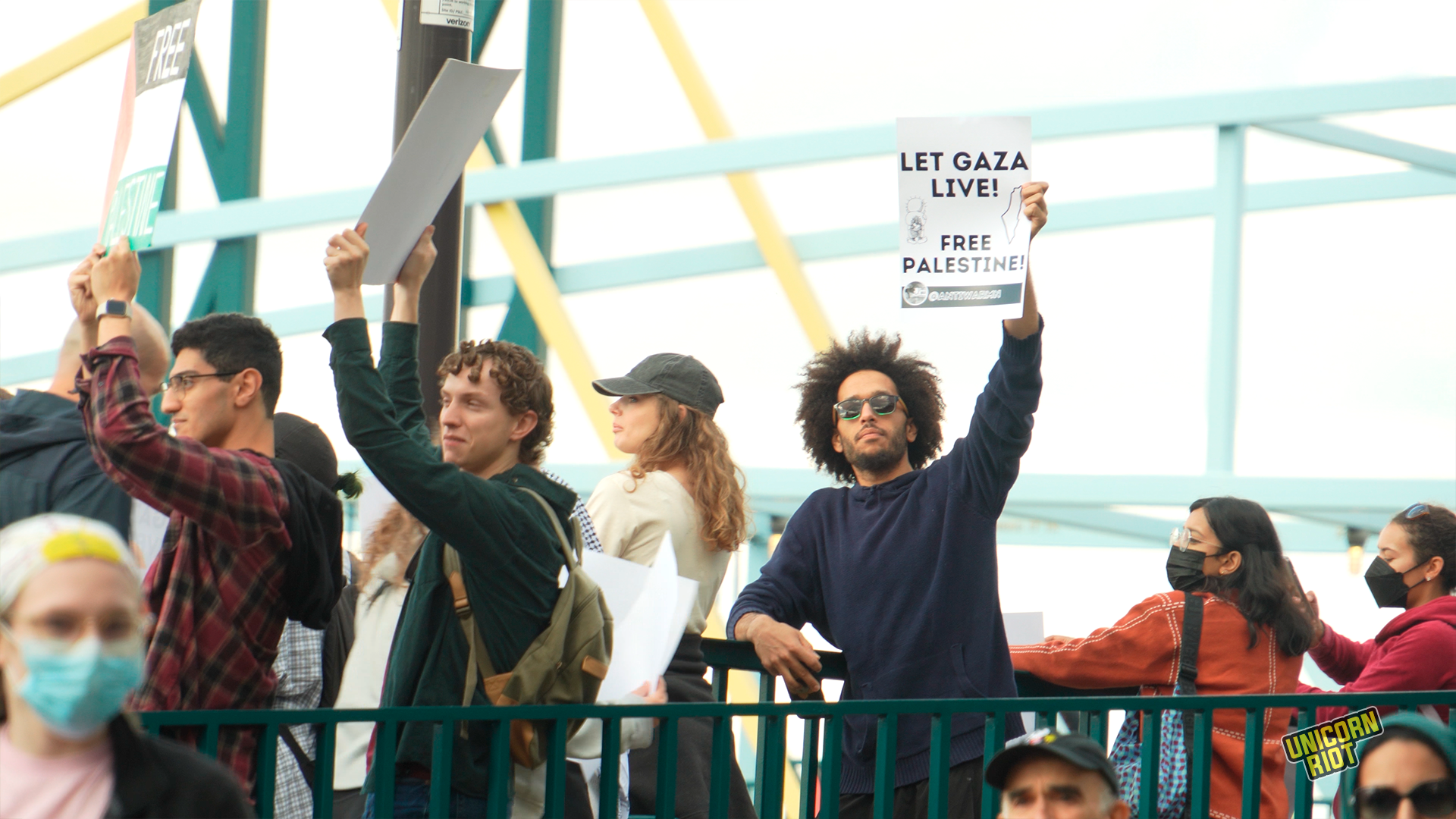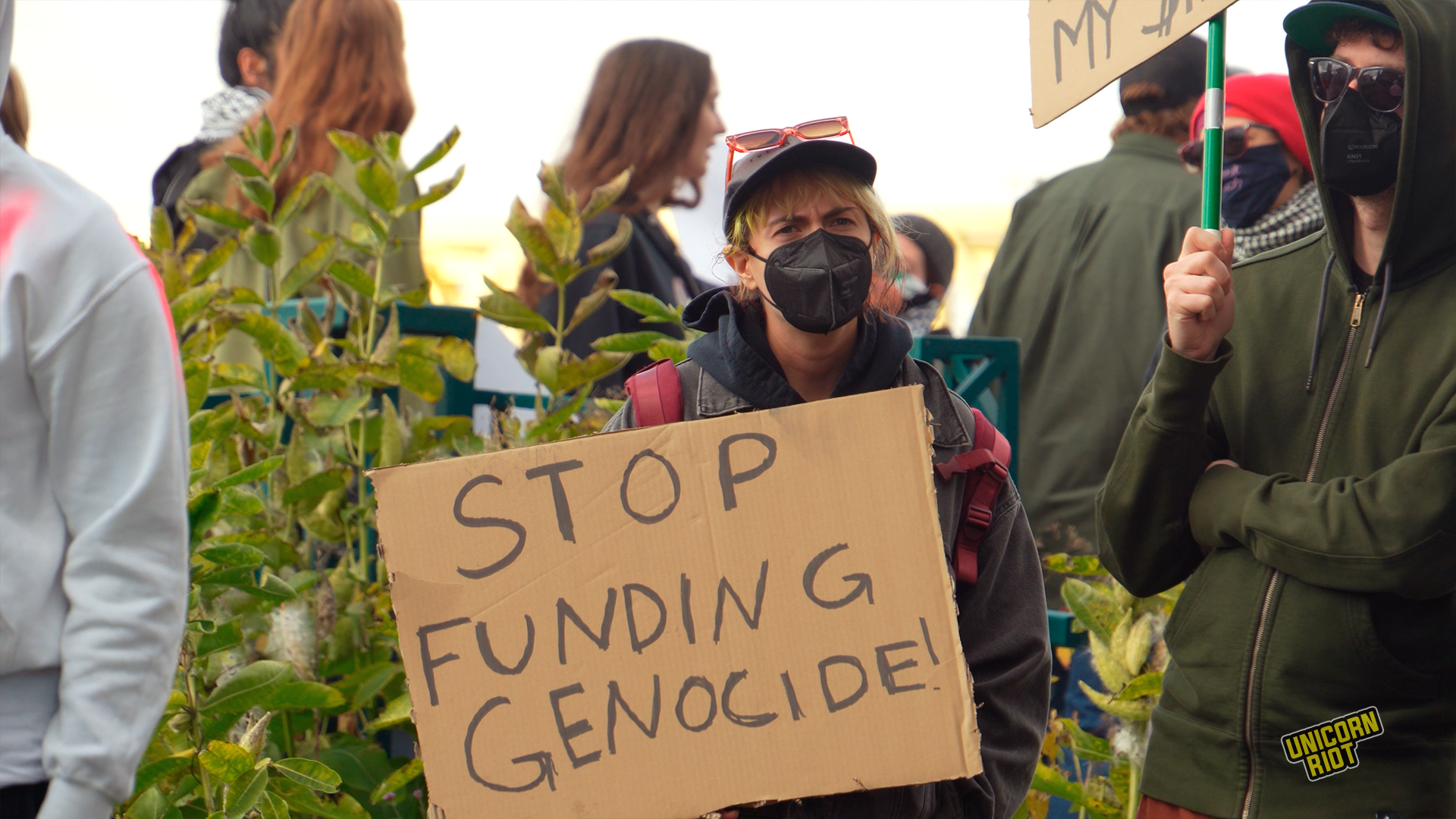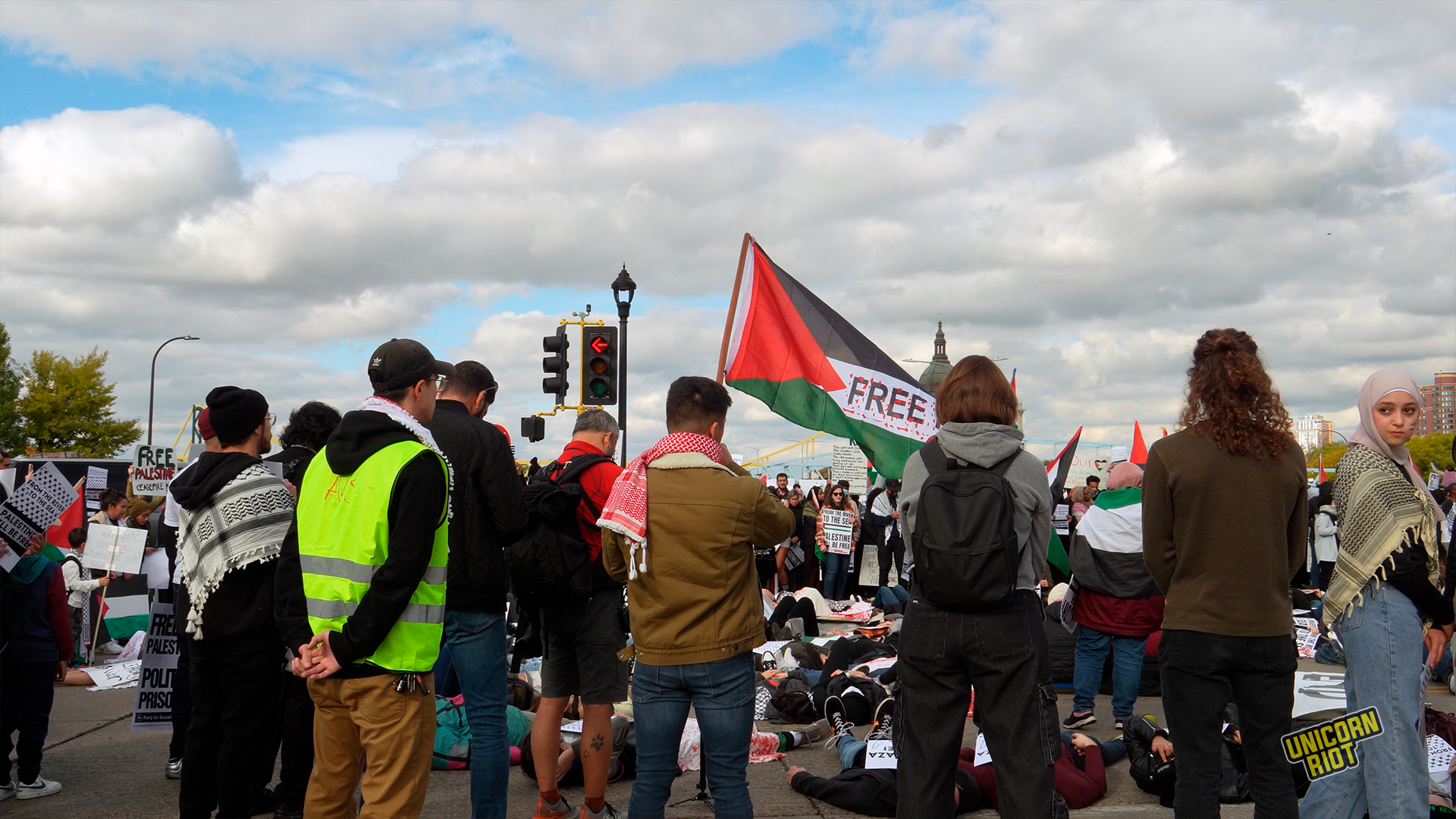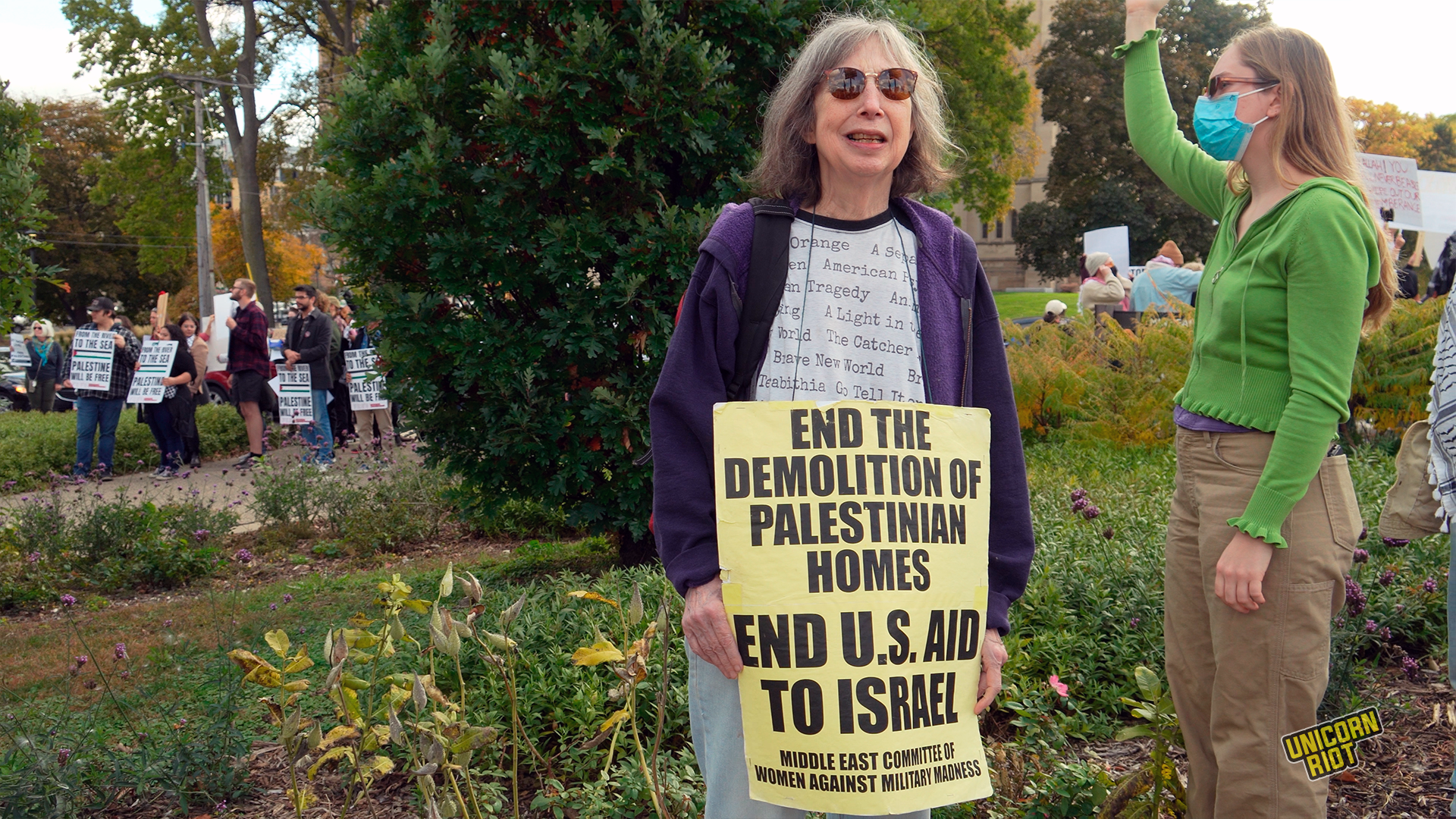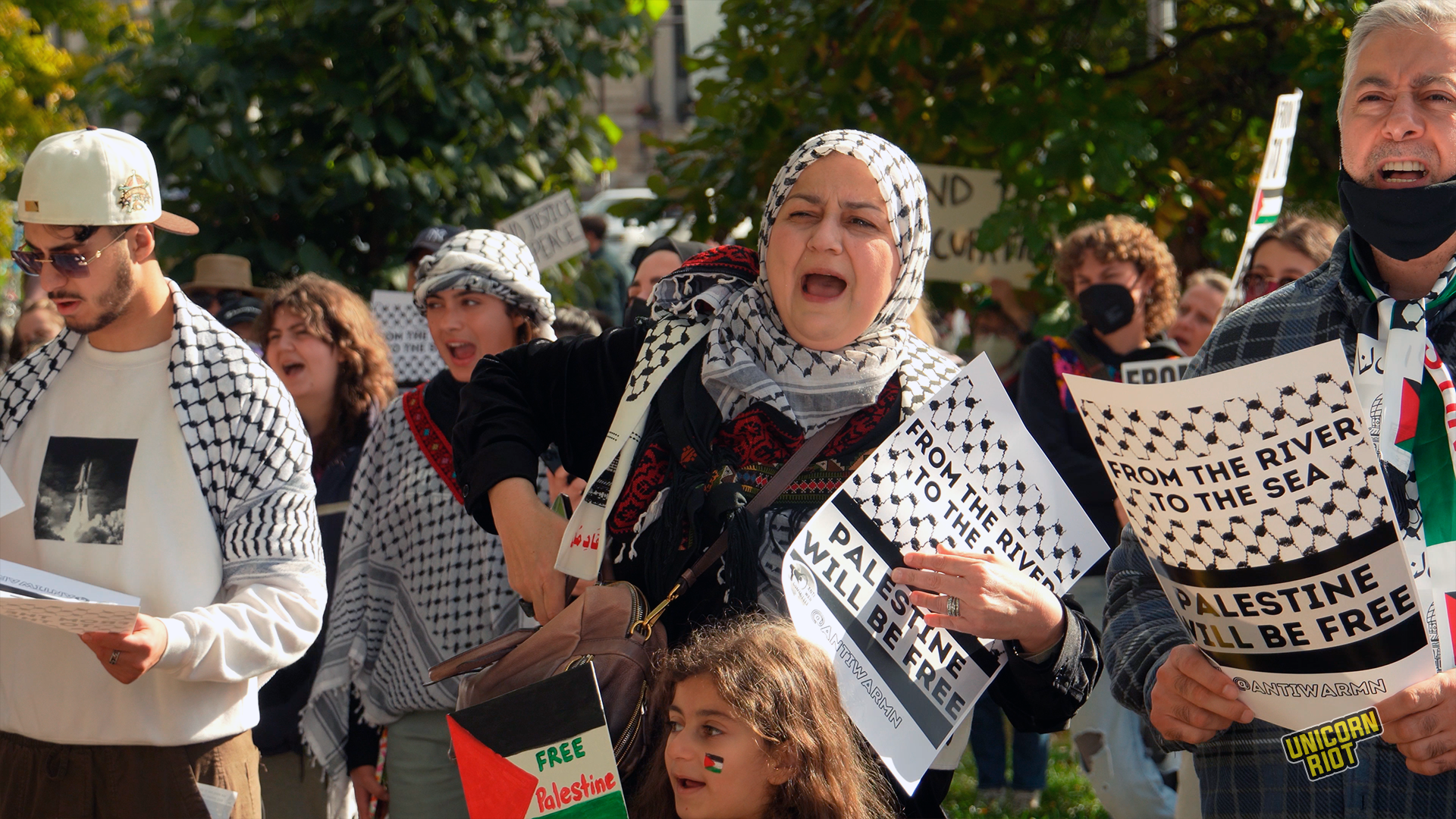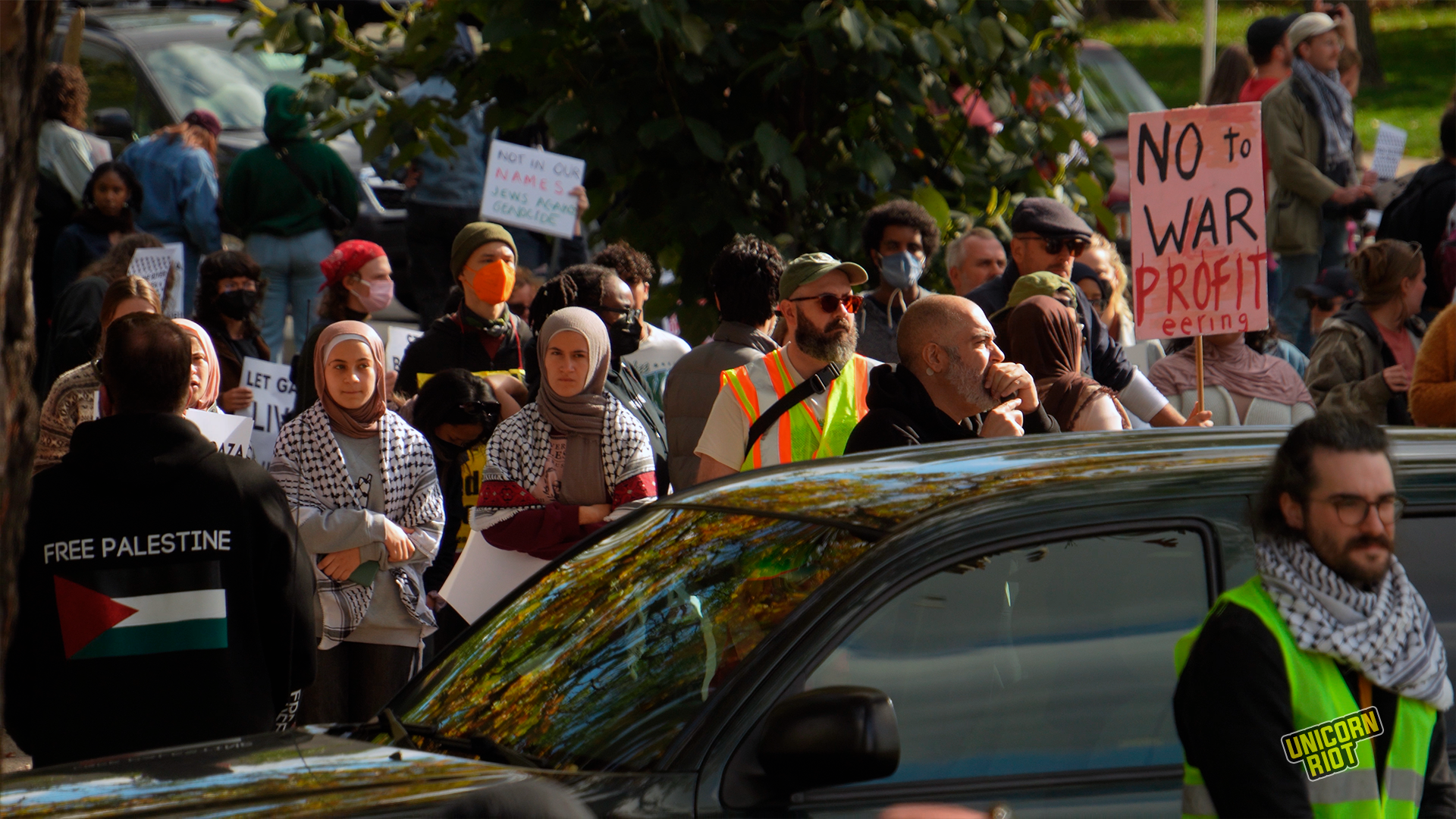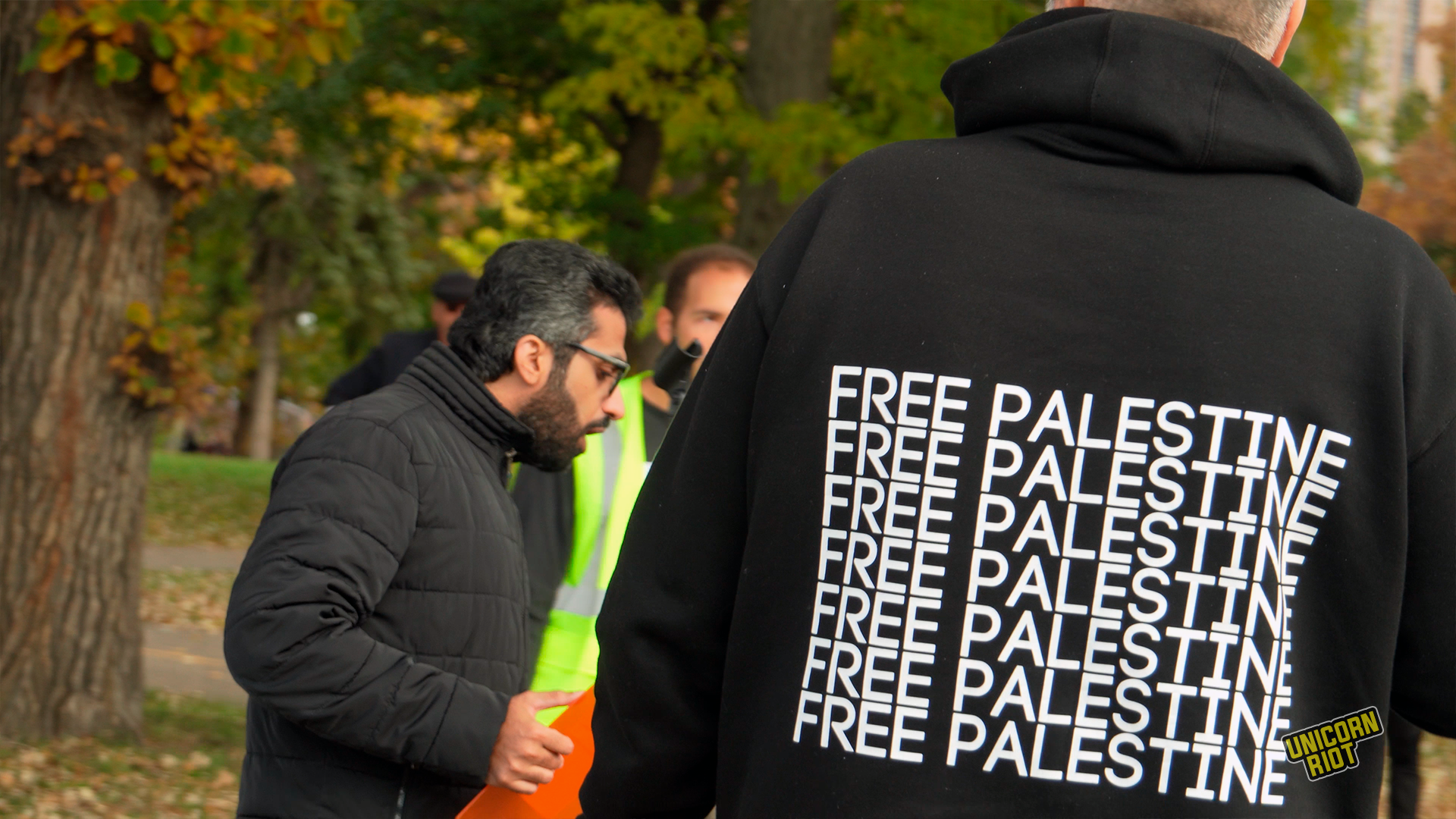 As a safety precaution, cars of protesters and protest marshals blocked off traffic several blocks in each direction. Before the attack on the die-in, the intersection was held for about 15 minutes and dozens of cars were stuck in traffic.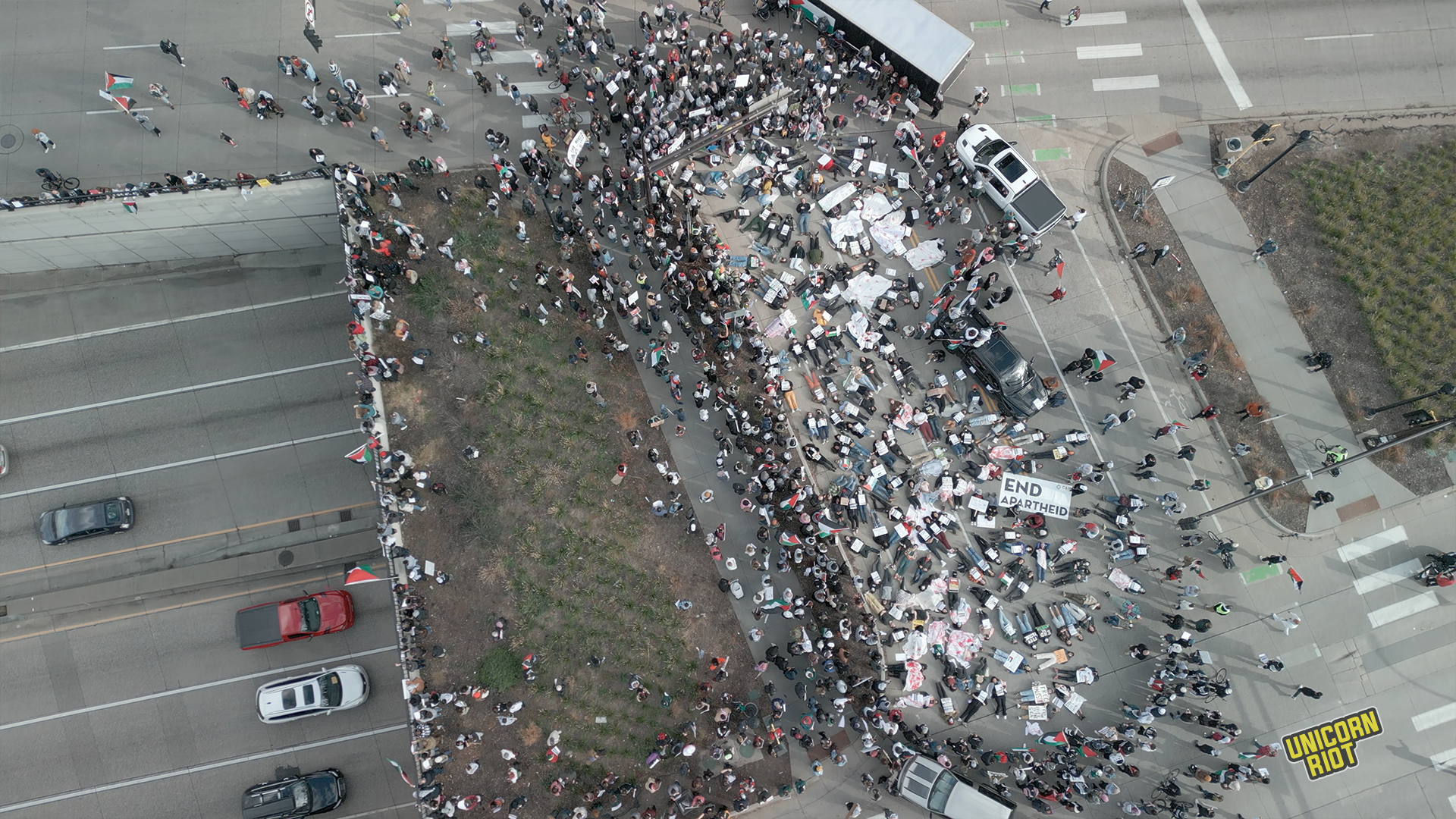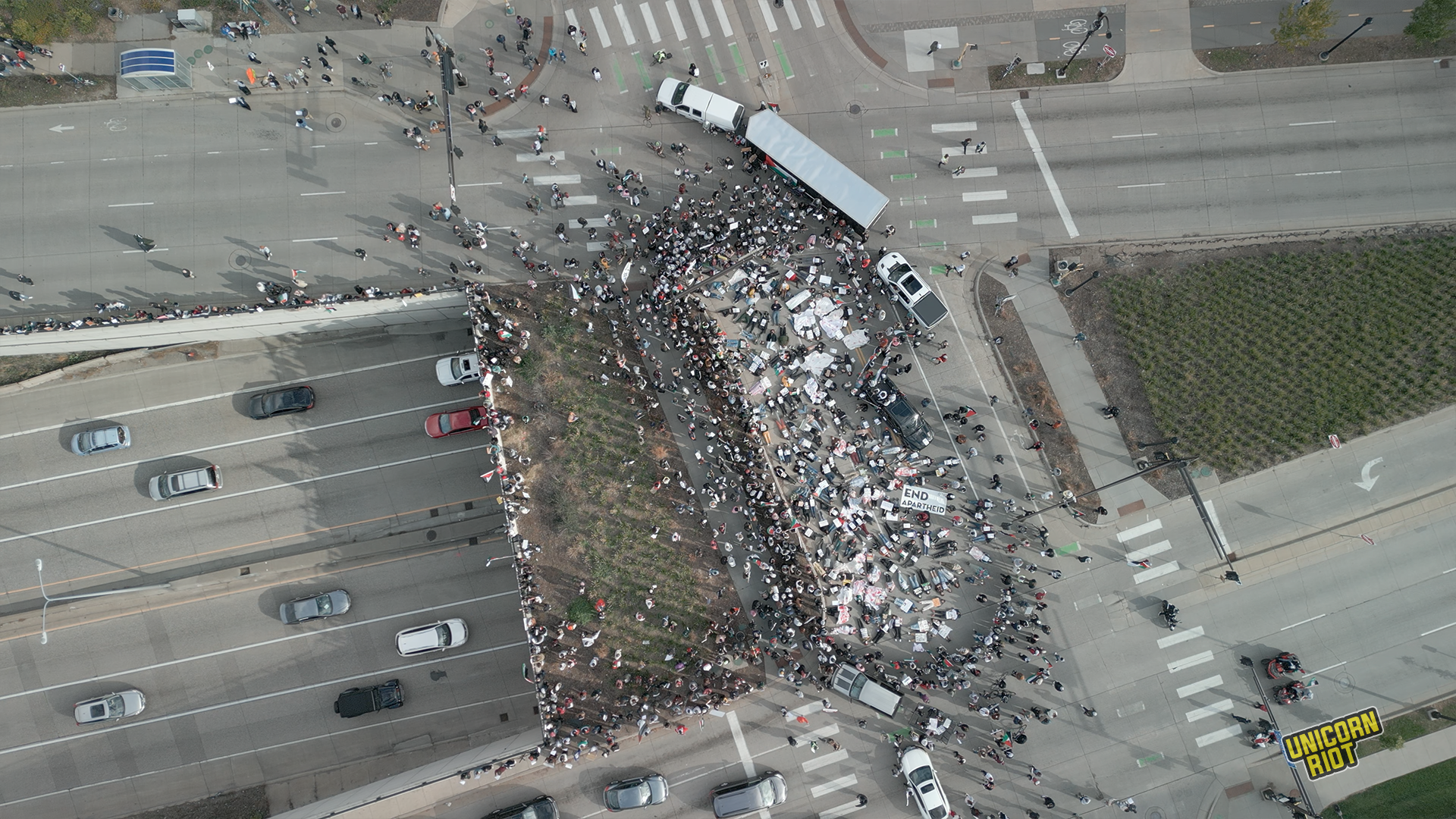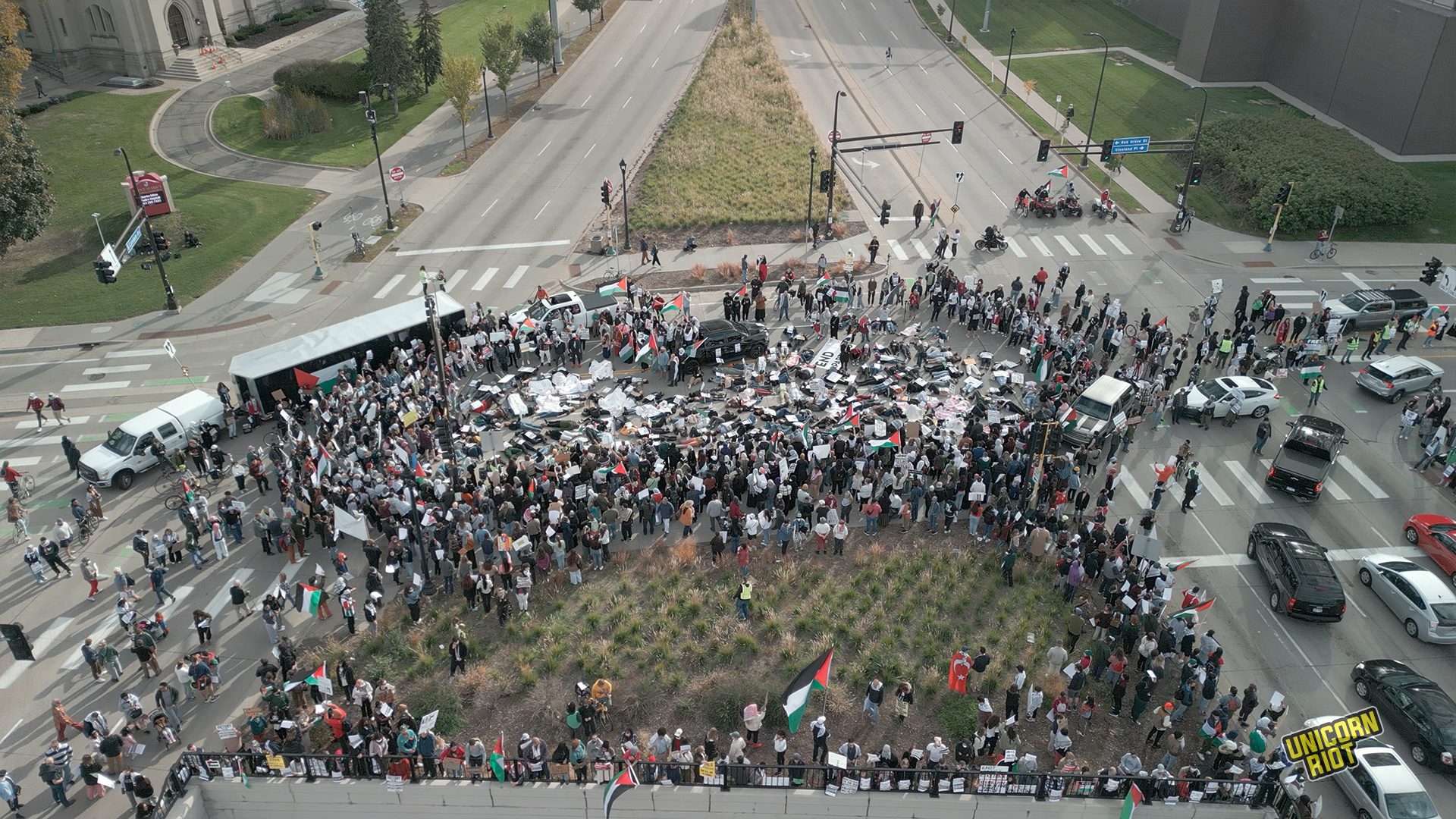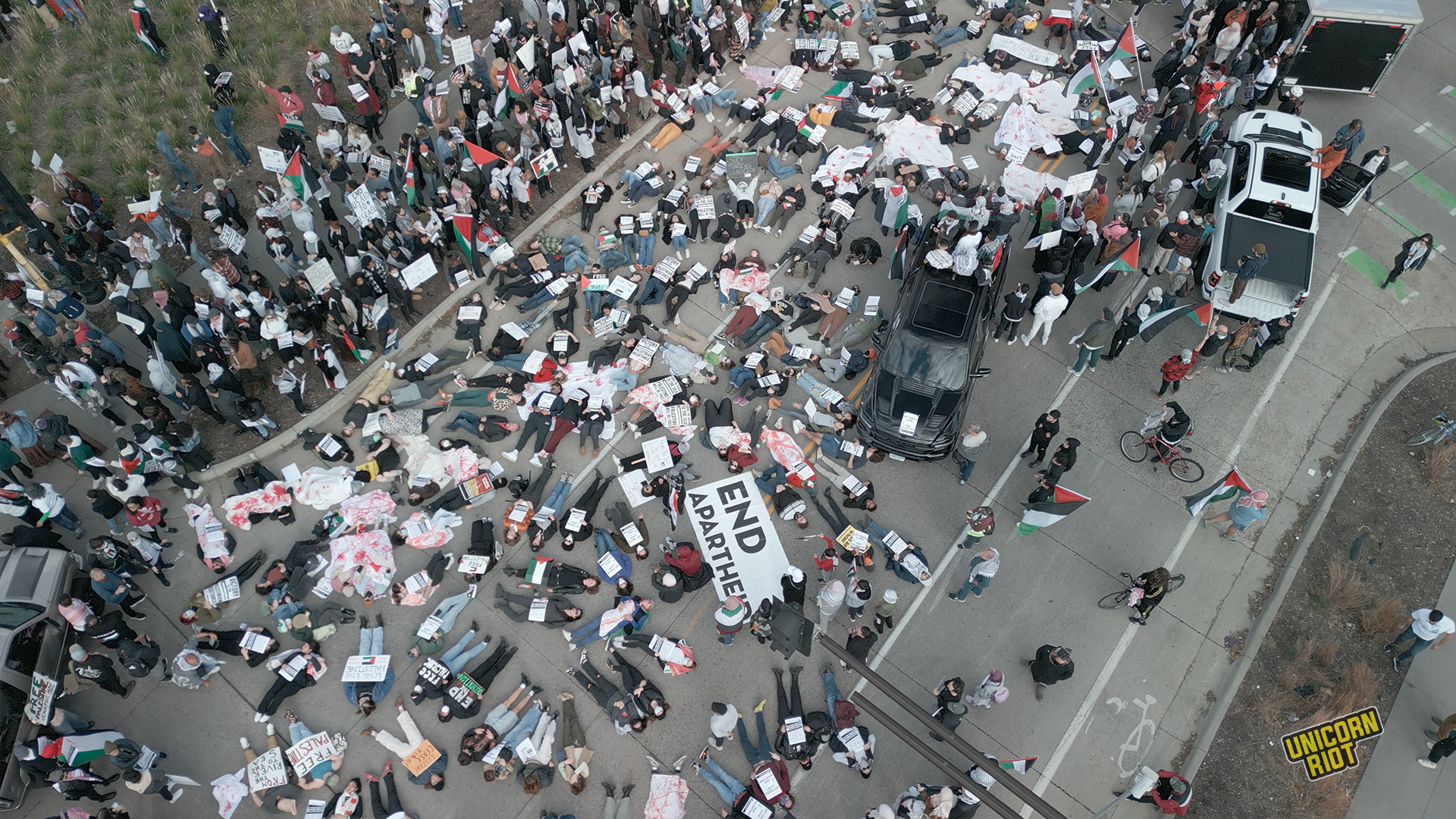 While it's unclear the true intentions of the attacker, video and witness accounts show he attempted to use three weapons to attack: a box cutter, a knife and his vehicle (which he used at least twice to drive through protesters after turning back around).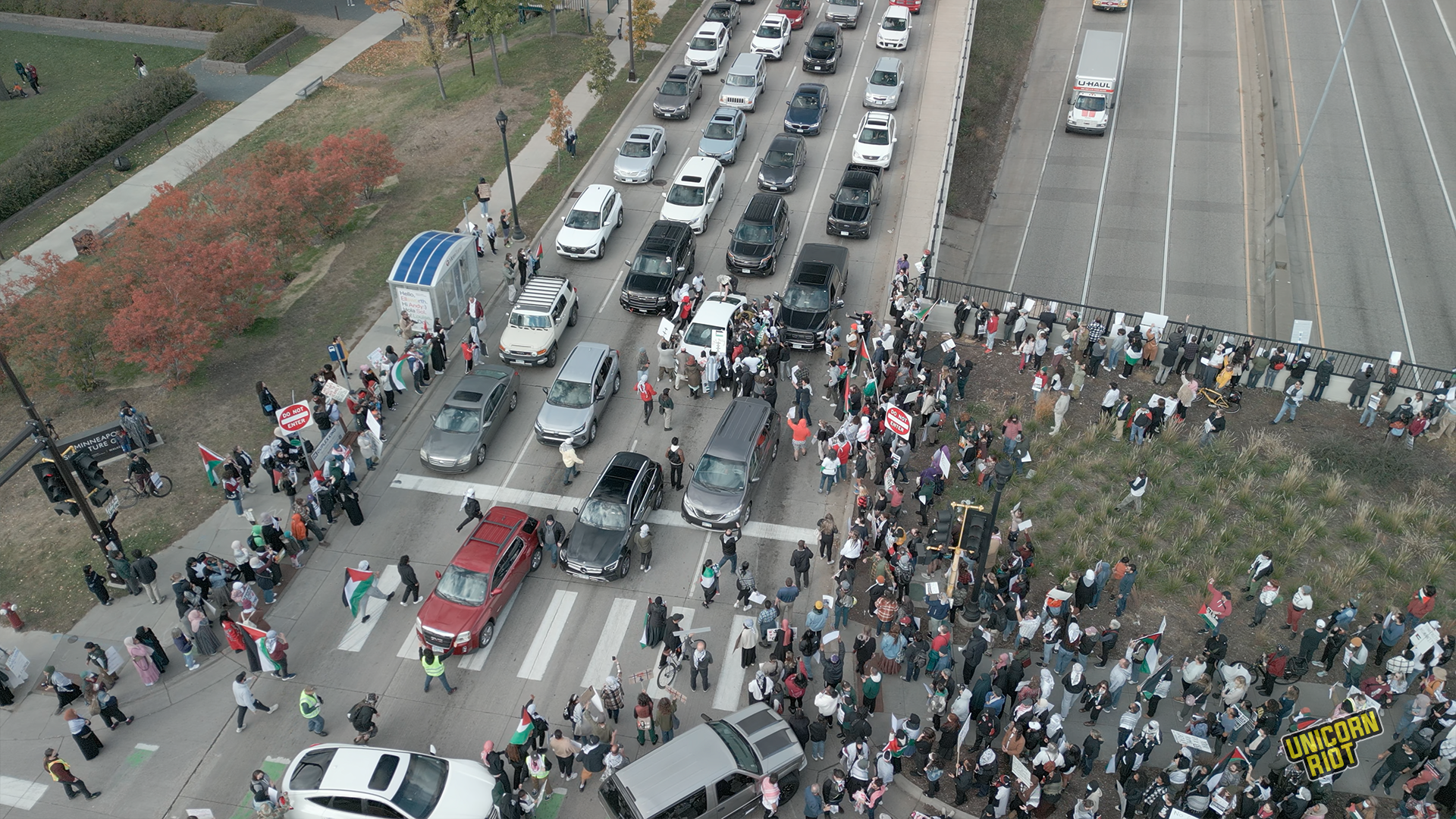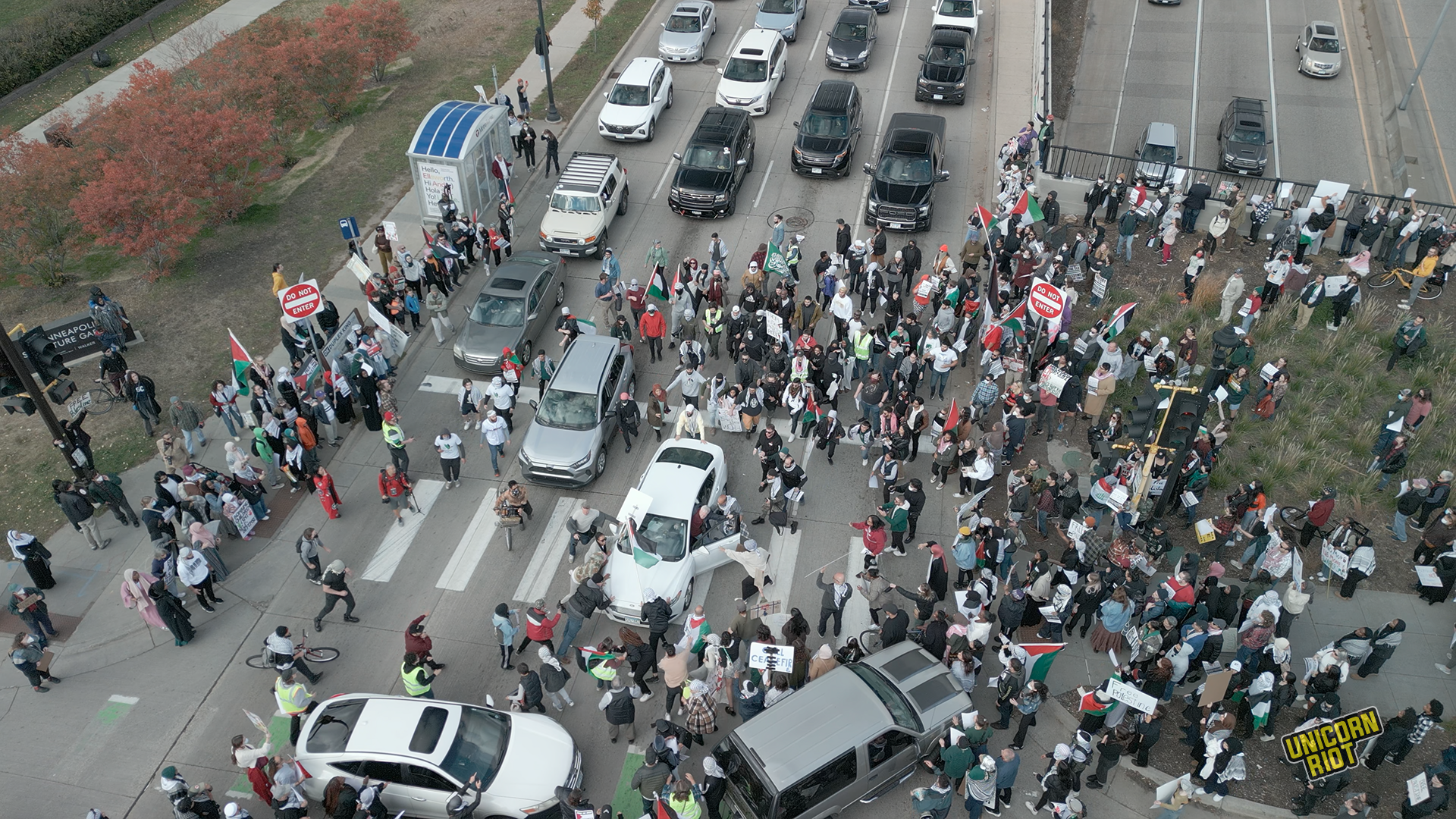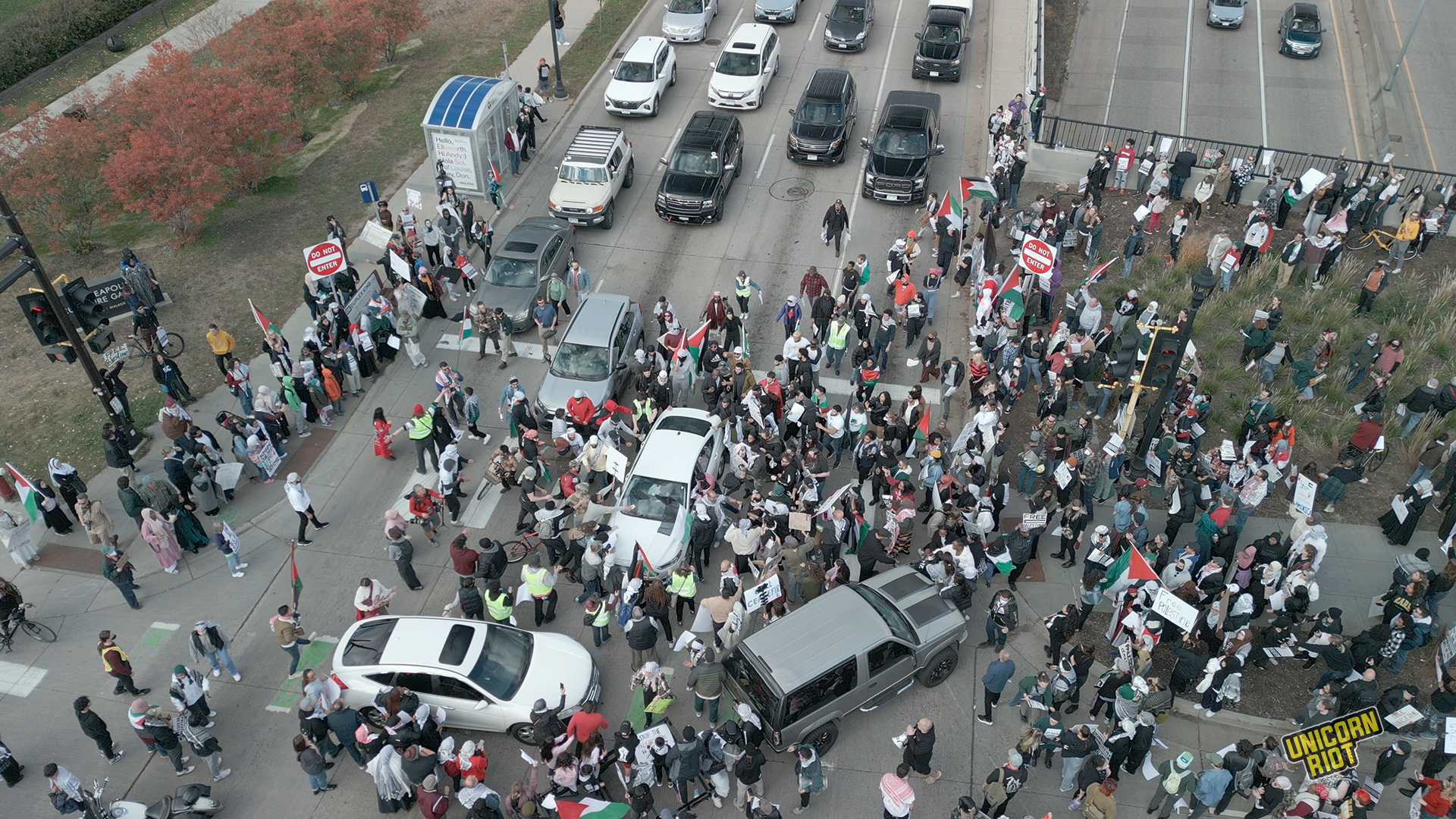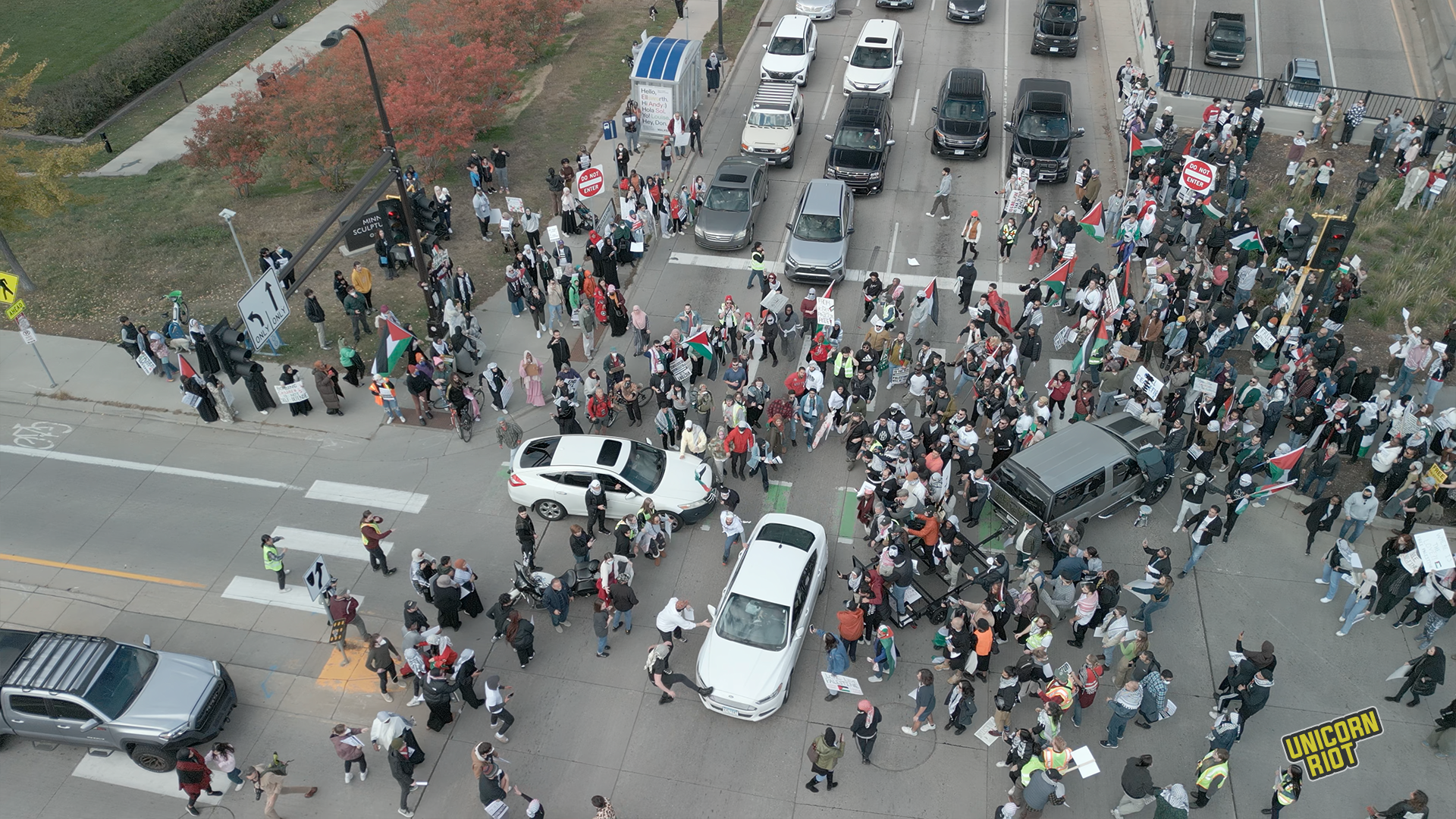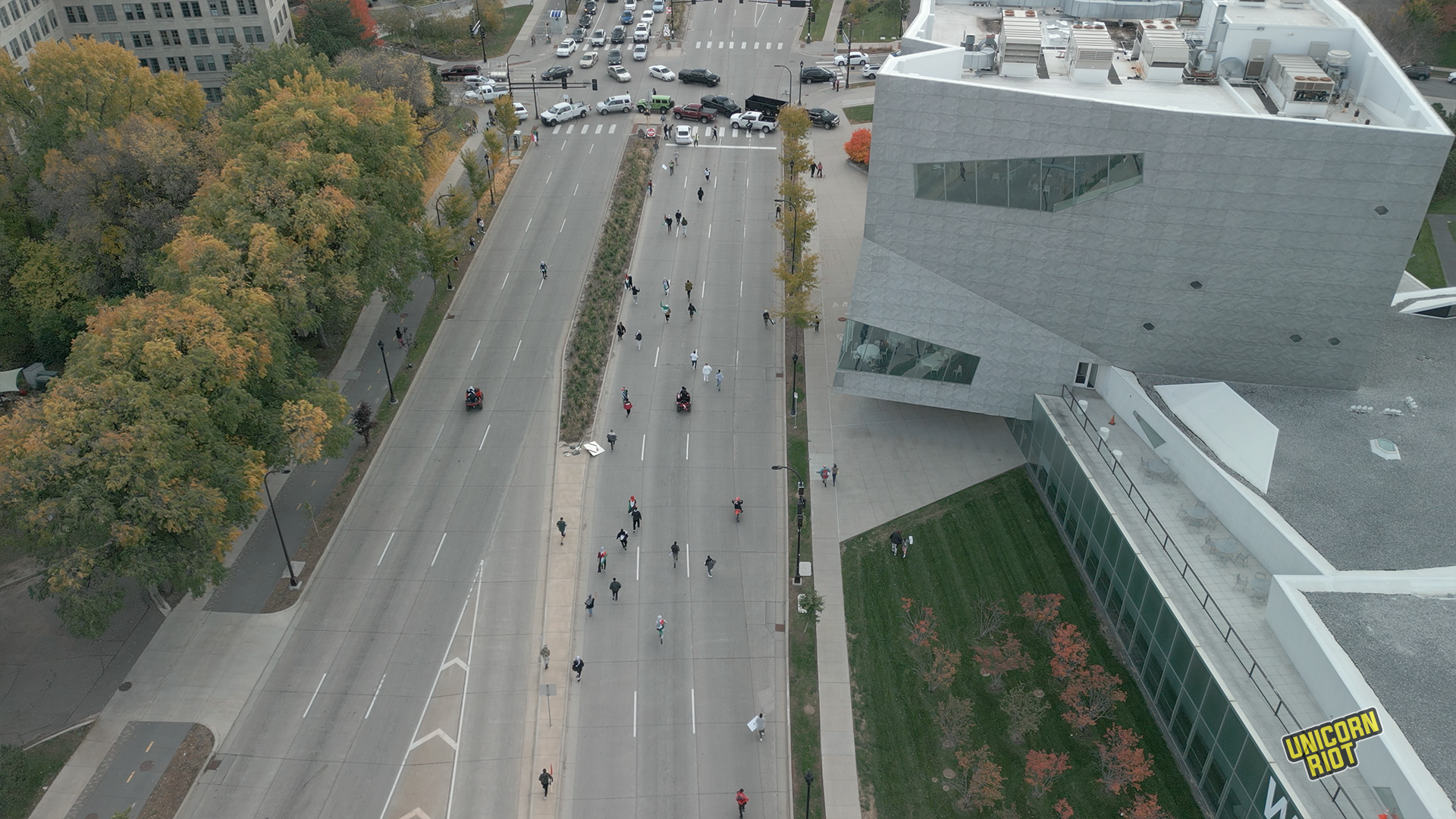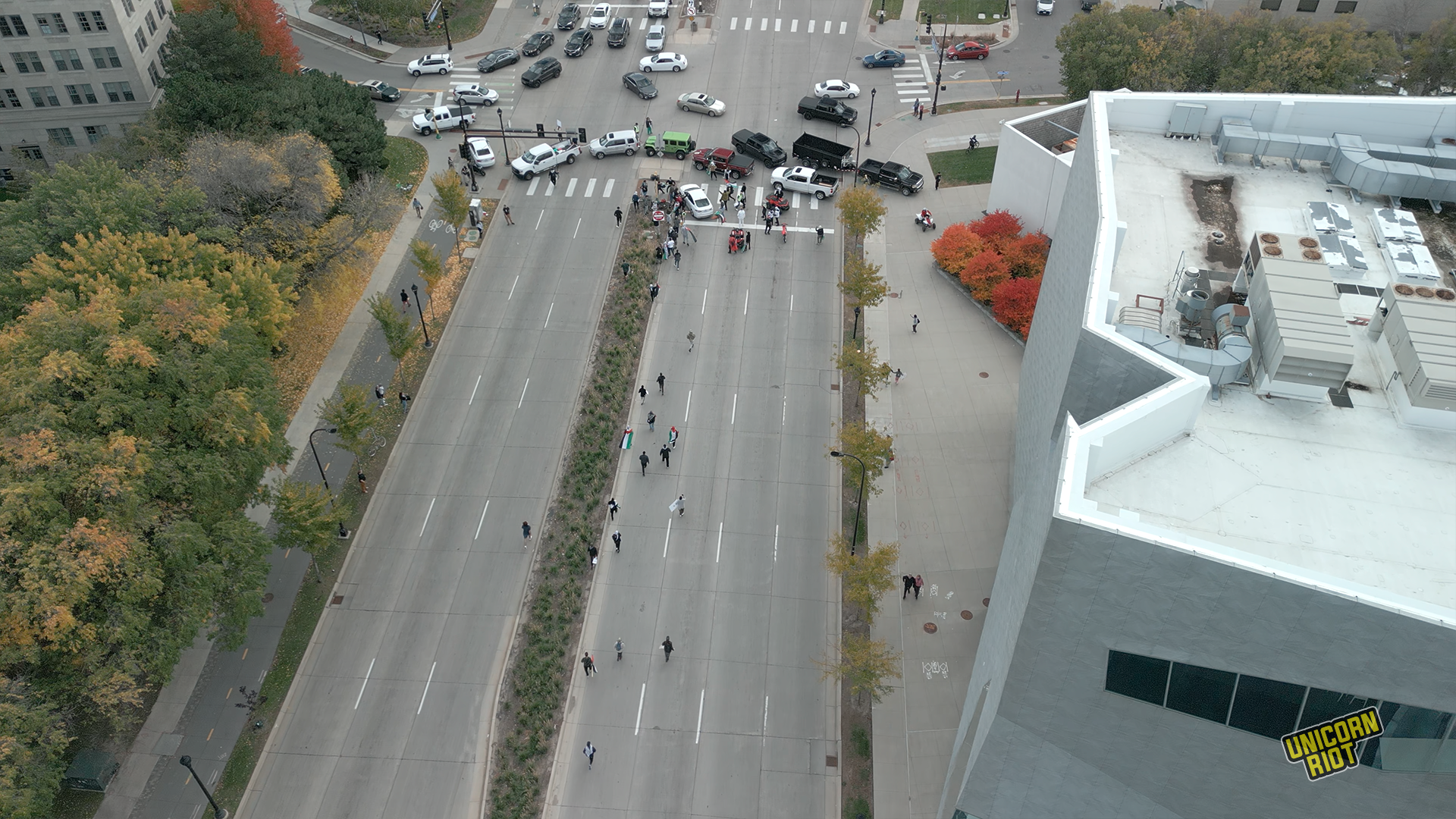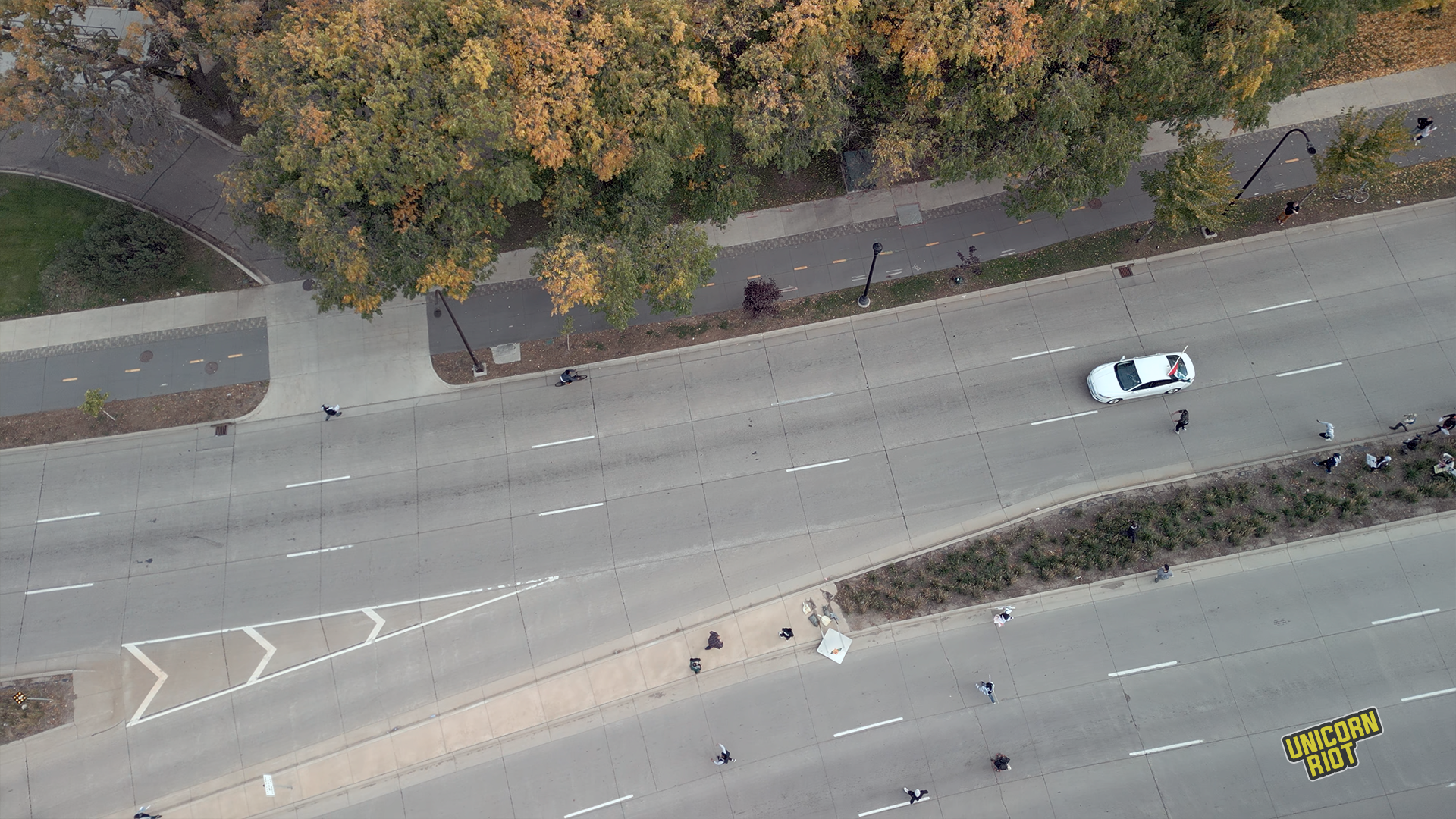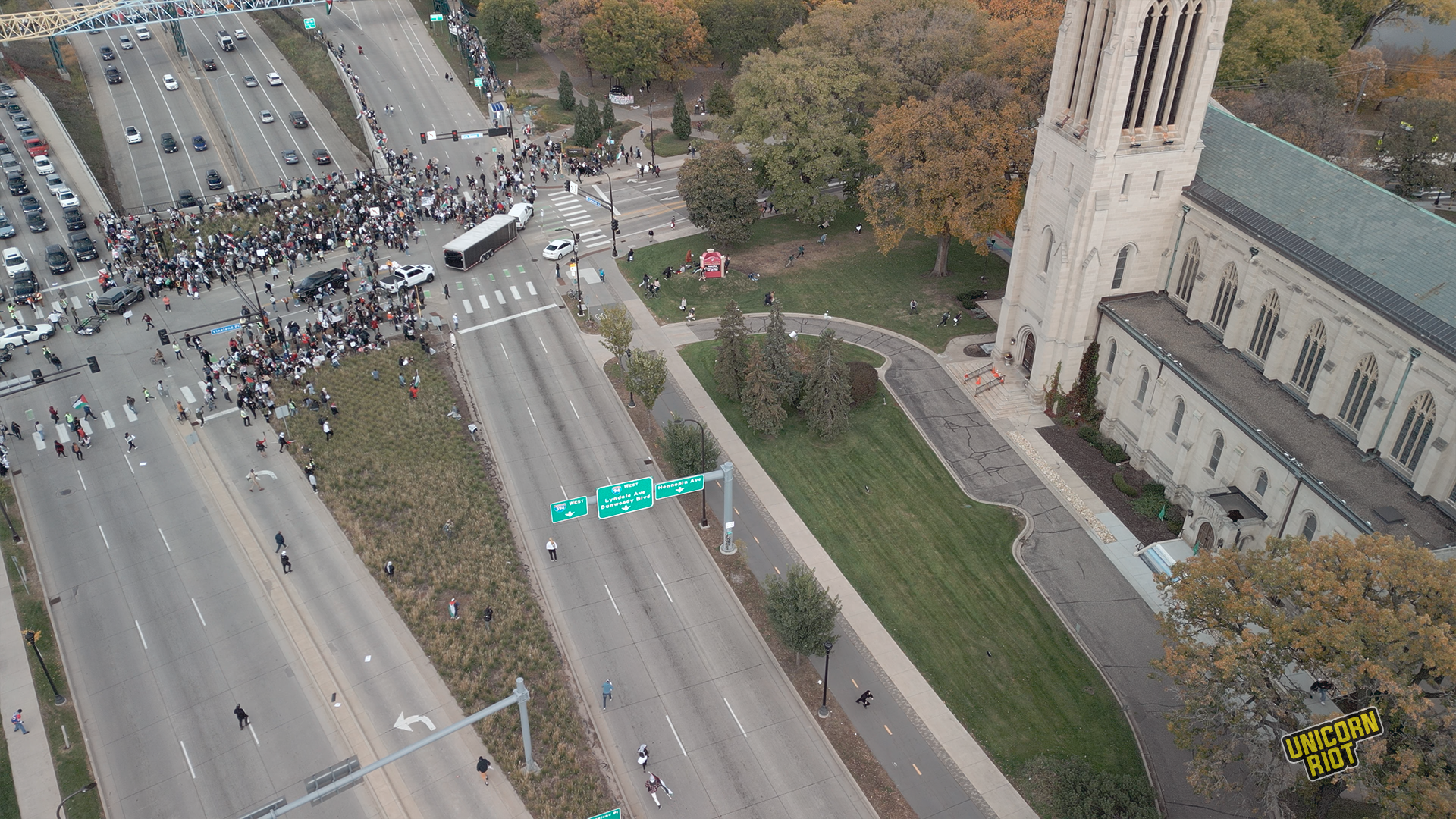 Some witnesses say the driver may have fired shots at protesters when he drove back down to Oak Grove St. from Hennepin, others say someone from the crowd may have fired shots at the car in self-defense.
This attack comes amidst a wider pattern of assaults on recent pro-Palestinian protests in the U.S. Similar to the attacks by counter-protesters on the movement for Black lives that swept the globe, this current wave of demonstrations has been attacked by three older white men seeking violence in three different states in the last 24 hours.
A man named Jonathan James Wisbey was arrested in Eugene, Oregon on Saturday, October 21, after attacking a Free Palestine march with a splatter ball gun and his vehicle. He was reportedly apprehended by the protest's safety team and turned over to police. He was charged with disorderly conduct, menacing and first-degree bias crime.
On Sunday afternoon in Skokie, Illinois, a man fired shots at pro-Palestine protesters in Chicago after he stopped his car and got out and scuffled with the crowd. He was arrested but reportedly released without charge. At least 15 others were sprayed with pepper spray.
No arrests have been made in the Minneapolis attack.
This story will be updated as more details come to light.
See Unicorn Riot coverage from the frontlines of Palestinian territories
---
Follow us on X (aka Twitter), Facebook, YouTube, Vimeo, Instagram, Mastodon, Threads, BlueSky and Patreon.
Please consider a tax-deductible donation to help sustain our horizontally-organized, non-profit media organization: