Zimbabwean Opposition 'Disengages' From Parliament in Protest of 'Illegal Recalls' 
Harare, Zimbabwe — It was a rough and rowdy return to Parliament business as riot police came down with helmets and baton sticks to break up an assertive opposition wing that charged back with pushing and singing. The House of Assembly was thrown into tumult after Speaker of Parliament, Jacob Mudenda, effected recalls of 15 Members of Parliament acting on a "fraudulent letter" from the purported interim secretary general of Zimbabwe's sole elected opposition party, Citizens Coalition for Change.
Nearly 16 million people live in the southern African nation of Zimbabwe — formerly "Rhodesia." After nearly 100 years of European colonialism, a guerrilla national liberation campaign in the 1960s-70s led to one-man rule under Robert Mugabe for 40 years, above a multi-party democratic structure. Formed originally as a Marxist-Leninist vanguard party, the Zimbabwe African National Union-Patriotic Front, Zanu-PF, has controlled the country since independence. This year's general election has seen ZANU-PF lose its legislative supermajority, with opponents now blaming Mugabe's former party for sowing chaos in Parliament in response.
The day was October 10, exactly a month after newly elected MPs took their oaths of office following a turbulent election. A week earlier, President Emmerson Mnangagwa officially opened Parliament in an event boycotted by the opposition to protest his legitimacy, exactly two minutes after the last group of MPs had been sworn in. Sent home two minutes after taking their oaths among the last group of MPs to be sworn in, Binga North MP Prince Dubeko Sibanda and Bulawayo proportional representation MP Jasmine Toffa set potential Guinness World Records as the shortest-serving MPs in history. 
[Editors Note: 60 of the Parliament's 270 total seats are reserved for women and 10 for youth as "proportional representative" MPs.]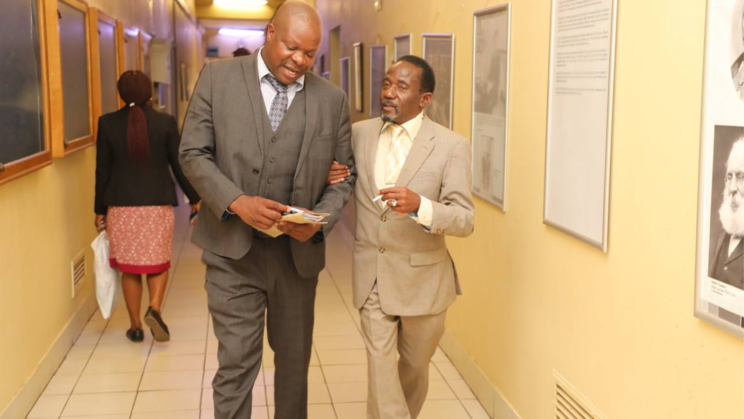 The speaker informed Parliament that he had written the Zimbabwe Electoral Commission (ZEC) informing them 15 seats had fallen vacant. Mudenda refused to entertain CCC's falsification of the recalls and referred the Nelson Chamisa-led party to court. He said he was guided by the recall clause and previous rulings not to adjudicate on the merits of a recall letter.
A Man in a Hurry
President Mnangagwa was also checking his time for a potential world record. On October 20, the president ordered new elections for the 15 constituencies affected by the recalls, fixing November 7 as the deadline for candidate registration and December 9 as the polling day. The proclamation came only a week after CCC reported Tshabangu to the police as "an imposter" in a matter that is yet to be heard by the courts.
"We reiterate that the recalls are illegal and a by-election date cannot be determined for a matter that is currently before the courts," said CCC in a statement. "The party will explore all available solutions to protect the nation from the unnecessary anguish of going through another election immediately after a contentious one."
President Mnangagwa is nicknamed the Crocodile, off his reputation as smooth conspirator and disinterested delegator. The Shona saying, "The crocodile does not brawl for supper; its prey follows the plan," summarizes how Mnangagwa bloodied the waters of ZANU-PF succession politics in the last days of Robert Mugabe. Just when he seemed quiet and outnumbered, his opponents found that they were out of moves.
As president, though, Mnangagwa's drive to collapse the separation of powers has been neither smooth nor disinterested. Beginning in 2020, Mnangagwa has presided over a lawfare campaign to crush the opposition and keep it out of Parliament. Two seats shorts of a two-thirds majority, his party, ZANU-PF, is banking on the latest round of recalls to amend the Constitution and potentially extend his tenure beyond the two-term limit.
In 2021, a ZANU-PF-dominated Parliament amended the Constitution, allowing the president to independently appoint top judges and extend the retirement age of the chief justice from 70 to 75 years.
The Opposition Could Die Tomorrow
In its application against the recalls, CCC argues that the speaker of Parliament erroneously acted on a letter by an individual who is neither a bona fide member nor an executive of the party. The party maintains it does not have the post of secretary general and has not recalled any MP.
The application also refers to Chamisa's September 11 letter advising Mudenda that all correspondence regarding the party would come from his office, and his subsequent letter outing Tshabangu, who has also put nine senators and 17 councilors up for recall, as "an imposter." According to CCC, the speaker acted in a partisan manner, ignoring communication from its August 23 presidential candidate in favor of Tshabangu's recall letter.
Chamisa's position now appears dramatically weakened. Two months ago, he declined to fight Mnangagwa's re-election in court, arguing that the judiciary is captured. His CCC comrade, Job Sikhala, is critically ill in Mnangagwa's prison, remanded more than a year without trial. In 2020, the Africa Judges and Jurists Forum criticized Chief Justice Malaba's directive for all judges to send him their judgements for review. In 2020, the courts gifted Chamisa's MPs to a rival opposition leader and basically destroyed his party.
Going into potential by-elections, Chamisa's undoing would be candidate selection. The speaker of Parliament's preferred horse in the race, Tshabangu, has announced that he will nominate candidates for CCC. Recalled MPs could run under the same franchise, resulting in a double-candidate scenario that would split the opposition vote in favor of ZANU-PF. They could also run on independent tickets, potentially confusing the voters. Chamisa's party could boycott the elections and withdraw from Parliament, a favor Mnangagwa would shamelessly indulge in the company of a token opposition. The better part of the previous term was, in fact, characterized by this last scenario.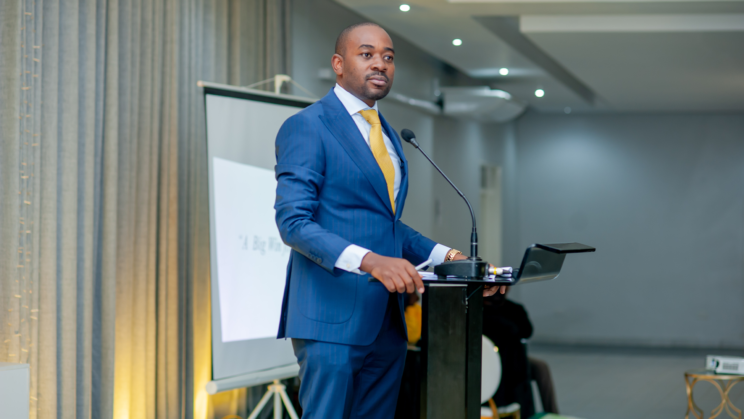 Constitutional Crisis
On the political front, Chamisa responded with an October 11 announcement that his party was disengaging from Parliament and local government for 14 days to protest the "fraudulent recalls."
"No business shall be transacted until remedy and justice is done," Chamisa said in a statement. "In fact, we are putting on notice all key stakeholders in the country, including civil society, SADC, AU [African Union], the EU [European Union] and the international community, including the United Nations that we have a constitutional crisis in Zimbabwe," the 45-year old opposition leader added.
CCC was formed in 2022 after Chamisa lost court challenges to his leadership of the Movement for Democratic Change – Tsvangirai (MDC–T) and MDC Alliance. His usurpers, between 2020 and 2023, went on to recall 48 MPs and over 200 councilors elected under his leadership. Perceived as ZANU-PF proxies in a lawfare campaign to weaken the opposition, Chamisa's rivals, however, failed to win a single seat in 2022 by-elections and 2023 general elections.
Starting over, at a safe remove from the much-splintered MDC, Chamisa's new party dominated the April 2022 by-elections and went on to win 103 parliamentary seats in the August 2023 general elections, while ZANU-PF retained its lead with 176 seats. But the new round of recalls has now gifted ZANU-PF a provisional thirds majority that will allow it to amend the constitution and potentially extend the presidential term limit to allow President Mnangagwa to stand for a third time in 2028.
"We have disengaged but withdrawal is also on the cards and even plunging the country into a deeper crisis because we already have a constitutional crisis but there is going to be a worse one if there is no justice on the issues that are at play," Chamisa told journalists last week, also referring to the contested credibility of 2023 elections.
Zimbabwean Government Mounts Post-Election Propaganda Campaign – Oct. 12, 2023
Mnangagwa Plays Down Strongman Optics
Burdened with authoritarian optics from the latest fallout, Mnangagwa's government last week called an urgent meeting with African diplomats, including Algerian, Ethiopian, Ghanaian, Kenyan, Rwandan and Saharawi ambassadors, to explain its position "regarding the recent recalls of some members of Parliament from a certain political party in terms of our laws."
"Government takes note of statements from the political outfit whose members were recalled from Parliament," acting foreign affairs minister Prof. Amon Murwira told the diplomats. "The unfounded aspersions and outright falsehoods seeking to embroil government and the ruling ZANU-PF in the recall process are without merit."
Murwira referred to Section 129(1)(k) of the Constitution, which states that recalls are done by the political party to which the affected member belongs. Ironically, CCC has taken the same position to insist that the Speaker of Parliament erred as Tshabangu is not in their books.
Having denied his party's hand in the recalls, Murwira was keen to stress that crisis is afoot in CCC rather than in the country. "Where a political party in opposition and represented in parliament, of its own volition, decides to remove itself whether temporarily or permanently from processes of the legislature, no constitutional crisis arises," said the minister.
It is not clear whether the meeting with diplomats is a show of desperation by Mnangagwa's government or a veil of legitimacy behind which the 81-year-old intends to continue undermining the separation of powers. Rwandan envoy and acting dean of African Ambassadors Jameson Musoni was happy to go with Murwira's narrative. "The briefing has been helpful to us in ensuring that we understand that the country is really stable, is going on well, no crisis," said Musoni.
Ethnic Disenfranchisement
Chamisa's party "took note of the systematic targeting of the people of Matebeleland" in successive acts of disenfranchisement. Twelve CCC parliamentary candidates for the Bulawayo province narrowly survived an election ban in August when the High Court ruled that they had not filed their nomination papers on time. Their disqualification, later overruled by the Supreme Court, had set the stage for a potential ZANU-PF sweep in a province where the ruling party has not tasted victory since 2000. CCC went on to win all 12 constituencies.
Now most of the "Bulawayo 12" stand to lose to the new season of litigation what they won in the August election. Out of 15 recalled MPs, 14 are from Bulawayo, Matebeleland North and Matebeleland South provinces, largely home to Ndebele-speaking people and other ethnic minorities.
"They wanted to use courts to persecute them and disqualify them. They failed. All the 12 were elected," Chamisa said. "The electorate have already made their determination on who they want to be a member of parliament for Bulawayo. Who are you as an individual to say that those people were not elected legitimately?"
In the 1980s, the three provinces were the sites of the Gukurahundi massacres. Mnangagwa, then state security minister, was a protagonist in the campaign which left an estimated 20,000 people dead. The Gukurahundi genocide ended with the regional hegemon, Zimbabwe African People's Union, being forced to join the Zimbabwe African National Union under the 1987 Unity Accord which gave birth to ZANU-PF, creating the basis for turning Zimbabwe into a one-party state.
Matebeleland provinces fell to CCC's predecessor party, MDC, upon its formation in 2000. ZANU-PF only regained seats in Matebeleland South beginning in 2013, albeit on the back of a bloody 2008 campaign. "Opposition parties have come to expect support from Matebeleland and ZANU-PF have targeted the region consequently," political scientist Manjonjo told Unicorn Riot.
Manjonjo said Mnangagwa is not so much looking to reboot his party's failed one-party state project as he is determined to create a one-party-dominated electoral system without a credible opposition. "Regional and international politics do not look favorably at countries in which only one party is allowed to run," said Manjonjo. "Rather, much like Museveni in Uganda and Kagame in Rwanda, Mr. Mnangagwa wants the comfort of knowing opposition parties do not have a credible challenge to his power, which is not the case in Zimbabwe."
Whose Creature Is the Recall Clause?
The Movement for Democratic Change (MDC) has been arguably the strongest expression of opposition politics. It has been, however, a hotbed of infighting, marked by splinter parties, MDC-T, MDC-99, PDP, MDC Alliance, CCC and others.
Beginning with the recall of socialist firebrand Munyaradzi Gwisai in 2002, MDC formations have made extensive use of the recall clause for in-house score-settling. Party presidents have not been immune, with Morgan Tsvangirai, Arthur Mutambara, Tendai Biti and Nelson Chamisa dismissed by their subordinates.
The lawyer-dominated formations – four principals in the 2018 election coalition were lawyers – have kept Mugabe and Mnangagwa's courts on their case, with judges registering an understandable preference for weaker horses in the race. Tsvangirai tried to remedy the fractious legacy of the movement, bringing splinter formations under one tent as MDC Alliance, months before his death in 2018.
But his heir-apparent, Nelson Chamisa, has already faced three challenges to his leadership of as many political parties. Mnangagwa's government has not been a disinterested bystander. In 2018, Chamisa lost control of MDC-T and went to the 2018 general elections as MDC Alliance, toe-to-toe with his old party. In 2019, the courts recognized MDC-T, which had failed to win a single seat in the elections, as the legal owner of the MDC Alliance franchise, and gave its leaders power to recall MPs and councilors who had been elected under Chamisa's leadership.
"Strategic ambiguity," a communication approach that keeps the enemy guessing while getting things done, has been CCC's preferred response to charges about its "lack of structures." The government has previously chanced on fissures in MDC structures to strike. By keeping its organizational arrangements a closely guarded secret, with only the presidency, the communication and the organizing portfolios known to the public, CCC hopes to evade state-orchestrated lawfare. However, Chamisa's presumptive usurper, Sengezo Tshabangu, has so far tried to weaponize this ambiguity into a free-for-all scenario.
While the extent of Tshabangu's involvement with CCC is still unclear, he could be out to sabotage a party that denied him a ticket to contest in the recent elections. And now, his frustrated ambition may potentially disenfranchise millions of voters, putting the undemocratic implications of the recall clause under spotlight.
During a 2021 Zoom roundtable titled, "Recalls and Defections – An Anathema to Representative Democracy," National Constitutional Assembly president Prof. Lovemore Madhuku explained that the recall clause was the 1989 outcome of internal ZANU-PF score-settling that should never have found its way into a new constitution, which the MDC jointly coordinated with ZANU-PF between 2009 and 2013.
"This clause is put specifically to empower political parties, in other words to say an election is about us as political parties not about the people," Prof. Madhuku argued, evoking the tendency, first by ZANU-PF, to inherit self-serving laws from colonial Rhodesia, and then MDC, to appropriate undemocratic provisions from ZANU-PF.
Zanu PF Targeted with Hypothetical Recall
Meanwhile, CCC will be monitoring the Speaker of Parliament's response to a new recall letter from a purported ZANU-PF secretary general targeting 70 legislators of the ruling party. ZANU-PF does not in fact have a secretary general and recalling MPs willy-nilly will guarantee Parliament an unstable representation. And that, precisely, is CCC's argument.
When CCC legislators disowned Tshabangu as an imposter who is not in their membership register, the Speaker of Parliament referred them to court, arguing that his job was to effect a recall letter rather than adjudicate its merits. Will he effect the "Zanu PF recall letter" and refer its contested merits to court?
S.G – The Zimbabwean Cat Every Dog Secretly Fears
The post of Zanu PF secretary general was remarkably reintroduced in March this year, having been removed in 1981. Zanu PF spokesperson Christopher Mutsvangwa said the revived post was a key part of liberation-era institutional memory modeled after the revolutionary parties of China and the Soviet Union.
The last secretary general, Edgar Tekere, was dismissed for killing a white farmer and leading a hardline tendency of Zanu PF against Mugabe's early policy of reconciliation. Mugabe declined to replace him, rather, assuming the double designation of president and first secretary, which Mnangagwa inherited.
The new secretary general, Obert Mpofu, presided over the installation of Mnangagwa as new Zanu PF president during the 2017 coup. He was appointed secretary for administration, the most senior post after the presidium, at Zanu PF's 2018 and 2022 elective congresses. Occasionally linked to a faction led by 2017 kingmaker and current vice president, General Constantino Chiwenga, Mpofu's redesignation gives the optics of a united Zanu PF as Mnangagwa apparently looks to be re-elected beyond his two-term limit in 2028.
The recall law was interestingly first drafted for Tekere in 1989, after the former secretary general was fired from Zanu PF for becoming a parallel centre of power. "It was actually a provision that we would call it the Tekere clause because it was brought in by President Robert Mugabe to deal with Tekere," Prof. Madhuku said in his 2021 address on the undemocratic implications of the recall law.
The office of secretary general, given or made up, is set out for Tshabangu. Since 2005, the "Tekere clause" has been weaponized by secretary generals to manage opposition party factions against party presidents. Last year, Chamisa formed a loosely structured new party to evade lawfare. The strategy seems to have backfired with an obscure character being allowed to trigger recalls. If not successfully challenged, the recalls may mark the end of the only elected resistance to Zanu PF.
Feature image provided by Paul Madzore.
---
Follow us on X (aka Twitter), Facebook, YouTube, Vimeo, Instagram, Mastodon, Threads, BlueSky and Patreon.