Rally Demands Marvin Haynes' Release from 19 Years Wrongful Imprisonment
Minneapolis, MN – Since May 19, 2004, Marvin Haynes has been imprisoned for a Minneapolis murder despite no physical evidence and his claims of innocence. Haynes was only 16 when he was locked up. Now a grown man of 35-years-old, Haynes, his family and advocates have been working tirelessly to get him exonerated and freed from prison. Unicorn Riot recently finished releasing our four-part investigative series on The Case of Marvin Haynes, including a 33-minute film (see below.)
On May 19, 2023, the 19th anniversary of his incarceration, a rally demanding his release took place at the Hennepin County Government Center in downtown Minneapolis at 3 p.m.
Marvin's sister, Marvina Haynes, organized the Friday afternoon rally through her organization Minnesota Wrongfully Convicted Judicial Reform (MNWCJR). A press release (pdf) lists three demands for their rally, all directly at newly-elected Hennepin County Attorney Mary Moriarty, "who has the power to exonerate Marvin and vacate his sentence:"
Exonerate Marvin Haynes
Investigate all the cases under Amy Klobuchar and Mike Furntahhl
Set up a conviction review unit specifically for Hennepin County
In a recent meeting with the Minnesota Attorney General's Conviction Review Unit (CRU) in which some impacted families and at least one media person attended, Moriarty stated that she plans to create a conviction review unit in Hennepin County in the future but did not speak directly to Haynes' case. Unicorn Riot will have further reporting out on the CRU in the next month.
The presser states "MNWCJR and other community leaders are demanding that Marvin Haynes be released from this wrongful prison sentence," and they list five evidentiary claims:
The initial detective assigned to the case has decried the way the investigation was mishandled, saying it was "prejudicial," and that he "disagreed with the county attorney's legal tactics." Read his full statement here.
Witnesses who were 14 years old at the time have come forward with signed affidavits indicating they were coerced into naming Marvin. Both were threatened with prison time themselves, if they did not comply.
Marvin did not match the description of the killer.
Marvin was interrogated for hours as a 16 year-old minor without legal representation or a guardian present.
There is NO evidence linking Marvin to the crime.
---
Part One – Part Two – Part Three – Part Four – The Film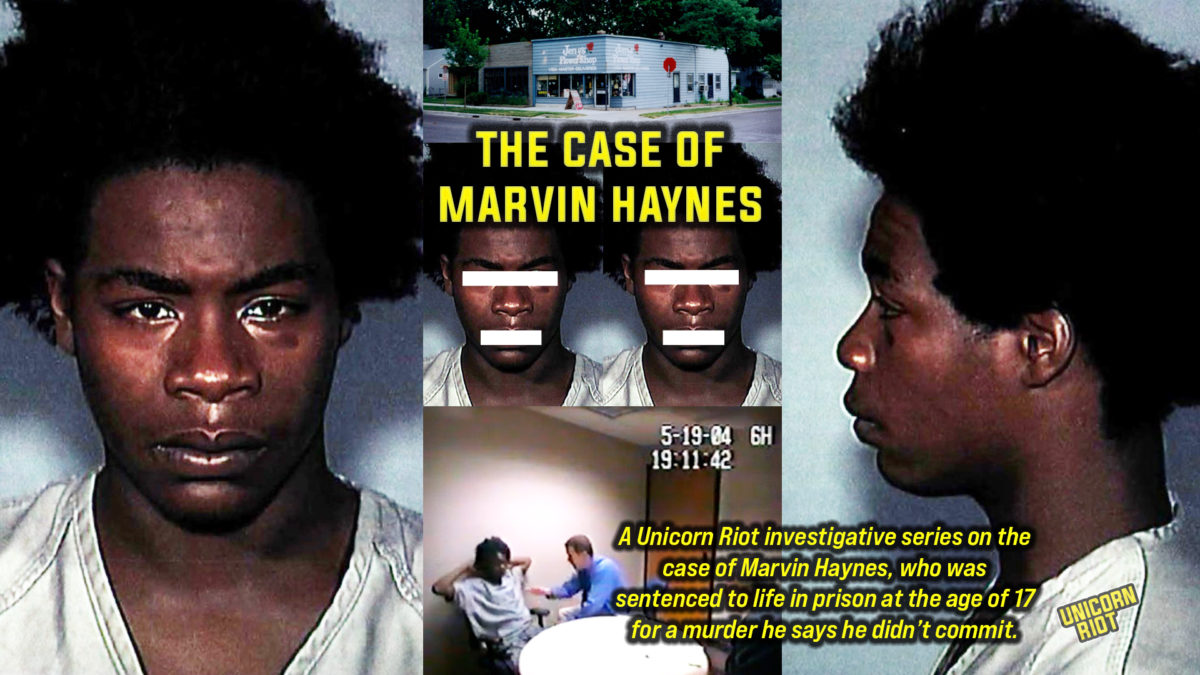 Documents for Download
Trial and Appeal Documents:
---
Follow us on X (aka Twitter), Facebook, YouTube, Vimeo, Instagram, Mastodon, Threads, BlueSky and Patreon.