Police Target Journalists and Organizers in Recent Anti-Police Brutality Protests
Protests in Denver continue in the wake of the killing of Paul Castaway by Denver police officers. Paul Castaway, a 35 year old enrolled member of the Rosebud Lakota nation, was killed July 12, 2015 after his mother called police for "mental help assistance." His last words were, "What's wrong with you guys?" as he held a knife to his own neck. Police claimed that Castaway ran at them with a knife, but local witnesses contradict police claims. Also contradicting the police claims is a yet to be released video reviewed by a local reporter who stated that it showed Castaway standing still at a distance when police shot him.
While the #BlackLivesMatter protest movement continues to sweep across the country, Castaway's protesters & allies have used the hashtag #NativeLivesMatter tying it to the ongoing #BlackLivesMatter movement. On Monday, July 20th, protesters continued to take the streets in Denver demanding justice for Paul Castaway's death and gathered outside a Police Chiefs meeting. The police reacted by targeting journalists & protesters. Denver Police used what one journalist called a book that looked like a year book from High School with photos of people they were targeting. @elisabethepps, also shot this video which shows an officer holding the book.
One of Unicorn Riot's producers was also targeted and arrested at Monday's protest. We spoke to a member of the Direct Autonomous Media collective who told us that the Denver Police ran right past @DAM_collective videographer to grab our journalist as he documented the event. He stated, "He was targeted. He was standing right next to me filming. They just pushed me aside and grabbed him." Direct Autonomous Media also gave us this video showing the arrest.
(Below Image: Denver police violently arrest Unicorn Riot's producer.)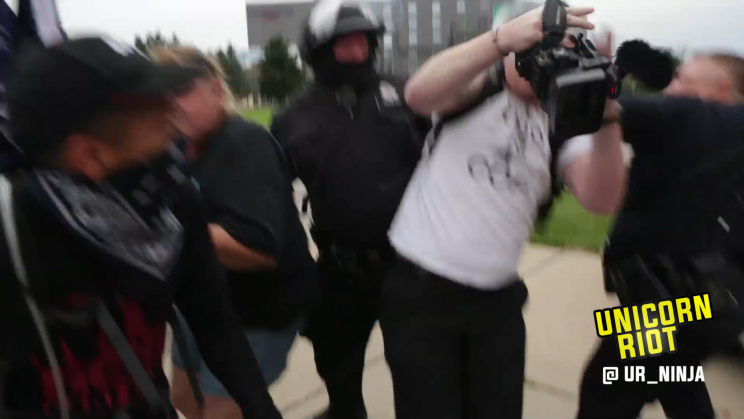 A July 17th #BlackLivesMatter protest in New York City had similar targeted arrests according to a recent article by @keegannyc.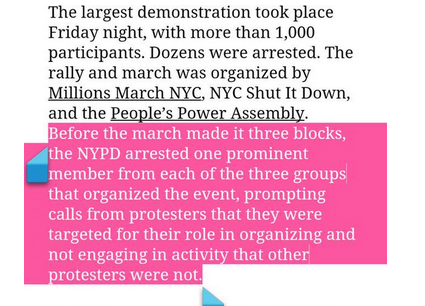 The New York Police Department targeted organizers from three different organizations at the protest. As we inch our way to the 1-year anniversary of the killing of Michael Brown by the Ferguson police department, which ignited the #BlackLivesMatter movement, these coordinated police actions against people using their 1st amendment rights to protest police brutality & killings are cause for alarm. It's not hard to imagine that police departments, the FBI and a large list of agencies are collaborating through a string of Fusion centers to unravel the growing anti-police brutality protest movement. It's already been shown through a Freedom of Information Act by the Partnership of Civil Justice Fund which detailed nationwide coordination to unravel the Occupy movement four years earlier. In 2015, it's not hard to believe the same to be occurring again as anti-police protests go on across the country.
---