Feds Arrest 4 Neo-Nazis Over Charlottesville Violence
Charlottesville, VA – Today federal authorities announced the arrests of four California men on charges stemming from their involvement in violence at the neo-Nazi Unite The Right rally in August 2017. The four men are all members of the Rise Above Movement, or RAM, a California-based militant neo-Nazi group known for its emphasis on fitness and street fighting.
A criminal complaint released today details how news footage available online led federal prosecutors to charges the four men – Cole Evan White, Benjamin Drake Daley, Michael Paul Miselis and Thomas Walter Gillen. All four face charges of violating the Riots Act as well as 'Conspiracy to Violate the Riots Act' and combined sentences of up to ten years per person.
The charges were filed August 27, 2018 and unsealed today on Tuesday, October 2, 2018. All four men are reportedly in custody in California and will soon be transferred to facilities in Virginia while they await trial in Charlottesville. After initial court appearances, a grand jury is expected to indict the four defendants on the charges within 30 days.
The criminal complaint, signed by FBI Special Agent/Task Force Officer Dino Cappuzzo, relies almost entirely on publicly-available materials. The complaint heavily cites reporting by Ali Winston and A.C. Thompson for ProPublica, who drew attention to the Rise Above Movement earlier this year in a series of exposes on the events in Charlottesville.
Special Agent Cappuzzo also cited a post by Northern California Anti-Racist Action about the DIY Division, which later morphed into RAM, on page 5 of his complaint. In a press conference on October 2, where the US Attorney's Office announced the charges, Assistant Special Agent in Charge Tom Chadwick, also referred some questions about RAM to ProPublica.
1/ NEW: Federal authorities in VA announced today that 4 men have been arrested in connection with the violence at Unite the Right in Charlottesville in Aug. 2017. We've reported on 3 of those men before. We first identified Tom Gillen & Ben Daley in this video last October. pic.twitter.com/vg78HdOE7g

— ProPublica (@propublica) October 2, 2018
Here's what we know about the four neo-Nazi Rise Above Movement members named in the complaint:
Cole Evan White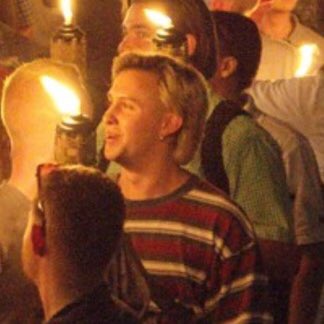 Cole White, like the rest of the RAM defendants, is based in California. As part of the 'overt acts' named in the conspiracy charge, the complaint notes that twenty-four-year-old White was seen at attacking a counter-protester during an alt-right event in Berkeley, CA on May 15, 2017. In Charlottesville on August 11, 2017, during the torch rally on UVA campus, video footage shows White "using his torch as a weapon on at least two occasions during the melee," according to the complaint. Video screenshots from ProPublica videos shown in the document also establish that during Unite The Right on August 12, White assisted other RAM members in assaults, and injured at least two people – a man in a clerical collar and a woman who was counter-protesting – by violently headbutting them.
Benjamin ("Ben") Drake Daley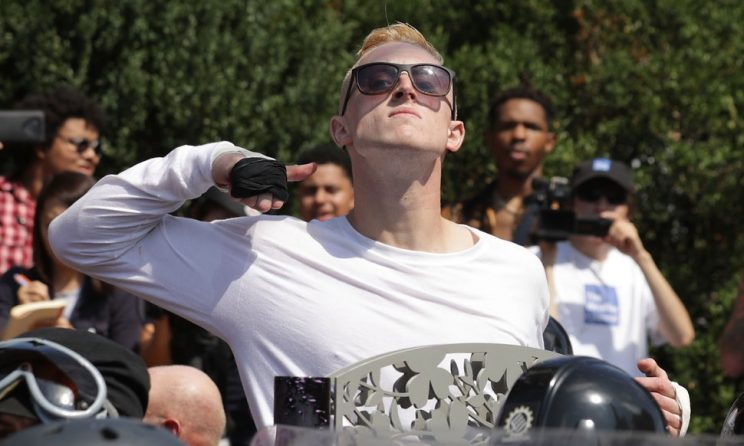 According to the complaint, Ben Daley bragged on Facebook about his participation in violence at the August 11, 2017 torch rally: "We had the[m] completely surrounded…I hit like 5 people." The complaint says Daley can be seen in footage throughout the day "assaulting counter-protestors by punching, kicking and head butting." Specific actions by twenty-five-year-old Daley named in the complaint include that he punched and kicked one counter-protester, hit another man who another RAM member kicked while he was down, and grabbed a woman by the neck and body-slammed her onto the ground. The complaint also alleges that footage proves Daley threw water bottles at counter-protesters and made a "throat-slashing gesture."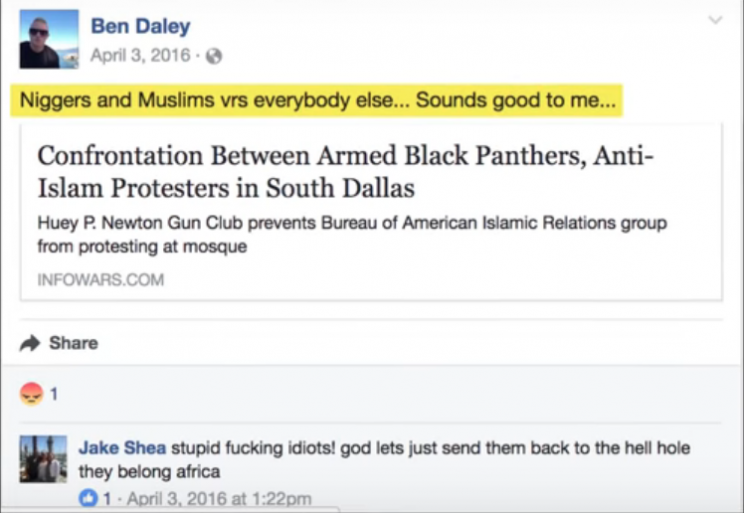 Bank records, obtained by the FBI and cited in the complaint, reportedly show credit card records proving Daley bought athletic tape, black spray paint, and a folding knife at a Charlottesville Wal-Mart on August 11, 2017.
Daley was also present in the Discord chat server used to plan Unite The Right. He described traveling to Charlottesville with "3 Goys from CA" who he described as "experienced," adding they "all were in Berkeley riots."
Click here to read leaked messages from Ben Daley in the 'Charlottesville 2.0' Discord server in our DiscordLeaks database.
Michael Paul Miselis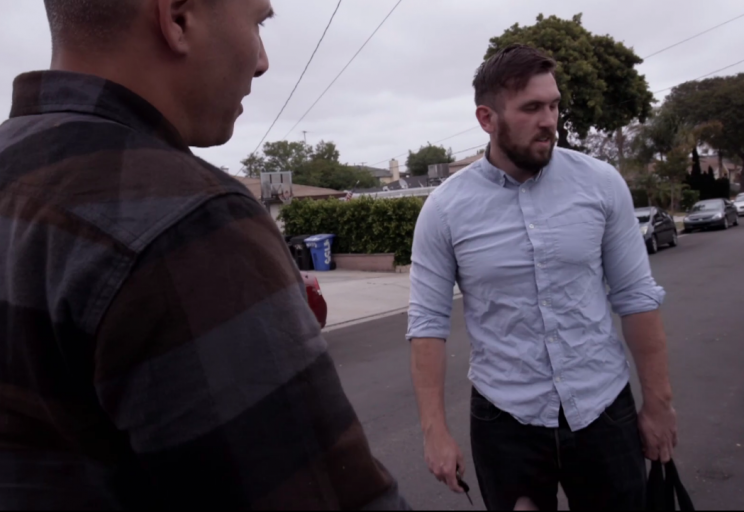 The complaint against Michael Miselis notes that he is seen with boxing tape on his hands in video footage from fights at an alt-right rally in Berkeley in April 2017. Like other RAM members, twenty-nine-year-old Miselis, can also be seen wearing boxing tape on his hands in Charlottesville. On August 12, 2017, according to the complaint, he forcibly threw a black man to the ground and beat him. After fellow RAM member Benjamin Daley knocked a counter-protester down, Miselis kicked him. The complaint also alleges video shows him throwing water bottles at counter-protesters. Miselis was employed as a systems engineer by military contractor Northrup Grumman, but was fired after ProPublica reported that he worked there.
Thomas Walter Gillen
The complaint says thirty-four-year-old Thomas Gillen was at the alt-right rally in Berkeley on May 15, 2017 and can be seen in a video repeatedly punching a counter-protester who had been knocked to the ground. The complaint also notes that Gillen is seen on video on August 12, 2017 in Charlottesville with boxing tape on his hands, and that he traveled across state lines with intent to act violently in Charlottesville as part of the RAM group.
The new charges against the 4 RAM members from California are not related to the ongoing federal hate crime case against James Alex Fields, who is scheduled to go to trial next month.
Read the full criminal complaint against White, Daley, Miselis and Gillen below, or click here to download the .PDF.
Charlottesville-Complaint

---
Please consider a tax-deductible donation to help sustain our horizontally-organized, non-profit media organization: