Neo-Nazi Convicted of Murder in Charlottesville Auto Attack
Charlottesville, VA – On Friday, December 7, 2018 in Charlottesville Circuit Court, jurors in Virginia found James Alex Fields guilty on all counts at the trial stemming from his arrest after the Unite The Right rally on August 12, 2017. After a white supremacist rally was ended by police declaring an unlawful assembly, Fields drove his gray Dodge Challenger into a crowd of anti-racist counter-protesters marching on Water Street. The vehicular attack killed Charlottesville activist Heather Heyer and seriously injured many others.
The 21-year-old Nazi supporter from Maumee, Ohio now faces a sentence somewhere between 20 years and life in prison. Jurors will hear arguments about sentencing this week before making a recommendation to the judge, who will decide the final sentence.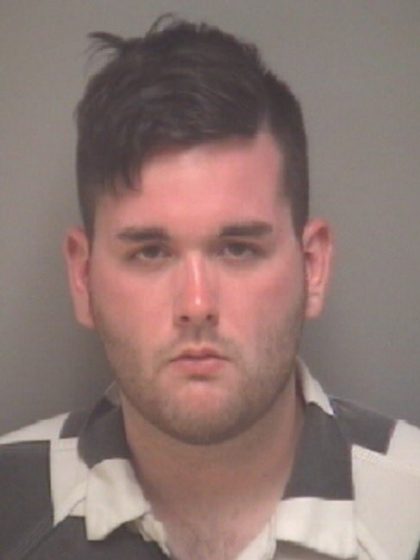 Fields' conviction on all counts represents a decisive failure of his defense strategy, which seemed to largely parrot online conspiracy theories claiming he was attacked and had to drive through the crowd in order to escape to safety.
Prosecutors used witness testimony, video footage, and cell phone geolocation data to track Fields' movements throughout the day leading up to the attack on August 12. Police described forensic analysis done after Fields' arrest, taking jurors first through his appearance on security footage from local businesses and then when he was seen at the rally. He was described as having arrived in Charlottesville early that morning, eating alone at Waffle House before arriving at the rally and making new friends.
Fields was seen primarily with three people at Unite The Right- Sarah Bolstad, Haden Calhoun, and Joshua Matthews – all of whom he reportedly met for the first time that day. After the rally was declared an unlawful assembly, Fields gave Bolstad and Calhoun a ride to their car, and dropped Matthews off at a parking garage; all three had declined an invitation to join him for lunch.
After he dropped his passengers off, witness testimony and video footage demonstrated how Fields' car sat alone in an intersection for several moments before accelerating towards the marching crowd of anti-racist protesters.
Surviving victims of the car attack, several of whom are still disabled, testified about their serious injuries in graphic detail. Another witness was a local man who was walking on the downtown mall and saw Fields' gray Dodge Challenger rush towards the crowd, scraping over a speed bump and accelerating again before he "heard a sickening sound and saw bodies flying". Another witness was the driver of a car that was stopped in the intersection and was hit after Fields drove through the crowd, ramming her. A local photographer who witnessed the attack told jurors "there was no warning" and said the Challenger was driving "faster than any car I've ever seen on that street".
The medical examiner described Heather Heyer's condition and how her cause of death was determined to be blunt force trauma. Alt-right trolls and fake news outlets have circulated false claims that Heather Heyer died due to a heart attack, not from being hit by Fields' car.
Introduced as evidence against James Alex Fields were Instagram posts he made earlier in 2017, featuring a meme showing a car driving into a crowd of protesters. Similar memes encouraging vehicle attacks on counter-protesters were also frequently shared in leaked Discord planning chats for Unite The Right, obtained by Unicorn Riot.
In another return, the FBI received data from Fields' Instagam account. They found one picture privately sent to a another Instagram user (left) and another similar photo posted by Fields to his account (right) showing a car driving into a crowd of people. pic.twitter.com/0dcoutoGs0

— NBC29 Fields Trial (@NBC29Trials) December 4, 2018
Virginia state prosecutors also showed jurors a text exchange between James Alex Fields and his mother on the day before the rally. After his mom told him to be careful, Fields replied "we're not the ones who need to be careful" with a picture of Adolf Hitler attached.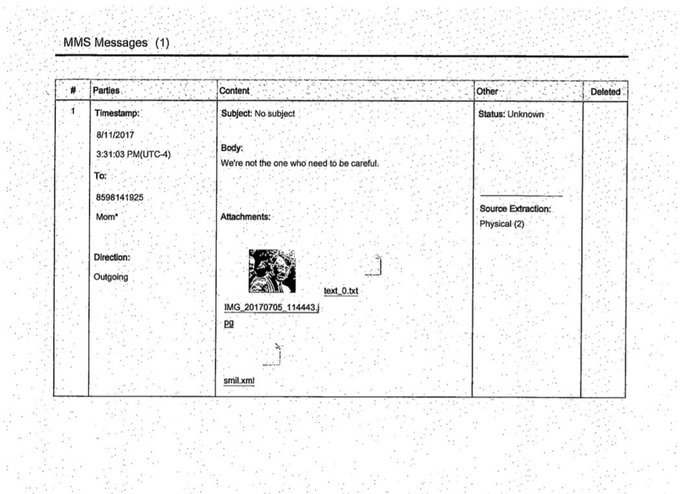 This text, which the state said spoke to Fields' mindset when he drove into the crowd, was accompanied by several phone recordings from after Fields' arrest. Recorded prison phone calls between Fields and his mother reveal that the young man referred to Heyer "an anti-white, liberal communist"and "the enemy" and insisted that her death "doesn't fucking matter". The two phone calls, from December 2017 and March 2018, gave a distinct impression of an unrepentant killer without remorse. The recorded calls stood in stark contrast to police testimony about Fields crying after learning he had killed someone, which the defense seemed to hope would paint a more sympathetic picture.
Fields' defense did not try to contest the central facts of the case, seeking instead to convince jurors to only convict him on lesser charges. Witnesses called by the defense included Tammy Shifflett, a local School Resource Officer who had been assigned to guard Water Street and keep it closed to traffic on August 12. According to the 'Heaphy Report' commissioned by the city of Charlottesville, police let Shifflett leave her post early that day and failed to replace her, leaving the street guarded only by a single wooden sawhorse.
Also called to testify for Fields' defense were the three Unite The Right attendees he was seen with that day: Sarah Bolstad, Haden Calhoun, and Joshua Matthews. All three described being with Fields throughout the day, noting that at some points he had seemed "ecstatic".  None of them witnessed the car attack as Fields had dropped them off at their own vehicles before he drove into the crowd on Water Street.
Sarah Bolstad and Haden Calhoun are a couple; both live in Richmond, VA and are openly associated with the alt-right. Bolstad quickly raised eyebrows online by posting extensively on Twitter account @winterchangrow about her testimony as soon as she left court. A quick review of Bolstad's Twitter showed that she claimed to have been a member of the racist group Identity Europa and is a fan of the Unabomber.
According to courtroom observer Molly aka @socialistdogmom, who has been producing a daily podcast about the trial proceedings, Sarah Bolstad "was posting details of her testimony on Twitter in replies to people like former Traditionalist Worker Party leader Matt Parrott and the conspiracy theorist whose Gab handle is @WhiteBoner" and "is known to have bragged to friends about having seen Fields just before the attack and has posted memes about the attack on Facebook."
Bolstad, who tweets as @winterchangrow, previously tweeted that Fields "Shouldn't be found innocent of all charges" bc he fled the scene, "We all know they're gonna kill him whether he's guilty or not," and at the start of his trial: "Well he's dead." pic.twitter.com/lqS3YwGROw

— Blake Montgomery (@blakersdozen) December 5, 2018
Joshua Matthews didn't show up at the time he was supposed to testify, and ended up being held in contempt of court after giving his testimony about a day late.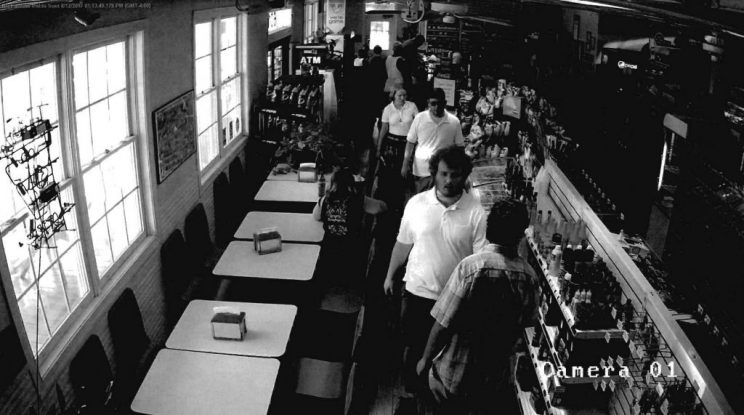 Another defense witness was Edmund Davidson, a member of Sons of Confederate Veterans who also marched at Unite The Right. Davidson's testified that he feared for his life after seeing a counter-protester's sign that read "This Machine Kills Fascists". Davidson testified that when he saw the sign, he thought to himself "they're here to kill me". The use of Davidson's testimony to the defense is unclear; some speculate that it was meant to shore up Fields' half-hearted attempt at claiming self-defense.
In closing arguments, the prosecution went back over Fields' movements throughout the day, telling jurors "there was no doubt this was an intentional act". Fields' defense sought to cast him as only driving into the crowd in a confused moment of fear, blaming the car attack on "crowd mentality" and describing events on August 12 as "a perfect storm".
According to observers present in the courtroom, no one associated with the Unite The Right or any alt-right group was seen attending the trial in support of Fields.
After about a day of deliberations, jurors found Fields guilty as charged on all counts. Upon hearing the verdict, members of the Charlottesville community gathered at the spot where Heather Heyer was killed, sharing words to honor her memory.
Jean Peterson, struck by James Fields' car and left with permanent injuries, at the site of Heather Heyer's death: "We are here to reclaim this street. He tried to break us. We are unbreakable. Our bodies are healing and our souls are stronger than ever." pic.twitter.com/3wzvrca8tq

— Blake Montgomery (@blakersdozen) December 7, 2018
Sentencing arguments will be heard starting at 10:30 a.m. in Charlottesville on Monday, December 10. The prosecution and the defense are both expected to call witnesses to argue for a greater or lesser sentence; this is expected to include victim impact statements from Heather Heyer's family.
James Alex Fields faces a sentence of anywhere from 20 years to multiple life sentences in prison. Fields has been charged by the U.S. Department of Justice with dozens of hate crimes, and will face federal hate crimes prosecution as well.
Heather Heyer's father told BuzzFeed News that he does not wish the death penalty to be sought for Fields, although it is unclear if federal prosecutors will still seek capital punishment. Fields is also one of many defendants in an ongoing civil lawsuit being brought by survivors of the car attack in Charlottesville, which will go to trial next year.
---

Unicorn Riot's leaks from Charlottesville:
Unicorn Riot reporting in Charlottesville & beyond: