Philly Police Harass Jewish Cops: Lawsuit
Philadelphia, PA – A new federal lawsuit alleges that a culture of anti-Semitic and racist harassment has been allowed to thrive at the Philadelphia Police Department (PPD).
Court filings submitted on behalf of two Jewish officers claim that the police department and the City of Philadelphia tolerate supervisors who have "created a racist, anti-Semitic, and anti-Jewish environment at their employment at the PPD." Unknown PPD officers are also believed to be behind graffiti of Nazi symbols and slogans found on a Jewish cop's locker and inscribed on his patrol car, incidents the lawsuit asserts were never looked into properly.
The primary complaint in the lawsuit was filed on November 19, 2018 on behalf of Stacey Gonzalez and Pavel Reznik, both Philadelphia Police officers and practicing Jews. The lawsuit primarily focuses on conduct by Corporal Karen Church of Philadelphia's 9th district, who is "known for making racist remarks toward non-white and non-Christian officers" according to a sworn Internal Affairs statement by Officer Gonzalez.
The lawsuit also names the City of Philadelphia and the PPD as defendants, claiming that city administrators essentially signed off on anti-Semitic conduct inside PPD by failing to address the issue when officers brought it to their attention. 10 unknown officers, or John Does, are also named as defendants in the lawsuit.
According to the lawsuit, Corporal Karen Church commented to Officer Gonzales, "Why doesn't the United States just take a missile and blow up Israel?" Another officer, Sergeant Oneeka Noble, is accused of making anti-Semitic remarks towards Gonzalez during preparations for a Memorial Day barbecue, reportedly telling her "Stacey, don't bring in no motherfucking Kosher shit".
Other incidents mentioned in the complaint were events reported by Pavel Reznik, a Russian Jewish police officer who is also party to the lawsuit.  Included along with the complaint are photographs being used as evidence exhibits in the case. The photos show Reznik's police locker with 'SS' bolts scratched into it along with the German word 'Totenkopf'.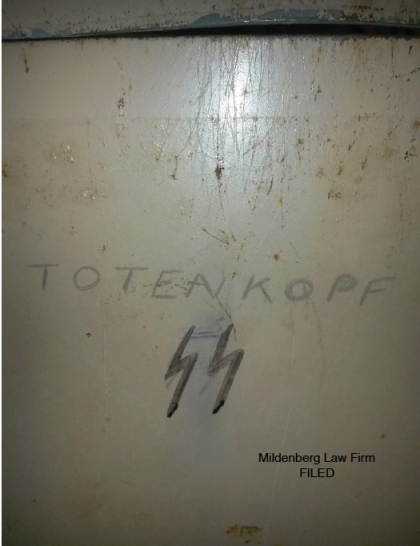 The locker graffiti, which seems to clearly target Reznik as a Jew, is a clear reference to Nazi Germany and the Holocaust. 'SS' stands for 'Schutzstaffel', the name of an elite Nazi German paramilitary unit created by Adolf Hitler. 'Totenkopf' is a German word for "skull" or the "death's head" symbol which was used by SS units assigned to concentration camps. The 'Totenkopf' symbol is still popular today among neo-Nazis and white supremacists.
Another photo included as evidence in the lawsuit shows Reznik's PPD patrol vehicle with a Star of David and the phrase 'Hebrew Hammer' inscribed in the grime that had built up on the side of the car.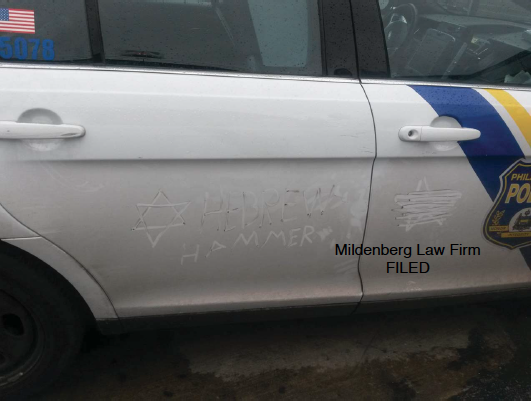 According to the lawsuit, neither of the incidents of clearly anti-Semitic vandalism targeting Officer Reznik were properly investigated by the department.
Reznik wrote in his sworn statement that since he first joined the police academy in 2006, he had become aware that PPD "discriminates heavily against Jews" and claims that officers often made anti-Semitic comments around him such as "We're just getting 'Jewed out'." One exchange is alleged to have taken place in which an officer made a comment about Jewish food and another officer responded, in a joking tone, "Don't be racist," to which Officer Marcus O'Shannesy reportedly replied "It's not racism, it is anti-Semitism." According to the lawsuit, another police officer named Dougherty also chimed in, saying "Jews can't cook for shit, their Chanukah food sucks".
The lawsuit alleges that Reznik faced further retaliation related to his religion. He was reportedly told "That's some bullshit, no need for you to go home early… what are you, special?" when he asked to be able to attend a Jewish police officer's honor guard event. He was also denied time-off requests while his wife was pregnant, and made to work shifts while other other officers lower in rank than himself were getting their time-off requests granted.
According to the suit, Reznik has stopped requesting time off to celebrate Jewish holidays because he assumes his requests will be denied and he will face retaliation.
Reznik said he was also subject to harassment based on his Russian nationality and other officers seeing him as an immigrant. He claims that while enrolled at the police academy, a superior told him "I must break you; we must destroy your country" in a mock Russian accent. Reznik also maintains that another officer frequently made derogatory comments about "all the benefits immigrants get, without doing any work".
In addition to specific anti-Semitic remarks and acts of harassment, Corporal Karen Church and other PPD officials are accused of retaliating against Jewish officers by subjecting them to "unwarranted and disproportionate warnings and punishments … wherein discrimination was exhibited". Punishments against Jewish cops complaining about anti-Semitism reportedly included being made to stay late while non-Jews were allowed to leave, and being prevented from taking time off for Jewish holidays. "There are always courtesies given to Christians to worship their holidays and leave early, but the rest of us are nailed to the directive when it comes to our holidays," Gonzalez said in a sworn statement.
After Gonzalez complained about Corporal Church's "bomb Israel" comment, Church retaliated by making her stay late while other officers were allowed to go home, the suit claims. Church is further alleged to have taken disciplinary action against Gonzalez for leaving work to prepare for Yom Kippur, while non-Jewish officers were said to be running similar holiday errands around the same time and were not disciplined. Church is also said to have refused to let Gonzalez work any half-days during the Jewish holiday, despite allowing Christian cops to take half-days during Christmas and Thanksgiving.
"…PPD supervisors … directed discriminatory and prejudicial acts towards Jewish police officers and would intimidate these police officers by insulting them, requiring them to perform additional work not asked of other officers, (mainly white Christian officers) and precluded them from taking adequate time off for religions holidays, gatherings, and other Jewish religions expressions." – Gonzalez & Reznik's complaint
According to Officer Stacey Gonzalez's sworn statement to PPD internal affairs, she believes the racist and anti-Semitic conduct by Corporal Church was knowingly tolerated by police higher-ups, including former Police Commissioner Charles Ramsey:
"If you know this person has a history of making derogatory comments, you are protecting her if you don't take any action against [her] … She even stated out of her mouth she was protected by someone on the second or third floor …" – Officer Stacey Gonzalez Internal Affairs interview
In her statement to PPD Internal Affairs, Officer Gonzalez also claimed that the Philadelphia Fraternal Order of Police (FOP), which often negotiates on behalf of officers with grievances, discouraged her from speaking out about her allegations of anti-Jewish discrimination:
"…the FOP (Mike Trask and Roosevelt Poplar) said they weren't going to have anything to do with it. They said to take it to your people … They stated they didn't want anything to do with my complaints regarding the Christian holidays." – Officer Stacey Gonzalez Internal Affairs interview
John McNesby of the Philly FOP, speaking to the Philadelphia Inquirer, claimed that the police union was not involved in, or aware of, the lawsuit about anti-Semitism in the department:
"This is the first I'm being made aware of this … To my knowledge they've never contacted [the union] or requested any assistance, which would be their first line of defense … but they took the path that they did, and it's under litigation and I guess they'll figure it out on that level." – John McNesby, President, Philadelphia Fraternal Order of Police
Corporal Karen Church, as well as several other PPD officers named in the new anti-Semitism lawsuit, have all been named in previous litigation over discrimination and workplace harassment in Philly's police department.
Karen Church and Sergeant Robert Deblasis were both sued in 2011 by Robin Middleton, an African-American Philadelphia Police Officer and Christian Baptist, who said that she was harassed by Church and Deblasis on the basis of both her race and religion. Middleton's lawsuit claimed that Church, with Deblasis' knowledge and approval, prevented her from being able to attend religious services. Middleton also claimed that Deblasis routinely called her "the Blessed One" and would make the "sign of the cross" gestures towards her at work. Middleton also alleged that Deblasis and Church retaliated against her for her complaints about this harassment; when she became injured on the job, they refused to provide her with either an injury report or a hospital referral.
Deblasis had also been named in a previous lawsuit that claimed he harassed PPD officers for their involvement in interracial relationships. The new lawsuit contains a statement from Officer Gonzalez to PPD Internal Affairs in which Gonzales claims another officer overheard Deblasis using the phrase "the 'N' word" to refer to a black person.
This fresh scandal tying Philadelphia's police to anti-Semitism and Nazi imagery comes just two years after an uproar involving an officer sporting a Nazi tattoo while on the job. During the 2016 Democratic National Convention, which was hosted in Philadelphia, pictures emerged of Officer Ian Hans Lichterman sporting a forearm tattoo with a Nazi German eagle design under the word "fatherland".
McNesby & the Philly FOP defended the Nazi tattoo as "not a big deal" at the time, while the police department declined to discipline Lichterman, saying no policies had been violated. The department has since instituted a new tattoo policy and Lichterman was never fired, but ended up leaving PPD to take a new job as a federal police officer guarding the Philadelphia Navy Yard.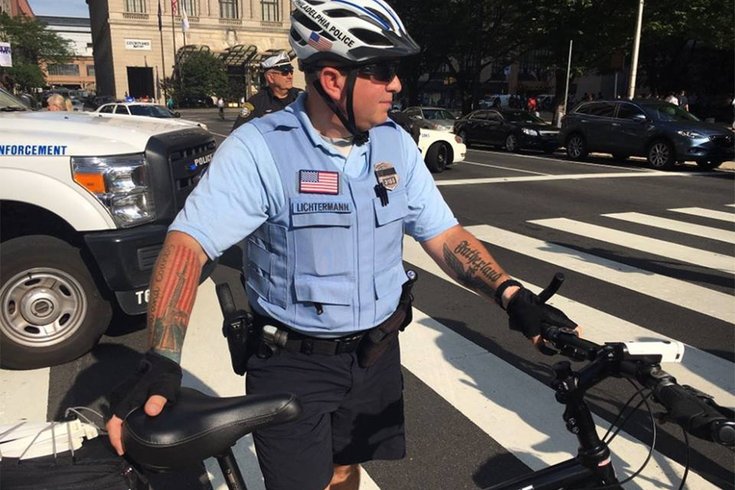 Read the full text of the complaint in Officers Gonzalez & Reznik's lawsuit (with Internal Affairs interview transcripts) below or click here to download the PDF.
Gonzalez-Complaint-Filed

---