Charlottesville Car Attack Case Ends in Multiple Life Sentences for Nazi Murderer
Charlottesville, VA – On Monday July 15, 2019 in Virginia state court, the criminal prosecution of James Alex Fields, Jr. drew to a close. The 22-year-old white supremacist had previously been sentenced to life in federal prison for his deadly car attack after the Unite The Right rally on August 12, 2017. The attack, in which Fields killed Charlottesville resident Heather Heyer, also led to the injuries of over 30 protesters and caused permanent mental trauma to others who witnessed what happened.
The sentencing in the state case had been postponed until after Fields' federal sentencing last month in the hate crimes case brought by the Department of Justice. After receiving multiple life sentences in his federal case, Fields was also sentenced by a Judge in Virginia to an additional state prison sentence of life plus 419 years and a fine of $480,000. The sentence imposed by Judge Richard Moore today was the exact penalty recommended by the jury which found Fields guilty on all counts in his Virginia state trial in December 2018.
While his federal life sentences will be served concurrently, his state sentences are to be served consecutively. While the difference in how multiple life sentences are carried out may appear to be an arbitrary formality, Monday's ruling represents the court's decision to impose the harshest sentence allowed under the law.
The white nationalist who drove into a crowd of antiracist counter-protesters in Charlottesville on Aug. 12, 2017, has been sentenced to life + 419 years in prison and a $480,000 fine by a Virginia court. He killed 32-year-old #HeatherHeyer and injured at least 28 others. pic.twitter.com/avZJ1wgkcX

— Hatewatch (@Hatewatch) July 15, 2019
As at Fields' federal sentencing, the state sentencing hearing featured testimony from victims who survived the car attack on the crowd of marching anti-racist protesters. Many in the Charlottesville community expressed relief that the case against Fields has drawn to a close, representing the legal closing of a traumatic chapter that will still haunt many for years to come. Like Fields' federal sentencing, the state sentencing hearing featured testimony from his many victims, many of whom live with debilitating injuries and struggle with medical debts.
Susan Bro, the mother of Heather Heyer, the Charlottesville activist killed in Fields's attack, said that she did not believe he had shown remorse, but that she was glad to see the harshest possible sentence imposed by the court.
After the sentencing, survivors spoke to the press. Heyer's mother, Susan Bro, said "I did not see any remorse." pic.twitter.com/5BT2gCakib

— Hatewatch (@Hatewatch) July 15, 2019
Star Peterson, one car attack survivor who addressed Fields as "scum" in court today, provided the following statement about what it meant to move on as an anti-racist activist after the conclusion of the case:
We did not eliminate racism by convicting James Fields. James Fields is just the tip of the iceberg. Charlottesville has some deep soul searching to do. Racism is woven into the very threads of this city. We must address [] Charlottesville's egregious racial disparities. We need to put a stop to racist policing. We need to fix public housing. We need to take down all of the racist statues, including the statues of Lewis and Clark and of George Rogers Clark. We need to stop worshipping Thomas Jefferson and conveniently forgetting that he was a slave owner and a rapist!

Furthermore, in order to strike at the roots of racism, we must abolish capitalism. Racism and capitalism are inextricably linked. Dr. Martin Luther King Jr said, "We must recognize that we can't solve our problem now until there is a radical redistribution of economic and political power."

It's time to get back to work.

– Star Peterson, car attack survivor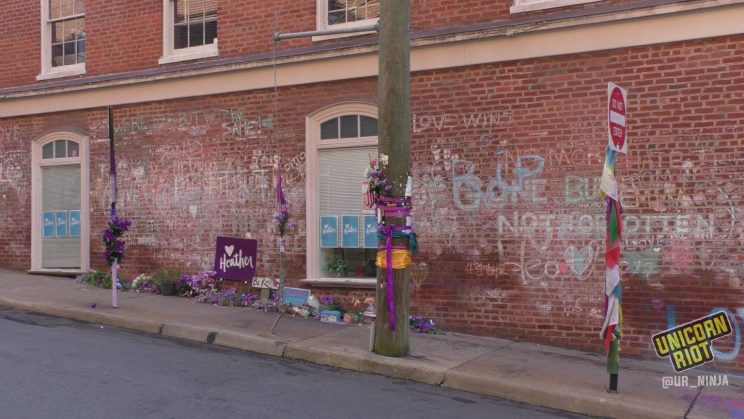 ---