Neo-Nazi Gets Multiple Life Sentences In Federal Prison for Charlottesville Car Attack
Charlottesville, VA – Last Friday, June 28, 2019, James Alex Fields appeared for sentencing in federal court on charges related to his deadly car attack after the neo-nazi Unite The Right rally on August 12, 2017. Fields, now age 22, had already pleaded guilty to 29 hate crime counts named in the federal hate crime prosecution – 1 count of first-degree in the murder of Heather Heyer, and 28 other counts for willfully injuring over two dozen others.
Fields had already been convicted of murder, aggravated malicious wounding, malicious wounding, and hit-and-run at his Virginia state trial last year, but has yet to be sentenced on the state charges because the federal case takes precedence.
Content advisory: racism, violence
Fields' defense team had requested a federal sentence of less than life in prison and asked for "mercy", citing his childhood history of mental illness alongside unproven claims that the car attack was a result of Fields finding himself in an "uncontrolled crowd situation". (One of Fields' 3 public defenders, Denise Lunsford, is a former Charlottesville city prosecutor and is currently an attorney for the Southern States Police Benevolent Association, a right wing police union.)
Fields' defense team did not present any evidence at sentencing. The federal prosecution against him was directed by Thomas Cullen, the US Attorney for the Western District of Virginia, as well as Assistant United States Attorney Christopher Kavanaugh, and Trial Attorney Risa Berkower from the Department of Justice Civil Rights Division.
The first prosecution witness was FBI Special Agent Philip Alhusen, the lead case agent on the Fields case. Alhusen described the large amounts of evidence collected against Fields, which included searches of his Ohio home, social media accounts and his cell phone. Investigators also conducted "well over 100 interviews" with witnesses and victims of the attack along with Fields' family members and high school classmates.
Special Agent Alhusen provided a timeline of Fields' activities on August 12, 2017, showing video clips of his first documented appearance in the park during the start of the Unite The Right rally. One clip showed Fields standing alongside members of the fascist group Vanguard America while chanting the Nazi slogan "Blood and Soil". Another clip was played that showed Fields marching away from the park at around 11:30 AM, after police declared an unlawful assembly. The group, which included Fields marching alongside prominent neo-nazi podcast grifters Michael Peinovich and Alex McNabb, was chanting "you will not replace us" and "Jews will not replace us" as they marched. The marching group was led by Thomas Rousseau, a member of Vanguard America who would go on to form his own splinter neo-Nazi group, Patriot Front.
Some of the footage seen below, captured by video journalist Sandi Bachom, ended up forming much of the evidence regarding Fields' presence and activity at the Unite The Right rally.
Fields marched with this group away from downtown Charlottesville to where alt-right rallygoers had gathered at McIntyre Park before he returned to downtown where he had parked his car. Fields then gave three other Unite The Right attendees rides to their own cars before finding himself driving alone through Charlottesville. In the next moments, prosecutors said, he made the fateful decision to drive into the crowd of anti-racist protesters.
The prosecution then showed video taken from a Virginia State Police (VSP) helicopter which had been monitoring the crowds downtown that day. The helicopter footage included chatter from the VSP troopers in the aircraft. Shortly before Fields attacked the crowd, one state trooper's comment indicated that he was eager to see fellow officers take aggressive action to target anti-racist protesters. "These motherfuckers are blocking the road", he said as the marching crowd turned 4th street, "so let's start locking dudes up." (An independent review commissioned by the City of Charlottesville later found that street was supposed to have been closed to vehicle traffic that day.)
The helicopter that shot the video would later be reassigned to cover Virginia Governor Ralph Northam's motorcade, and crashed during that time, killing both VSP troopers aboard. The exact cause of the crash is still unknown.
Just seconds after the officer's comment calling anti-racist marchers "motherfuckers", the helicopter footage showed Fields' car slam forcefully into the crowd, plowing through bodies before crashing into other vehicles that had stopped in the road. One VSP trooper immediately reacted in shock, exclaiming "Christ, I can't believe he just did that". The helicopter then followed Fields for several minutes as police gave chase after he tried to flee the scene before finally pulling over and surrendering. Several other angles of the car attack, shot from protesters and witnesses on the ground during the attack, were also shown providing an extremely graphic up-close view of the attack. Numerous photographs of victims' injuries were also shown, alongside images of damage to Fields' car during and shortly after the attack.
(While the prosecution was explaining how portions of Heather Heyer's flesh, blood, and DNA were recovered from the windshield of Fields' car, the hearing was suddenly interrupted when defense attorney Denise Lunsford's cell phone rang loudly.)
The prosecution further demonstrated Fields' clear intent to target the crowd by showing photographs in which his car can be seen idling at the top of the hill before he accelerated into the crowd. Footage then showed the Field's car backing up through the crowd it had just crashed into, speeding away backwards with its front bumper mostly detached and scraping on the ground. As the vehicle speeds away, a single shoe can be seen falling from the car's grille.
Special Agent Alhusen then described how an FBI executed search warrant on Fields' family home in Maumee, Ohioon on August 13, 2017 . The court was shown photographs taken of Fields' bedroom, which featured a German Nazi flag. Another photo showed how his bedside nightstand featured a framed portrait of Adolf Hitler alongside a copy of Mein Kampf.
The prosecution also played portions of phone calls Fields made from jail to his mother. In one call dated August 27, 2018, Fields told his mother "I hope I can get that insanity thing" because the attack "was impulsive." He described how he "skewed it a bit" when speaking with psychiatrists in order to "not incriminate myself".
Another jail call, which was also played during his state trial, captured Fields going on a vitriolic rant denouncing Heather Heyer's mother, Susan Bro:
"It doesn't fucking matter…She is a communist, an anti-white liberal…it's not up for questioning….She is the enemy mother, stop fucking questioning me." – James Alex Fields in December 7, 2017 jail phone call
FBI special agent Wade Douthit was the next witness against Fields was who had been assigned to investigate Fields' motives in carrying out the attack. Douthit's testimony would describe going over Fields's social media, phone records, and interviews with his friends and family. Douthit said that he identified and analyzed five social media accounts used by Fields – one Instagram account, one Facebook profile, and three Twitter accounts.
Fields' first Twitter account, @RealGiantDad included tweets with messages such as "It's not hateful to support an ethnostate, free of zionist control, and acknowledge the existence of race…" and "There's enough difference between Europeans and Africans to say there are different subspecies."
After the @RealGiantDad account was reportedly suspended, Fields made a new Twitter account, @NewGiantDad. Tweets he wrote as @NewGiantDad included claims that "Europeans are the superior subspecies" and that "the white race built modern civilization". He also used the hashtag #HitlerWasRight "very frequently", according to Douthit.
Another tweet Fields sent as @NewGiantDad, tagged the white supremacist leader David Duke and read, "we as a people need to reclaim leadership of our nation, and cast off the shackles of the Jew." As @NewGiantDad, Fields also Tweeted images of Hitler, Nazi rallies, a Zyklon B gas canister, and the official event flyer promoting Unite The Right in Charlottesville.
Fields' Instagram account, @TheBigBoss1337, repeatedly shared memes featuring images of marching protesters being run down by cars.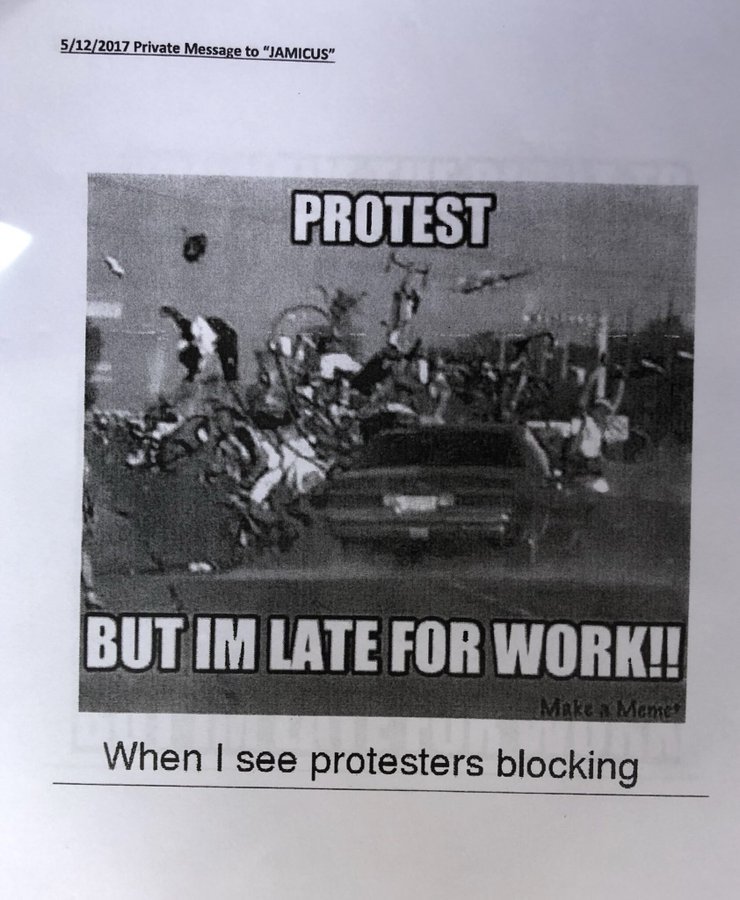 Additional Instagram posts made by Fields called black people "ni**ers" and "filthy apes." Another post read "Heil Hitler" along with the '14 words', a popular white supremacist slogan ("We must secure the existence of our people and a future for white children").
The FBI also conducted interviews with several of Fields' high school classmates. His fellow students described him as being known for his Nazi views, and refusing to work with black teachers. One classmate, 'B.W.', said Fields told her she couldn't talk to him "because she was black". Fields reportedly told another student that "only half of her could talk to him because she was mixed race".
Another black classmate described feeling harassed and threatened by Fields. In one incident, he asked her "So when are you going to come over and pick my cotton?" The student said other students then laughed at her, she started to cry, and Fields began to loudly laugh: "I've never heard someone laugh like that…it was menacing…he was laughing because he knew I couldn't do anything." The student said that she was too upset to return to school for a week after this incident.
Another high school classmate of Fields, 'E.P.', said "he would always be determined that violence was the answer…and he would always make a reference to what Hitler did as the solution".
'G.D.', another classmate of Fields who was also his neighbor growing up, told FBI interviewers about a series of disturbing events that took place when he and Fields went on a school group trip to Europe after they graduated. While in Germany, the school group toured the Dachau concentration camp, and 'G.D.' described Fields demeanor there as "giddy". 'G.D.' said "I witnessed James skipping up and down the train tracks…like a kid at Disney World. Like he was loving it."
When they were touring gas chambers used for mass killings in the Holocaust, Fields remarked "It's almost like you can still hear them screaming." G.D. said that his "voice was elated and happy" when he made this remark.
After the FBI agents finished presenting their investigations into Fields motives, the court heard several hours of victim impact statements from survivors of the car attack. The prosecution submitted a total of 23 victim impact statements to the court, some of which were presented in person by survivors.
(Not everyone wounded in the attack has been willing to speak to, or cooperate with, law enforcement. The total count of injured victims is likely much higher than numbers used in court proceedings.)
The first to provide a victim impact statement was Mark Heyer, Heather Heyer's father. Heyer said that his daughter attended the counter-protests that day because she wanted to convince people not to act out of hate, and that he believed "she died for what she believed in". He told the court that "I will always grieve for my daughter, for all her unrealized dreams" and that he has felt an "overwhelming pain and emptiness" since losing Heather. He said he "would like to see Mr. Fields surrender his life to God" and "my heart goes out to Mr. Fields' mother." Mr. Heyer also said,  "I want to tell the court and Mr. Fields that even after everything we've heard today…I want to say I forgive you…it's not me, but it's the Christ in me."
Many of the survivors of the attack shared details of their struggles with physical injuries resulting from the attack. They spoke about concussions, dislocated and broken limbs, nerve pain, cracked teeth, and head gashes and other wounds requiring many stitches and/or invasive surgeries.
The victim impact statements also included intense descriptions of the profound psychological harm caused by the attack.
Several of those who testified to being harmed by Fields said they experienced an intense fear of cars. One man said he could no longer enjoy cycling due to panicking around traffic. Another said "crossing a crosswalk raises my heart rate." Others shared experiencing panic attacks upon hearing loud noises such as thunder, fireworks, or drumming at a concert.
Others described paranoia and being unable to sleep alone. One person said they have to sleep with their bedroom door barricaded. Another stated they were afraid to sleep alone. A separate person testified they will only "sleep with the light on with a baseball bat next to me." Several black women who testified shared instances of being followed in Charlottesville by white supremacists in the leadup to Unite The Right, and said this heightened their stress and anxiety after the attack.
One woman who survived the attack said police who spoke with her in the hospital treated her "as though maybe we deserved to suffer and die" and wanted time spent dealing with officers "added to my list of injuries." Another survivor, Star Peterson, provided Unicorn Riot with a further statement explaining how it felt to work with the law enforcement system that she still opposes politically:
James Fields should be behind bars for the rest of his life. But he is one of the few. Our jails are filled with people who've harmed no one. The hyper wealthy profit greatly off of prisoner slave labor. Even a broken clock is right twice a day. Fields' conviction is one of the rare occasions when the injustice system is acting fairly. His sentencing neither exonerates nor vindicates our racist, classist injustice system. – Star Peterson, car attack survivor
Many survivors also described how the impacts of the attack had damaged their personal relationships, families, and careers. Several parents injured in the attack described how being traumatized damaged their ability to care for their children. Others described losing jobs or divorcing their spouses as they found themselves confused in "fear, terror, confusion and desperation". "Since August 12 I haven't been myself as a spouse, as a friend, in my career," said one woman who testified.
Several of the survivors who spoke at Fields' sentencing said they had accumulated massive medical debt. One said they were "plagued with collection notices for hospital bills" to the point that "any future financial stability is unlikely."
The last victim impact statement given to the court as from Susan Bro, Heather Heyer's mother, who has become a prominent civil rights activist since her daughter's death:
"Despite my grief, shock, horror and anger, I decided to speak with the press…I channeled rage and pain into action for civil rights, but spent my days at home staring into space, frozen in grief…we will survive this, but its difficult…I would like to see him change in time from a white supremacist into someone who helps others move away from white supremacy… I hope he can heal someday, and help others heal too." – Susan Bro
After the victim impact statements were done, the prosecution gave arguments in favor of imposing the harshest sentence allowed under sentencing guidelines. US Attorney Cullen outlined Fields' activities as justifications for a full life sentence., describing his car attack as an as an "hate-inspired act of domestic terror". Cullen described how Fields "gleefully participated" in the Unite The Right rally, then after the rally made his way through Charlottesville before he ultimately "decided he was going to commit an act of mass murder." Cullen also emphasized that when Fields made the choice to carry out the attack, that he was alone at the time and he was not provoked. Despite Fields' defense team's claim that the young Hitler enthusiast reacted impulsively, after finding himself scared in "an uncontrolled crowd situation", the Cullen said the evidence showed how he had a "clear path" to safely leave but instead "made a conscious decision to do something else." Cullen also insisted that Fields has "never expressed remorse" and there is no evidence he committed the act "while suffering from a reduced mental capacity."
The defense for Fields asked Judge Michael Urbanski for a less than life sentence, saying that life in prison would violate the 8th Amendment provision outlawing cruel and unusual punishment. Fields also requested a prison designation that would allow him to be housed in Kentucky, where he could be near his family. The defense also requested fines be waved due to large restitution amounts set to be determined at a later date.
After his lawyers finished arguing for a reduced sentence, Fields briefly took the stand to address Judge Urbanski. He said "I regret my actions" and that he was "sorry".
Judge Urbanski then stated that based on Fields' guilty plea in his prosecution for a hate crime involving death and hate crimes involving intent to kill, the court would impose "life imprisonment without release." Urbanski said he chose the harshest sentence based on the premeditation shown in Fields' online posts of car attack memes, which he said he found "chilling". He also cited Fields' jail phone calls to his mother in which he expressed a lack of remorse for killing Heather Heyer. Urbanski also expressed particular remorse for the fact that "many of these victims are young people who will suffer from this hate crime for years to come."
Judge Urbanski thanked the survivors for providing statements to the court and told them "your voices are powerful… whether you filed a victim impact statement or not, to all the victims, I wish you grace and peace." He said that count 1 of Fields' indictment, the murder of Heather Heyer, would bring a sentence of life in prison, and that the other 28 counts for each of the surviving victims named in the case would also carry a life sentence. The 28 other sentences are to be served concurrently but consecutive with the first, meaning that Fields' is essentially sentenced to double life. His federal sentence will also run concurrently with his Virginia state sentence, but the federal case has primary jurisdiction, meaning that after Fields is sentenced in state court later this year, he will ultimately end up serving his sentence in a federal facility. Judge Urbanski also imposed fines of $100 per count (for a total of $2900), which he said was not to be confused with the final, much larger total restitution amount which is still to be set by the court. Urbanski ruled that Fields will be required to pay his fines by paying "$25 per month, or fifty percent of his prison income, until paid."
Fields still faces a sentencing hearing in Virginia state court after he was convicted on all counts at trial there last year. The state judge is expected to impose the jury's recommended sentence of life plus 419 years in prison.
In a brief press conference given by the US Attorneys and FBI agents after the hearing, Cullen again called the car attack "an act of terrorism" added that "it's an undisputed fact…that white supremacy, acts of domestic terrorism and hate crimes are rising in this country":
After the federal prosecutors and FBI agents finished their press conference, Charlottesville activist Rosia Parker, one of the survivors who filed victim impact statements in the federal case against Fields, shared her response to the sentence.
Susan Bro also spoke briefly with the press after the sentencing. Bro described how she felt Fields' apology was "insincere" and spoke about her work to honor her daughter Heather's memory by committing herself as a civil rights activist.
While those injured and harmed by the attack expressed deep pain and sorrow, they all seemed to share a sense of purpose and meaning in how they have chosen to respond to the tragedy and horror. As one of the survivor told Judge Urbanski, "I have found community in the people who have suffered alongside me, and for that I am grateful."
---