Greece: Political Prisoners Pt. 3 – Criminalized by Association
Athens, Greece – Unicorn Riot spoke with author Tasos Theofilou, an innocent political prisoner freed last year after serving five years in a Greek prison. Recent court cases involving political prisoners in Greece have borne a resemblance to 'J20' cases in the United States, where the US government failed to provide evidence of guilt for hundreds of protesters rounded up and arrested on Trump's Inauguration Day in January 2017.
In our third special on the prosecutions of people involved in anti-authoritarian movements in Greece, we continue our reporting with insights and updates on some high-profile political prisoner cases. Along with Theofilou, we also spoke with Greek activist and writer Panagiotis Koustas, as well as Loukas Stamellos, a producer for the independent media organization, OmniaTV.
---
See the past two parts in this series on political prisoners in Greece, both published in July 2017:
---
Present day prosecutions and cases against anarchists have involved Greece's anti-terrorism department using people's associations with others as evidence of membership in groups that the government labeled terrorist organizations.
In a recent high-profile case of associative sentencing, Irianna and Perikles (two Greeks jailed because of their associations with anarchists after Irianna's boyfriend's home was raided by police in 2011 and both Irianna and Perikles were there) were convicted in 2017 on charges of being members of Conspiracy of Cells of Fire (CCF), a banned 'urban guerilla' anarchist group.
Irianna, a PhD student before being imprisoned, was sentenced to 13 years after being found guilty on weapons charges based on highly disputed DNA evidence.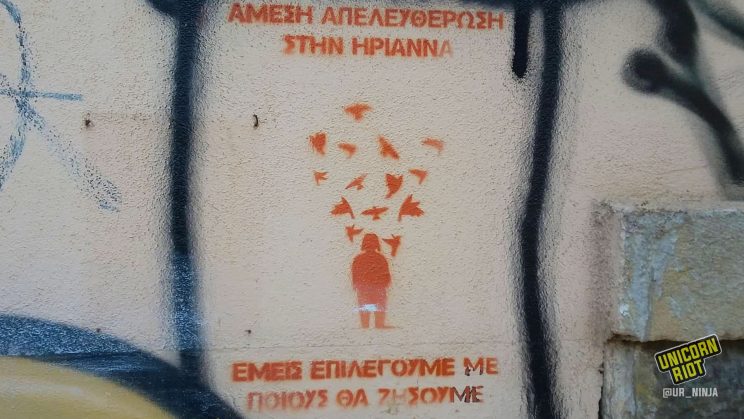 In June 2018, an appeals court re-examined the court cases, and both Irianna and Perikles were found not guilty of terrorism charges. These cases are said to have altered the landscape of the Greek court system, to push for a "swifter, more transparent and truly independent justice in Greece."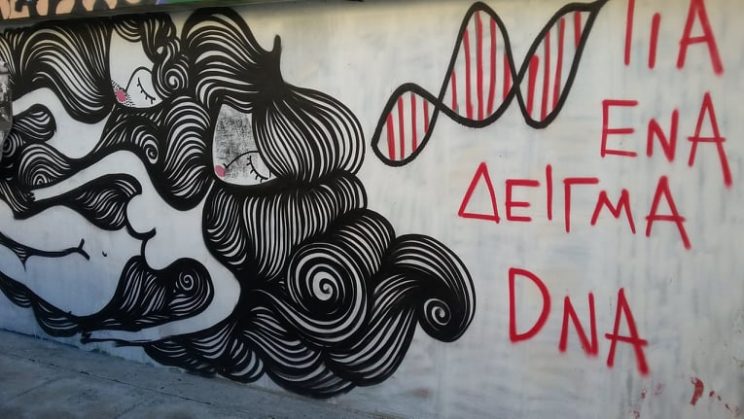 Irianna and Perikles' not guilty verdicts were preceded by another major political prisoner's victory the year before. Author and anarchist / communist Tasos Theofilou was freed after winning his appeal in July 2017.
Theofilou spent five years of a 25 year sentence in prison for a crime of which he was innocent. Because of the wrongful conviction, Tasos was awarded compensation for the time he spent in prison.
When we spoke with activist / writer Panogiotis Koustas in 2017 about how the state had gone after Tasos and Irianna, Koustas mentioned that with the CCF coming up in court, the Greek state was being observed as starting to criminalize relationships between people.
"Practically ANY relation to [anarchists] was suddenly meant 'participation in a terrorist group' to the authorities. Mothers, girlfriends and boyfriends, friends, roommates, people that simply attended their courts, were targeted as 'possible members' and had their life under surveillance." – Panagiotis Koustas
Theofilou was arrested by the Greek Anti-Terrorism unit in 2012 and charged with murder, attempted murder, robbery, and being a member of CCF. The charges came days after a bank was robbed and a taxi driver was killed on the Greek island of Paros.
Loukas Stamellos, a producer with the horizontally organized independent media organization OmniaTV, described the process of how "the anti-terror department of the Greek police [builds] certain cases based on circumstantial evidence…based solely on the social and political associations of an individual":
"…if you are maybe an anarchist and you have another friend that also is an anarchist, and you both know someone that has been indicted as a member of a so-called terrorist organization, then you are all indicted. Friends, family, social acquaintances, everyone can be indicted." – Loukas Stamellos, Omnia TV
Greeks rallied around the injustice seen in the cases of Irianna, Perikles, and Tasos to which Koustas described as being, "like a tsunami at the end, almost everybody in Greece was talking about these cases, speaking openly about 'injustice'."
Greek political prisoner Tasos Theofilou won his appeal & was released from prison after serving 5 of 25 yr sentence https://t.co/lDLnu07QfB pic.twitter.com/7lB6jYwXjK

— UNICORN RIOT 🦄 mastodon.social/@UnicornRiot 👈 (@UR_Ninja) July 26, 2017
Koustas said three major aspects led to the "happy ending" of Tasos and Irianna being freed:
A strong legal team of defenders that cracked the cases wide open in court,
The alternative (and the social) media that contested the narrative of the Greek Police, making it hard for the "established" media to promote the "fiction" written by the anti-terrorist unit,
The support that these cases gained in Greek society, where near the end almost everybody in Greece was speaking openly about injustice and about these cases.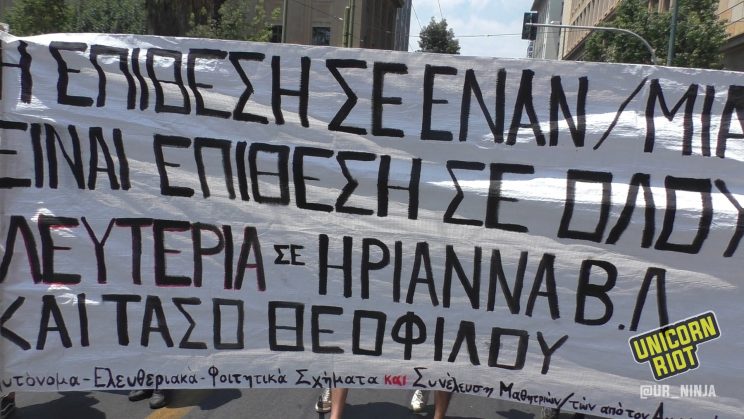 Yet, after gaining their freedom, Tasos, Irianna, Perikles and the others, still have to deal with the effects of having lived while not free. Those who go through imprisonment can attest to the damages of their time behind bars.
We asked Tasos how the case and the five years in prison impacted his life:
"I can't say that this experience did not affect me. Every experience shapes and affects every human being, and we are talking about a rather intense experience here. On top of that it wasn't a short experience, it lasted for five years and created a rather special day-to-day life. I am not referring only to the imprisonment and the psychological pressure that accompanies it, neither to the psychological training or collapse that a five-year jurisdictional struggle can give to any person knowing that the outcome will seal his fate for ever.

Just waiting for five years for a court of appeals that can send you in prison for life or declare you innocent — based only on who the judges are — is certainly something that leaves a mark to anyone. But even that is not what affects you more.

To meet in these five years and to share your living space, in that case a prison cell, and your day-to-day life with a diverse group of people (from the most marginal persons in society and dropouts of the economy to hit-men that execute people for money, or drug dealers and everyone who works in the crime economy) is really something that changes your perspective on life or society.

It's also the friction you have all day and every single moment of it, with the authority, and the constant and absolute dependence that comes with it. For example, if your family wants to visit you, there must be a 'green light' from the Prison Council. This is rather important. The perspective that a prisoner gets on observing the micro-functions of the authority is rather revealing.

So, it's not the matter of the unfair imprisonment that affects you, but the imprisonment itself." – Tasos Theofilou
As for the remaining political prisoners, Theofilou said the number of them behind bars today is "significantly smaller" than in the recent past and that "most of the comrades are in the last foot of their sentences."
"During the last decade the number of political prisoners in Greece increased to an extent that made them visible as a separate community in prison. In some periods there were more than 50 comrades in prison, covering almost every possible angle of the movement. From nihilists to communists and from organized members to comrades that were arrested in clashes. Today, the number is significantly smaller and most of the comrades are in the last foot of their sentences." – Tasos Theofilou
Tasos stated that, in general, political prisoners in Greece are treated with "an attitude of respect from the prison population" and that "there is a constant contradiction on how the authority treats them. On one hand they face the revenge of any state system; on the other, because of the solidarity movement, these acts of revenge by the state most of the times remain ineffective."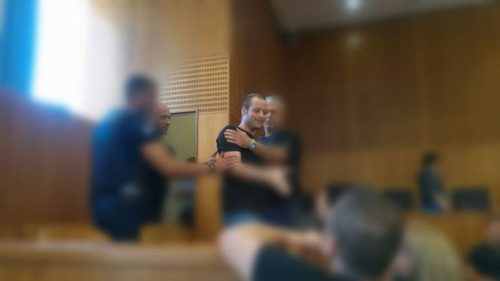 Regarding other specific cases of political prisoners in Greece, Koustas said they do not "have the wide-range solidarity we experienced before" and gave a few updates on some cases:
There are cases involving members of the

ΣΠΦ (

CCF) still going through the courts.
There are some trials for minor charges involving the mostly-symbolic actions of

Ρουβικωνας (Rubicon).

Spiros Christodoulou has been on a hunger strike since January 14, fighting to merge his different sentences.
A case of nine Turkish comrades in Greece with the classic anti-terrorist "fiction" is also in the spotlight of the movement.
Koustas called it a "myth" that the leftist Syriza government is better for political prisoners than further-right governments would be, and said upcoming elections in Greece will have little-to-no impact on the present or future cases.
"I am not sure if the upcoming elections will have any effect on any case involving political prisoners, if the trials remain invisible. Both prior to the elections and after that, even if there is a government change, the system will work its way if it feels unchecked. The anti-terror unit will create its 'fiction', judges will sentence without solid evidence, people will be deprived of their basic rights. The myth that Syriza government is better on that field from a New Democracy one, is just election marketing and nothing more than that." – Panagiotis Koustas
There were many anarchists and political prisoners released from prison in the last year(s) that are not listed in this article. For further resources, activists have created and keep constant updates of "anarchist fighters prisoners".
Radio Fragmata released an interview with CCF member Christos Tsakalos, who is in prison on a 180 year sentence, for further context on the struggle from inside Greek prisons.
Also, Tasos Theofilou has recently published a new book, 'Writings from a Greek Prison: 32 Steps, or Correspondence from the House of the Dead'.
---
Please consider a tax-deductible donation to help sustain our horizontally-organized, non-profit media organization:

Unicorn Riot's Special Reports From Greece [2017]:
Access to all 13 Stories: