Minnesotans Rally in Support of Ilhan Omar during Trump Visit
Burnsville, MN – Minnesotans gathered to support Minnesota US Representative Ilhan Omar after President Donald Trump shared a tweet on his social media that Congresswoman Omar stated caused increased death threats against her. The Congresswoman's supporters were met by Trump supporters who arrived to cheer on the President's April 15, 2019, visit to Nuss Trucking and Equipment in Burnsville, Minnesota.
Unicorn Riot was live outside the event as people faced off across the street from each other.
[Full live stream of the event part 1]
[Full live stream of the event part 2]
While at the event we spoke to Jaylani Hussein, Executive Director of the Minnesota chapter of the Council of American Islamic Relations (CAIR-MN), and one of the co-organizers of the Minnesota
"Stand with Ilhan and MN Values Rally."
He told Unicorn Riot one of the reasons Minnesotans were gathering outside the presidential visit was to protest Trump's April 12th Tweet of an edited video which featured an out of context clip from a speech of Congresswoman Ilhan Omar's next to visuals of the 9/11 attacks. Congresswoman Ilhan Omar has reported an increase of
death threats
against her since the tweet.
We are all Americans. This is endangering lives. It has to stop. pic.twitter.com/gwB2kDUIRp

— Rep. Ilhan Omar (@Ilhan) April 15, 2019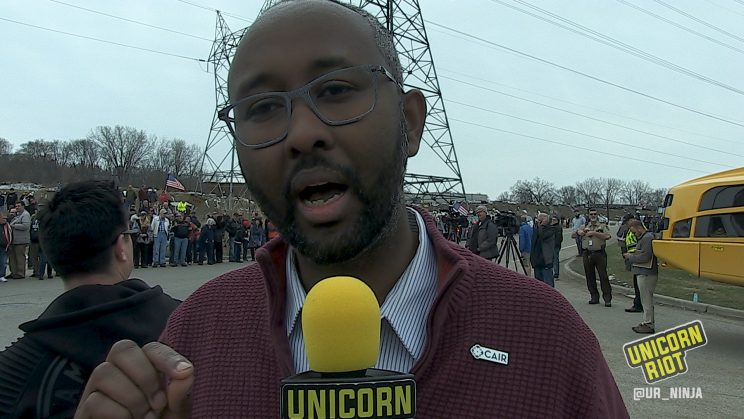 Jaylani Hussein stated:
"Today, as you can see Minnesotans from all walks of life are here to send a very strong message to President Trump that Minnesota values do not align with his administration and what he has been doing. And most importantly we are here to stand with our Congresswoman Ilhan Omar who has been a target of this president. And that harassment and targeting has now led to a very dangerous tweet that incites violence against a sitting Congresswoman and that we have seen this past week. She has confirmed that she is receiving more death threats related to this tweet. This is really dangerous. We asked today for leaders on both sides of the party to condemn this behavior and condemn this tweet and to request this president not only take down the tweet, but apologize. Because this tweet is a continuation of behavior to align with white nationalist during the Virginia protest[Charlottesville]. And today we are seeing him targeting like Islamophobes and KKK-style ideology targets the Muslim community."
During the event we also spoke to Trump supporters who told us that the side supporting Congresswoman Ilhan Omar was being divisive for protesting their president, and that they had forgot about 9/11. As we prepared to leave a group of Trump supporters kept glancing at our camera and one yelled "Subscribe to PewDiePie," the last words the New Zealand shooter said before entering a mosque and starting his murder spree that left 50 dead.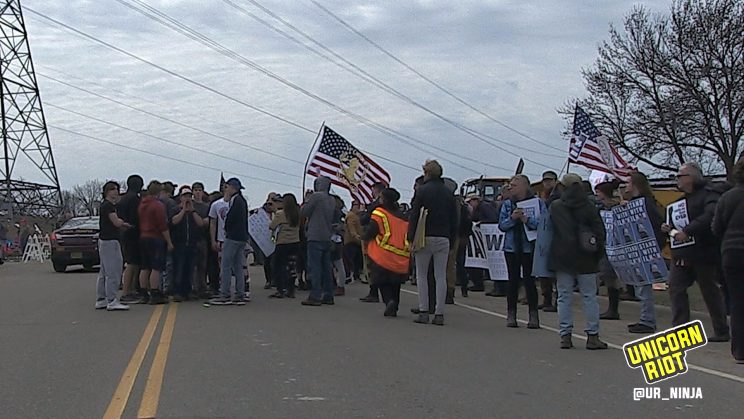 Minnesota is the site of previous individuals trolling protests and using internet memes to harass protesters. In 2015 a group of several men attended #Justice4Jamar protest outside of the 4th precinct and shouted memes, and insults before being asked to leave. White supremacist Allen Scarsella returned with his friends and shot five people outside of a Black Lives Matter protest.
It's worth noting that while the Muslim community and allies rallied to raise alerts of increased death threats, groups of young Trump supporters attended the rally and yelled at the people gathered to support Congresswoman Ilhan Omar the last words said by a person who targeted and murdered people in a mosque for their religious beliefs.
During President Trump's time in Burnsville, Minnesota, he was asked if he had any regrets about how the tweet was put together, and he said, "No, not at all".