Hiding Hate Crimes: Prosecutor Goes Easy on Attempted Murderers
Minneapolis, MN – On March 15th, 2016 white-supremacist Allen Lance Scarsella appeared in court for being the shooter of 5 unarmed Black protestors at the #Justice4Jamar protests in late November 2015. His case was continued until June 13, giving Scarsella's side time to review evidence. He remains in jail.
UPDATE: As of June 15, 2016, Allen Scarsella's defense attorney has filed a motion for self-defense.
Many in the Minneapolis community and beyond, feel that the attack from these white-supremacists on Black Lives Matter protesters was "premeditated" and that the premeditation to attack the protestors has not been taken into consideration by prosecution or investigators. We spoke with Michelle Gross from Communities United Against Police Brutality (CUAPB), who stated:
"I tried to get law enforcement and media interested in evidence that this attack was premeditated but no one would even take the information or use it. The perpetrators are grossly under charged because law enforcement did not want to investigate this incident properly. This is very deliberate. I contacted the FBI, the Minneapolis Police Department, and multiple media outlets. No one was interested." – Michelle Gross
Although this court hearing is not his trial or his sentencing, it's important to note that a deal can be reached at any time. It's also important to have some idea as to who these perpetrators are and the level of pre-meditation that came along with their racist crime.
Lance Scarsella, (pictured above in his facebook profile with the confederate "Bonnie Blue Flag") is a 23 year old white male from Lakeville, Minnesota. Based on comments made by his friends, his own posts on social media, and evidence that is detailed in the police report, Allen Lance Scarsella is a believer in the sovereign citizen movement, he is a pro-constitutionalist, and a white nationalist with white-supremacist ideals.
The group which Lance went with to the 4th Precinct was also in a picture found by police on his cell phone, displaying them holding guns around confederate flags.
This particular "group", as Julio Saurez ("J.S." in the police report) refers to them as, is by all accounts a group organized on Reddit's "operations" forum mostly based on racial slurs, through the 4chan "politically incorrect" channel /pol/ and 4chan "weapons" channel /k/.
It was widely reported that Friday, November 20th, Lance Scarsella, called by the code-name "Black Powder Ranger" was the side-kick of Julio Saurez when they posted a video in route the 4th Precinct continually using the new racist term of "dindu", wanting "to give everyone a heads up on /pol/, we are on our way to knock this shit out", and brandishing a handgun before telling people to "keep on watching the stream" and signing off with the comment "stay white".
"They almost expect like one of us to do something, you know like, they expect one of us to be in the wreckage or whatever of all this. And, it's boiling man, it's soon, it's gonna be happening soon. We don't know how, we don't know when, but it's gonna be happening." – Julio Saurez
Julio and Lance gave some insight into their mission when they sought out Unicorn Riot for an interview the night of the 20th:

Organizers quickly realized they were dealing with white-supremacist aggressors after hearing them use racist language on their livestreams. The following video shows one of the moments that they were confronted and told to leave:
The next Monday night, the night of the shooting, Daniel Macey (26 y/o – Pine Ridge, MN), Joseph Backman (27 y/o – Eagan, MN), and Nathan Gustavsson (21 y/o – Hermantown, MN) were at the precinct with Lance.
For their involvement, the city has decided on second-degree riot while armed charges for each of them. All have been free on bail for months.
It is said that their cases are currently in a process of delay because of the amounts of evidentiary findings from the prosecutors and what the shooters' lawyers have described as a "discovery dump".
What's continually being overlooked is the fact that this shooting at the 4th precinct was planned ahead of time, bringing to question the charges placed against these co-defendants. It's even evident in the police report (all of the defendants have the same police statement in their complaints).
Gustavsson sent text messages to Scarsella the day before the shooting specifying the "need to get out there" to "rile up so much shit" and:
"I know how to make big news or get them to disperse…I have an idea to really stir shit up." – Nathan Gustavsson – a day before the attack
In the police report, Julio Saurez admits to the police that "inappropriate comments to protesters which sparked anger between BLM and his group and led to angry internet posts on Reddit and 4chan" were made on the groups' livestream. Some of those racially charged comments can be seen in the screenshots of threads on Reddit below, along with plans to attack the encampment.
– CONTENT ADVISORY –
Julio Suarez was captured after the shooting by law enforcement in a vehicle that matched the video from Friday night. He was later released by MPD because he had not been near the protest on Monday night. Suarez posted a note to the /k/ucks after he was released saying "the fire is rising".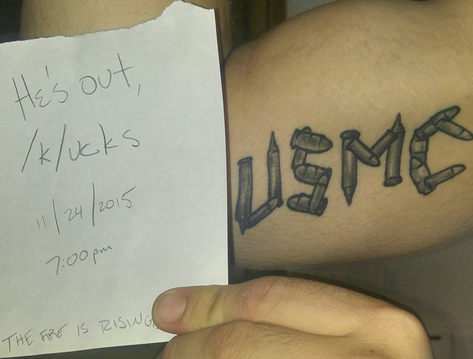 Unicorn Riot can confirm that Livestream.com still has the incriminating original broadcasts in their server archives even though the live stream channels (pictured below) were quickly deactivated and hidden from public view once they went off-air. According to a Livestream representative, the hate-filled stream can only be obtained with a warrant.
Allen Lance Scarsella confessed to this act of planned domestic terrorism within hours of committing it. He made a phone call to his friend in the Mankato Police department, officer "Levin", and told him twice about his crime that left 5 victims with non-life threatening injuries. Officer Levin then reported this phone call to the Minneapolis Police who sent the Bloomington PD to raid his house the next day and detain him.
Lance Scarsella, has been in the Hennepin County jail since November 24th. He is facing a main count of first-degree assault, second-degree riot while armed, and five counts of second-degree assault with a dangerous weapon – causing substantial bodily harm.
The maximum sentencing that Scarsella would face if the current charges stuck and the sentencing ran consecutive would be 55 years and a $60,000 fine. However, consecutive sentencing is very rare in Minnesota, it's mostly used for DWI cases, and in other cases it depends on your criminal history score, of which Scarsella has none.
This leaves the likely scenario that his sentencing will run concurrent, meaning that if any jail/prison time is given, he will serve out all of the sentences at the same time. Along with his credit for time served while waiting for sentencing, this would effectively make the maximum sentence no longer than the 20 years that the first-degree assault calls for and with good time credit that would bring the maximum down to 14 years.
Yet most importantly, and possibly most troubling, is the reality that Hennepin County attorney Mike Freeman's office, who is also the prosecuting attorney in the case of the "executed" and unarmed Jamar Clark, does not see enough evidence to "charge any of the men with attempted murder or a hate crime."
We asked the Minneapolis Police Department for comment on the perceived lack of a thorough investigation, to which Scott Seroka, information officer with the Minneapolis Police Department, told Unicorn Riot:
"The case you have inquired about is set for trial with the Hennepin County Attorney's Office, which has reviewed the case for completeness and is currently prosecuting the offenders involved. If there is additional information or evidence, people should contact MPD Investigators and/or the Hennepin County Attorney's Office."
Here was the response that we got from Chuck Laszewski, the Media Coordinator at Hennepin County Attorney's Office:
"[Mike] Freeman said the Minnesota hate crime law only moves a misdemeanor crime to a gross misdemeanor and a gross misdemeanor to a felony. The four men were not charged with that because the sentences for them, especially the suspected shooter, Scarsella, would be significantly longer for the riot and second-degree assault charges. However, Freeman noted he has been consulting with U.S. Attorney Andy Luger about this case and if federal hate crime sentences would draw a longer sentence, he would be willing to turn the case over to them. Freeman also said that the types of injuries and the evidence so far gathered does not allow for charging any of the four with attempted murder."
---
Scarsella Trial Reportbacks & Coverage of Shooting at 4th Precinct:
To help our volunteer-operated horizontally-organized non-profit media collective, please consider a tax-deductible donation: