Canadian Navy Sailor Advertised Arms Deals on Neo-Nazi Forum
Alberta, Canada – A Serbian man who claimed online to be an arms dealer with connections to racist terror groups in the USA has been outed as a sailor in the Canadian Navy.
Earlier this month, a copy of a web server for the defunct neo-nazi website "Iron March" was posted online in full. Researchers poring over the leaked web logs have identified dozens of white supremacist users of the site, which promoted murder and terrorism against people of color and those of Jewish background.
(A searchable copy of the Iron March web server leak is available online at IronMarch.exposed and is maintained by researchers at The Jewish Worker.)
Iron March is mostly known for being the birthplace of the notorious neo-nazi terror group Atomwaffen Division, which is primarily based in the USA and implicated in at least five murders.
---
An Iron March user posting under the alias 'MOONLORD' was involved in moderating conversations on the site's forums. Leaked Iron March posts and messages by 'MOONLORD' show that he claimed to be a member of Canada's armed forces, and his posts suggest he was involved in arranging illicit weapons sales in eastern Europe.
Many details about 'MOONLORD' have previously been reported by the antifascist activists behind the blog Anti-Racist Canada. His true identity, however, has not been publicly known until today.
Based on information found on Facebook and other sources, Unicorn Riot has identified 'MOONLORD' as Boris Mihajlovic, a 29-year-old based in the Alberta province. As of 2018, Mihajlovic was serving as a Reservist in the Royal Canadian Navy under the rank of Leading Seaman ('LS' for short.)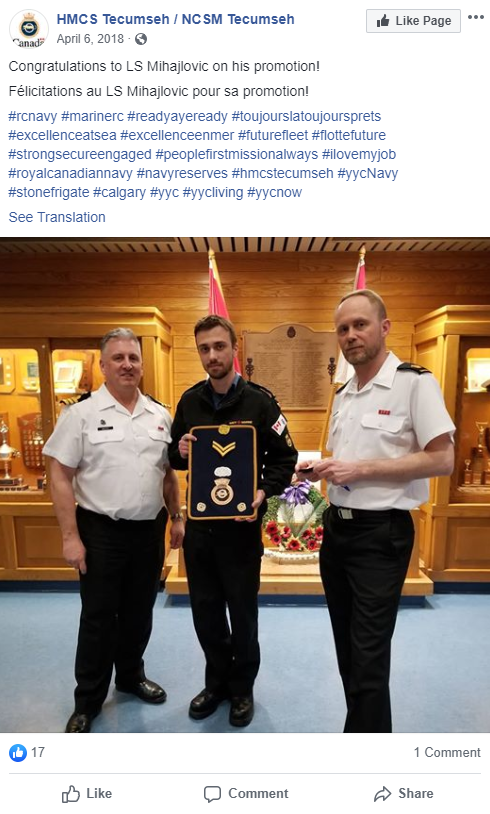 Posts on the Iron March site by "MOONLORD" paint an informative picture of the young man's interests and activities, with a strong emphasis violent racist and Nazi ideology.
He introduced himself to a fellow Iron March user as "Serbian but I have citizenship in Croatia as well. Currently living in Canada."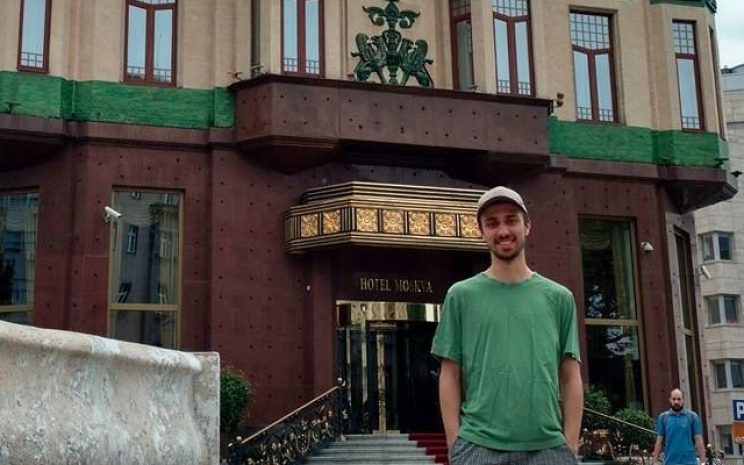 Mihajlovic was also once involved in the Calgary chapter of the neo-nazi gang Blood and Honor, according to research by Anti-Racist Canada. (Blood and Honour is an international network primarily dedicated to promoting neo-nazism via racist punk music.)
---
Mihajlovic appears to have operated an illegal side business selling firearms and explosives in Europe, according to his posts on Iron March as 'MOONLORD'.
In one exchange in March 2017, Mihajlovic made apparent arrangements to sell handguns to an Iron March member using the alias 'FrenchSoldier' and claiming to live in Marseille in Southern France. 'FrenchSoldier' appeared to be seeking to acquire weapons to carry out a violent attack, promising at one point that "if I can have such materials, the future of France will be changed."
The two had discussed meeting briefly near a border crossing in northern Bosnia, where the firearms were to be purchased by Mihajlovic's "associates." The initial proposed site of the meeting was the city of Banja Luka, which Mihajlovic said he chose because it was "45 mins from the EU border" and "very convenient."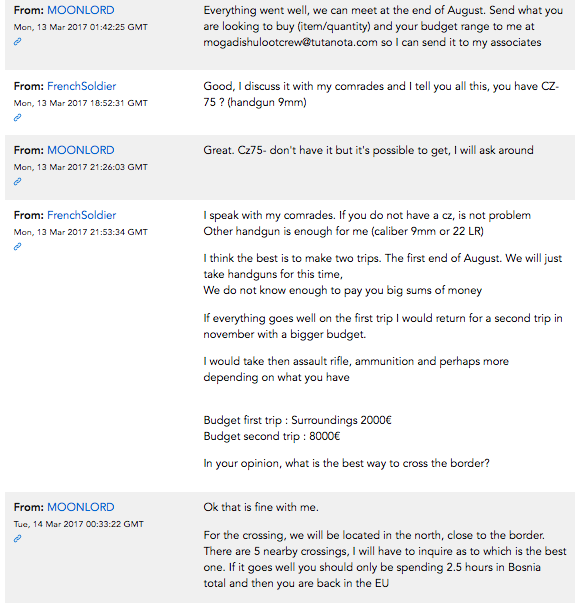 In an exchange held over Iron March forum comments, 'MOONLORD' agreed to arrange to sell handguns to 'FrenchSoldier'. He also offered to sell an AK-47 (€500), a rocket-propelled grenade launcher (€2500) and hand grenades (€50 each).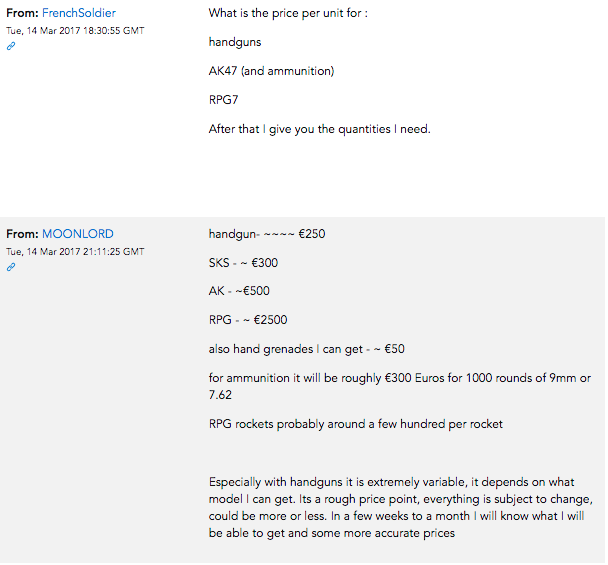 'MOONLORD' later clarified that he actually meant to state his prices in Bosnian Marks, not euros. It's unclear what currency was used in any final transaction, and whether the arms deal with 'FrenchSoldier' ever took place in person.
Later, in late May 2017, 'MOONLORD' updated 'FrenchSoldier' about issues on his end causing a delay in the arms deal: "hey, idk if you heard, AW [Atomwaffen] guys were killed and went to jail (they were my associates) so I will have to keep quiet for a bit…"
Mihajlovic was referring to a deadly incident in May 2017 in which Devon Arthurs, then a member of Atomwaffen, shot and killed his two roommates, who were also members of the self-described terrorist group. The incident also led to Brandon Russell, Atomwaffen's official leader at the time, being arrested and convicted for possessing bomb-making materials.
After apparently confirming his intimate involvement with Atomwaffen, Mihajlovic told 'FrenchSoldier' that their plan was still a-go to meet in Benja Luka in Bosnia in August 2017 for the arms deal.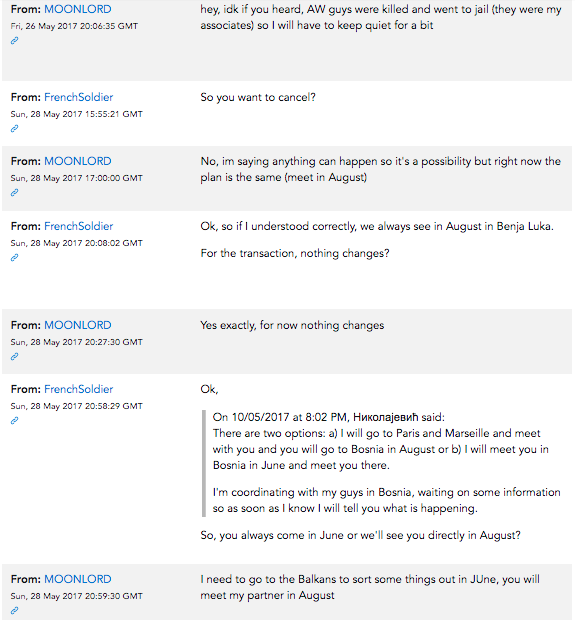 ---
Mihajlovic was also active on the chat platform Discord, popular with far-right groups, under the username 'shumba', Unicorn Riot has learned. His Discord account was present in a server called 'South African Border War: Operation Savannah', a gaming chat focused on a modified version of the game SQUAD.
Logs from the 'South African Border War' Discord server have been added to Unicorn Riot's DiscordLeaks database.
Boris Mihajlovic is hardly the first member of Canada's military exposed for his involvement with neo-nazi terror groups. Earlier this year, a Canadian Army reservist named Patrik Matthews went missing (believed to have crossed the border into the US) after he was exposed as a member of the neo-nazi terrorism training network called 'The Base.' Brandon Cameron, a soldier in the Canadian Armed Forces, was also exposed as an Atomwaffen member in 2018.
UPDATE (Friday November 29, 2019) – Royal Canadian Naval Reserve Deputy Commander Captain Alan Offer has confirmed to Unicorn Riot that the Canadian Armed Forces are investigating Mihajlovic.
"Leading Seaman Boris Mihajlovic is still a member of the Canadian Armed Forces. He joined in February, 2016 as a Supply Technician and is a member of HMCS Tecumseh in Calgary, Alberta. He has approximately 3 years of service and no operational deployments...His alleged association with online hate groups was only very recently brought to the attention of the HMCS Tecumseh Command Team when a CAF investigative body made their investigation known on November 15th, 2019…Anyone who holds hateful and degrading views of others, is not welcome in a Canadian Armed Forces uniform…the [Royal Canadian Naval Reserve] will not hesitate to release anyone who continues to perpetuate hate in contradiction of the CAF's established military standards, ethics and values." – Canadian Armed Forces press statement (full statement here)
The Canadian military is still conducting an ongoing investigation into Boris Mihajlovic and has declined to release more specific information at this time.
UPDATE (Wednesday December 4, 2019) – New reporting published by CBC today further confirms the identification of 'MOONLORD' as Boris Mihajlovic.  Journalists who reached Mihajlovic for comment report the naval reservist "says he hasn't been involved with hate groups since Iron March shut down in 2017 and has tried to turn his life around."
---