Mall of America Prohibits Families of Police Killings Over Planned Black Friday Protest
Bloomington, MN – Police used Thanksgiving Day to deliver trespass notices to family members of two recent police killings.
In lieu of a previously planned Black Friday protest at the Mall of America (MOA), the wife of Brian Quinones (killed by police on Sept. 7) and two siblings of Isak Aden (killed by police on July 2) were singled out as organizers of an "Unauthorized Demonstration" and were trespassed from the MOA for the day of November 29, 2019 ('Black Friday').
Bloomington Police delivered written notices to the Aden and Quinones families on behalf of the Mall of America, which is private property.
Dated November 27, 2019, the letters signed by MOA's Management Team provide copies of the protest's Facebook event, references a Unicorn Riot live stream in which Isak's sister spoke about the protest on Black Friday, and includes a trespass notice for the day of Nov. 29 as well as an explanation of MOA's policies against free speech and private property.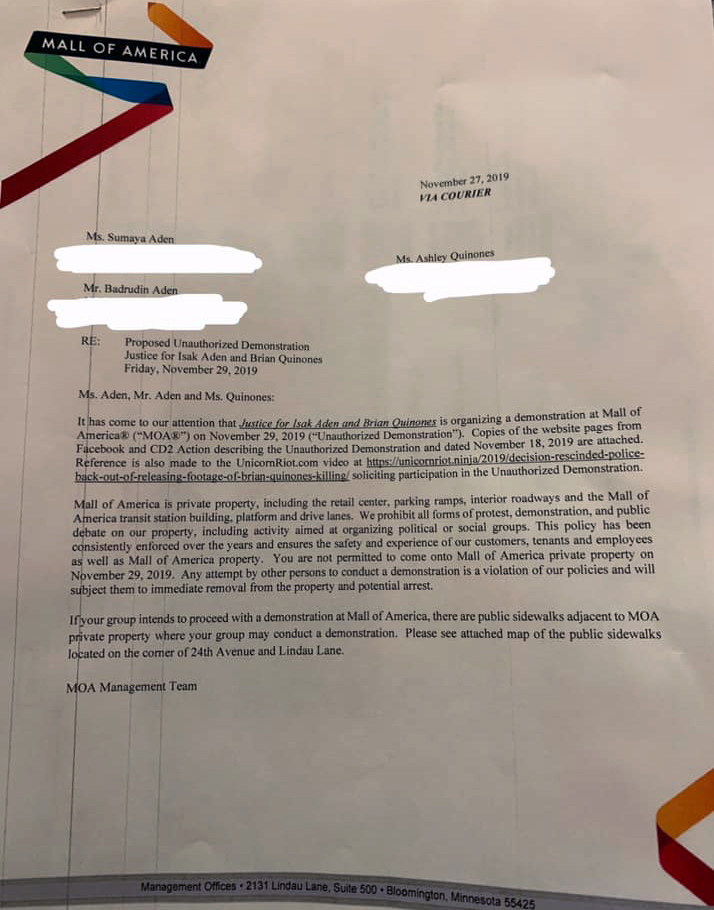 The Black Friday protest, named 'Black Lives Matter Friday at the Mall of America', was organized through the Justice for Isak Aden Facebook page and was scheduled for November 29. The cover image featured a picture of the MOA with the words "Justice for Isak Aden, Brian Quinones and all victims of police violence."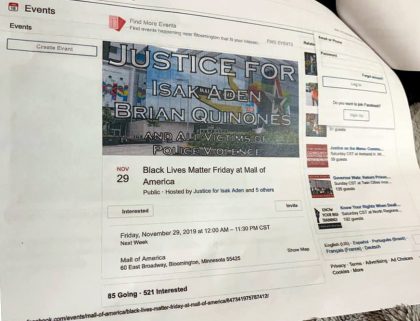 The letter from the Mall of America is similar to the letter they sent to four leaders of the Black Lives Matter Minneapolis group in 2015 regarding protests at the MOA. There was, however, other surrounding circumstances of lawsuits and further actions at the MOA in 2015 making the situation a bit different.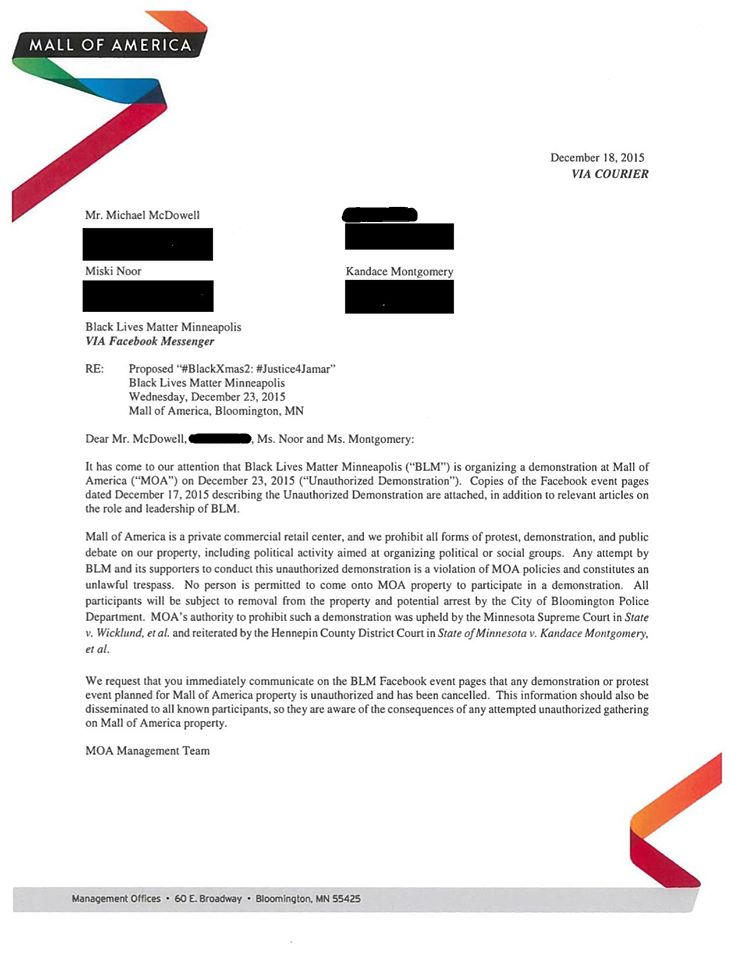 In 2015, with the Twin Cities movement for Black Lives still heightened and after thousands attended demonstrations at the MOA in 2014, major protests occurred at the MOA and the Minneapolis St. Paul International Airport after BLM received the injunction and notices from the MOA Management Team.
In the letter sent out yesterday, the MOA refers to past protest incidents and non-authorizations of demos, saying, "This policy has been consistently enforced over the years and ensures the safety and experience of our customers, tenants, and employees, as well as Mall of America property."
Law enforcement in the Twin Cities has an extended past of using social media to provide surveillance of planned protests and to target perceived organizers.
A recent Unicorn Riot investigation provided proof of the Minneapolis Police (MPD) using "sock puppets" on social media to gather and relay information to MPD's fusion center: Police Fusion Center Tied to Fake Social Media Accounts.
Late in 2018, we released hundreds of emails and messages from St. Paul law enforcement showing police were constantly using Facebook surveillance of protesters and interagency cooperation to target specific protest organizers involved with the 2016 'Justice Occupation for Philando': Emails Show St. Paul Police Targeted Protest Organizers Seeking Justice for Philando.
Sumaya and Dinni, two of the Aden siblings, and Ashley, Brian's wife, all grieving from their respective losses and dealing with their first Thanksgiving meal without their family members who were killed by police expressed frustration over this ordeal.
The families felt they were being singled out, threatened, and harassed.
One of them was called numerous times, letters were delivered to their residences by the police, and in Ashley's case, tacked to her landlord's door. They all claim they are not organizers of the said Facebook page and furthermore, Ashley has stated she was never planning on going to the MOA on Friday.
Sumaya Aden, the sister of Isak Aden who was killed by Eagan and Bloomington Police in July, called the "threats and harassment" from the MOA "absolutely awful" and stated on Facebook that her brother Dinni had received a phone call by a staff member at the MOA, who stated a "Cyber Security team" had been watching them:
"the Mall of America Cyber Security team has been watching us and "our facebook page" about the upcoming protest on Black Friday— to which my brother responded by telling them that we were not the organizers of the event nor do we run the Justice For Isak Aden page. Even after telling them that, they continued to threaten us and the harassment continued as shown in this letter we received from POLICE OFFICERS on our front steps this morning—on Thanksgiving day." – Sumaya Aden
The MOA provided a map of public areas adjacent to the MOA in which demonstrations could be had and urged in writing what cross-street sidewalks to use.
After the letters were received by the Aden and Quinones family, the Justice for Isak Aden Facebook page cancelled the protest and made the following statement on Thanksgiving Day:
"The Mall of America and their lawyers have been harassing and threatening the grieving families. While this event would be a legal, safe protest, the Mall has made it clear they will do even more harm to Brian and Isak's families, regardless of their lack of involvement.

The event is cancelled. Please do not take action at the Mall of America tomorrow that will give them an excuse to attack the families.

The activist community will deal with the mall's totalitarian tactics another day, in a manner victim's families cannot be blamed for. In the meantime, don't give the mall your shopping dollars.

Thank you for your support." – Justice for Isak Aden Facebook group
The letter sent by the MOA also incorrectly refers to the now widowed Ashley Quinones as "Ms. Ashley Quinones" instead of "Mrs." and wrongly refers to Unicorn Riot as a 'dot com', stating "Reference is also made to the UnicornRiot.com video at https://unicornriot.ninja/2019/decision-rescinded-police-back-out-of-releasing-footage-of-brian-quinones-killing/".
Neither of the three that were served the letters were arrested or charged with anything and the letters did not state what would happen had they showed up to demonstrate or simply to shop.
Yet, perhaps most revealing in this incident is the continued dragnet of social media surveillance, the existence of the Mall of America's Cyber Security team, and the continued collusion between police and corporate entities.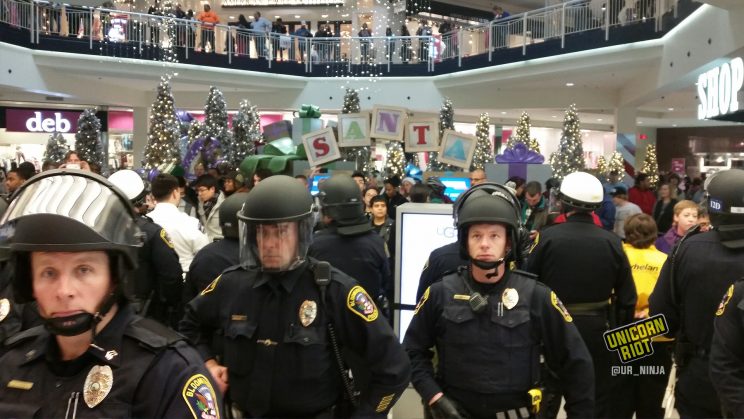 We spoke with Brian Quinones' mother, wife, and son in October and interviewed the siblings of Isak Aden in July (see videos below).
Unicorn Riot's Coverage of the Police Killing of Brian Quinones-Rosario:
Unicorn Riot's Isak Aden Coverage:

---

Please consider a tax-deductible donation to help sustain our horizontally-organized, non-profit media organization: