Leaked American Identity Movement Chats Show Poorly Hidden Racism
Washington, DC  – After rebranding as the 'American Identity Movement', the alt-right and neo-Nazi group formerly known as Identity Evropa has tried to forge a new path for "mainstreaming" racism in conservative politics. While previous chat leaks published by Unicorn Riot exposed Identity Evropa's membership along with their strategies and tactics, the group has since rebranded and attempted to distance itself from its previous incarnation. However, newly leaked chats, obtained by Unicorn Riot from a source inside the American Identity Movement, reveals the group is carrying on Identity Evropa's attempts to popularize white nationalism wrapped in a respectable "patriotic" package.
[Editorial note: Identity Evropa and the American Identity Movement are proven to be the same group, so at times the groups' names are used interchangeably. The American Identity Movement is also abbreviated as 'AmIM' to avoid confusion with the American Indian Movement (AIM).]
Since being kicked off the chat programs Discord and Slack, Identity Evropa/American Identity Movement has switched to using a chat software called MatterMost to host national-level chats among its membership. However, MatterMost doesn't support voice functionality for large groups, so IE/AmIM still uses temporary Discord servers created and deleted on a weekly basis to hold meetings.
MatterMost chats, screenshots of which have been obtained for this report, are used in the process of recruiting and vetting "pledge" members for entry into full membership in the group. IE/AmIM does not allow people of non-white or Jewish descent to join and now requires in-person vetting before full membership is granted.

The MatterMost software is "self-hosted", meaning that it is hosted directly on the servers provided by the hate group's web host. The American Identity Movement website, which includes their MatterMost domain, had previously been hosted by web provider Digital Ocean. However, Unicorn Riot has been able to confirm that Digital Ocean has stopped hosting the site,  and the hate group has switched to hosting provided by Amazon Web Services. A representative for Amazon reached by Unicorn Riot declined to comment on the record. Domain registrar NameCheap also continues to provide service to the American Identity Movement despite a clause in its terms of service forbidding "hate sites."
IE/AmIM leader Patrick Casey had instructed members to avoid making any overtly racist remarks in the group's official chat that could be leaked in a way that paints his group in an unfavorable light. However, leaked messages from the American Identity Movement's official MatterMost chat server show that some members of the group self-identify as "racist":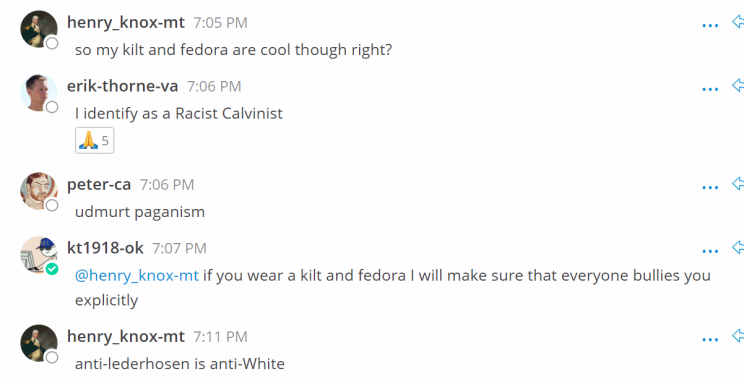 Other pledge members in the official American Identity Movement chat also shared anti-semitic comments claiming that "Jews control the media".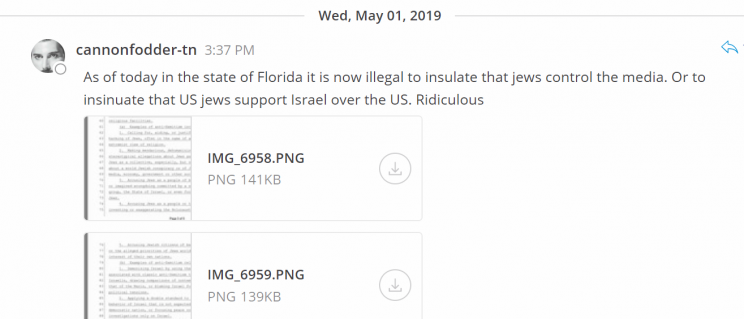 In the American Identity Movement's 'Weekly Address' (MP3 – a continuation of the weekly 'fireside chats' held by Identity Evropa) held on May 15, 2019, the group's leader Patrick Casey laid out his plans for future activism for the group. He described plans for a convergence of IE/AmIM members in Washington, DC on the 4th of July weekend.
The last time his group planned an action in the DC area, on April 27, 2019, they interrupted and harassed a crowd that had gathered to hear a talk by author Jonathan Metzl about his new book "Dying of Whiteness". The American Identity Movement seems to be returning to Identity Evropa's earlier pre-Charlottesville tactic of choosing 'soft targets', such as speaking events and campus diversity trainings to disrupt by entering and loudly chanting and filming attendees. This trend continued earlier this month when IE/AmIM members interrupted a meeting of the leftist Puget Sound John Brown Gun Club in Seattle, Washington.
During a discussion in the AmIM pledge chat, one member proposed planting infiltrators in the audience at future leftist or anti-racist events that the group might seek to disrupt.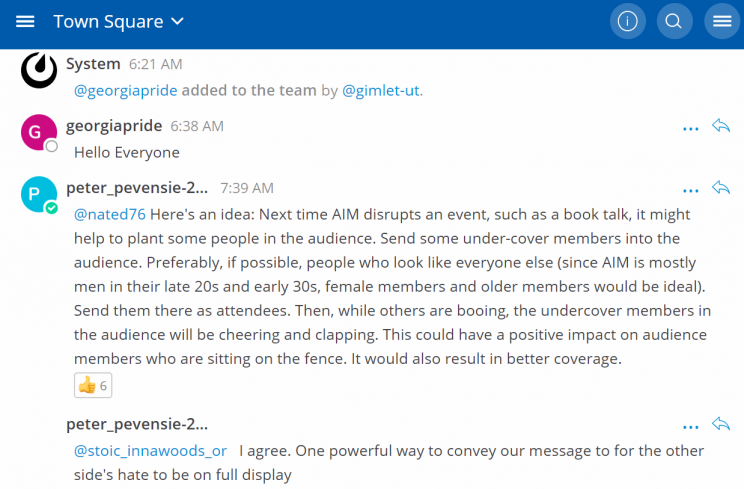 According to Patrick Casey's leaked address, the American Identity Movement is also planning gatherings and demonstrations in both South Dakota and Texas for August 2019.
Stay tuned for more investigative reporting from Unicorn Riot exposing the inner workings of this hate group.
---
Click here to download the .ZIP archive of screenshots from the American Identity Movement MatterMost chat for pledge members | AmIM-MM-Pledge-Screens.Zip, 8.3 MB
Leaked audio: American Identity Movement Weekly Address (via Discord), May 15 2019 | .mp3 download | .PDF transcript
---

Unicorn Riot's investigative reporting on Identity Evropa: