Tensions High as Far-Right Rally Tied To Threats Hits Portland
Portland, OR – Tensions are high in Portland as a far-right rally, whose organizers have threatened violence, is opposed by large anti-racist counter-protests. A massive police presence has saturated the downtown rally area and city officials has told people to avoid the area. Unicorn Riot will be providing updates from on the ground throughout the day.
Today's rallies are the latest in a years-long series of rallies by xenophobic groups like Patriot Prayer and the Proud Boys traveling to Portland to seek out confrontation. In spring 2017, Jeremy Christian, a white supremacist and frequent attendee of Patriot Prayer rallies, stabbed 3 people and killing 2, on a Portland public transit following an anti-Muslim outburst.
---
---
Joe Biggs, a member of the Proud Boys and a former correspondent for conspiracy outlet InfoWars, has called the event a rally against "domestic terrorism". The language surrounding the rally mirrors recent calls from the right to label antifascist activists as domestic terrorists. Biggs was recently banned from Twitter for making death threats and was reportedly visited by the FBI agents asking about his violent posting. Biggs social media activity included a video showing off a spiked bat he said he was bringing, and a post saying he was setting up a torture chamber in his home.
Since the FBI visit, Biggs changed his tone, saying that he wants to hold a peaceful rally. The Facebook page for the event recently disappeared, apparently at the same time that Joe Biggs' Facebook profile was suspended.
Biggs' co-organizer Enrique Tarrio is the leader of the Proud Boys and also organized the recent 'Demand Free Speech' rally in Washington, DC on July 6.
Also planning to attend are members of American Guard, a 'patriot' militia founded by a member of the neo-nazi Hammerskins gang. Several other avowed white supremacists and neo-nazis have also posted on social media about their plans to attend.
Counter-protesting groups are expected to include Rose City Antifa, a local antifascist group, as well as Popular Mobilization (PopMob for short), the Democratic Socialists of America (DSA) and different faith groups. Plans on the anti-racist side include Jewish and Buddhist prayers, a dance party, and a 'poop bloc' involving emoji costumes.
The far-right rally organizers seek to channel outrage about the recent attack on Andy Ngo, a far-right opinion writer with close ties to Patriot Prayer and the Proud Boys. Ngo, who works for a racist Australian magazine called Quilette, raises lots of money online by presenting himself as a victim of the left. He has previously made false claims about 'Sharia law' and 'no-go zones' in the UK, and was fired from his school's student paper for violating journalistic ethics and harassing Muslim students.
The days leading up to the event have been fraught with catastrophe for many people tied to the far-right rally. Felony arrest warrants were recently issued for Patriot Prayer member Joey Gibson and several of his associates, who were either arrested or turned themselves in this week. Gibson has since been released on bond.
All of those arrested are charged with Riot, a Class C Felony in Oregon, in connection with the coordinated, violent attack on patrons of Cider Riot, a cider brewery which has hosted antifascist events, on May 1st of this year. An ongoing grand jury is said to be investigating the matter. Cider Riot has also filed a million-dollar lawsuit against Gibson and several of his affiliates who were involved in the incident. Ian Kramer, an associate of Joey Gibson, "used a baton to crack a Cider Riot patron on the head, knocking her unconscious" and inflicting "a serious vertebrae fracture," according to court filings.
Following news of the warrants and arrests, the Oath Keepers militia announced they were pulling out of the event. A statement by the Oath Keepers said they were cancelling their plans to attend due concerns that rally organizers were not taking adequate steps to keep out neo-nazis and white supremacists.
The Oregon Three Percenter militia has similarly issued a stand down order and posted online discouraging others from attending.
In rambling Facebook Live videos, far-right activists such as Haley Adams, who founded a Patriot Prayer splinter group called Portland's Liberation, claim that US Marshals have been arresting far-right militia members in other parts of the country who were planning on traveling to the rally.
The recent charges against Gibson & co., as well as the law enforcement buildup ahead of Saturday, come in the recent context of outrage around  law enforcement's sympathy for far-right groups. Many assaults by attendees of Patriot Prayer's frequent Portland rallies have gone unpunished, while officers have admitted focusing primarily on antifascists.
Earlier this year, local journalists uncovered a Portland Police detective's cozy text message exchanges with Joey Gibson. Public records showed how police actively advised Patriot Prayer, giving information on the location of anti-racists and telling them how to help their members with active warrants avoid arrest.
The City of Portland released a list of the many agencies they say will be assisting in law enforcement operations on Saturday.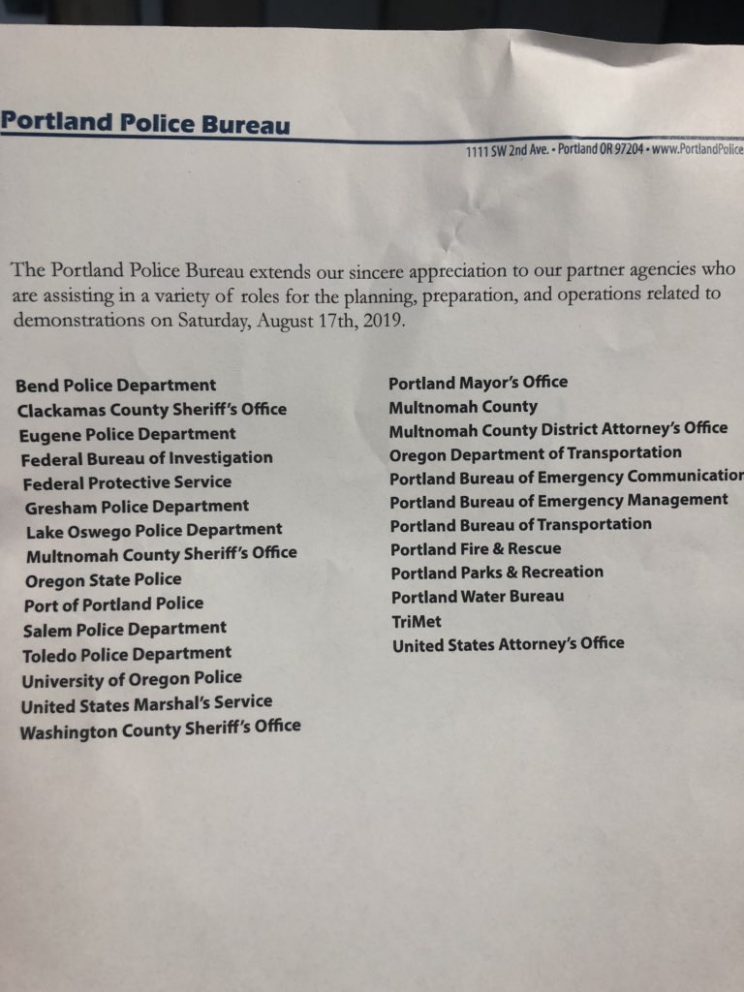 Portland Police chief Danielle Outlaw, a recent import from Oakland, has openly toyed with the idea of calling in the state's National Guard. City officials later claimed that the National Guard would not be used.
Portland Police are facing civil litigation stemming from brutality on August 4, 2018, when they shot grenades at head level into a crowd of antifascist protesters, causing several serious injuries. Since last August, police have been directed to no longer use flashbang grenades.
See our previous coverage from clashing far-right and anti-racist rallies in Portland on August 4, 2018:
Portland Police Attack Antifascists, Defend Outnumbered Hate Rally (August 2018)
---