Economic Justice Rally Pushes for City Level Reparations
St. Paul, MN – After weeks of intense protests following the murder of George Floyd by police, Minnesota organizers are pushing legislative changes to bring forth justice for the Black community. One of those items is a bill that would distribute reparations for descendants of slaves in Minnesota's capital city of Saint Paul.
The St. Paul Recovery Act, spearheaded by Minnesota Green Party spokesman Trahern Crews and Ward 7 city councilor Jane Prince, is what the pair call "economic justice".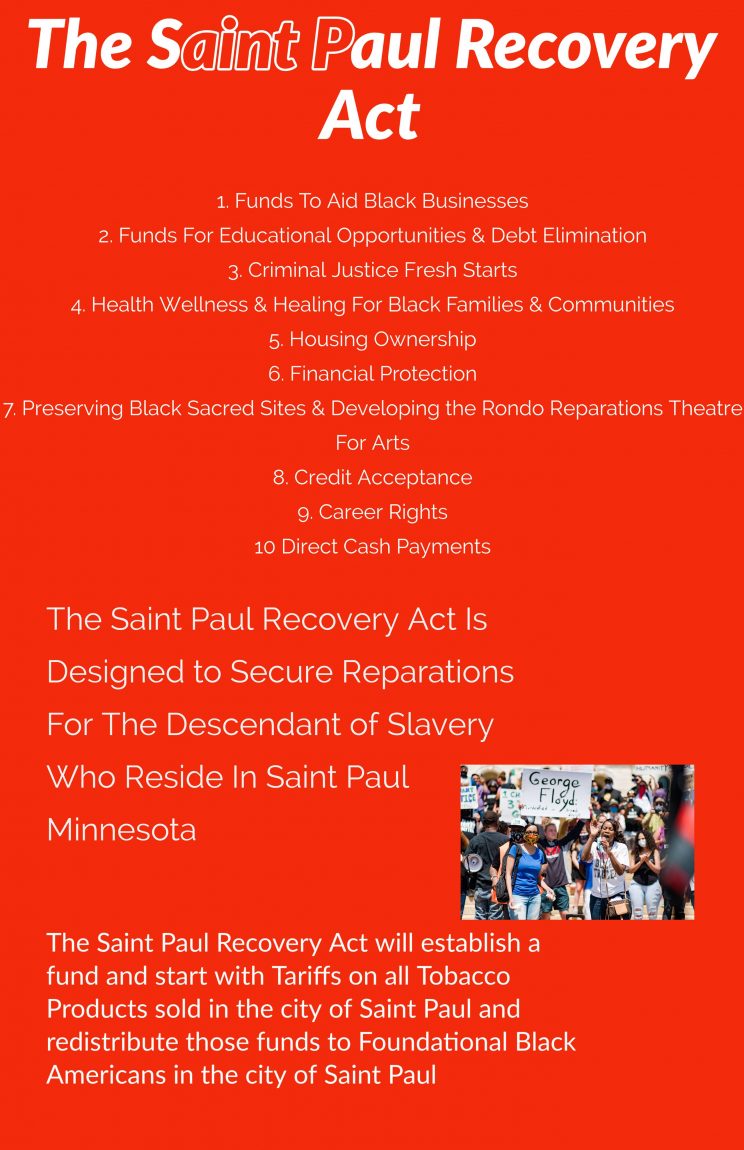 The Recovery Act was created out of H.R. 40 which was passed in 2019 by Congress and commissioned research on discrimination against freed slaves, the role of the government in slavery and the development of proposals for reparations.
"We are proposing taxations on tobacco to fund reparations for Saint Paul residents." — Trahern Crews, chair of the Minnesota Green Party Reparations Working Group
According to Crews the wealth gap in America is due to systemic racism. "Whites have 90% of the wealth and Blacks have under 3% of the wealth." Following research conducted by Crews, the St. Paul Recovery Act is said to help eliminate the economic disparities.
During the Economic Justice Reparations Rally and Protest at the capitol on July 2, Crews stated that the best way to address police brutality, the housing gap, medical care, and more, is through reparations. The determining factors of the proposal would apply to Black people who have been in the U.S. since 1965.
"Our proposal would be like, if your family went through sharecropping, Jim Crow, the lynching period, redlining, and redistricting" — Trahern Crews, chair of the Minnesota Green Party Reparations Working Group
In the next month, a resolution is being worked on with community leaders, organizations, and city council woman Jane Prince.
---
Follow us on Twitter, Facebook, YouTube, Vimeo, Instagram, Mastodon and Patreon.
Please consider a tax-deductible donation to help sustain our horizontally-organized, non-profit media organization: