Felony Charge Brought Against Native Organizer Over Minnesota Capitol Columbus Statue
Saint Paul, MN – The Ramsey County Attorney's Office charged Mike Forcia with Criminal Damage to Property – 1st Degree – Value Reduced Over $1000 for the toppling of the Christopher Columbus statue on June 10 at the Minnesota State Capitol grounds.
Although Mike Forcia is seen cheering as the statue met pavement, there is no footage showing him pulling the statue down. Forcia is an enrolled member of the Bad River Band of Lake Superior Chippewa and lifetime activist for Indigenous liberation.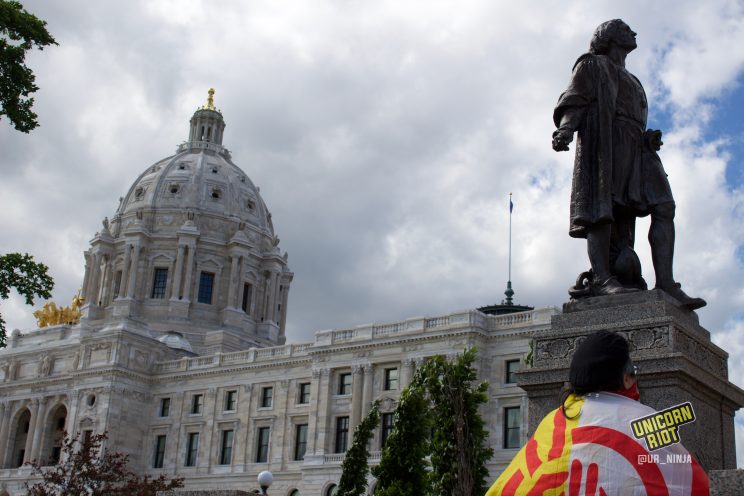 While charges against other participants remain a possibility, it was clear from the State's investigation that Mr. Forcia was the primary organizer, leader, and executor of the incident. According to the state, the investigation led to a 13,000 page file on the event.
"Ramsey County District Attorney's Office came up with charges today against my client," said attorney Jack Rice. "It is something that is incredibly personal to Mike and something incredibly personal to me. Any felony charge is a serious charge and can gravely affect a person's life."
After the statue fell to the ground, Forcia acknowledged that he would likely be held accountable for his actions in organizing the statue being pulled down.
The summer of 2020 has seen Columbus statues as flashpoints for protest around the country, including an outbreak of reactionary violence in Philadelphia in June covered by Unicorn Riot.
According to the criminal complaint, on June 10, 2020, at 11:28 a.m, Captain Eric Roeske of the Minnesota State Patrol received information regarding a Facebook event planned for 5:00 p.m. on June 10, 2020, purportedly by American Indian Movement (abbreviated as AIM) of the Twin Cities, AIM patrol of Minneapolis and Native Lives Matter, titled "AIM rally against racism! Today!"
Upon observing the event page, the State Patrol planned for additional troopers to be at the Capitol for the event.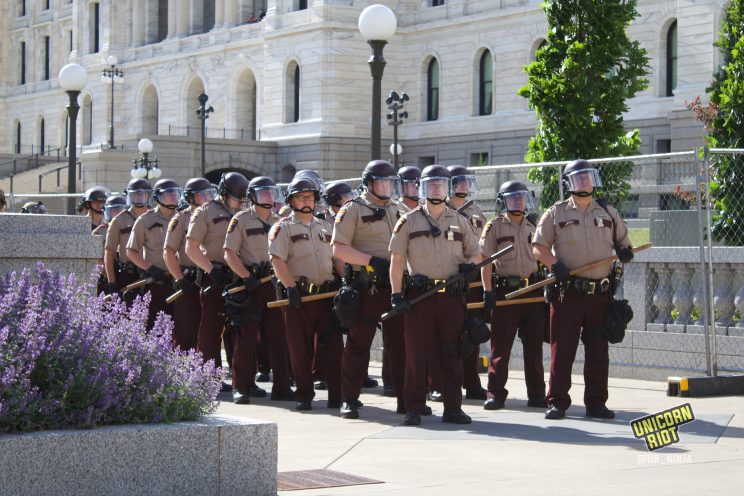 Some of those who attended the event on June 10 tied two ropes to the Columbus statue's neck and pulled it down with no resistance from the Minnesota State Patrol while multiple news sources streamed the event live on social media.
According to Mike Forcia, Gov. Tim Walz, Lt. Gov. Peggy Flanagan and Saint Paul Mayor Melvin Carter were called and invited to help pull the statue down hours before.
"I told each of them that we will save room at the front of the ropes for them," Forcia said. "No show. None of them."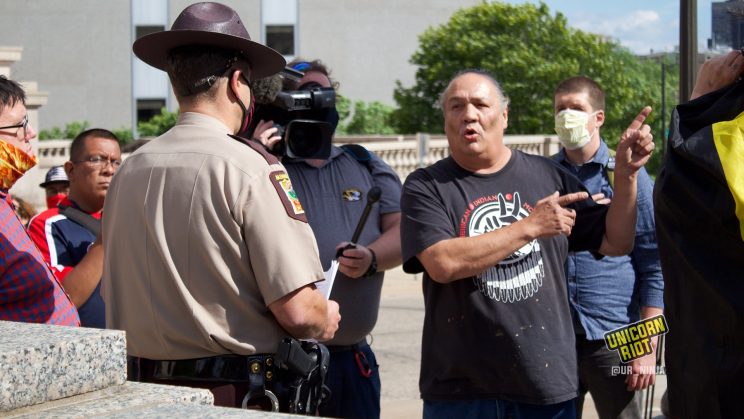 "We prayed, we sang, we danced, we laughed and we cried," he added. "It was a beautiful thing." State officials acknowledged that they had at least two hours' notice before the statue was taken down according to FOX 9.
"This is a story that has affected Native people across the country for more than 500 years," said Rice.
Rice is an enrolled member of the Luiseño Tribe in California with more than two decades of experience in practicing law. He's a former Central Intelligence Agency Special Agent, former prosecutor, and an internationally known journalist and television commentator.
The toppling of the statue made national headlines and sparked cities across the United States to remove symbols oppression and racism in public spaces, including statues of Christopher Columbus and Confederate monuments in cities such as Baltimore, Chicago, Richmond, Sacramento, Columbus and more.
"I wanted to help educate the ignorance and racism that has been predominant since the birth of the State of Minnesota," said Mike Forcia.
"People don't realize that systematic racism, slavery, white supremacy and genocide created America and having symbols representing that genocide is a continuous reminder of the atrocious history people continue to celebrate." — Mike Forcia
Currently, there isn't a warrant for Forcia's arrest. As a result of COVID-19 precautions, court proceedings are severely limited and according to attorney Rice, Forcia may make his first appearance to the court online at an unknown date from an unknown location.
"Given the impact of this action on residents across our state and the divisive reactions it has engendered, we believe administering justice in this case requires an extraordinary step — the active engagement and participation of our community," said Ramsey County Attorney John Choi.
"We are working on developing a restorative process to give voice to those divergent opinions and bring people who hold them together to determine how best we hold Mr. Forcia accountable while healing our community from the harm that was caused." — Ramsey County Attorney John Choi
Criminal damage to property in the first degree is a felony in the State of Minnesota punishable by up to 5 years in prison and/or fines reaching up to $10,000.
Standing on the remains of the #ChristopherColumbus statue that fell today at the #Minnesota State Capitol, an #Indigenous man drums while his voice joins others' in song.

June 10, 2020 pic.twitter.com/myfHUlFQFa

— Unicorn Riot (@UR_Ninja) June 11, 2020
According to Rice, state investigators are looking for the names of everyone on the rope and the ropes that were used to pull the statue down.
"They are filled with hate, ignorance and racism," Forcia said. "Now we have to make them see why [removing the Columbus statue] was so beautiful, healing and necessary."
See the complaint below.
Forcia, Michael Anthony 8.13.20_Redacted

[NOTE: AIM was neither the actual organizer of the event nor affiliated with the organization of the protest according to statements made by National AIM President Frank Paro. According to the State's criminal complaint, Mr. Paro told Mr. Perrote, Tribal Liaison for the Minnesota Department of Public Safety, that they were actively trying to keep people from attending the event. In a phone interview on June 15, 2020, President Paro confirmed that Mr. Forcia is not affiliated with the National AIM organization.]
Cover photo by Darren Thompson.
---
Unicorn Riot's Coverage of Columbus Statue Protests:
Follow us on X (aka Twitter), Facebook, YouTube, Vimeo, Instagram, Mastodon, Threads, BlueSky and Patreon.
Please consider a tax-deductible donation to help sustain our horizontally-organized, non-profit media organization: