Ramsey County Sentences Native Organizer for Columbus Statue Toppling
Saint Paul, MN – A Minnesota court recently agreed to an uncommon approach to resolve criminal charges filed after the statue of Christopher Columbus was toppled at the Minnesota Capitol on June 10, 2020.
Ramsey County Chief Judge Leonardo Castro accepted the restorative justice approach proposed by the Ramsey County Attorney's Office. Under the arrangement, a suspended prosecution would end in no conviction for defendant Mike Forcia.
Forcia agreed to perform 100 hours of community service by educating the public about the cultural genocide Indigenous peoples endured during the development of the United States. In exchange, the State of Minnesota agreed to drop all charges.
Ramsey County filed charges against Mike Forcia on August 14, 2020, with Criminal Damage of Property in the 1st Degree with Value Reduced Over $1000, a felony punishable by up to 5 years in prison and/or fines up to $10,000.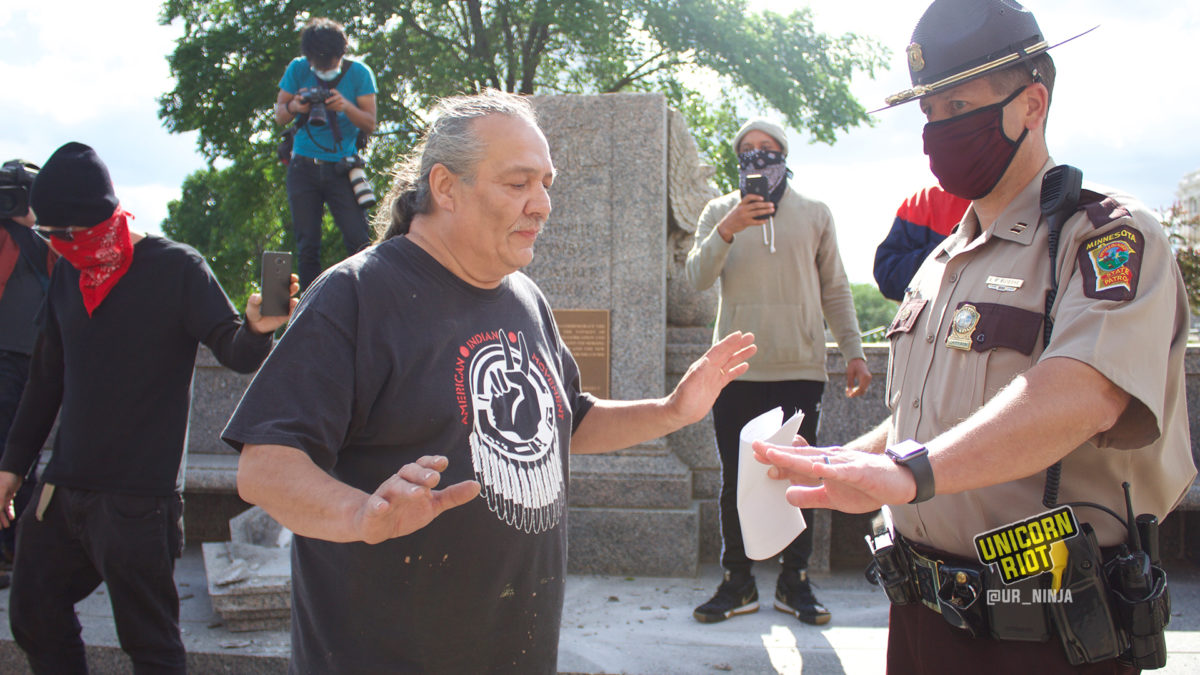 The Minnesota Bureau of Criminal Apprehension led an investigation that produced a 13,000 page file identifying Mike Forcia as the primary organizer, leader, and executor of the incident. Forcia is an enrolled member of the Bad River Band of Lake Superior Chippewa, the American Indian Movement, and a lifelong activist for Indigenous peoples and their rights.
Forcia can be seen in videos cheering as the statue was toppled, but there is no footage of him pulling the statue down.
On August 13, 2020, Ramsey County Attorney John Choi's Office released a statement promising to "engage community in holistic restorative justice process, bringing divergent perspectives together to understand the harm caused and determine how best to repair it."
Ramsey County's approach was borne out of divisive reactions from residents across Minnesota and required an extraordinary step that Ramsey County Attorney John Choi described as "participation of our community".
The restorative justice approach involved three talking circles that were hosted virtually by a collaboration organized by Ramsey County. The conversations included the voices of law enforcement, religious organizations, educators, political party leaders, grassroots organizers, Native leaders, and the media. All had the opportunity to participate and voice their concerns over the toppling of the Columbus statue and agreed that prison time would be harmful in this case for various reasons, according to Assistant Ramsey County Attorney Sarah Cory.
"We cannot ignore that the act in this case was an act of civil disobedience," said Assistant County Attorney Cory said in the sentencing hearing. "Punishment would not further the goals of uniting community or achieving justice in these circumstances."
"Accountability in this case was acknowledged by consensus will be community service," Cory told Judge Castro via Zoom.
"Teaching is exactly what I wanted, from day one," said Mike Forcia to Unicorn Riot.
"The people must be educated on the ugly birth of the country."

"When we know the truth, we will be free."

Mike Forcia
Restorative Justice
In a statement not often heard in American courtrooms, Assistant Ramsey County Attorney Cory gave various justifications for the deal including systemic racism, cultural oppression and genocide, historical trauma, and more.
"As the prosecutor, I acknowledge that the violence, exploitation, and forced assimilation that has been inflicted upon Native people has been perpetuated from colonial times into modern times,

And the trauma resulting from it is still present. The impact of those harms is largely unrecognized and unknown to the dominant culture."

Ramsey County District Attorney Sarah Cory
"I also recognized that the legal process, of which I am a part of, is reflective of the perspectives of the dominant culture," continued Attorney Cory.
Although the restorative process may seem unique and innovative in the criminal justice system, it definitely isn't among Native people and communities—a fact acknowledged by Judge Castro.
"I want to commend everyone in this matter," remarked Castro at the conclusion of the sentencing hearing. "It is a step towards healing that includes the voices of many people."
"Mike's case and this resolution is not just about restorative justice, but about transformative justice,

There are many perspectives, some who agree and some who disagree, and their voices all matter."

Defense Attorney Jack Rice
The toppling of the Columbus statue made national headlines and sparked cities across the United States to remove or cover symbols of racist oppression in public spaces. This included statues of Christopher Columbus and Confederate monuments in cities such as Baltimore, Chicago, Richmond, Sacramento, Columbus, Philadelphia, and more.
Unlike a trial, the restorative justice process undertaken by Ramsey County included evening conversations with a series of questions and opportunities for participants to respond. The participants contributed to the agreement accepted by Judge Castro and involved many volunteered hours, which was a process many remarked likely wouldn't have happened without the COVID-19 pandemic.
Financial restitution for the Columbus monument will not be a condition of the agreement, due to uncertainty around what ultimately will be done with the statue. The State of Minnesota estimated that the cost to repair the Columbus statue is at least $154,553.
When Forcia completes his community service, he will submit a letter acknowledging the harms caused by his actions and the actions he agrees to take to repair those harms. Once these steps are completed, the State of Minnesota will dismiss all charges against Mike Forcia.
"I look forward to serving the community," said Mike Forcia at his sentencing hearing.
"What we have been advocating for is to insure that what will grow out of this is that those voices will be heard," said Forcia's lawyer Jack Rice.
See the Restorative Justice report created by Beverly Bushyhead and Dr. Raj Sethuraju in collaboration with the Ramsey County Attorney's Office and the suspended prosecution agreement below.
12.7.20-SUMMARY-REPORT-AND-RECOMMENDATIONS-Restorative-Justice-Process-for-Columbus-Statue-incident

Forcia-Suspended-Prosecution-Agreement-12.7.20

---
Follow us on X (aka Twitter), Facebook, YouTube, Vimeo, Instagram, Mastodon, Threads, BlueSky and Patreon.
Unicorn Riot's Coverage of Columbus Statue Protests:
Please consider a tax-deductible donation to help sustain our horizontally-organized, non-profit media organization: