Authorities Visit Loring Park Tent Encampment, Bring Eviction Scare
Minneapolis, MN – On Monday afternoon, authorities visited the Loring Park Sanctuary to speak with residents of the outdoor tent community, stoking fears of another clearing of the park.
Three weeks ago, law enforcement bulldozed dozens of tents in Powderhorn Park, arrested about 20 people, and threw away all of the belongings of many unhoused people.
We heard from a resident of the Loring Park Sanctuary community who told us there wasn't anywhere to go and that if they are to be threatened with eviction, he wasn't going to leave.

Park residents heard today from Minneapolis Park Police Chief Jason Ohotto and LaTrisha VeTaw, Vice President of the Minneapolis Park Board.
VeTaw said their visit was to "answer any questions that the folks living here may have and explain the action that the [Park] Board took almost a month ago".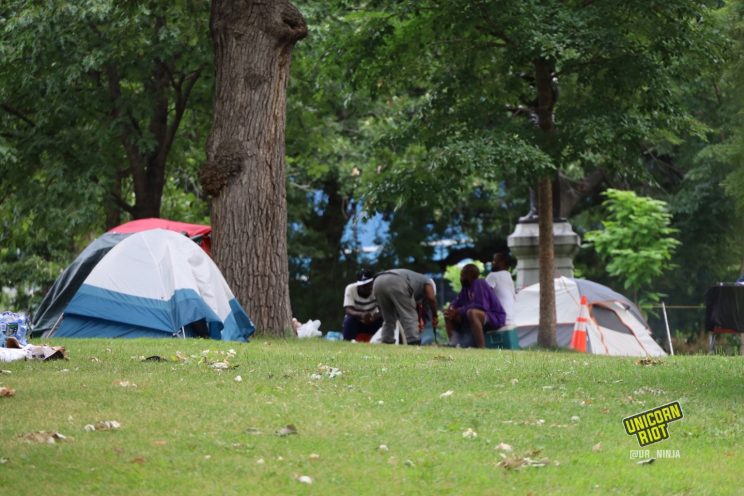 Last month, the Park Board passed Resolution 2020-267, voting to allow 25 tents at 20 parks for a temporary housing solution before winter arrives and as thousands are struggling during the COVID-19 pandemic.
Residents of the Powderhorn Park sanctuary shared their experiences being repeatedly displaced and evicted by police last week Monday, August 3.
People are forced to apply for "
temporary encampment permits
" that are reviewed by the Park Board staff.
The Park Board's encampment website lists updates on the parks designated as "Refuge Sites" along with other information. This past Friday, August 7, the Park Board updated its tracking of the temporary encampments.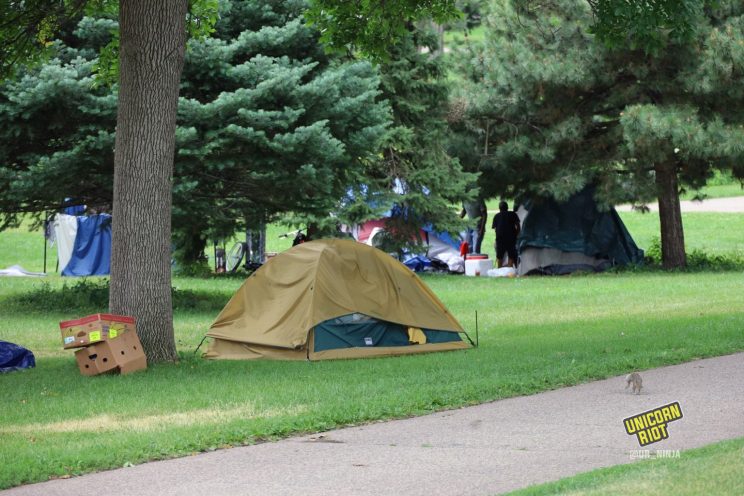 As the Parks Board attempts to enforce their new permit rules, many residents of outdoor communities are being presented with a bleak future, with no certainty of where they will be able to find safe shelter.
Unicorn Riot's 2020-23 Unhoused Crisis in Minneapolis:
Follow us on X (aka Twitter), Facebook, YouTube, Vimeo, Instagram, Mastodon, Threads, BlueSky and Patreon.
Please consider a tax-deductible donation to help sustain our horizontally-organized, non-profit media organization: