Youth Lead March After Ex-Cop Charged in Floyd's Murder Bailed Out
Minneapolis, MN – Hundreds of young adults and teenagers marched just hours after the ex-cop charged with George Floyd's death was released on bail.
Starting at George Floyd Memorial Square on 38th Street and Chicago Avenue at 6:30 p.m. on October 7, a fast-paced march circled streets in South Minneapolis before ending near the 'Say Their Names' Cemetery, two blocks from where Floyd was killed.
Unicorn Riot was live for the march (see below).
After being incarcerated for 131 days, charged with the murder of George Floyd, former Minneapolis Police officer Derek Chauvin was released from maximum security Oak Park Heights prison on a non-cash bail.
Mere hours after Chauvin's release, youth organized hundreds to gather and protest, demanding justice for George Floyd.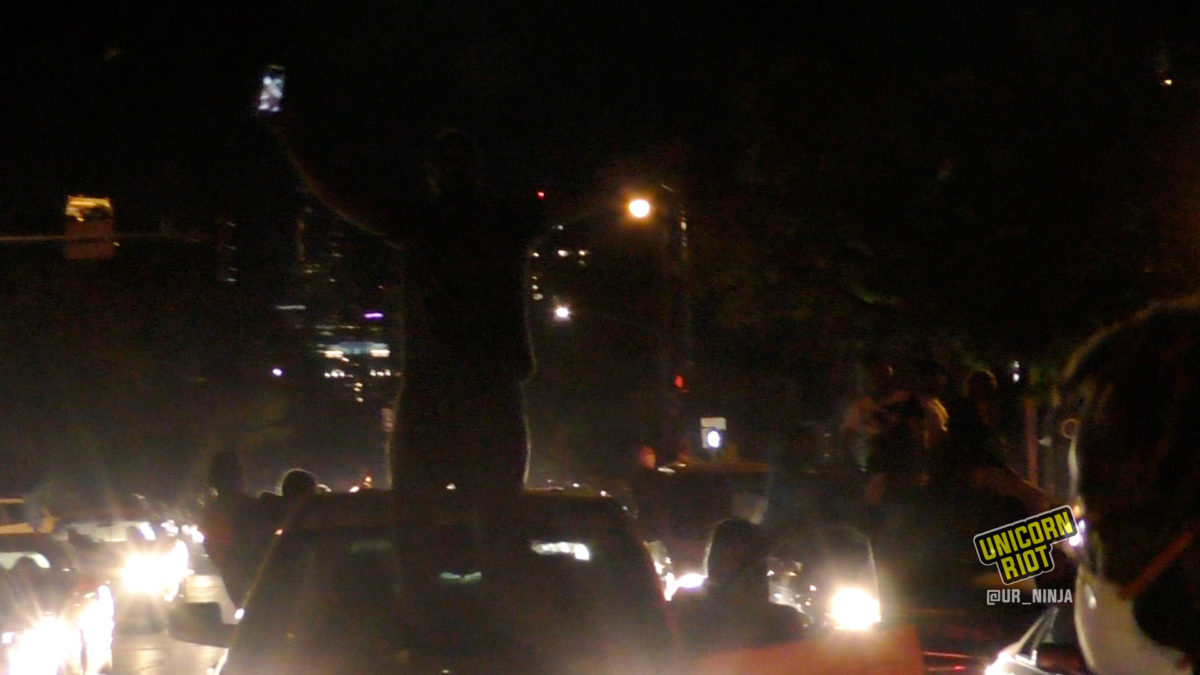 Bikers from Bikers Riding Against Police Brutality (BRAPB) provided traffic security for the march; hundreds of people in dozens of cars crawled behind the march.
"I want to be a teenager, I don't want to be out here protesting for basic human decency!" — Youth Participant
The majority of the youth participating in the march were in high school and had classes in the morning yet felt strongly about participating.
"This kind of stuff, if we weren't so mentally strong, this breaks people. As kids, that's mentally draining." — Youth Participant
"Fuck Derek Chauvin" chanted at this evening's #GeorgeFloyd march in #Minneapolis pic.twitter.com/TM61dx0YNi

— Unicorn Riot (@UR_Ninja) October 8, 2020
"I'm a Black girl in America, it's not a choice not to be active," a 16-year-old told Unicorn Riot. She said these times are historic and she can't sit back at home when she sees "[her] people out here just dropping."
"They suppress Black voices, Black womxn. […] That's why we raise a fist and fight back—because we're tired of this shit."

Youth speaker emphasizes that, as many have school or work tomorrow, tonight's march is ending.

Crowd chanting, "Black Women, They Matter Here"

— Unicorn Riot (@UR_Ninja) October 8, 2020
"In an ideal world we're able to abolish the police but until then we need a justice system that holds killer cops accountable." — March Participant
The new generation, fed-up they can't just enjoy their youth, has plans for change. The energy they exhibit shows no signs of losing steam. From the midst of smoke surrounding the 3rd Precinct in late May to the march on October 7, youths have been on the frontline of this renewed push for human rights and against police terror.
---
Follow us on X (aka Twitter), Facebook, YouTube, Vimeo, Instagram, Mastodon, Threads, BlueSky and Patreon.
Unicorn Riot's George Floyd Coverage:
Please consider a tax-deductible donation to help sustain our horizontally-organized, non-profit media organization: