Massive Crowd Outside Aurora PD in Solidarity with Elijah McClain & Portland
Aurora, CO — This evening over a thousand protesters demonstrated outside the Aurora Police Department (APD) to continue calling for justice for Elijah McClain, as well as, to show solidarity with Portland.
Unicorn Riot is covered the event, which you can check out below.
Aurora March Part 1:
Aurora March Part 2:
Aurora March Part 3:
Update 8PM MDT: Shortly after the march reached Interstate 225, there was a vehicle attack by a teal Jeep. Organizers stated someone among the march tried to shoot out the tires of the vehicle and that may have hit a marcher in the leg, but that person is not in critical condition and is expected to survive after medics attended to them.
A corporate news helicopter spotted the men driving the teal Jeep as they exited the vehicle in a nearby parking lot, after speeding away from the crowd they had driven through.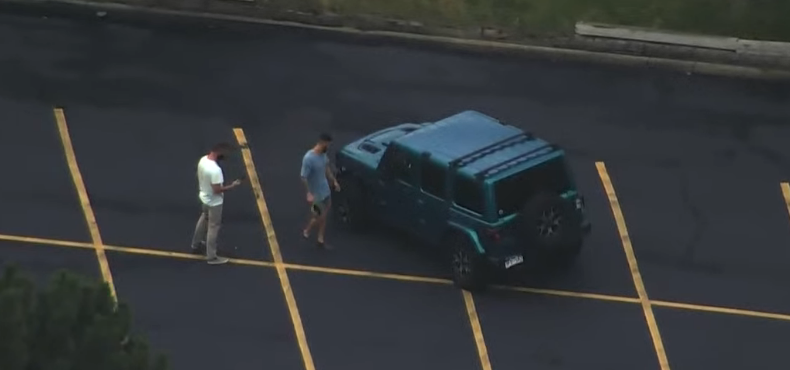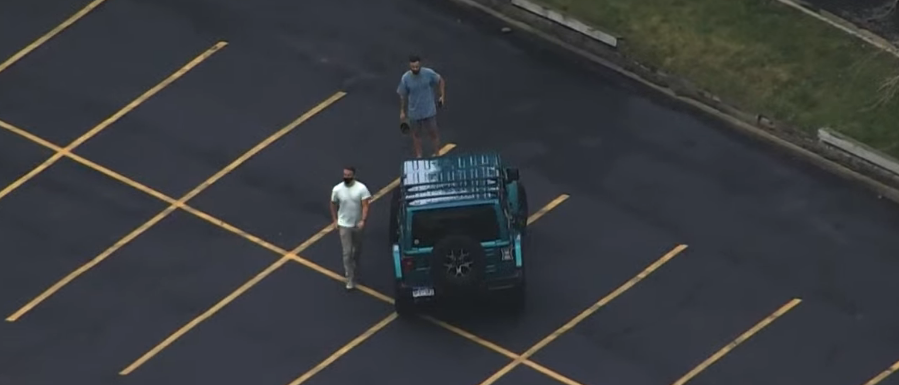 ---
August 23, 2020 will be the one-year anniversary of McClain's death, which his family, friends, and supporters nationwide believe was a murder.
With the persistent uprisings from coast-to-coast since Derek Chauvin knelt on George Floyd's neck leading to his death, protesters have received violent repression from local and federal law enforcement.
In Portland, federal agents have recently been renting unmarked vans and forcibly detaining protesters. On Wednesday, President Trump declared he will be sending federal law enforcement officers to other cities across the country, which is another reason why protesters in Aurora are demonstrating.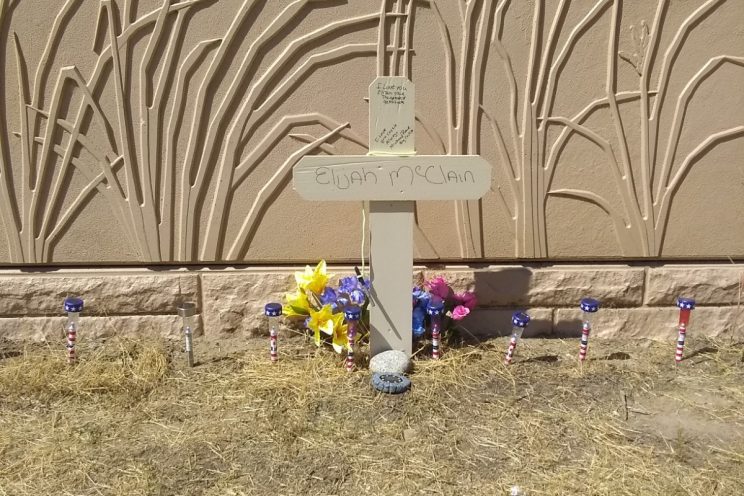 McClain, a twenty-three-year-old Black man, was walking home from a convenience store listening to music through his headphones and dancing, while also wearing a ski mask for warmth since he was anemic. Someone who saw him heading home thought McClain looked suspicious and decided to dial 9-1-1.
Below is a partial transcript from the 9-1-1 call (CW on hyperlink: police brutality, racism):
Caller: "There's a guy and he has a, he's walking. Let's see, the opposite of north, what's the opposite of north?"

Operator: "South."

Caller: "South, yeah, he's walking south on Billings Street, he has a mask on… he might be a good person or a bad person."
Two police officers arrived on the scene, and as the body-worn police cameras show, the first officer to speak to him quickly and aggressively stated "Stop right there! Hey, stop right there!" and then tells McClain he has a right to stop him because he's being suspicious. The two officers then walk right up to him and start touching him, and McClain tells them to let go of him and that he is an introvert and asks the officers to respect the boundaries that he was asking for.
One officer continues to tell him to relax and stop tensing up and then says:
"Relax or I'm going to have to change this situation."
Soon after, the two officers try to pin him to the ground and call for more units. One of the officers ends up putting him in a carotid hold, which is a type of chokehold that cuts off blood flow through the carotid arteries to the brain, causing McClain to temporarily go unconscious. When he came to, an officer continuously asked him what kind of drugs he had taken. He then threw up and was forced to lay his head down on his vomit because two officers kept kneeling on his body to keep him on the ground.
About 45 seconds after vomiting, another officer gave him a warning:
"If you keep messin' around I'm gonna bring my dog out and he's gonna dog bite you, you understand me? Keep messin' around."
The Aurora Fire Department arrived on the scene and medic Jeremy Cooper of Aurora Fire allegedly injected 500 mg of ketamine into McClain to sedate him.
An ambulance arrived to transport him to the hospital, and during the ride, his heart stopped beating and he wasn't breathing. He spent three days in the hospital, and on the third day, he was declared brain-dead. There have been no criminal charges against anyone involved in McClain's death.
On June 25, Colorado Governor Jared Polis ordered prosecutors to reopen the investigation into McClain's death.
Jason Rosenblatt, one of the officers involved in the encounter which led to McClain's death, was fired on July 3, however, not for his involvement in the encounter. His firing resulted from a photo Rosenblatt and two other officers were in where the carotid hold used on McClain was acted out. The photo was taken near McClain's memorial site.
Stay tuned for updates during the protest this evening.
---
Please consider a tax-deductible donation to help sustain our horizontally-organized, non-profit media organization: