Massive Mothers' March Demands Police Murder Cases Be Reopened
Saint Paul, MN – Families from across the U.S. whose loved ones had been murdered by police converged at Minnesota's State Capitol, calling for the re-opening of all cases of police violence and hate crimes. The march, which included over one hundred family members, took place almost 50 days after George Floyd's horrific murder by Minneapolis Police officers.
The Twin Cities has become the epicenter of renewed national demands for police accountability. Helping to push the demand are those impacted most by the actions of the police, the victim's families.
On July 12, 2020, over a thousand people marched in the National Mother's March and Weekend Against Police Violence in Saint Paul. The march featured family members from high-profile cases as well as other cases unseen and rarely heard. We spoke with numerous family members, all still grieving the loss of their loved one while continuing to fight for justice, change, and accountability.
Organized by the Justice Squad, Minnesota Families Supporting Families Against Police Violence, Take a Knee Nation, Communities United Against Police Brutality (CUAPB), 10K Foundation, Justice for Brian Quinones, Mass Action Against Police Brutality, Black Lives Matter Chicago, and others, the event was heavily guarded against potential threats by armed patrol units.
Joining the families and organizations like the Sisters of the Movement were many coalitions and groups coming from out of town to take part in the march.
Masses of supporters & ~100 families of lost loved ones marched down Univeristy Ave today in #StPaul at the National Mother's March and Weekend Against Police Violence.

MN Freedom Fighters & the New Black Panther Party provided security.

More media from this event coming soon. pic.twitter.com/Iaru8bJkFB

— Unicorn Riot (@UR_Ninja) July 12, 2020
After George Floyd's murder and the uprising that followed, many family members across the country have been dealing with a reinvigorated sense of grief and loss combined with frustration that their particular cases may have not been recognized. Events such as the Mother's March allow for some of their stories to be heard.
"My son's case never got that attention that he deserved so that's why I'm out here. If I wasn't out here, if his mama wasn't out here, nobody would know about what happened to my baby and the world deserves to know what happened to him. They murdered him and we don't need these murderous cops out here, they're still working." — Valerie Rivera, mother of Eric Rivera
The event started with a rally at Dale and University and the march walked east on University Ave. and ended at the Capitol with more speakers, food, vendors, and a bounce house for children to play in.
One of the main slogans chanted was "Every case matters!"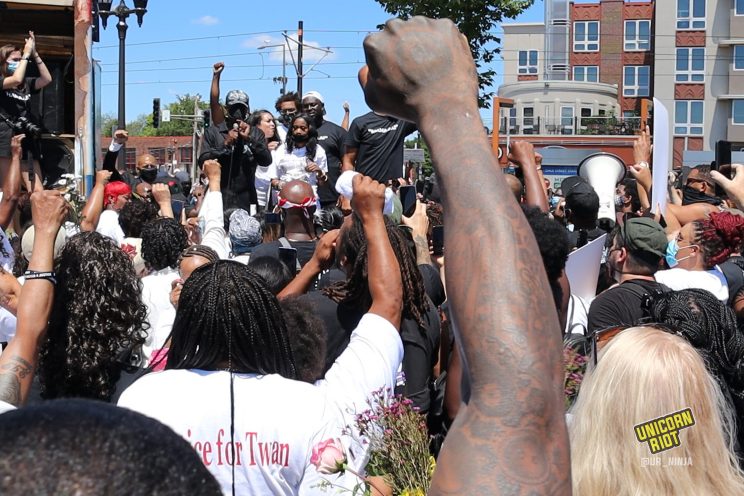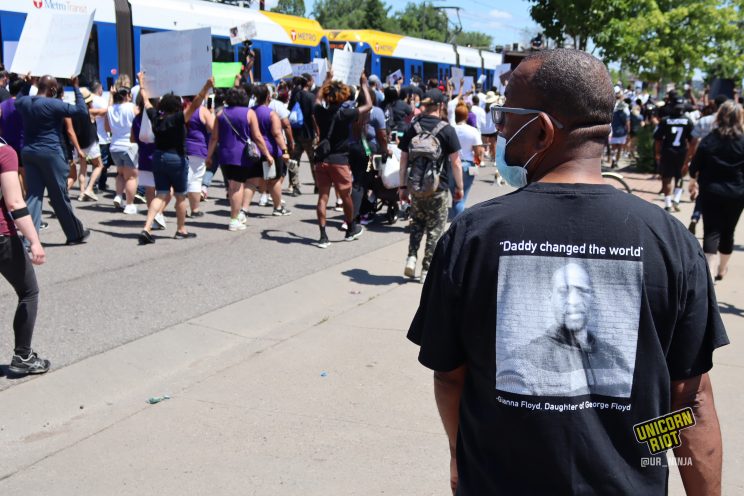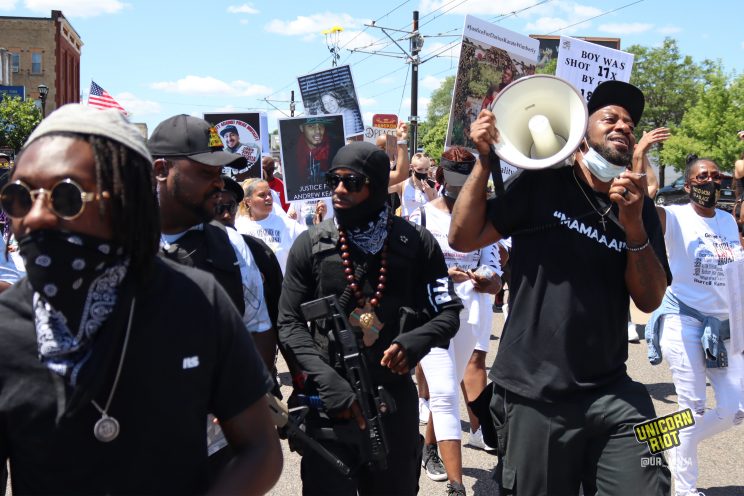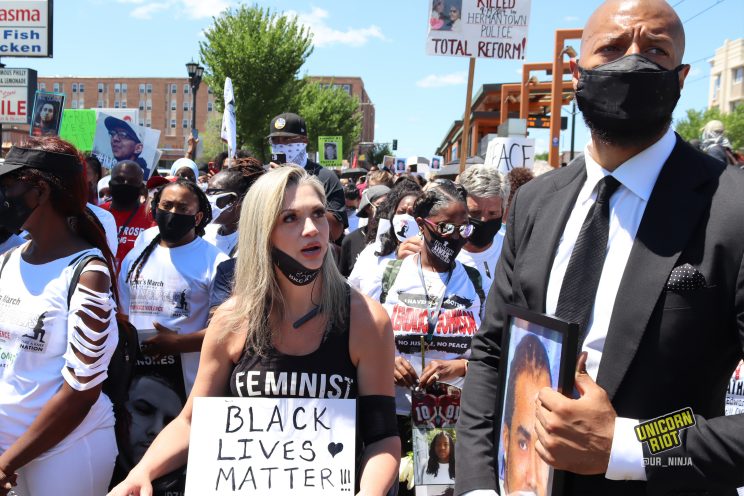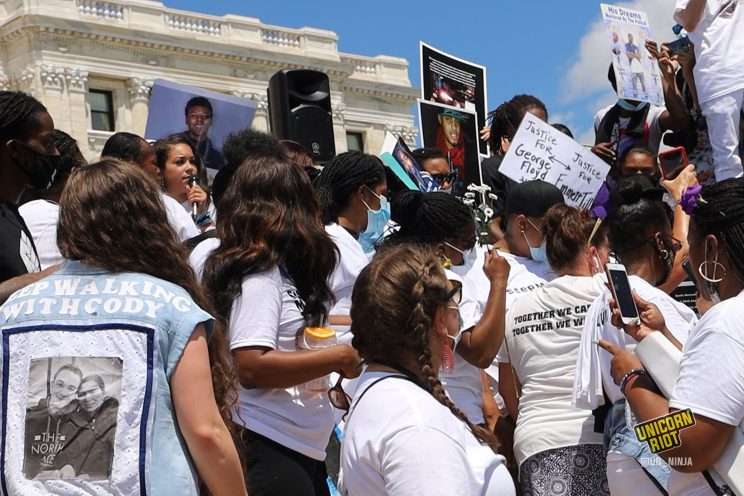 Pamela Brooks, whose 17-year-old son Amir was killed in 2014 during a chase by Prince George County police in Maryland, said that it was important for the community to be involved in seeking justice for all victims of police violence and to not wait until it's a "high-profile case."
"Who would have thought so many of us would have lost a child to a police officer. Someone that is suppose to protect and serve our children. Our children use to look up to police officers. Our children used to want to be police officers. No one wants to be a police officer any more because of this." — Pamela Brooks, mother of Amir Brooks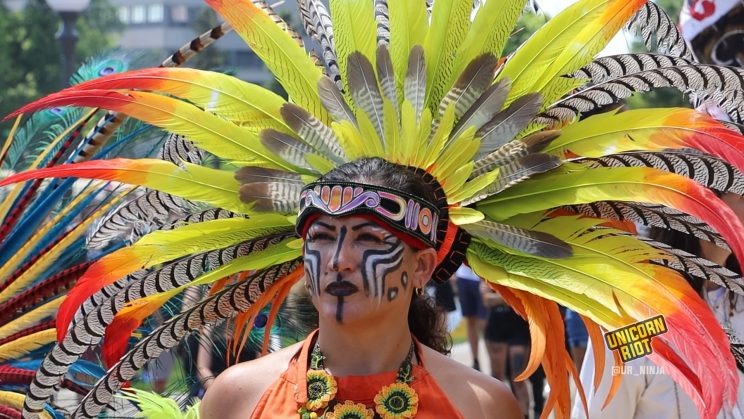 During the weekend of events, families gathered before and after the march, providing support for each other, discussing ideas, and building further coalitions.
The rate of recorded police killings has hovered around 1,000 per year for last five years. Among every one of those killed was a life with a mother, father, family, and friends. As the numbers continue to add up, so do those impacted, drawing more importance to gatherings like the Mother's March and the community of support that surrounds it.
Many of the families are working towards different police accountability bills in their respective hometowns and those with closed cases and no justice are renewing calls to reopen investigations in to the killings of their loved ones.
---
Follow us on X (aka Twitter), Facebook, YouTube, Vimeo, Instagram, Mastodon, Threads, BlueSky and Patreon.
Please consider a tax-deductible donation to help sustain our horizontally-organized, non-profit media organization: