Leaks Expose Conservative Movement Funders Prince and DeVos Family Offshore Money
Nassau, Bahamas – Former U.S. Navy SEAL and founder of Blackwater Inc., (now 'Academi') Erik Prince, and his extended family have been tied to a new batch of data leaks, revealing offshore business entities filed in the Bahamas, Unicorn Riot has found. In these leaks, Prince is confirmed to be one of the owners of Salamis LLC, a Blackwater aviation front company which provided services for the U.S. military in Afghanistan. Prince's sister, Betsy DeVos, is currently the U.S. Secretary of Education, and married to Richard "Dick" DeVos Jr. The wealthy Prince and Devos families are both based in Michigan.
The Prince family owes its wealth to Erik and Betsy's father Edgar Prince, who made his fortune manufacturing automotive parts under the Prince Corporation. The DeVos family rose to prominence via the controversial Amway marketing empire, and has Bahamas-area dealings documented within the leak.
Since the release of the "Panama Papers" in 2016, a series of offshore banking data leaks has continued to expose the private holdings of many of the world's wealthiest elite.
This latest batch of leaks was obtained by the transparency publishing collective Distributed Denial of Secrets (DDoS) and shared with a European journalist network known as European Investigative Collaborations (EIC) for a project dubbed "Tax Evader Radar".
This report looks at diverse but related threads: the origins and publishing of these leaks, what the new data shows about their business activities, the sprawling global web of intrigue spun by Erik Prince, and the important behind-the-scenes conservative networks sponsored by the Prince and DeVos families from the 1980s to the present day.
---
DDoS and Origins of the Bahamas Leaks
DDoS has published a number of large information leaks, starting in late 2018. Among these are several releases that have shed light on much of the estimated $5.6 trillion stashed away in secretive tax havens and offshore jurisdictions around the world.
DDoS published two major releases in late 2019, Unicorn Riot reported on both; the #29Leaks, a data set from Formations House, a London-based firm that creates thousands of corporate shells around the world, and the massive hack of Cayman National Bank and Trust, attributed to hacktivist "Phineas Fisher".
The group was recently banned from Twitter due to their posting of #BlueLeaks, a large tranche of data from controversial intelligence 'fusion centers', which revealed confidential information involving various U.S police officers and agencies.
DDoS members have stated they do not perform any direct access to gather the data themselves, but instead accept and publish datasets from third parties, that are often anonymous or pseudoanonymous figures. (Without providing evidence to support their claim, the Bahamas government accused DDoS of the incursion itself, which DDoS denies.) While DDoS does not discuss its sources, it can be inferred sometimes these are internal whistleblowers, and sometimes the leaks are the result of digital intrusions and exfiltrations:

"Wealthy individuals contribute to global inequality by using the Bahamas as a tax haven. Cruise corporations like Royal Caribbean; fossil fuel giant ExxonMobil; the majority owners of BMW, and the DeVos and Prince family: all appear in the Bahamas corporate registry.

These companies built their brands contributing to the climate catastrophe, serve only their own shareholders, cheat the tax system of revenues, and take advantage of the infrastructure like roads, pipelines and ports that the public purse often originally funded.

Our publication of Xray and the most up-to-date Bahamas corporate registry brings some needed transparency to a famously opaque jurisdiction." — Lorax B. Horne, editor-in-chief of Distributed Denial of Secrets
Before the days of DDoSecrets publishing data sets like this, technical problems may have caused leaks from the offshore financial world of the global elite. In 2016, Unicorn Riot reported that the "Panama Papers" offshore law firm Mossack Fonseca had misconfigured its servers and exposed their source code, showing that key players in the field of elite tax evasion do not always follow the best digital security practices.
---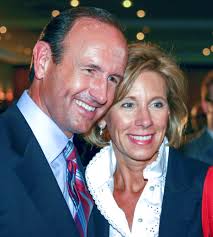 DeVos and Prince Family Holdings in the Bahamas
In February 2020, DDoS shared its most recent offshore data leak, from the Bahamas corporate registry with EIC and in May with Unicorn Riot. In that same month, EIC began publishing a series of articles from its members under the "Tax Evader Radar" project. Files in this leak stretched back decades. Filings legally linking Bahamas corporate entities to the Prince and DeVos families are a small yet noticeable part of these leaks.
After analyzing some of the leaked Bahamas filings, Unicorn Riot found that Daniel G. DeVos, the current owner of the Orlando Magic basketball team and the CEO of DP Fox Ventures, (the brother of Betsy's husband, Dick Jr.), appears on a number of leaked documents from the Bahamas corporate registry. DP Fox Ventures developed a bay and marina in the Bahamas.
The leaks also confirm Erik Prince as the direct owner of Blackwater aviation front company Salamis LLC. Salamis is no longer operational and aircraft it once operated passed to EP Aviation LLC (another Blackwater front company named after Prince's initials). Prince owns majority shares in numerous aviation companies.
In April of 2016, the Intercept reported that one of these companies, 'Airborne Technologies', was commissioned to modify civilian "crop duster" airplanes with mounted machine guns and modern surveillance equipment. One of these weaponized civilian aircraft was sold to Salva Kiir Mayardit's forces in South Sudan. When executives from Prince's current mercenary company, Frontier Resources Group (FRG), realized these planes had been weaponized they decided against using or selling the aircraft for fear of violating U.S. export controls.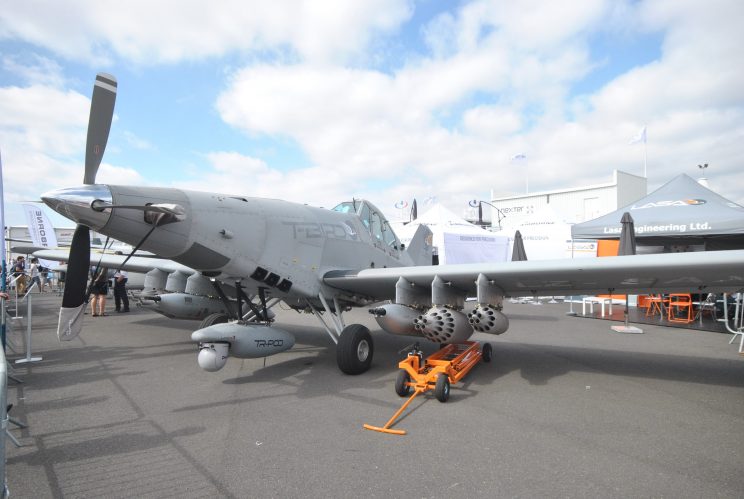 ---
Murky Currents: Erik Prince and Blackwater USA
Blackwater USA has exemplified the common style of operations among private military companies: constantly reconfiguring and refinancing to navigate legal and political constraints, led by businessmen who fancy themselves rugged soldiers of fortune. (Here is one guide to the labyrinthine network of entities.)
After moving out of the U.S. in late 2010 to Abu Dhabi, UAE, Prince founded another private security company based in Hong Kong and majority-owned by the Chinese government called 'Frontier Services Group'.
FSG focuses on private security for Chinese businesses involved in resource extraction in Africa. In 2019, FSG also secured a contract with the Chinese government to build a training base in China's Xinjiang province where hundreds of thousands of ethnic Muslim Uighurs have been involuntarily detained in China's so-called 're-education camps' and other coercive institutions.
---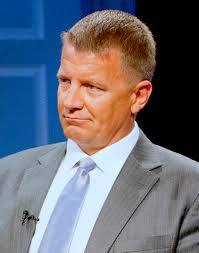 Prince Connections with the Trump Administration
Since moving away from the U.S., Prince has sought a lower public profile and focused on his global security contracts. His connections with the Trump Administration once again involved him in a number of serious political controversies and alleged crimes.
Prince was a person of interest in Robert Mueller's investigation into Trump's alleged collusion with the Russian government before the 2016 election. Investigators uncovered two meetings in which Prince was present.
The first took place in August of 2016 at Trump Tower, where Prince met with Trump and others to, in his words, "discuss Iran policy". It was reported that this meeting aimed to coordinate United Arab Emirates (UAE) and Saudi support for Trump's presidential campaign. Prince was living in UAE at the time and was working as a security contractor for the UAE government.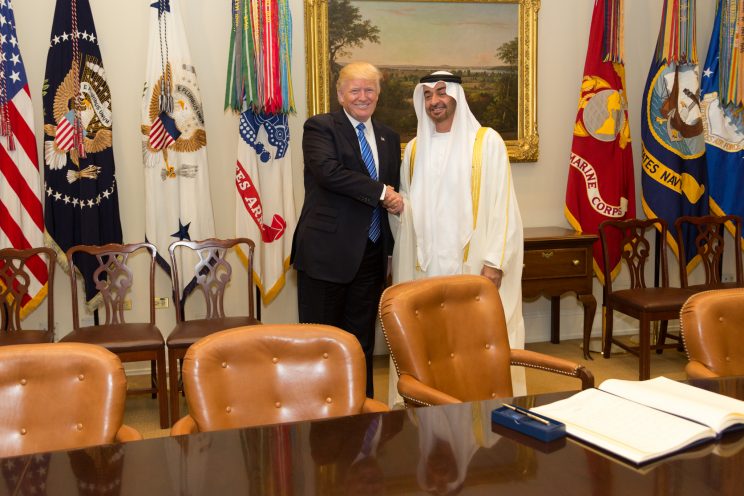 The second meeting took place in January 2017 in the East African archipelago of Seychelles, and was organized by UAE Crown Prince Mohammed bin Zayed Al Nahyan (known as "MBZ"). In this meeting, Prince was present along with a Russian billionaire named Kirill Dmitriev, CEO of the Russian Direct Investment Fund. Prince was believed to have served as an unofficial representative for the Trump Administration while Dmitriev was believed to be representing Russian president Vladimir Putin.
This series of meetings, along with the fact that Prince's sister was appointed by Trump to serve as the current U.S. Secretary of Education, seems to show his close relationship to the Trump Administration. Prince, however, has continued to deny these connections. In 2017, during his House Intelligence Committee testimony he neglected to bring up his later-revealed meeting at Trump Tower, stating that he had "no formal communications or contact, nor any unofficial role, with the Trump campaign". Prince also testified he was working most closely with Steve Bannon to provide geopolitical policy papers to others in the campaign. (Full transcript)
In February 2020, it was reported Prince was under investigation by the U.S. Department of Justice for misleading Congress.
Prince's connection to Trump was also revealed via his connections to Project Veritas, a conservative media sting group which seeks to infiltrate and discredit Trump's political enemies.
In March 2020, the New York Times reported that Prince recruited ex-spies from the U.S. and United Kingdom to work with Project Veritas. One of these agents, former MI6 officer Richard Seddon, helped run an operation to collect documents and spy on conversations at the Michigan office of the American Federation of Teachers (AFT). Prince and his sister Betsy both have strong motives to oppose and work against the teachers union. The AFT has provided support to and is considered to be allied with the Democratic Party and has opposed Betsy Devos' drastic budget cuts in education and redirection of resources to private and parochial schools.
The Times reported Richard Seddon sent Liberty University graduate Marisa Jorge to infiltrate the union. Ms. Jorge was also sent to infiltrate the campaign of Abigail Spanberger, an ex-CIA officer who went on to win a U.S. House seat in Virginia. Project Veritas and their leader James O'Keefe were held responsible for both of these operations.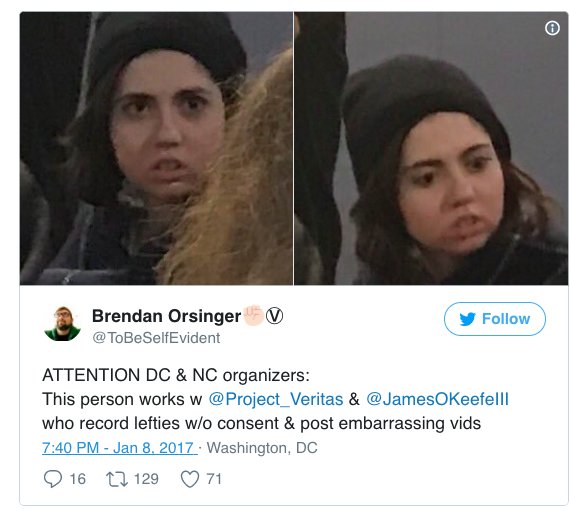 Unicorn Riot reported from the J20 trial proceedings in 2017 and 2018 that Project Veritas had released misleading, covertly recorded videos in an attempt to intensify state crackdowns against Trump inauguration protesters. This purported evidence was exposed and challenged in court, and in turn contributed to the collapse of the vast majority of charges and dismissal by jury trial.
---
Funding the Christian Conservative Right
In addition to operating businesses filed overseas, the Prince and DeVos families have also used their revenue to influence American politics. For generations, the two families have poured millions of dollars into numerous Christian right-wing think tanks, foundations and non-profits. One highly secretive and powerful right-wing think-tank linked to the Prince and DeVos families is the Council for National Policy (CNP).
The late Richard DeVos was once president of the behind-the-scenes, conservative hardliner organization, which was founded in 1981 by pastor Tim LaHaye, who co-created the apocalyptic "Left Behind" book series. Erik Prince's and Betsy DeVos' mother Elsa Prince was also a member of the organization. CNP is an "elite club" forming a "shadow network" that is the "secret hub of the radical right" in the U.S., uniting Christian fundamentalists and wealthy families to advance shared interests, as a 2019 book by Anne Nelson details.
Nelson points out that CNP president, Tony Perkins, and longtime Christian conservative movement leader, Ralph Reed, played a key role in bringing evangelical support to the Trump campaign in 2016, after years of building closer ties between political evangelical groups and organizations backed by the Koch brothers like Americans for Prosperity and Tea Party Patriots.
The tax-exempt Prince family foundation directed by Erik and chaired by Elsa Prince contributes heavily to multiple organizations in this network, including $15,000 to CNP in the fiscal year ending June 2019, according to its 990 IRS filings, along with $25,000 to the Family Research Council, $15,000 to the Leadership Institute, and $10,000 to Focus on the Family, ending the year with more than $15 million in total assets. It was founded in 1979, two years before CNP's launch.
---
CNP History of Influence Includes Recent Education & Coronavirus Policy Pushes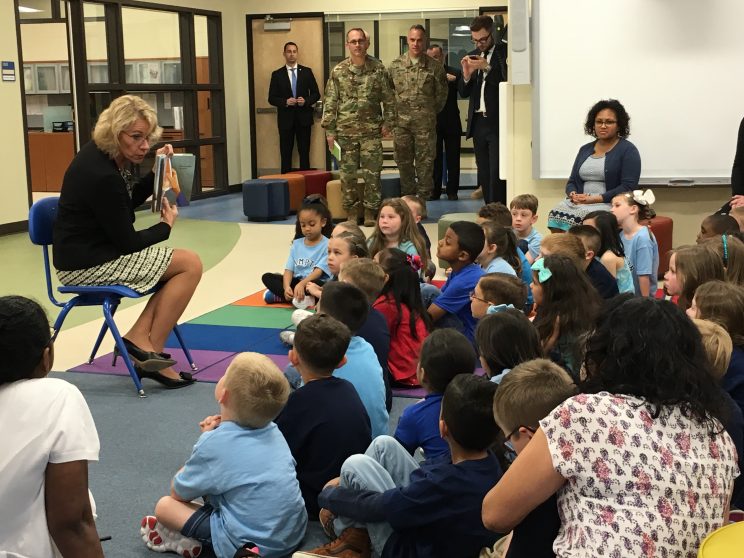 In the 1990s, Pat Robertson, Iran-Contra conspirator Oliver North, and Ed Meese, helped lead the CNP along with Texas oilman Nelson Bunker Hunt, whose family had long supported right-wing causes like the John Birch Society.
In early 2017, Right Wing Watch reported an ambitious education agenda (full PDF) proposed by CNP to Secretary DeVos, including "a gradual, voluntary return at all levels to free-market private schools, church schools and home schools as the normative American practice." The Trump administration and Betsy Devos have submitted an education proposal budget for 2021 which if approved would cut an estimated $5.6 billion in school funding.
The Southern Poverty Law Center obtained a 2014 membership list for the CNP and found it included many prominent right-wing politicians and businessmen like Kellyanne Conway, Frank Gaffney, Jerome Corsi, Joseph Farah, and Leonard Leo, longtime director of the Federalist Society, which has outsized influence over federal judicial nominations. Steve Bannon, whom Prince testified he worked with to provide geopolitical policy papers during the presidential campaign, was also listed as a CNP member in the 2014 index.
In 2014, CNP also included Michael Anthony Peroutka on its board of governors, who was also on the neoconfederate and white supremacist League of the South board. This was one of the main organizing groups behind the 2017 "Unite the Right" rally in Charlottesville. (See Unicorn Riot's Far Right Investigations Desk for related context and additional Unite the Right coverage here.)
In 2018, CNP's board of directors included Tony Perkins as its president, and Kenneth Blackwell, both of whom are key figures at the Family Research Council, one of the most homophobic policy organizations in America (Full 2018 990 filing).
On May 15, 2020, Alex Kotch at The Center for Media and Democracy reported that a sibling organization to CNP called CNP Action, a nonprofit, tax exempt 501(c)(4) 'social welfare organization', has been hosting conference calls and memos pushing to end coronavirus-related economic shutdowns. According to Kotch, CNP Action has hosted weekly conference calls to coordinate tactics around right-wing efforts to reverse governmental coronavirus quarantine policies.
---
The Long Game for Wealthy and Influential Families in the Conservative Right
The recent leaks from the Bahamas registry once again shed intimate details on how rich elites are able are get around domestic tax and corporate disclosure laws and manage billions, if not trillions, of dollars every year in offshore shadow economies. Some of those elites like Erik Prince and Betsy DeVos are then able to pour more money into political organizations that secure more influence at the highest levels of government.
While the wealthy Prince, DeVos and Trump families are just parts of a much bigger web of right-wing influence in American politics, their combined financial and political weight cannot be understated.
These families continue to shape the direction of public educational funds into private businesses and shadowy, privatized American military machinery. Tax-exempt revenue from international businesses run by these families also foots the bill for political expenditures and contributions to various right-wing political organizations.
The decades-long institution and relationship building through CNP and other organizations creates durable shields that protect these families from facing any serious consequences for questionable activity. This is due to their immense wealth and power as well as their remarkable ability to set ambitious political agendas and cut deals with federal law enforcement like the 2012 Blackwater/Academi deferred prosecution agreement that included Salamis LLC.
Regardless of U.S. election cycles, the political power and influence of the wealthy backers of the religious right within American politics will likely continue. As resistance towards their efforts continue to grow, one has to wonder just how long will their reign last.
---
Please consider a tax-deductible donation to help sustain our horizontally-organized, non-profit media organization: