Statues Toppled and Defaced in Minneapolis on Thanksgiving Day
Minneapolis, MN – As dawn arose on Thanksgiving Day in Minneapolis, two historical colonial statues were toppled and defaced. A George Washington statue was taken down across from the Minneapolis Institute of Arts and the Pioneers Statue at BF Nelson Park was vandalized with the words "no thanks," "no more genocide," "decolonize," "all colonizers are bastards," and "land back."
An autonomous direct-action affinity group organizing under the Pan-Indigenous People's Liberation (PIPL) network took credit for the action, which they say was partly in response to the callout for a "national decolonial day of action."
PIPL released a statement explaining why they chose to target these particular monuments:
"Statue of genocidal George 'Town Destroyer' Washington—settler-colonial war criminal & racist slaveowner—toppled at Washburn Fair Oaks Park. The 'Pioneers' statue at BF Nelson Park (donated by the capitalist Pillsbury family), memorializing the invasion of Dakota lands, redecorated to reveal its true purpose. It must fall.

These actions, in so-called Minneapolis, demonstrate our opposition to the vile white-supremacist 'celebration' of Thanksgiving, & show revolutionary solidarity between Indigenous & Black militants, racialized migrants & white-settler accomplices.

We believe in self-determination for all oppressed & exploited peoples! Working-class communities of all nations & races must unite! End the illegal U.S occupation of Turtle Island! Abolish Amerikkka! All power to the people!"

Statement of action by members of the Pan-Indigenous People's Liberation (PIPL) network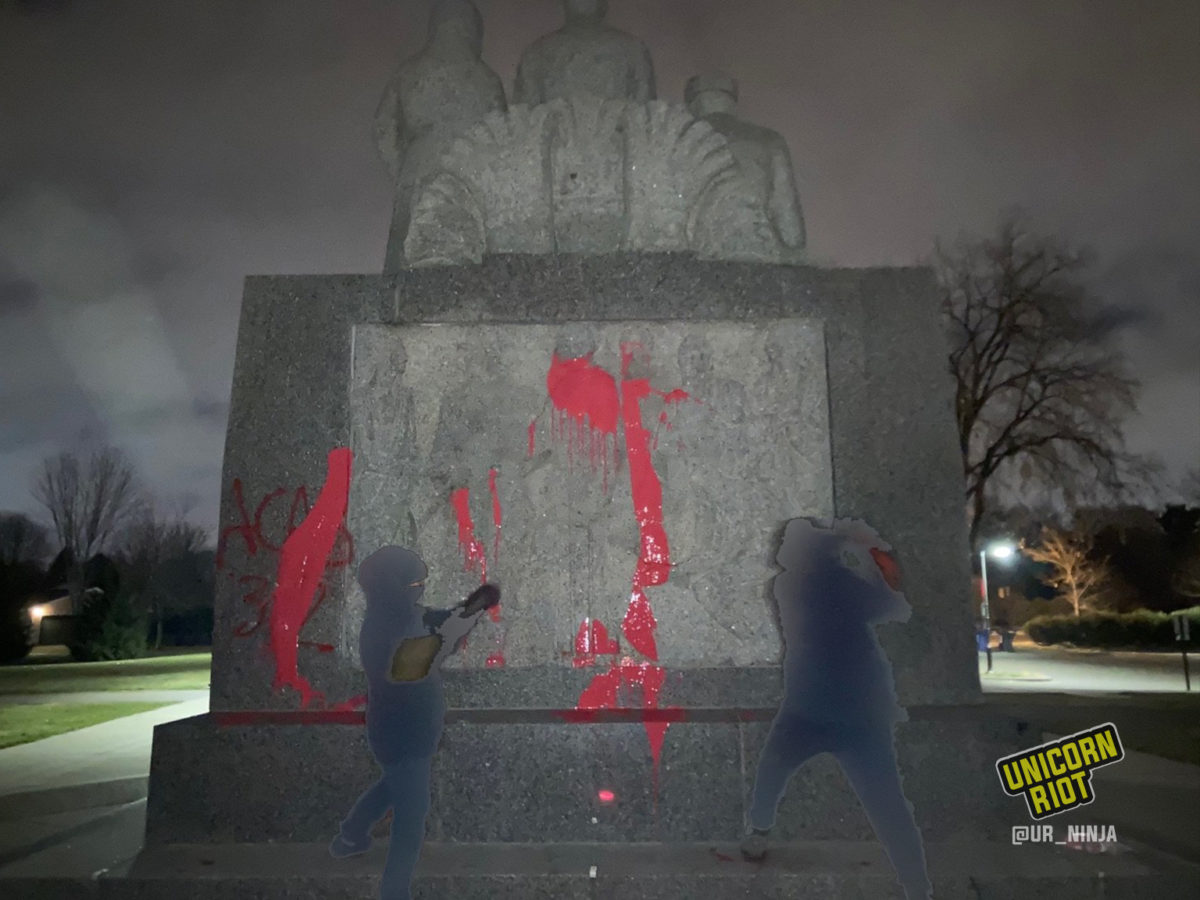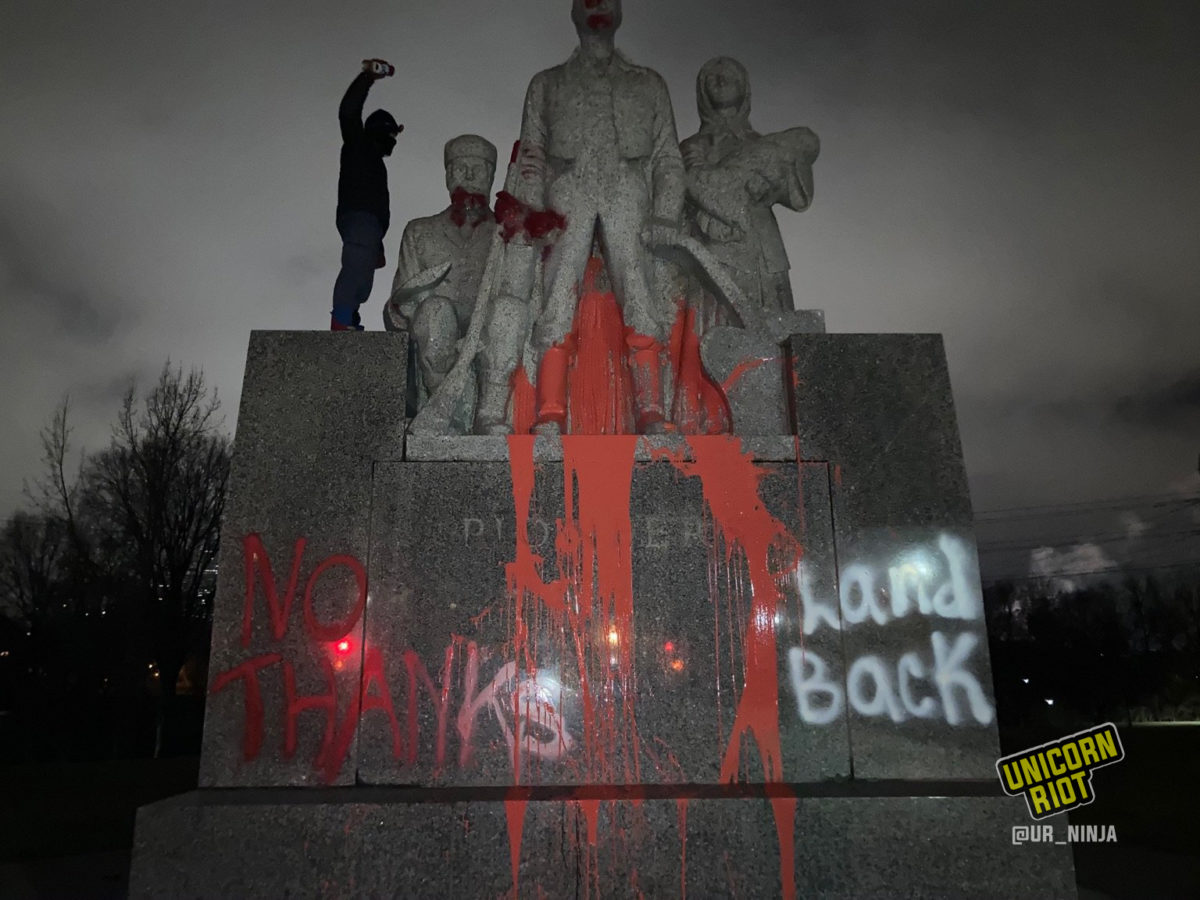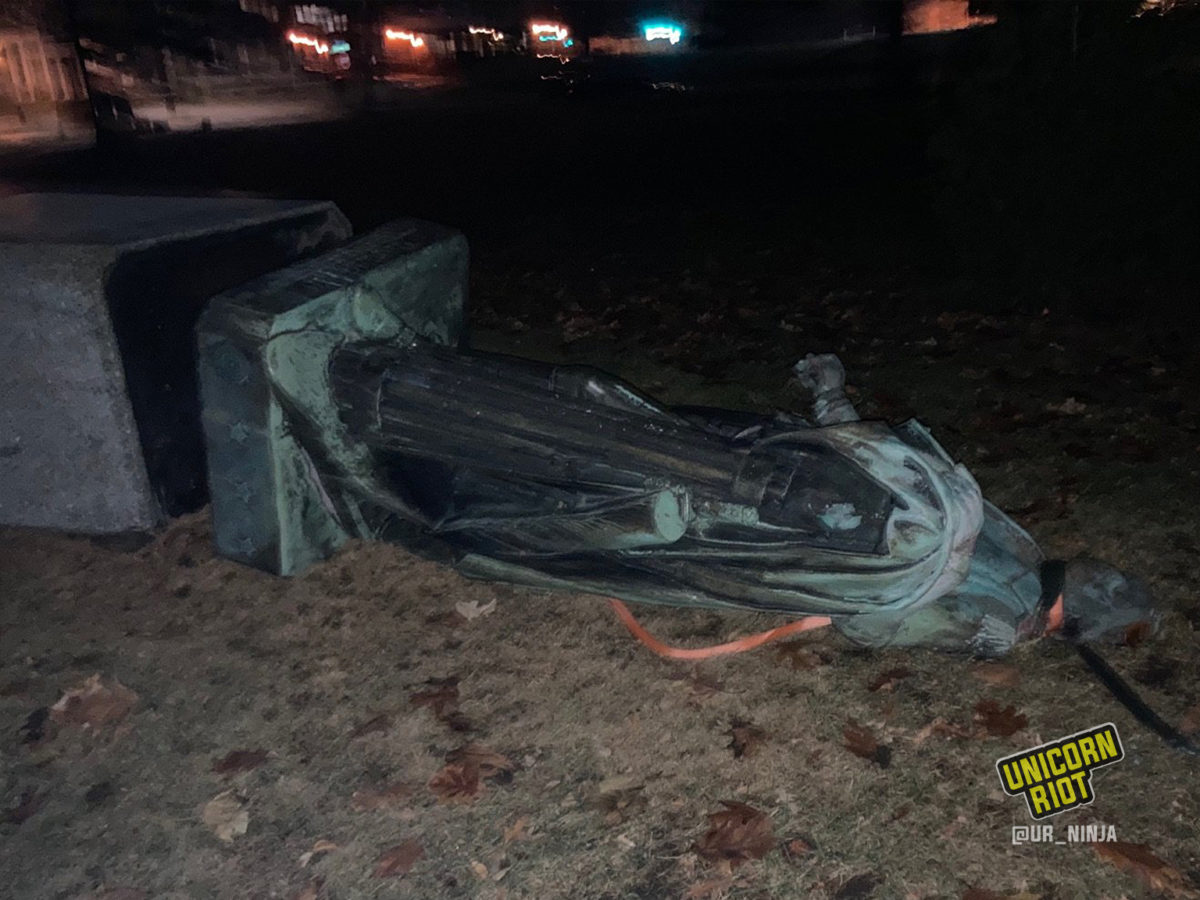 The toppling of colonial statues hit an international frenzy this summer with many statues taken down or vandalized during anti-racist, anti-police, and anti-colonial demonstrations.
One statue that was toppled in Denver this summer is being replaced by a sculpture of a Native American woman mourning the atrocities of the Sand Creek Massacre.
During a late-night June protest in Denver, a monument honoring the 1st Colorado Cavalry who fought and died in the Civil War was torn down. Although the statue was in remembrance of Union soldiers in the Civil War, members of the same cavalry unit also attacked and slaughtered hundreds of Cheyenne and Arapahoe people in the infamous Sand Creek Massacre.
The replacement sculpture was approved by the Colorado Capitol Building Advisory Committee on November 20, 2020.
In Saint Paul, an early evening direct action in June took down a Christopher Columbus statue, making national headlines and sparking actions across the U.S. to remove symbols of oppression and racism in public spaces, including statues of Christopher Columbus and Confederate monuments in cities such as Baltimore, Chicago, Richmond, Sacramento, Columbus and more.
---
Follow us on X (aka Twitter), Facebook, YouTube, Vimeo, Instagram, Mastodon, Threads, BlueSky and Patreon.
Please consider a tax-deductible donation to help sustain our horizontally-organized, non-profit media organization: