Support Builds for Grand Jury Resistors in D.C. Metro Area
Alexandria, VA – On New Year's Eve, supporters held a noise demonstration for imprisoned grand jury resistors Chelsea Manning and Jeremy Hammond, contributing to a swell of support that has grown for the past several weeks. The rally follows efforts to petition the judge overseeing the grand jury subpoenas of Manning and Hammond, other solidarity events in the D.C. metropolitan area, and a letter from the United Nations Special Rapporteur on Torture decrying Manning's continued coercive incarceration.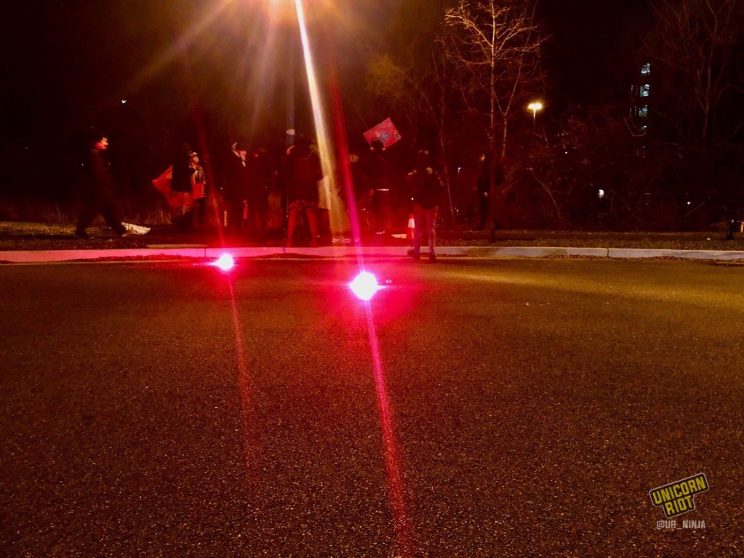 Manning has been held without charge for nearly 300 days for refusing to answer questions before a grand jury that is believed to be investigating Wikileaks. U.S. District Judge Anthony Trenga, overseeing the grand jury, has ordered Manning to pay $1,000 per day in fines–fines which will soon reach $200,000.
In October, Hammond was ruled to be in civil contempt for also refusing to answer questions before the grand jury, as previously reported by Unicorn Riot. Both Manning and Hammond are being held at the William G. Truesdale Adult Detention Center.
On December 17th, 2019, in northern Washington D.C., a group of Manning supporters gathered for a political prisoner letter writing night and fundraiser. Several days later, Fight for the Future, a national non-profit advocacy group, launched a campaign to write Judge Trenga for her release; to date the effort has gathered over 21,000 signatures.
Adding to the wave of public statements is Nils Melzer, the United Nations Special Rapporteur on Torture. In a letter delivered in early November and released publicly this week, Melzer wrote of Manning's incarceration:
"In my view, such measures do not fall under the 'lawful sanctions' exception of Article 1 CAT [Convention Against Torture], but are contrary to the absolute, non-derogable and peremptory prohibition of torture and, therefore, should be discontinued and abolished without delay." – Nils Melzer, U.N. Special Rapporteur on Torture
This is not the first time the U.S. Government has been accused of torturing Manning. A separate U.N. Special Rapporteur on Torture previously highlighted the cruel punishment Manning received following her arrest as a whistle-blower. During her 2012 incarceration, Manning was held in solitary confinement for eleven months. Earlier today, famed whistle-blower Edward Snowden tweeted out support for Manning.
Whoever you are, whatever your values, recognize the historic importance of this: it is second time the US government's retaliation against *the same whistleblower* has been found equivalent to torture. Telling the truth has become the greatest of crimes. https://t.co/Aq9dlz25FO

— Edward Snowden (@Snowden) January 2, 2020
On New Year's Eve, a crowd of a dozen supporters of Hammond and Manning traveled to Alexandria for a noise demonstration to support them as political prisoners.
They played vuvuzelas and cow bells, flashed lights, and sang songs at both sides of the prison walls. Included in the crowd was the Hammond support committee that came from as far away as Chicago to join the protest.
On New Year's Eve, a dozen people held a noise demonstration and set off fireworks in Alexandria, VA outside the prison where Chelsea Manning and Jeremy Hammond are being detained for refusing to testify to a secret grand jury investigating Wikileaks. https://t.co/nUC9EcgWBB pic.twitter.com/OuxNRU346r

— Unicorn Riot (@UR_Ninja) January 3, 2020
In a statement to Unicorn Riot, Jeremy's twin brother Jason Hammond, said:
"As in most places, frightening was the unseasonable warmth on this snowless New Years Eve in Alexandria, VA, where comrades and friends marched from the Federal Courthouse near the Old Town district to the jail down by the highway. We were a festive bunch; flares and fireworks were lit, plastic tuba brigades were assembled, and the kazoo and cowbell crew turnt up for hours, rolling from one side of the jail to the other, howling the whole way, looking out for each others safety but also encouraging each other to experiment with new ways of making ragey abstract noise to let Jeremy and Chelsea and everyone else locked up in that raggedy-ass crap jail know that we are out here for them.

The physical locations of jails and prisons are important to note, not just for strategic and tactical reasons but also to highlight the myriad of ways how jails are hidden and normalized. From rural small towns where economies depend on hosting visitors and feeding guards, to industrial quarters with no foot traffic to see the jail, to faceless brutalist monoliths towering over downtown 9-5 commuters, to occupying entire city blocks in the middle of highly criminalized working class and immigrant neighborhoods, the violence of the prison system is made invisible and believed to be inevitable.

Alexandria Detention Center is nestled in between multiple massive condo complexes, complete with full size soccer fields, gyms, nearby craft cider bars and fancy restaurants to serve the dog walking and jogging yuppies scarcely about, their minds boggled by the presence of us revelers of chaos, banging pots and blasting dollar store airhorns in their protected enclaves, pointing out the prison on their doorstep. The proximity of bubble world upper-crusters to the jail illustrated the intersections of gentrification and mass incarceration – whenever they build condos, they are waging a war on affordable housing and driving out poor people. No doubt they will be the first ones to call the cops anytime they see anyone having any fun, something I'd wager people rarely ever have in Alexandria. One resident did bravely approach us and inquired about our clamor, and after checking out a quick #fuckallprisons handbill, joined us in the ruckus and started chanting at the jail too. As far as we all had known, this had never happened before here – the pigs didn't even know how to respond to us; they were slow to arrive and timid in asking for the leader of our gaggle of merry wielders of rebellion!

We decided to dip on our own time and disappeared into the dark promise of the new year, energized to escalate the struggle for abolition and find new ways to bring it down! Free Jeremy! Free Chelsea! FREE THEM ALL!!"

– Jason Hammond, antifascist and brother of imprisoned anarchist hacker Jeremy Hammond
---