Judge Rules Denver's Camping Ban Unconstitutional, Dismisses Jerry Burton's Ban Ticket
Denver, CO – Jerry Burton has been living on and off the streets since around 1983 when he left the Marine Corps. During his periods of surviving outside in Denver, he has received three tickets for violating the Unauthorized Camping Ordinance, also known as the 'camping ban'. The most recent incident occurred on April 29, 2019 at 1 a.m., when he and a group of about fifteen others set up a small tent community by the South Platte River near Arkins Court and 31st Street.
As Burton watched four police cars roll up the street toward them with lights flashing, he decided that if he was ticketed, he'd fight it in court, and since he refused to pack up his belongings and move, a police officer wrote him a citation.
Burton asked civil rights lawyer Andy McNulty to represent him. McNulty also helped in the homeless class-action lawsuit against Denver previously covered by Unicorn Riot. After multiple court dates, the final hearing on Friday, December 27 concluded with a monumental ruling. Denver County Court Judge Johnny C. Barajas not only dismissed Burton's ticket, but also ruled the city's camping ban to be unconstitutional.
Unicorn Riot spoke with Burton the day after the court ruling. Burton told us he was not surprised by his victory in court because "without faith and hope, you cannot defeat the government, you cannot win anything. You gotta have faith, you gotta have hope."
Judge Barajas cited the 8th Amendment, which bans the use of cruel and unusual punishment, as well as the decision from the Ninth U.S. Circuit Court of Appeals (PDF) in 2018 striking down a camping ban in Boise, Idaho. As with the ruling in Boise, much of the Denver judge's decision was based off of the lack of sufficient shelter options for unhoused people.
Barajas highlighted some of the types of circumstances which make the current shelter system unavailable for some individuals:
"Men with children, individuals with serious mental illness, persons banned from shelters, unaccompanied homeless youth, individuals with pets, LGBT individuals, and same sex partners have limited access to adequate shelter." – Judge Barajas
On December 16, 2019, the U.S. Supreme Court decided that it would not hear an appeal of the ruling in Boise, maintaining that the enforcement of criminal laws against unhoused people living on the street in a city without enough shelters constituted cruel and unusual punishment. Although the Ninth Circuit does not have appellate jurisdiction over Colorado, a judge can still make a ruling based on its precedent.
Although cities with camping bans and other similar laws are upset with the Supreme Court's ruling, ceasing their enforcement would save these cities millions of dollars. Unicorn Riot reported on the cost of Denver contracting a private clean-up company to assist in sweeping or 'moving along' encampments, which from September 2017 to September 2018 totaled $400,000. Also in Denver in 2014, according to a report by University of Denver Sturm College of Law, the enforcement of five anti-houseless ordinances including the costs of issuing citations, court hearings, and jail time amounted to about $742,790.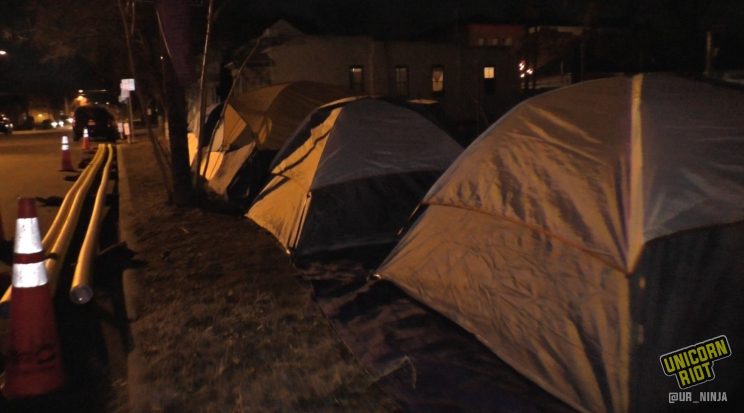 Members of the local unhoused community and their advocates have been trying to get the camping ban (or as they call it, the 'survival ban'), overturned since its passage in 2012. The ban criminalizes basic acts of survival such as eating, resting, and sleeping in public or private space with anything on top or underneath a person other than their clothing.
Local advocacy group, Denver Homeless Out Loud, sponsored the Homeless Bill of Rights, or Right to Rest Act, which they brought to the state legislature from 2015-2018 in attempts to have the ban overturned. In another attempt for repeal, a class-action lawsuit was filed on August 25, 2016 against the city on behalf of the thousands of residents without housing whose rights have been repeatedly violated.
The lawsuit process extended more than four years, ending with a settlement that went into effect in late September 2019, which created some restrictions in enforcing the camping ban concerning property rights and due process. These added enforcement measures include posting written notices seven days before large-scale sweeps and affixing 48-hour notices on unattended gear.
In Spring 2019, the first ballot initiative in the country to attempt to decriminalize houselessness was brought before Denver voters. Using essentially the same language as the Homeless Bill of Rights, the Right to Survive Ballot Initiative would have given people without housing the opportunity to rest, eat, and sleep on public property during times when it was accessible to the public. However, with a more than two million dollar misinformation campaign, Together Denver (the official opposition campaign) successfully swayed 81% of voters, killing the bill.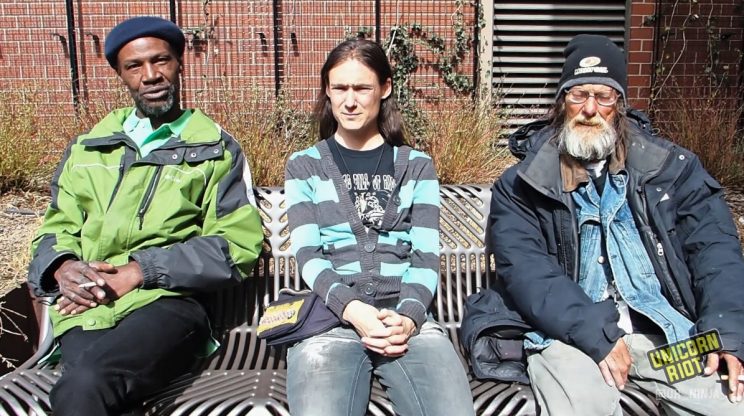 Burton's motion for dismissal case was not the first time he fought a camping ban ticket in Denver's courts. After being cited two times on November 28, 2016, Burton, along with Terese Howard and Randy Russell, who were also ticketed, decided to fight the citations in court (the first time this tactic was attempted).
On Wednesday, April 5, 2017, after a day and a half of testimony, including impassioned statements from their lawyer Jason Flores-Williams, the jury for Denver's first unauthorized camping trial found the three co-defendants guilty. Burton and Russell were each given a 6-month probation and ordered to complete 30 hours of community service, while Howard had a 1-year probation and had to complete 60 hours of community service.
Following the unconstitutionality ruling, lawyers from the Denver City Attorney's Office filed a notice of appeal and stay of execution on Monday, hoping a different Denver County Court judge temporarily suspends Judge Barajas' decision while an appeal takes place.
The Downtown Denver Partnership, a collaborative business and economic lobbying enterprise, which largely created and lobbied for the camping ban, as well as donated $200,000 to Together Denver, responded to Friday's ruling:
"We continue our steadfast commitment to ensuring Denver is a safe, welcoming and supportive place for everyone and that our city's public spaces remain vibrant and vital…

We know that homelessness is an issue of utmost importance to our members, and our city. We remain committed to this important issue and will keep you updated as we learn more."

– Downtown Denver Partnership
According to the Partnership's 2011-2012 Annual Report (PDF), they lobbied for the camping ban "to address behaviors negatively affecting businesses and the Downtown environment."
Due to the camping ban and the constant 'move-on' orders by police, many unhoused residents have reported sleep deprivation, which increases rates of mental illness, diabetes, hypertension, drug abuse, and violent behavior. Sleep deprivation can also cause schizophrenia-like symptoms such as increases in anxiety, memory loss, and depression.
Perhaps with the current end in the ban's enforcement, the downtown business community will have the opportunity to interact with members in the unhoused community after they have been able to get a good night's sleep, therefore opening up the Partnership's collective mind to the possibility that the city can be vibrant and vital with unhoused residents.
---
Please consider a tax-deductible donation to help sustain our horizontally-organized, non-profit media organization:

---
Unicorn Riot coverage on Denver's housing crisis: