Demands to Drop the Charges on Amina and the 646 Mass Arrested
Minneapolis, MN – Three months after six hundred forty-six people were mass arrested on Interstate 94 in Minneapolis, calls to drop the charges are continuing. A February 5 rally at the Hennepin County Government Center demanded specifically that a felony charge on college student Amina McCaskill be dropped, along with the charges and citations given to the other 645.
Dozens braved single-digit temperatures for the Friday rally that featured Amina and numerous speakers that were also part of the 646. Unicorn Riot live streamed the rally and spoke with Amina afterwards.
Civil rights lawyer, Nekima Levy Armstrong, expressed outrage that Amina is facing "worse charges than most of these cops out here in the street" that are doing harm to the community. She spoke about laying blame for the large scale police operation on the shoulders of Governor Tim Walz and Minnesota Department of Public Safety Commissioner John Harrington.
"I want you guys to see her face, to know her name, and continue advocating for justice for this beautiful, intelligent, strong Black woman who was literally out there on I-94 … standing up for justice, having to face terrorism at the hands of Governor Walz and John Harrington. Because the police are just a tool of elected officials."

– Nekima Levy Armstrong
Amina spoke to the crowd about not allowing what she's going through with the charges to deter others from "continuing to fight for our freedom."
Amina McCaskill, a 19-year-old college student, was initially booked on felony fourth-degree assault on a police officer for shining a laser pointer at police while kettled on the interstate on November 4. She's now facing a felony second-degree riot armed with a dangerous weapon charge brought by the Hennepin County Attorney's Office. The dangerous weapon being the laser pointer, which she admitted to shining at an officer who was wearing protective goggles.
McCaskill now faces up to five years in prison and a $10,000 fine.
19-year-old Amina McCaskill is being held at Hennepin County Jail, charged with fourth-degree assault on an officer reportedly for aiming a #LaserPointer at #police.

She's being held without bail and no scheduled court appearance. https://t.co/JjdvU1mrLb

— Unicorn Riot (@UR_Ninja) November 5, 2020
The Minneapolis version of the post-election national day of protest titled, 'The People's Mandate,' started outside MayDay bookstore on the West Bank. Nearly 1,000 people from a wide variety of leftist organizations showed up to protest the "triple pandemic of racism, COVID-19, and recession," demand Trump accept the results, and push for a "progressive agenda" from Biden.
The protest entered Interstate 94 East at the Cedar Ave. entrance and aimed to get off a short while later, at the 25th Ave and Riverside exit. Instead, the protesters were kettled by law enforcement officers, not given dispersal orders or the chance to leave, and all were detained. Typical police procedure and training for crowd control calls for three dispersal orders before declaring an unlawful assembly at a protest.
In total, 646 protesters were cited and released, with a few being arrested and one charged with a felony, Amina McCaskill. Watch the protest and police action in our six and a half hour stream below.
The day after the mass arrests, a press conference featured many voices of local activists, organizers, and community figures. After the presser, Unicorn Riot spoke with four people who were on the interstate the night before: organizers Jae Yates and Jess Sundin, Nekima Levy Armstrong, and Toshira Garraway, creator of Families Supporting Families Against Police Violence. Watch the presser below.
The next night marked the second of many rallies and pressers demanding all charges be dropped as dozens gathered near the charred entrance to the Minneapolis Police Third Precinct.
Minneapolis: Protesters are holding space outside the remnants of the Third Precinct, demanding all felony & misdemeanor charges be dropped from the Nov 4 protests where >600 were mass-arrested on I-94. pic.twitter.com/XyU4MRl7xo

— Unicorn Riot (@UR_Ninja) November 8, 2020
The next day, November 8, after being released from jail, McCaskill spoke to a large crowd calling for her charge to be dropped at the University of Minnesota, where she goes to school.
McCaskill said she's still able to go to school while facing the pending charge, but she's mentally stressed out not knowing if she can even pursue what she's studying for later in life with a felony charge on her record.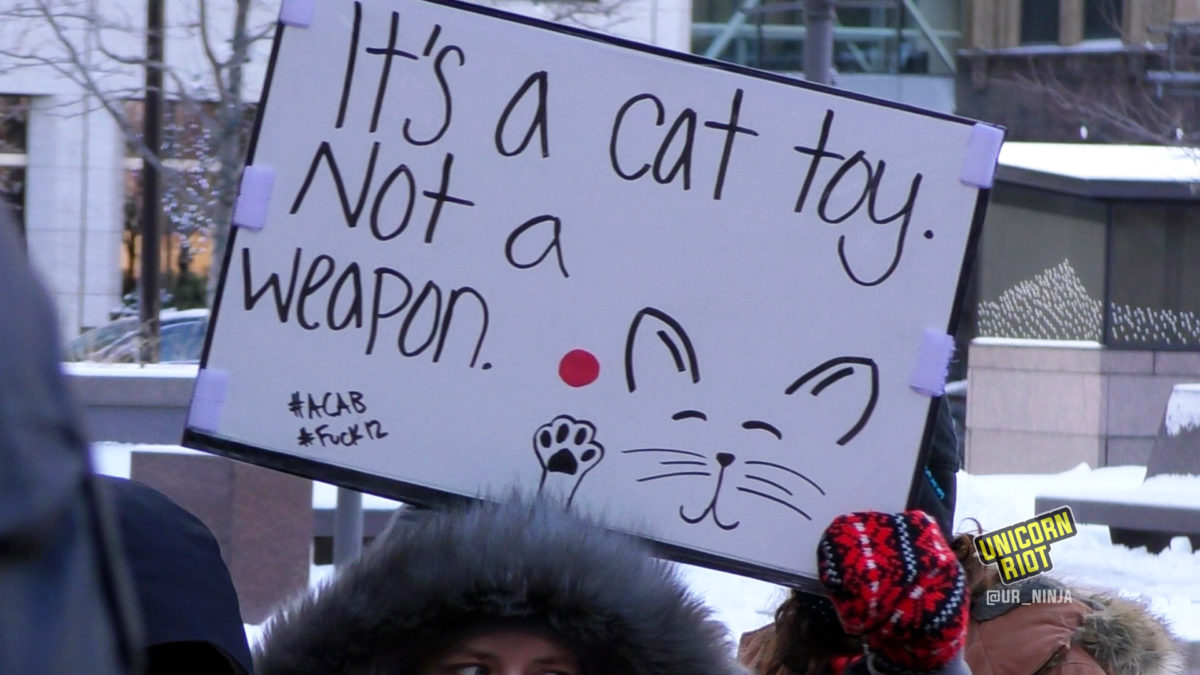 Since August 2020, law enforcement in the Twin Cities have altered their past allowance to certain gatherings and clamped down on protest activities. The court system has followed suit with what many say is over-charging those arrested.
A month after giving McCaskill a felony riot with weapon charge, Hennepin County Attorney's Office pegged 5 of 36 protesters arrested during a noise demo on New Year's Eve with the same charges, felony second degree riot with a dangerous weapon.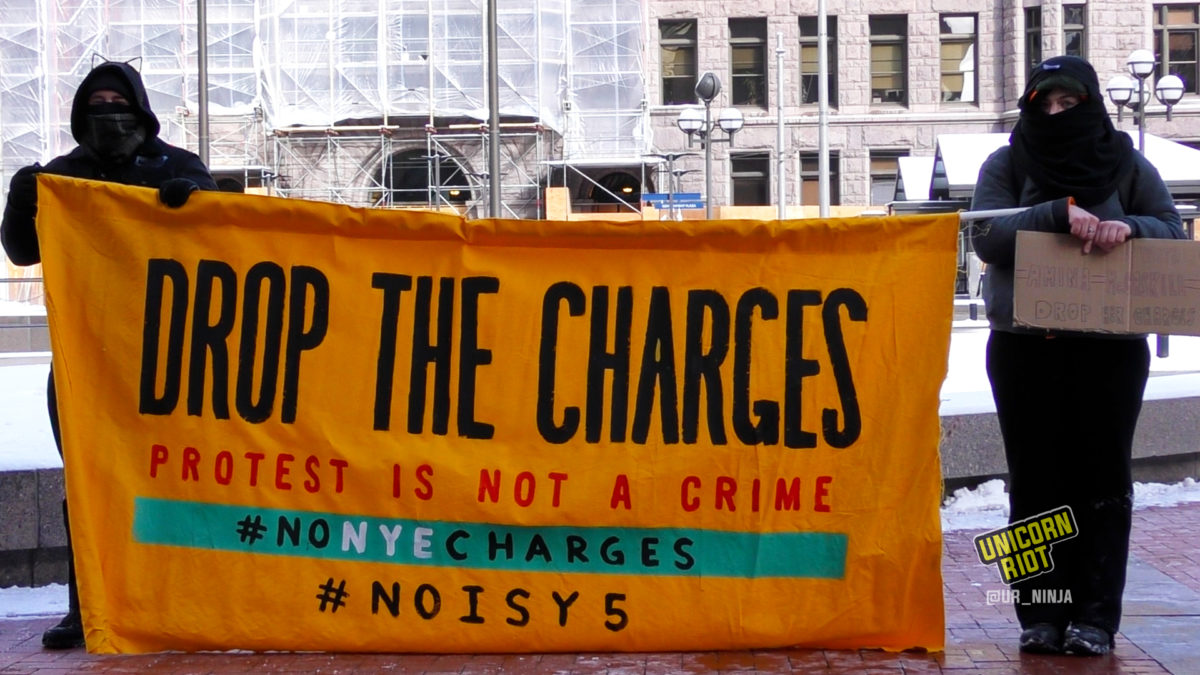 McCaskill's charge draws similarities to Louis Hunter's case in 2016 and are a clear trend of the authorities. In early July 2016, just days after Philando Castile was fatally shot by police, thousands of people shut down Interstate 94 in Saint Paul seeking justice for Castile. After a drawn-out stand-off on the interstate, clashes ensued. Out of over 100 arrested that night, Hunter was the single protester charged with a felony. Hunter's charges were dropped a year later after outcry from a large network of support, and many of the other defendants banding together refusing to take plea deals until Hunter's charges were dropped.
During the February 4 rally, speakers made a push for those in the 646 to do similar actions, to refuse to take plea deals and to demand Amina's charges are dropped. A GoFundMe has been created to help pay for Amina's legal fees.
---
Follow us on X (aka Twitter), Facebook, YouTube, Vimeo, Instagram, Mastodon, Threads, BlueSky and Patreon.
Please consider a tax-deductible donation to help sustain our horizontally-organized, non-profit media organization: