Life Vest Mural Draws Attention to the Plight of the Refugee
Frankfurt, Germany – A large orange life vest was painted in the center of Frankfurt's Bockenheim Campus to bring attention to the plight of refugees crossing the Mediterranean Sea. Two of the artists from 'Collective Without A Name' (DE: Kollektiv ohne namen) spoke with Unicorn Riot in the Summer of 2021 about their artistic actions on the topics of anti-racism and police violence.
Founded decades ago, Collective Without A Name creates their art projects in the public sphere so "people can't just walk past issues or just turn away." The artists choose to remain anonymous to let the art be the main message and to refrain from personal publicity.
Among the many projects the collective has done, last year they painted multiple large murals commemorating Alan Kurdi, a 2-year-old boy who died trying to cross the Mediterranean Sea with his family.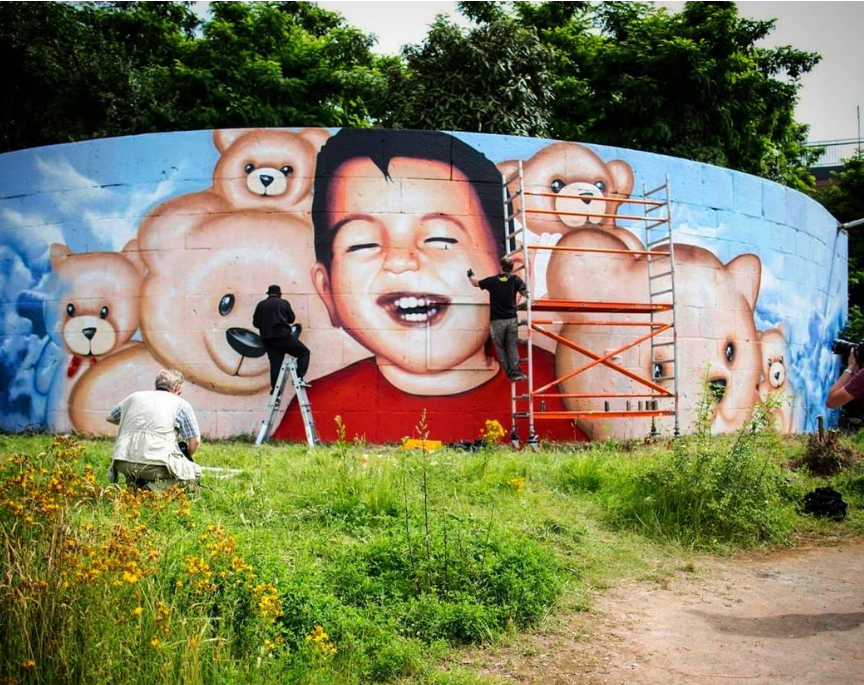 The trips for migrants and refugees traveling from Northern Africa or the Eastern Mediterranean over to Europe is one of the deadliest in the world. According to the Missing Migrants Project, at least 22,863 people went missing in the Mediterranean Sea region since 2014, with over 21,160 drowning to death.
Although the coronavirus pandemic slowed the numbers of deaths down to the lowest number in recent history, there were still 1,448 recorded deaths in the Mediterranean in 2020. The artists from Collective Without A Name said it was an important time to bring the focus back onto the refugees during this time when "people are still dying in front of our borders."
---
Transcript of Summer 2021 interview with anonymous artists from Collective Without A Name:
Anonymous Artist 1: "Hey, we are two members of the Collective Without A Name, an association of artists and political activists in Frankfurt, who have deliberately joined forces anonymously to make artistic actions mainly on the topic of anti-racism and police violence. We have consciously decided not to mention our names, not because we necessarily want to remain conspiratorial or anonymous, but because we wish to consciously refrain from associating the publicity we generate with our personal commercial artistic work. We have been together for several decades already and you see our most recent work behind us now. It refers to the Mediterranean crisis, to the refugee crisis in the Mediterranean.
The life vest on the Bockenheim Campus can be seen quite clearly from the financial district in Frankfurt. A large part of the bankers can see it from the tower blocks. It is simply a symbol for the fact that one cannot only make profits off the Third World, off of Africa, but must also clearly stand up for the victims and to give them a perspective in Germany and that they must not block the refugees way across the Mediterranean."
Anonymous Artist 2: "Well, why did we do that? We firmly believe that especially now in the times of coronavirus, the issue has moved more and more to the back. It no longer has an outcry in society and people are still dying in front of our borders, in front of the borders of Europe. And it was an important moment to say now we have to bring the issue back into the public. And that was exactly the motivation to paint this picture here at Uni-Campus Bockenheim.
We firmly believe that wars and illegal arms exports still continue to function. And we are still fighting against this problem of refugees on the Mediterranean somehow. I can't find words for what is happening there. It's tragic and it has to be brought to the public to draw attention to the fact that we can't go on like this with our [Germany's] foreclosure policy create and these life realities. And we just want to disturb the peace. We want to create communication where people can't just walk past issues or just turn away. It has to be in the public space so that there is communication. And it doesn't matter if it's wanted or not wanted. But public art in the public space ensures that there is friction. And that's the work we want to do. We want to disturb the peace a little bit."
---
#rassismustötet #vonhanaubismoria #leavenoonebehind
SOLIDARITY NOW ✊🏼✊🏽✊🏾#eustopkillingrefugees#workinprogress #solidarität #stop #rassismustötetuns #painting #life #frankfurtcity #bockenheim #unifrankfurt #kollektivohnenamen #70Jahrestudihaus #frankfurtstreetphotography pic.twitter.com/cM4abCWNTd

— Kollektiv ohne namen (@KollektivOhne) May 24, 2021
On an Instagram post by Collective Without A Name that features images of the life vest mural, they left the following statement:
"Why are we doing this? Let's look at the situation: Profits here through arms exports, war and misery and there through European economic influence, arms deals and political agreements, breaches of human rights, erosion of asylum rights, people on the run, people at sea, people at the borders, corpses on the beaches, illegal pushbacks, illegal deals with authoritarian regimes. Money flows into border walls, border guards, Frontex, Libyan militias, in the criminalization of voluntary sea rescue, and isolation, with so many dead people, men, women, children. Full of hope, full of courage, full of hopelessness in the search for freedom, for security, for peace that is only granted to a few in Europe who are not born here by chance, but if you come into the EU, that's how criminalization works. The stigma, the exploitation, the poverty continue, so STOP! SOLIDARITY NOW! We only make visible what everyone knows and suppresses. We make it clear that we are all responsible for the atrocities of Europe. We make it clear that we stand together in solidarity, for an open society, for human rights for all and are the beginning of the end of a right Europe."

SOLIDARITY NOW – RACISM KILLS – FROM HANAU TO MORIA

Collective Without A Name Instagram post on the life vest mural
---
While in Frankfurt, Unicorn Riot also spoke with Luna and Jackson from Black Power Frankfurt, who joined Bafta Sarbo from Initiative of Black People in Germany (ISD), and anti-racist activist Ferat Kocak, in the mini-doc 'One Year After George Floyd in Europe: The Deep Roots of Racism in Germany.'
The four spoke about Black Germans, Germany's Nazi past and present, the far right scandals in the German 'security' forces, racist police practices, the impacts of George Floyd's murder, and the new generation fighting institutional racism in Germany.
---
Follow us on X (aka Twitter), Facebook, YouTube, Vimeo, Instagram, Mastodon, Threads, BlueSky and Patreon.
Please consider a tax-deductible donation to help sustain our horizontally-organized, non-profit media organization: