Marcus Kar's 'Strange Things' – Exclusive Music Video Release
"I really just want to engage people in the conversation around how we feel." Musician, activist, and urban farmer Marcus Kar is hoping his new 'Strange Things' music video will help spark dialogue that can lead to healing and change. Searching for ways to cope after the police killing of George Floyd, Kar, a Black man from North Minneapolis, said he went back to his "safe space" – making music and being creative.
Despite the turmoil of police terror, unrest, and a pandemic, Kar gathered musicians, poets, videographers, and organizers to create 'Strange Things', which Kar says is "a beautiful and powerful interpretation" of what he was feeling during the George Floyd uprising and unrest that swept the Twin Cities metro area.
Kar spoke to Unicorn Riot during a community event in late April 2021 that he hosted in the Peace Haven Herb Garden, one of the many gardens that he tends as Director of Youth Farm's North Minneapolis programs. He said the goal of the project was to get people to talk.
"I really want to know, like, how are you feeling about the imagery, the content, and I want to know, how you dealt with the unrest, how you dealt with seeing Black people get shot down at the protests, the price of freedom, you know?

I just want to have this conversation on a one-on-one basis in the real way."

– Marcus Kar, Musician, Activist, Director at Youth Farms
After seeing the Floyd video last May, Kar said he "was sobbing uncontrollably." He said he thought he was getting over it until the Derek Chauvin trial brought all the trauma back. He saw himself, along with every other Black man, in George Floyd.
"I saw myself in George Floyd, I see every Black man, that is, you know, been a part of the system and has dealt with any kind of dominant perspective, white supremacy, in the system. And it just brought back a lot of emotions."

– Marcus Kar
'Strange Things' is based on the Paul Laurence Dunbar poem 'We Wear The Mask', said Kar. Although it was written 125 years ago, Kar said Dunbar's writings still ring true today for Black Americans.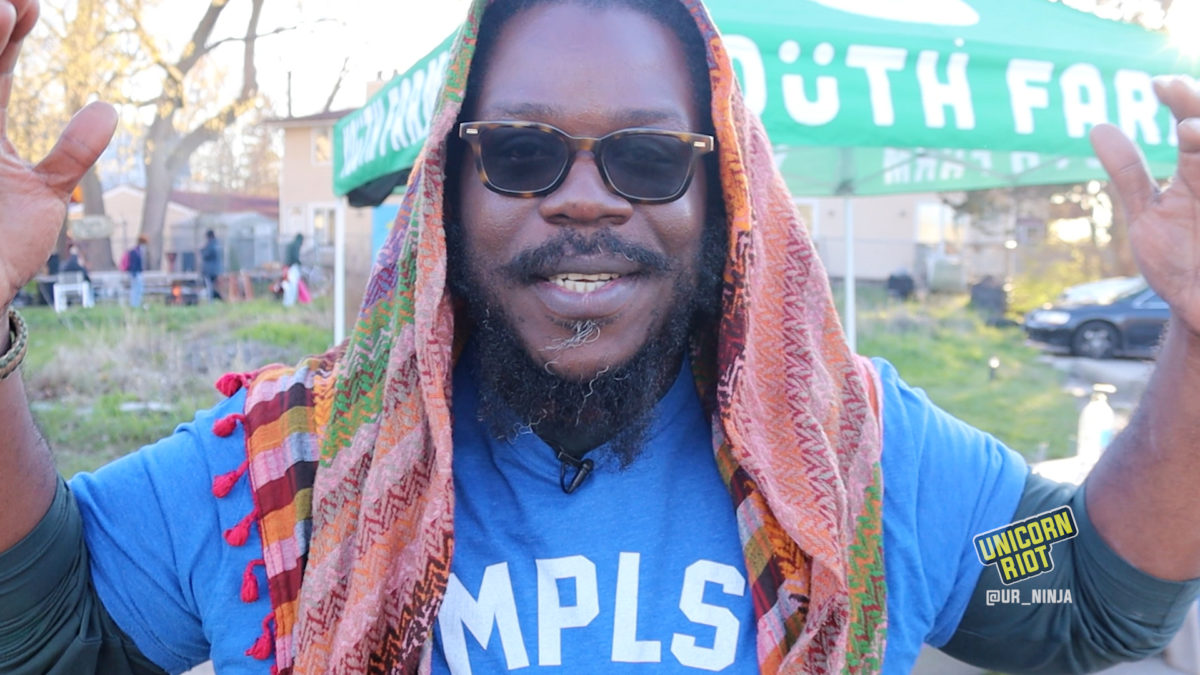 Peter Jamus directed the video, and J.Maki edited it. The song was created by Kar with Wayne Sayres playing his saxophone. Garrison Grouse was the project's engineer.
The music video features footage from the unrest taken by Kar, Alex Heid, and J.Maki. Aerialist Nastaaja Johnson, of Vivid Black Paint, performs a striking aerial dance and Michael Chaney of Project Sweetie Pie narrates a spoken word alongside a portion of Dunbar's 'We Wear The Mask'.
While in the garden, Kar spoke about future possibilities, self-determination and not needing any saviors. "All we need is us," he said, "I don't think we need to look outside of us." Kar said he's planning more events and looking forward to having conversations this summer around safety and wellness.
---
Strange Things
"Strange Things connects our present to the past, confronts a failed system, and affirms that Black lives matter. This has been a very organic and holistic process. While dealing with a pandemic and social distancing, musicians, poets, videographers, and organizers worked together recording, filming, editing, and having Strange Things reviewed and guided by a group of artists and organizers throughout the Twin Cities. The end result is a beautiful and powerful interpretation of what I was feeling during the unrest."

– Marcus Kar
Directed and Produced by: Marcus Kar, Peter Jamus, J.Maki
Music: Marcus Kar (writer, producer, composer, guitar, bass, vocals), Wayne Sayres (saxophone)
Engineer: Garrison Grouse
Narration: Michael Chaney
Aerialist: Nastaaja Johnson
Unrest Footage: Marcus Kar, Alex Heid, J.Maki
---
Follow us on Twitter (aka 'X'), Facebook, YouTube, Vimeo, Instagram, Mastodon, Threads, BlueSky and Patreon.
Please consider a tax-deductible donation to help sustain our horizontally-organized, non-profit media organization: