On May 25, 2020, former Minneapolis Police (MPD) officer Derek Chauvin kneeled on George Floyd's neck for nearly 10 minutes, killing him. The moment was recorded and posted to Facebook. Outraged by what many saw as a public lynching, Minneapolis was shaken by an immediate uprising that reverberated throughout the world.
---
Jury selection started March 9 and had a full empaneled jury (12 jurors, 2 alternates) on March 23.
Opening arguments in the trial began on Monday, March 29.
On Tuesday, April 20, Derek Chauvin was found guilty as charged on all 3 counts: second-degree murder, third-degree murder, and second-degree manslaughter.
On Friday, June 25, Judge Cahill sentenced Derek Chauvin to 270 months (22.5 years) imprisonment in the custody of the Minnesota Department of Corrections. (Chauvin still faces a separate federal civil rights prosecution.)
---
Unicorn Riot's Derek Chauvin Trial Coverage:
---
See our daily coverage of the Chauvin trial below – Updates to this page are ongoing:
---
The sentencing hearing began by hearing victim impact statements fro members of the Floyd family. A recorded video interview with Gianna Floyd, George Floyd's daughter, was played for the court. Statements were also given in person by George Floyd's nephew Brandon Williams as well as his brothers Terrence Floyd and Philonise Floyd; all three asked Judge Cahill to impose the harshest possible sentence. Assistant Attorney General Matthew Frank cited aggravating factors such as "abuse of a position of trust and authority" in asking the court to choose a "double upward" departure from state sentencing guidelines.
Chauvin's defense attorney Eric Nelson addressed the court very briefly, stating he did now wish to "re-litigate" the case. Chauvin's mother, Carolyn Pawlenty, asked Judge Cahill to be lenient with her son.
After a recess, Judge Cahill announced that he would be imposing a prison sentence of 270 months, or 22.5 years, against Derek Chauvin. Cahill said that he took into account the aggravated factors of an "abuse of a position of trust and authority" as well as Chauvin's deliberate cruelty towards George Floyd. Chauvin will also be required to register as a "predatory offender" and will be permanently forbidden from owning any firearms or explosives.
You can read Judge Cahill's 26-page sentencing memo here. Read our article on the sentencing here.
Just after 3 p.m. the jury returned a verdict to Judge Cahill, finding Chauvin guilty on all 3 counts. Cahill then swiftly granted the state's motion to revoke bail and have the defendant remanded in custody. A Hennepin County Sheriff's deputy then cuffed Derek Chauvin and led him away to be imprisoned pending sentencing. Sentencing is expected to take place in about 8 weeks. Read an article detailing the trial and guilty verdict here.
Closing arguments for the Derek Chauvin trial began with a statement from Judge Cahill about how the jury should evaluate the facts of the case.
On Thursday, the defense rested its case, with Derek Chauvin invoking his Fifth Amendment right to not testify. Before court ended for the week in the early afternoon, the state brought back medical expert Dr. Martin Tobin to issue a rebuttal to Dr. Fowler's testimony from the previous day.
The state then brought new evidence they want to enter. It regards carbon monoxide — a medical test was located in the computer at Hennepin County Medical Center showing that carboxyhemoglobin was in a safe and normal range, which they want to enter into evidence to rebut yesterday's testimony from defense witness Dr. David Fowler asserting carbon monoxide could have helped kill George Floyd.
Morning motions opened with an attempt by defense attorney Eric Nelson to dismiss the charges against his client, Derek Chauvin. This was rejected by Judge Cahill. Then Morries Hall and his attorney were brought in and the attorney explained that he would be at more jeopardy for giving any testimony about being in the car with George Floyd. Cahill ultimately agreed Hall would not have to testify and asked both sides' attorneys to submit what questions they would want to ask Hall.
Defense witness testimony started with David Fowler, the former chief medical examiner of Maryland. Fowler is the subject of a lawsuit filed by the family of Anton Black in 2018. Regarding Fowler's role in the Chauvin trial, Rene Swafford, an attorney with Black's legal team, "We don't find Dr. Fowler a credible witness by any stretch of the imagination because he's consistent in his autopsies where he wants to assist the officers in demonizing and criminalizing Blacks who are killed by police." The Intercept reported further on the controversies and lawsuit surrounding Fowler.
Fowler claimed George Floyd had a kind of cardiac incident, similar to his claim about Black. In a surprising twist, he even claimed carbon monoxide from the MPD police vehicle could have contributed to Floyd's death.
Tuesday morning motions included an effort for defense attorney Eric Nelson to introduce a police body camera video which the state attorneys said contained hearsay and was cumulative. Judge Cahill agreed to allow part of the video.
The state rested its case and then defense started calling witnesses. A former police officer, Scott Creighton, described a traffic stop where George Floyd was a passenger in 2019, along with a body camera video that showed Creighton pulling a gun on Floyd, who became fearful of the officer.
The defense called Barry Brodd – a retired police officer with work history in several states and departments. Brodd designed and taught numerous use-of-force seminars for officers from around the country. He shared with the court his belief that Derek Chauvin did nothing wrong and that because George Floyd said "I can't breathe" he actually could still breathe.
Monday morning motions opened just before 9 a.m. Central with an an attempt by the defense to get a national use-of-force witness for the state to be removed. Judge Cahill agreed partially, saying that the witness' testimony could be curtailed significantly. Defense attorney Eric Nelson went on to work on getting interpretations of body camera audio tracks on videos curtailed by the state (seemingly referring to how the "didn't do any drugs" / "had too many drugs" statements that got covered in testimony late last week).
---
Dr. Lindsey Thomas, a forensic pathologist, opened testimony today by explaining that forensic pathologists examine deaths, usually deaths that are not from natural causes. She described how death investigations are carried out.
Jerry Blackwell, attorney for the state, questioned Dr. Thomas. Blackwell put Floyd's death certificate on the screen. Dr. Thomas said she agreed with Dr. Baker's findings. She believed Floyd's asphyxia and cardiopulmonary arrest (not a heart attack) caused his death. She adds it was because of police restraint and compression of his neck. Dr. Thomas said that in her opinion, the activities of the law enforcement officers caused Floyd's death.
Blackwell asked what the bellows function is. Dr. Thomas said it's when you take in a deep breath and your rib cage expands and forces the lungs to open up. Dr. Thomas shared how Floyd's position prevented the bellows function from happening; how Floyd's chest was compressed in that position.
When Nelson cross-examined, he used hypotheticals, as he has tended to do during the trial. He asked if there were no police and no drugs, but Dr. Thomas found Floyd in the same condition in his apartment, what would she rule for the cause of death. She said she would probably rule his high blood pressure as the cause.
Nelson also asked if Dr. Thomas would consider it an overdose if hypothetically there was no law enforcement presence, no heart problems, just the same amount of drugs found in Floyd's system. She said if drugs were the only aspect present, then she would consider it the cause.
He then asked if someone is in the prone position on pavement, is it inherently dangerous. She said no, not if they can breathe. Nelson day dreamed out loud for another hypothetical. He asked if he was in Florida by the pool laying on his stomach on pavement, would that be dangerous?
When Blackwell re-directed he asked about the hypotheticals Nelson asked. Blackwell asked Dr. Thomas if it makes any sense to take out the facts of the case to consider cause of death, she said no, it doesn't make sense.
Blackwell began to liken it to asking Mrs. Lincoln if John Wilkes Booth wasn't there if Lincoln would have died. Nelson objected and the judge agreed and sustained.
After the lunch break Dr. Andrew Baker, Hennepin County Medical Examiner who conducted Floyd's first autopsy, was on the stand. He explained the process of an autopsy to Blackwell.
Blackwell asked questions about any injuries found on Floyd and also about his heart. An autopsy photo of Floyd's arteries was looked at. Dr. Baker explained how two of his arteries were at about 75% narrowing. The plaque builds up and narrows the arteries. The third (right coronary artery) was also significantly narrowed at about 90%.
Dr. Baker explained how the physiology of Floyd was that the coronary arteries were narrow and he was also hypertensive, so he already needed extra pumping of the heart. Dr. Baker said that the pressure on Floyd's body on May 25 was too much for his body.
Dr. Baker didn't believe that drugs in Floyd's system were direct causes of his death.
Nelson cross-examined. Dr. Baker explained what was written under the contributing factors in the death certificate. He put heart disease, hypertension, and Floyd's drug use. Nelson asked if that means Dr. Baker believes those factors contributed to Floyd's death. Dr. Baker confirms.
Nelson asked about exertion and if that makes the heart pump more, Dr. Baker agreed. Nelson went over the details: Floyd's heart was larger than average, his heart problems, period of exertion, drug use.
Nelson asked about hypoxic deaths. Dr. Baker said it depends on the type of mechanism. Nelson said regardless of the mechanism, would Dr. Baker generally see certain symptoms? Dr. Baker responded that he can't say because symptoms happen on alive people.
Nelson asked if Dr. Baker would have certified Floyd's death as a fentanyl overdose if that was the only finding, Dr. Baker said yes. However he added that he doesn't view things in a "but for" way because he is a medical examiner. He said that may be how legal people think.
The placement of Chauvin's knee was brought up. Nelson asked if that would anatomically cut off Floyd's airway, which Dr. Baker said no, not in his opinion.
Blackwell re-directed and brought up the cause of death in the death certificate. He asked what the cause of death was for Floyd. Dr. Baker read the cause out loud and said he still agrees: "How injury occurred: Decedent experienced a cardiopulmonary arrest while being restrained by law enforcement officer(s)."
---
Thursday's court proceedings were one of the most important days for the prosecution. Compelling testimony from expert witness Dr. Martin Tobin was heard for over five hours. Dr. Tobin is a world-renowned pulmonologist from Ireland and a medical researcher with expertise in obstructed breathing. While speaking to the jury, he showed the court numerous visual presentations, including a 3D video and dozens of graphs and slides. Dr. Tobin clearly stated that he felt George Floyd died from lack of oxygen.
Two more doctors took the stand for the state, Dr. Daniel Isenschmid and Dr. Bill Smock.
Dr.Daniel Isenschmid is a forensic toxicologist at NMS Labs in Horsham, PA. Dr.Isenschmid told the court that the low levels of Methamphetamine and Fentanyl found in George Floyd's body was comparatively lower than the average levels found in DUI meth cases. The defense attempted to reinforce it's claim that Floyd died due to a drug overdose. Mr. Nelson opened his cross examination by questioning the credibility and relevance of the scientific methods that NMS labs used to compile it's reports. During Nelson's examination he realized he had been referencing outdated reports and a break was called to clear the confusion. After break Nelson continued to insinuate that the medical reports from NMS labs was not relevant to the case because the reports included people who had not died from drug overdose. Dr.Isenschmid explained that the data was still relevant because it still included a large amount of people who had died from drug overdoses as well as other causes.
The court ended the day by hearing testimony from forensics expert Dr. Bill Smock who stated that George Floyd passed away from 'positional asphyxia' or lack of oxygen due to his physical position at the time of his death. Dr. Smock also dismissed notions that Floyd was experiencing a medically controversial syndrome known as 'excited delirium' (EXD) which is frequently used as a legal defense for officers involved in law enforcement killings. Dr. Smock stated that it wasn't uncommon for overdose victims to feel 'air hungry' but that in fact they are not actually starved of oxygen. He later would state that there was no evidence to prove that George Floyd passed away from either a meth or fentanyl drug overdose. Dr. Smock also pointed out that CPR should have been administered immediately after Floyd lost consciousness.
The defense opened it's cross examination of Dr. Smock by questioning his credentials and asked about Floyd's previous heart condition, insinuating the Floyd could have passed away due to a heart attack. Dr Smock stated that there was no evidence that Floyd was suffering from a heart attack or any other heart condition at the time of death.
---
Wednesday morning started with the continuance of the testimony of Los Angeles Police Department Sergeant Jody Stiger. Stiger was brought in by the prosecution as an expert witness in use-of-force and was on the stand until noon. He compiled a 400+ long report about his investigation into May 25, 2020. Among the hours of testimony, defense attorney Eric Nelson replayed a short video clip from ex-officer Alexander Kueng's body cam and asked Stiger if he heard George Floyd cry out "I ate too many drugs." Stiger said he didn't hear that.
During Stiger's testimony he said that in his opinion once Floyd was in the prone position on the ground handcuffed and not resisting, there should have been no force or restraint. Stiger said the position that Chauvin was in—kneeling on Floyd while he was in the prone position—was deadly force.
Stiger was asked to touch upon the crowd on May 25. He didn't view the crowd as hostile because they were just yelling and filming. He also confirmed that the use-of-force used on a subject has to be relative to the subject's behavior, not that of by-standers. One of the defense arguments has been that the crowd contributed to Chauvin's actions.
Special agent of the Minnesota Bureau of Criminal Apprehension (MN-BCA), James Reyerson, was next on the stand. Reyerson explained what the BCA is and says he was the lead investigator on the May 25, 2020 case of the death of George Floyd. As part of the critical incidents' protocol, pictures of the involved officers were taken. According to Reyerson, Chauvin weighed 140 pounds during the incident. However Reyerson said with all of the gear Chauvin was wearing, he weighed an additional 30-40 pounds.
Prosecution attorney Matthew Frank went over all the time stamps of the videos being shown during the trial. Frank pauses Darnella Frazier's video at 20:25:08, which Reyerson confirms is where Floyd appeared not to be moving at all, while Chauvin's knee was on Floyd. Frank plays the video for over 2 minutes longer, which is when the paramedics first arrive, and Chauvin's knee was still on Floyd's neck. Reyerson confirms that Floyd was still not moving or speaking.
In cross-examination, Nelson asked Reyerson if he remembered hearing George Floyd saying "I ate too many drugs," while watching the footage of the incident. Reyerson said he didn't remember, but then Nelson played the clip he played Stiger and got Reyerson to admit that he thought he heard Floyd say it. In the redirect, prosecuting attorney Frank played a longer version of the clip Nelson played to provide more context. This time Reyerson said he heard "I ain't do no drugs" instead of "I ate too many drugs."
Three forensics and lab technicians sat on the witness stand to finish off the day: Mackenzie Anderson and Breahna Giles of the MN-BCA and Susan Neith, a forensic scientist with NMS Labs.
Susan Neith explained in detail her tests of pills or partial pills found in both Floyd's vehicle and squad car 320. Neith's findings for the 1st pill in Evidence 48 was that the fentanyl concentration was less than 1% and methamphetamine was 1.9%, the 2nd in 48 was also less than 1% fentanyl, methamphetamine was 2%.
Item 51 had a fentanyl concentration of less than 1% and methamphetamine was 2.9%. Neith confirms that the amount of fentanyl was common with what she has seen during her day-to-day testing of street drugs. The amount of methamphetamine found, however, was low for what she has usually seen—she usually sees 90-100%. Nelson declined cross-examination, even though Floyd's drug use has been a big part of the defense's argument.
The day opened with witness Morries Hall pleading the 5th Amendment. Hall was in the passenger seat with George Floyd when the police stopped him. His lawyer argued to Judge Cahill that no testimony could be allowed without opening him up to further prosecution. Hall appeared over video link from a jail. Judge Cahill did not make a decision on whether to compel Hall's testimony.
The first to testify to the jury on April 6 was Minneapolis Police (MPD) Sergeant Ker Yang, the department's Crisis Intervention Training Coordinator. Yang described the details of how MPD officers are supposed to deal with people in crisis and needing medical care (at least according to policies on paper.) Yang's testimony painted a picture of former MPD Officer Chauvin not appearing to follow his training when he was kneeling on George Floyd neck, killing him.
After Yang, thematically related testimony was given by MPD Lieutenant Johnny Mercil. Mercil has been a part of the department's Use of Force Training Unit and has helped design and administer use-of-force trainings for officers. After prosecutors went over details of MPD force policies with him, Mercil told the court "I would say no" when asked if Chauvin's actions towards Mr. Floyd seemed to comport with policies.
After Mercil, the prosecution called its next witness – Officer Nicole Mackenzie, who currently works as Medical Support Coordinator for MPD. The state used Mackenzie's testimony to introduce attendance slips showing Chauvin had attended a CPR training in 2018. Mackenzie was asked about department policies requiring the rendering of medical aid by officers to detained suspects who need it. Mackenzie also testified that an angry crowd of onlookers at the scene of an arrest does not prevent officers from being required to give medical aid.
Last to testify on Tuesday, April 6, was Los Angeles Police Sergeant Jody Stiger, a professional expert witness who was paid by the state to testify in this trial. Stiger was asked about various use-of-force standards and his history investigating officers' use-of-force, including instances where he found cops acted improperly. Stiger went on to describe his extensive review of video footage and other evidence in the Chauvin case and how that showed, in his view, that Chauvin was neither following MPD policies or general best practices in the policing profession which are generally governed by relevant case law. Stiger's testimony did not finish on the 6th and stretched hours into the next day of trial on Wednesday, April 7.
---
The day's first witness to testify was Dr. Bradford Langenfeld, who received George Floyd at the hospital before officially pronouncing him dead. Dr. Langenfeld described in exhaustive detail the various technical medical attempts made to save George Floyd's life. Says he saw no reports indicating any sort of drug overdose was involved.
Most of the day's proceedings focused on the testimony of Minneapolis Police Chief Medaria Arradondo. Arradondo testified at length about the noble values he claimed the police department represents. He also was asked about MPD training and was asked if Derek Chauvin's actions towards George Floyd comported with department policy – he said they did not. The prosecution showed the jury a form Derek Chauvin signed acknloweding he had received MPD's Policy & Procedure Manual. They then went into specific policies around use of force, which Chief Arradondo agreed Chauvin was not following in videos of the killing of George Floyd.
Last to testify on Monday, April 5 was MPD 5th precinct Inspector Katie Blackwell, who had been responsible for implementing training standards across the department. Blackwell was asked details about Chauvin's in-service training as jurors were shown documentation of his attendance of training programs, including in Crisis Intervention Training (CIT). Blackwell confirmed that Chauvin had completed his required training and that she, at some point, even appointed him as a 'Field Training Officer' (FTO) She also answered 'no' when asked by the state if Chauvin's knee on Floyd's neck was consistent with departmental training.
On Friday morning, two more Minneapolis Police (MPD) officers testified. MPD Sergeant, Jon Edwards, testified to start the day. Edwards was the night watch Sergeant at the 3rd Precinct the day of George Floyd's death. Edwards spoke about putting crime tape up and securing the scene where Floyd was killed.
Decades-long policeman Richard Zimmerman was next to testify. His testimony revolved around training and use of force. Zimmerman said after Floyd was handcuffed he should have been rolled over on his side and that Chauvin's knee in Floyd's neck was "deadly force." He said the use of force on Floyd was "totally unnecessary" and "uncalled for" and that he "saw no reason why the officers felt they were in danger." Court was adjourned at the mid-day, lunch break.
---
Thursday we heard testimony and questioning of five witnesses in the trial: Floyd's former girlfriend, two paramedics, a firefighter, and the Sergeant who was Chauvin's boss on the night of the death of Floyd.
Testimony started out with Courteney Ross, a partner of George Floyd. She emotionally spoke about their relationship, sometimes referring to Floyd in the present tense. She talked about going on walks with Floyd around Bde Maka Ska (renamed from Lake Calhoun) and at the sculpture garden. She said Floyd was a security guard at Harbor Lights (a shelter) when she met him and recounted the story of him asking to pray with her. She said that he was a "mama's boy" and after his mom passed away mid-2018, he didn't have the same bounce in his step.
She was questioned quite a bit about sharing an opioid addiction with George. She said both of their addiction started from prescriptions for body pain. During the cross examination, Nelson focused on the drug use of Ross and Floyd. Nelson had Ross look at the transcripts of the interview she did with the FBI and admit to who her and Floyd got their drugs from and spoke about taking a newer pill that she said Maurice Hall provided. Hall was in the passenger seat of the car that Floyd was pulled out of before being killed. (On March 31, Hall's public defenders had filed a notice of intent to invoke the fifth amendment if he's called to testify.)
Two months before Floyd's death, he was hospitalized for five days from an overdose that Ross said were from new pills they hadn't had before and that he had intense stomach pain and that she had noticed a foamy substance on his mouth. In the redirect, prosecutor Matthew Frank had Ross confirmed that her and Floyd both took the newer pills in March and in May.
Paramedics Seth Bravinder and Derek Smith were next on the stand. They both spoke about the process of medical treatment, going around the corner to try to save George Floyd's life but that Floyd had no signs of life in the ambulance and was "flat-lined." Another initial responder testified, firefighter Jeremy Norton.
Minneapolis Police Sgt. Fleoger, the 3rd Precinct shift captain the night of Floyd's death was the last person on the stand on Thursday. Fleoger is the person who Lena Scurry, the 911 dispatcher that testified on March 29, called when she saw Floyd being killed on camera. He spoke about use of force and said Chauvin didn't initially report that he had put his knee on Floyd's neck and when he did, he didn't mention the length of time. Fleoger said excessive force should have stopped "when Mr. Floyd was no longer offering up any resistance to the officers they couldve ended the restraint."
Chauvin Trial – Day 16 – live nowhttps://t.co/zbg0TWRIn2

— Unicorn Riot (@UR_Ninja) April 1, 2021
Court on Wednesday morning began with a quick conclusion of Genevieve Hansen's testimony from the previous afternoon. The next witness to testify was Christopher Martin, a 19-year-old who was working as a cashier at the Cup Foods where Floyd was accused of passing a counterfeit $20 bill. Martin described his initial interactions with Floyd and his manager and coworkers the led to the police arriving at the scene.
Another witness – Christopher Belfrey, age 45 – told the court how he saw an officer with his gun raised towards George Floyd so he began recording the scene (his video was played in court.) Powerful testimony was also given by Charles McMillian, age 61, who witnessed Floyd's killing and had tried to tell the officers to get off of him. McMillian openly wept on the witness stand when being asked to recount the details of what he saw happen to Floyd, leading to the court pausing the video and Judge Cahill declaring a ten-minute recess before McMillian finished his testimony.
The final witness to testify on Wednesday was Minneapolis Police Lieutenant (formerly of the notorious Strategic Information Center) from MPD's Business Technology Unit. Rugel testified about the nature of the city's use of various security camera systems as well as MPD's body-worn camera program. Prosecutors from the Minnesota Attorney General's office used Rugel's testimony to introduce quite a few security camera videos of the scene of Floyd's killing, as well as wrenching footage taken from the body worn cameras of of the officers involved.
On Tuesday, both the prosecution and the defense finished questioning Donald Williams II, the martial arts practicioner who warned Chauvin he was using a "blood choke" while kneeling on Floyd's neck. The court also heard from youth who were bystanders on May 25, 2020 when Derek Chauvin knelt on George Floyd's neck. 17-year-old Darnella and her 9-year old cousin walked to Cup Foods on May 25 at the exact moment George Floyd was on the ground with three officers on top of him. Darrella walked her cousin inside the store, and walked back toward the squad car by herself and began filming the scene on her phone, which ended up viral.
On Tuesday afternoon, the state called Genevieve Hansen, a bystander witness who is a Minneapolis firefighter and licensed paramedic. Hansen described her horror and despair at being prevented by officers from rendering life-saving medical aid to George Floyd as she watched his killing. Jurors were shown cell phone video Hansen took of the incident.
After the second day of witness testimony in the Derek Chauvin trial, we were joined by Frank Aba-Onu, the President of the Minnesota Association of Black Lawyers. He shared his take on the opening statements, the witness testimony, what he expects in the trial, and the rights of protesters.
The day started with Cahill excusing the 15th juror and clarifications on opening statements. After the 14 jurors got sworn in, Jerry Blackwell gave the State's opening statements and showed the full, nearly 10 minute, viral video taken by Darnella Frazier. Blackwell spoke for 58 minutes, saying 9:29 is the most important numbers we'll hear in the trial. Blackwell said George Floyd called out for help, saying he couldn't breathe 27 times in just 4 minutes and 45 seconds before going limp, losing bodily functions, and dying. Chauvin continued to kneel on Floyd for another 4 minutes and 44 seconds after. Blackwell said Floyd died from asphyxia, and that Chauvin "betrayed" his badge. He also mentioned some of the witnesses they hope to bring forth, one of them being the Chief of the Minneapolis Police. Defense Erik Nelson spoke for 24 minutes and focused his opening statements on Floyd taking drugs and police training.
After opening arguments, the first witness to testify was Jena Lee Scurry, a 911 dispatch operator who first fielded the call sending police to the Cup Foods over Floyd's alleged use of a $20 counterfeit bill. Scurry says she called a police sergeant after. herview of the scene via surveillance video led her to believe something was "wrong." Scurry told the court that by reporting her concerns to MPD higher-ups she felt she was being a "snitch" to the officers.
After Scurry, the second witness was Alicia Oyler, a young woman who was working at the Speedway store across from the Cup Foods at the time. Oyler took several video clips which had been provided to authorities investigating the case filed against Chauvin. The prosecution used Oyler's testimony and videos to begin showing jurors various maps and surveillance videos of the scene of Floyd's killing (as well as Oyler's cell phone clips mostly taken across from the street.)
The third witness to testify on the first day of trial was Donald Williams II, who witnessed the killing of George Floyd by Derek Chauvin firsthand. The prosecution had previously indicated they intended to use Williams' professional martial arts training to demonstrate that Chauvin knew he was acting improperly by choking Mr. Floyd.
Around 1,000 people gathered in downtown Minneapolis outside the Hennepin County Government Center after the first day of trial proceedings with a sword-in jury concluded. Calling for police accountability, high school teacher, Kaia Hirt, locked herself to the fence of the government center after the main protest.
Former 911 dispatcher with the City of Minneapolis, Keith McCarron, spoke to Unicorn Riot on Monday night about being a dispatcher, surveillance, and the culture of policing.
March 23, 2021
As jury selection continued, Tuesday morning featured one of the more outspoken potential jurors, a staunch police supporter claiming "all lives matter." Juror 127 repeated the far-right dog-whistles of Chicago crime when speaking on the topic of Black Lives Matter, saying "if these people were so benevolent they could go to Chicago."
Eventually, juror 131 was seated on the jury panel, bringing jury selection to a conclusion, and pausing the trial until opening arguments begin on Monday, March 29.
March 22, 2021
One juror was selected in the morning jury selection bringing the total up to 14 jurors chosen.
March 19, 2021
On Friday morning, Judge Cahill denied the defense's motions requesting a continuance (to delay the trial) as well as a change of venue (to move the trial outside Hennepin County). This means opening arguments the trial will begin on March 29, as planned. (Jury selection is expected to take roughly until then.)
March 18, 2021
In today's court proceedings we saw motions in the morning, revolving around questioning of witnesses. During the jury selection, we saw three jurors get seated. All of them women. 12 jurors have now been accepted by the court, seven of them are self-described as women. Two more jurors are needed to fill the court as they need two alternatives.
Tomorrow is slated to be an important day. Change of venue motions will be heard along with other important proceedings.
March 17, 2021
Judge Cahill opened the morning by Zoom calling all nine jurors selected so far and asking them if they heard news of Friday's $27M settlement. From these discussions, Judge Cahill excused two of the nine jurors because of their answers on questions about seeing the news on the settlement. This brings the number down to seven jurors selected.
Two more jurors were selected, bringing the number back up to nine. Judge Cahill ruled that (at least) three peremptory strikes would be given back to the defense and one to the state. At the end of the day on March 17, the defense has 6 strikes and the state has 5 left. Motions will continue on Thursday morning, along with jury selection.
March 16, 2021
March 15, 2021
As jury selection for the file stretched into a second week, attorneys for both sides began Monday morning by arguing about details of how certain witnesses will be called such as a forensic doctor and a toxicologist. Chauvin's attorney Eric Nelson again indicated he plans to use the controversial Hennepin County Medical Examiner's report from the first, non-independent autopsy of George Floyd to argue that Floyd's alleged drug use caused his death. (This claim is pretty clearly disproven by the second, independent autopsy.)
Defense counsel Eric Nelson and Judge Cahill both also complained about the previous Friday's news that Minneapolis reached a $27 million settlement with the family of George Floyd, speculating that it could prejudice jurors.
March 12, 2021
Court started an hour late on Friday. As of 10 a.m. central time, one juror had been struck by Chauvin's defense team today and was excused from serving in the trial.
A historic $27 million settlement was reached between the City of Minneapolis and the family of George Floyd. A press conference was held around 2 p.m. featuring the legal team for the Floyd family and Minneapolis officials.
The unprecedented press conference took place at the Convention Center in downtown Minneapolis announcing the highest ever settlement for a police killing in Minnesota – $27M for the killing of George Floyd. Led by Ben Crump along with the legal team for the Floyd family, members of Floyd's family, and Minneapolis city officials, including Mayor Frey and Council Members Jenkins, Bender, and Ellison as well as City Attorney Jim Rowader, the statements revolved around reforming the police and pushing for police accountability bills. Floyd's family has chosen to donate $500K of the $27M to the neighborhood where George Floyd Square is.
March 11, 2021
Around 8:30 a.m. on Thursday morning, Judge Cahill ruled that prosecutors could reinstate the 3rd-degree murder charge that had previously been filed against Chauvin. On Wednesday, the Minnesota Supreme Court denied Chauvin's motion to throw out the charge.
During the lunch break, we spoke with human rights activist and journalist Mel Reeves. Reeves has been in the court room during the jury selection and spoke about the process of going through militarized checkpoints to get into the courtroom and about his feelings of the selection process.
"Black people are not going to be able to get on this jury, not honest Black people," said journalist Mel Reeves during an interview with Unicorn Riot on the Thursday lunch break from proceedings. At the time, six jurors had been selected, three caucasians, one Latinx, another being an African immigrant, and a woman from northern Minnesota who some say appeared to be biracial.
Black Lives Matter & Blue Lives Matter at Center of Jury Questionnaire
Reeves' remarks come after an African-American female juror was sent home for saying she couldn't unsee what she saw in the video of George Floyd's death. Mel questions who can unsee something they have seen? Every juror has admitted that they have either watched the video in its entirety, or have seen images or a clip from it.
March 10, 2021
Motions were discussed early in the morning and jury selection continued after the morning break. Two more jurors have been selected as of Wednesday afternoon.
March 9, 2021
Jury selection started. Three jurors were selected and nine in total were questioned. The state used one strike and the defense used two. The two strikes from the defense were done on Hispanic individuals, leading to the state raising a Batson challenge, saying the defense was striking potential jurors based on race. The judge disagreed with the State and accepted the defense's race neutral reason for the strike.
George Floyd's first cousin Shareeduh Tate sat in the one seat available to the Floyd family. No one sat in the assigned seat for a family member of Derek Chauvin.
March 8, 2021
The Derek Chauvin trial officially started with Monday's court hearing a recent Minnesota Court of Appeals order to reconsider a third-degree murder charge along with nearly two dozen motions filed by both the defense and prosecution teams. George Floyd's youngest sister, Bridgett Floyd, spoke to the press after court adjourned.
A large protest took the streets of downtown Minneapolis as court started, calling for justice for George Floyd.
As the trial for Derek Chauvin is slated to begin today, the fencing on his former employers precinct, the abandoned Third Precinct, was given an artistic update with #JusticeForGeorgeFloyd posters. pic.twitter.com/BPxSBt6zoQ

— Unicorn Riot (@UR_Ninja) March 8, 2021
---
On March 8, 2021, Chauvin's trial on murder and manslaughter charges began. Jurors will hear the case nearly a year after the largest protest movement against police and racism in the history of humankind that spawned from Floyd's killing.
Presided over by Judge Peter Cahill, the trial of the State of Minnesota vs. Derek Chauvin is being held on the 18th floor of the Hennepin County Government Center with strict COVID-19 protocols.
Opening arguments are slated to begin around March 29 after the jury is empaneled. Jury selection began on Monday, March 8 and is expected to last several weeks.
A total of 12 jurors will decide the case, with two 'alternates' also on the jury panel in case another juror has to be excused. In choosing the jury, the judge has unlimited strikes available to excuse potential jurors. The state has nine total strikes and the defense has 15.
The trial is expected to last until April, although it may get extended if the prosecution or defense decide to file appeals to the Jury's decision.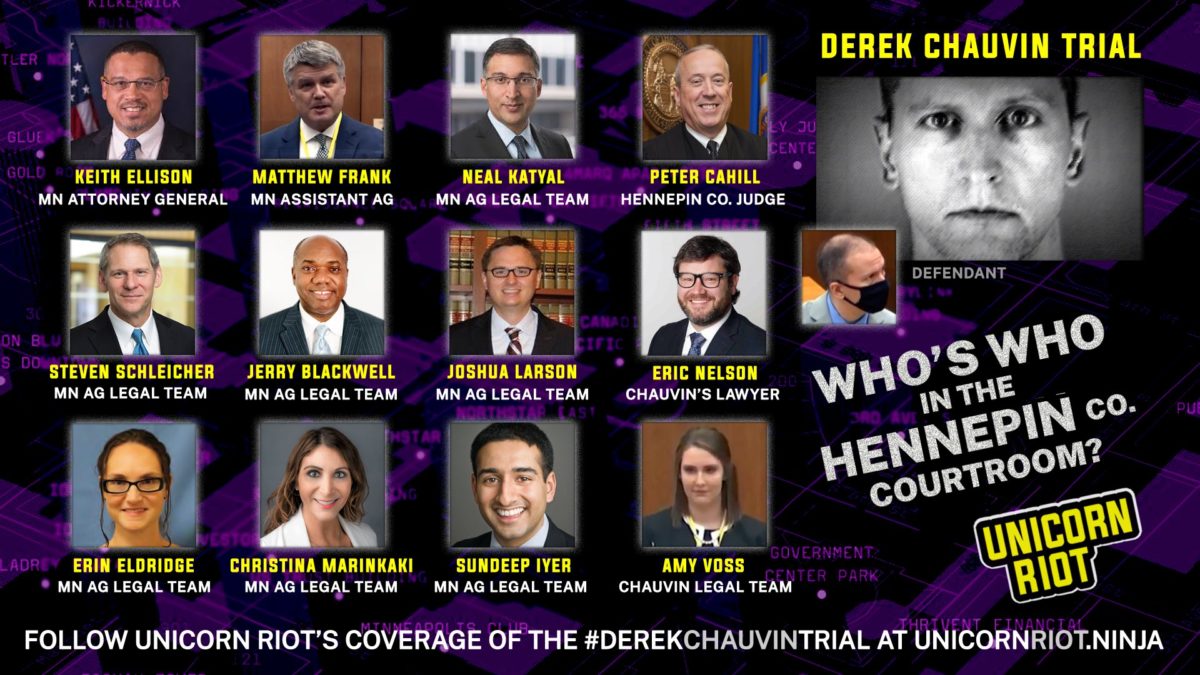 On the prosecuting team for the Chauvin trial are attorneys from the Minnesota's Attorney General's Office: Steve Schleicher, Jerry Blackwell, Keith Ellison, Erin Eldridge, Matthew Frank, Christina Marinkaki, Joshua Larson, and Neal Katyal. Defendant attorneys Eric Nelson and Amy Voss are representing Derek Chauvin. Chauvin's defense is being paid for by the Minnesota Police and Peace Officers Association (MPPOA), according to 2020 reporting by the Star Tribune.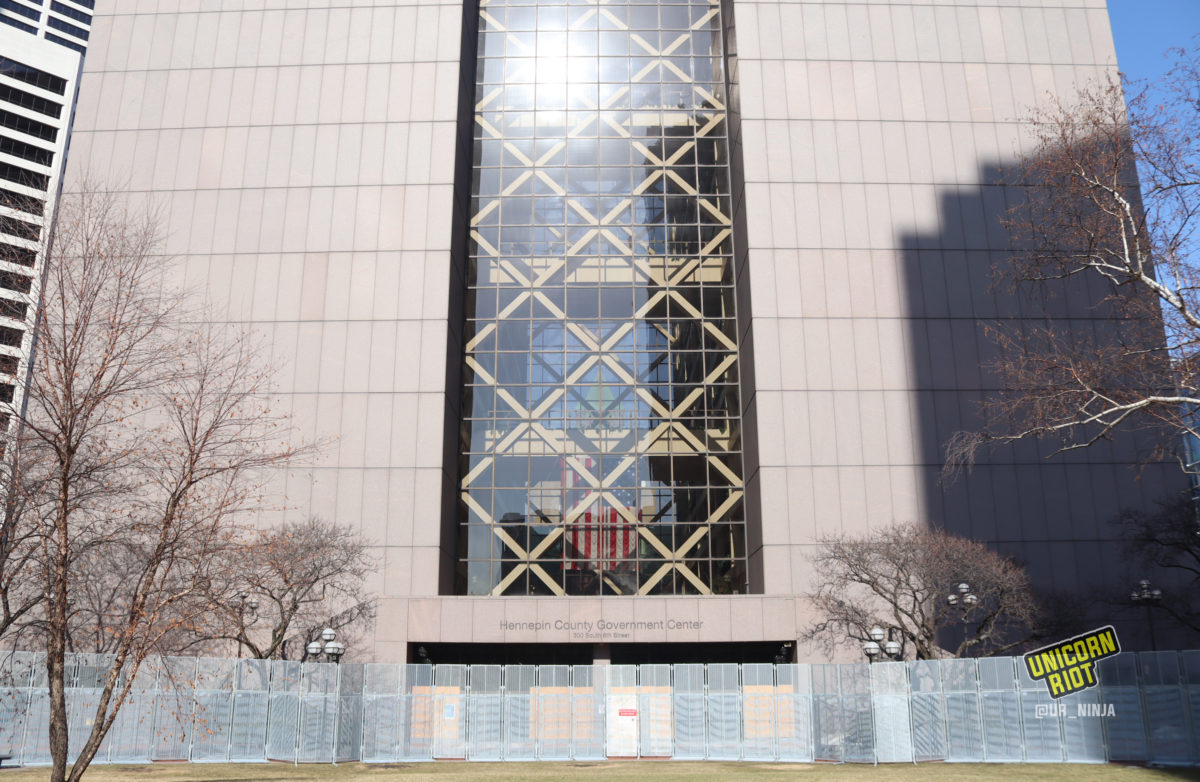 Ongoing Protests and State Response
Numerous planned and spontaneous protest actions are expected to take place throughout the trial. Up to $35 million reportedly may be spent on security preparations for the trial. Street closures, concrete barricades, concertina wire (aka barbed wire), and a mile of fencing surround state buildings downtown; 3,000 National Guard troops and legions of extra police reinforce the brooding dystopian mood centered around the Hennepin County Government Center.
Increased police surveillance flights (including by the FBI) continue to pollute the skies above an already congested Twin Cities airspace. Spy plane flyovers have been especially frequent over south Minneapolis where George Floyd Square (GFS) is located.
Communities still reeling from the aftermath of Floyd's killing and the brutal police actions towards protesters last year have voiced that the re-militarization of the city triggers trauma inflicted during the initial police crackdown during protests and riots last year.
The Chauvin trial is the first case in Minnesota's history to be streamed live to the public. Unicorn Riot is streaming the court proceedings and will be providing coverage from inside the court and out.
Race and Perception: First Two Weeks of Derek Chauvin Pre-Trial – March 21, 2021
Black Lives Matter & Blue Lives Matter at Center of Jury Questionnaire – March 11, 2021
Reported descriptions of the sworn-in jurors, according to pool reporting from the trial.
Front row:
Juror 1. Female. Appears white. Long brown hair, parted on the side. 20s to 30s? [Could be Juror #118 from jury selection but unclear]
Juror 2. Female, Appears white. Long brown hair, pulled back. 40s or 50s? [Could be #44 from jury selection but unclear.]
Juror 3. Male. Appears black. Short hair. 50s? [Could be #79 or maybe #52, but unclear.]
Juror 4. Female. Appears black or multiracial. Shoulder-length straight dark brown hair, perhaps straightened and lightened. Glasses 40s or older. [Could be #91 but unclear.]
Juror 5. Female. Appears black or multiracial. Lighter complexion than No. 4. Curly hair. Maybe 20s? [Could be #85 but unclear.]
Juror 6. Male. Appears white. Hair short on sides, longer on top. Short beard. Black-framed glasses. Maybe 20s? [Could be #2 but that's unclear.]
Juror 7. Female. Appears white. Shoulder-length straight hair parted in middle. Heavier. 50s? [Could be #89 but that's unclear.]
Back row:
Juror 8. Female. Thick, long blonde-to-light brown hair, parted on side. Heavier. 50s? [Could be #96 but that's not clear.]
Juror 9. Can't see her well, but female, blonde or light brown hair. [Could be #92 but that's unclear.]
Juror 10. Male, appears Black, darker complexion. Hair short on sides, longer on top. 20s or 30s? [Could be #27 or #79 but that's unclear.]
Juror 11. Female. Appears white. Medium blonde, semi-curly hair, shoulder length. 40s or 50s? [Could be #55 but that's unclear.]
Juror 12. Female. Could be mixed race. Lighter complexion. Long straight black hair. 40s? [Could be #9 but that's unclear.]
Juror 13. Male. Appears Black. Short hair. Heavier. 40s? [Could be #52 or #79 but that's unclear.]
Juror 14. Male, white, brown hair, short on sides. 30s? [Could be #19 but that's unclear.]
Updates to this page are ongoing.
---
Follow us on X, formerly known as Twitter, Facebook, YouTube, Vimeo, Instagram, Mastodon, Threads, BlueSky and Patreon.
Unicorn Riot's George Floyd Coverage:
Please consider a tax-deductible donation to help sustain our horizontally-organized, non-profit media organization: