Targeted: Young, Black, and Harassed in Downtown Minneapolis
Part 4 in the series: 21st Century Jim Crow in the North Star City
Minneapolis, MN – Target Corporation co-created and funded a racialized surveillance network in downtown Minneapolis, beginning in 2004. This article focuses on the voices of their intended "targets" with youth telling their stories of harassment and brutality at the hands of the police.
"They came and walked up on us and said they'll 'Trayvon Martin our little Black asses.' His exact words."

A Downtown 100 youth retelling an encounter with MPD, in Reflections on the Downtown 100
As explained in Part 3 of this series—Minneapolis' Downtown Dark Alliance—a program called SafeZone began with cutting-edge surveillance technology when Target donated 30 cameras to the city, and eventually grew into a citywide public-private surveillance state.
The Downtown 100 Initiative (DT100), an extension of SafeZone, is essentially a criminal registry compiled of downtown's top 'livability crime' repeat offenders. DT100's targets are tracked by a team made up of police, prosecutors, probation officers, social workers, and business community representatives who meet weekly to share intelligence and updates on individuals caught up in the program.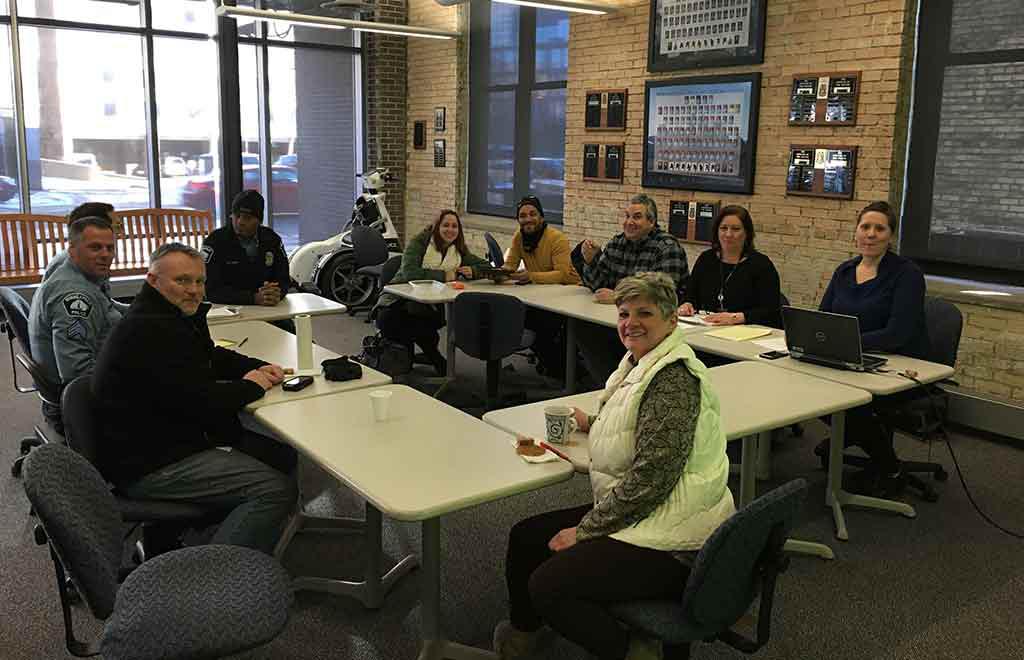 ---
---
"It's almost like being an invisible man in a Ku Klux Klan meeting."

– Will Menday, a formerly homeless youth, describing his experience at the Downtown 100 meetings
In 2015, youths on the DT100 list, with support from arts nonprofit Kulture Klub Collaborative (KKC), created a short film, Reflections on the Downtown 100, giving them a platform to tell their own stories for the first time. As reported in Part 3, the non-profit social-service agency YouthLink partnered with KKC in producing Reflections, but because it was critical of the DT100 program and the police, YouthLink requested their name be taken off the project.
The first youth featured in the film, wearing a gray tank top and eyeglasses with his dreadlocks in a ponytail, opens up about being profiled thanks to the vast surveillance dragnet created from the public-private partnership between downtown businesses and cops. "Say you're going to the Marriott downtown, or the City Center, or Target," he said, "all of these people know your record."
"Since you're on the Downtown 100, your name goes right to the place and they'll be like, 'Oh, we don't want you here, we recognize you,'… stuff like that."

Reflections on the Downtown 100
Another unidentified young man echoed those sentiments of being profiled. He said nothing good came from him being on the DT100. A third young man featured in Reflections admitted to stealing from downtown stores out of survival, but doesn't feel like that's justification for the constant harassment he experienced from the police.
"Sometimes when I did bad, like steal, theft from stores, yeah that's my fault. But don't arrest me for walking down the sidewalk and minding my own business. Don't arrest me for that."

Reflections on the Downtown 100
All three youths featured in the film are Black.
Dr. Keith Mayes, Professor of African and African American Studies at the University of Minnesota, puts contemporary harassment that can have fatal consequences into historical context, saying, "coming out of slavery, vagrancy laws… were critical for white police officers to attack young Black people". These practices have been imported with each generation, from slavery and Jim Crow, into contemporary times. According to Mayes:
"It's the same practices that were instituted back in the late 19th century and early 20th century. They're still doing it, they're just updating it."

Dr. Keith Mayes
As mentioned in Part 1—Policing and Punishment in Minneapolis' SafeZone—former YouthLink case managers Anne Kent and Mickella Rolfes, who worked with youth on the DT100, said that the list is actually populated by those who've had the most police contacts rather than the most arrests. In other words, the list is made up at the discretion of downtown police based on who they target and harass. Consequently, year after year it's almost entirely Black people on the list.
Kent said police brutality was something she saw when she first started working at YouthLink. "A lot of the kids that I worked with weren't necessarily on the Downtown 100, but still experienced police violence and harassment daily." In this series, Kent told the story of a former client who was beaten up badly by the Minneapolis police (MPD) after walking his bike along Nicollet Mall in front of Target's flagship downtown store. "A kid came in the next day after he left the drop-in [center], beat up physically…by the police." She remembered he begged for his life after thinking MPD was going to kill him. "He was beat up so bad… They brought him to the hospital instead of booked him," she said.
"I don't know if they didn't want to have to deal with that image or what but they never booked him or charged him. And they knew that the crime was petty as fuck."

Former DT100 case manager, Anne Kent
Kent said she got YouthLink's executive director to talk to then-Minneapolis Police Chief Janee Harteau about what happened. Instead of talking, she said Harteau yelled at them and then left the meeting. "We never got to finish that conversation," Kent laughed.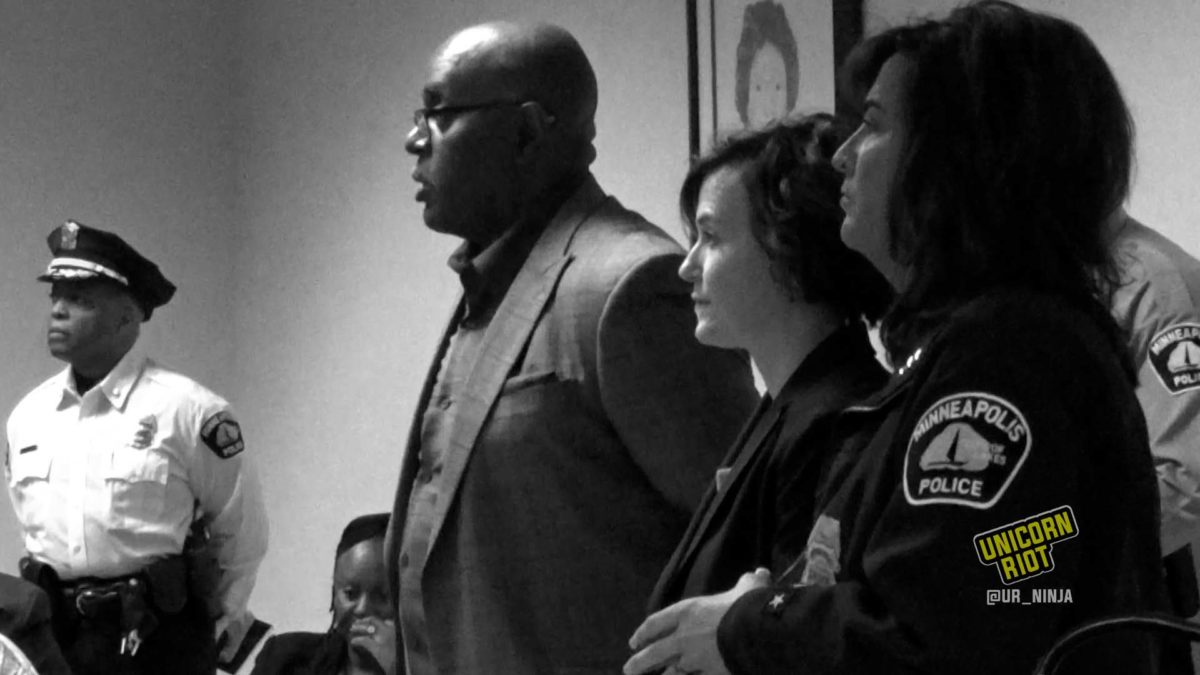 In Reflections, a young man told a story exposing the true essence of the MPD, whose brutality became known to the world after George Floyd was murdered on video by Derek Chauvin. "Four officers walk up and they approached us and asked us what the fuck was we doing downtown and just kinda got to harassing us." The youths told the officers that they weren't doing anything wrong.
He continued, "They came and walked up on us and said they'll take us to jail and said they'll 'Trayvon Martin our little Black asses.' Those his exact words." Shocked and in disbelief at what he just heard from the cop, the young man asked for clarification. "What do you mean by that, you'll kill us?" The cop replied, "'If that's the way you take it…' They kinda been harassing me ever since then," he disclosed.
Recently, a young man we'll call Abdi (*real name is being protected), talked to Unicorn Riot about getting marched off the Metro Transit bus at gunpoint by MPD.
"And then they came on the bus, walked straight to me, and pulled his gun out, and put it dead on me."

Abdi, formerly homeless youth
Abdi, who is now 30, was homeless as a teenager and in his early 20s and ended up in the streets of downtown Minneapolis sleeping wherever he could, including under a bridge. He wasn't on the DT100 list but found himself frequently targeted by downtown police. Abdi believes they were trying to set him up to get him on the DT100. Abdi talked about a white cop who was obsessed with locking him up. He said one time the cop couldn't believe Abdi didn't have a criminal record. "You're 18 and you don't have a criminal record," the cop said, stunned. Two years later that same cop would go on to arrest Abdi for a small bag of weed, which resulted in a felony conviction.
Abdi told a story of the same cop along with another officer pulling him off the bus at gunpoint. "They literally like watched me hop on the bus. And then one goes to the back door and one went to the front door. And then they came on the bus, walked straight to me, and pulled his gun out, and put it dead on me," Abdi said, motioning his hand like a pistol. "And he said, 'What did I tell you? You're trespassed, get up.' Took me up. Had the gun pointed. Took me off the bus."
As this was happening, Abdi's friend was recording with her cell phone. Then after five minutes of being publicly humiliated, the officers' commanding sergeant came walking around the corner. To Abdi's surprise the cop switched up. "Oh his trespass expired, he's good to go," he said to the approaching superior as he removed the handcuffs from Abdi's wrists. Abdi said he was never trespassed in the first place. He believes God intervened that day.
According to Dr. Mayes, the DT100 program was never about public safety. "One of the scariest things for white folks was Black folks' ability to go about their business … They have a tendency to over-target young Black people," Mayes professed, "because they want to control their labor."
"The way that you control their labor is you control their movement. And if I can control their movement then actually I can control all the other stuff."

Dr. Keith Mayes
The dreadlocked youth featured in Reflections recalled being robbed and then charged with defending himself: "I got jumped and robbed by these two guys when I was 18 and I fought them back and now I got a third degree assault," he said. "And if I would've tried to fight it I could be doing 84 months in prison. So I told them I'll take the probation which puts me here today." But the skeptical young man said, "I'm not really with that probation crap. I call it modern day slavery. I don't like it." He continued:
"It's a lot of things to probation or the Downtown 100, you know, or things just going on in the world today, it just really don't add up."

Reflections on the Downtown 100
Will Menday, a 29-year-old IT professional, became homeless at 15 and found refuge at YouthLink's drop-in center. Eventually Menday secured housing and became a youth worker himself, doing street outreach to kids in the predicament he once faced. Menday attended DT100 meetings while working for St. Stephen's Human Services.
Menday saw up close the inner workings of the downtown surveillance state. He recalled hearing his friends' names being discussed in some of the meetings. "It's almost like being an invisible man in a Ku Klux Klan meeting. Most of the youth they were discussing, I personally knew." He disclosed, "I was homeless with them as well."
Menday even got to tour the control room known as the Downtown Improvement District (DID) fusion center located within MPD's First Precinct station, where they watch dozens of networked downtown cameras. There's a civilian staff "whose job is to watch those cameras and report to the police whenever anything suspicious occurs in downtown," he said.
"It's almost like being an invisible man in a Ku Klux Klan meeting." Will Menday, formerly homeless youth describing his experience at the Downtown 100 meetings, in Targeted: Young, Black, and Harassed in Downtown Minneapolis – Part 2. pic.twitter.com/XGcqmcs85z

— peoplepowerpodcast (@peoplepowerpod1) October 3, 2021
In February, former YouthLink case manager Mickella Rolfes organized a virtual discussion about the Downtown 100, just weeks after Unicorn Riot broke the first story about the racialized surveillance program. "They used to tell me they were watching me," a former DT100 youth recalled of the police after learning of Minneapolis' massive downtown surveillance network at the virtual forum.
Norman Irving was recently featured in Bloomberg Businessweek's August cover story, "How Target Got Cozy With Cops, Turning Black Neighbors Into Suspects," based in part on Unicorn Riot's reporting. Irving is a former DT100 youth and also participated in the online discussion. He exposed how cops used trumped-up charges to create the Downtown 100 list. "They were stopping us for little petty things like spitting on the ground," he said begrudgingly. "I got arrested for spitting on the ground."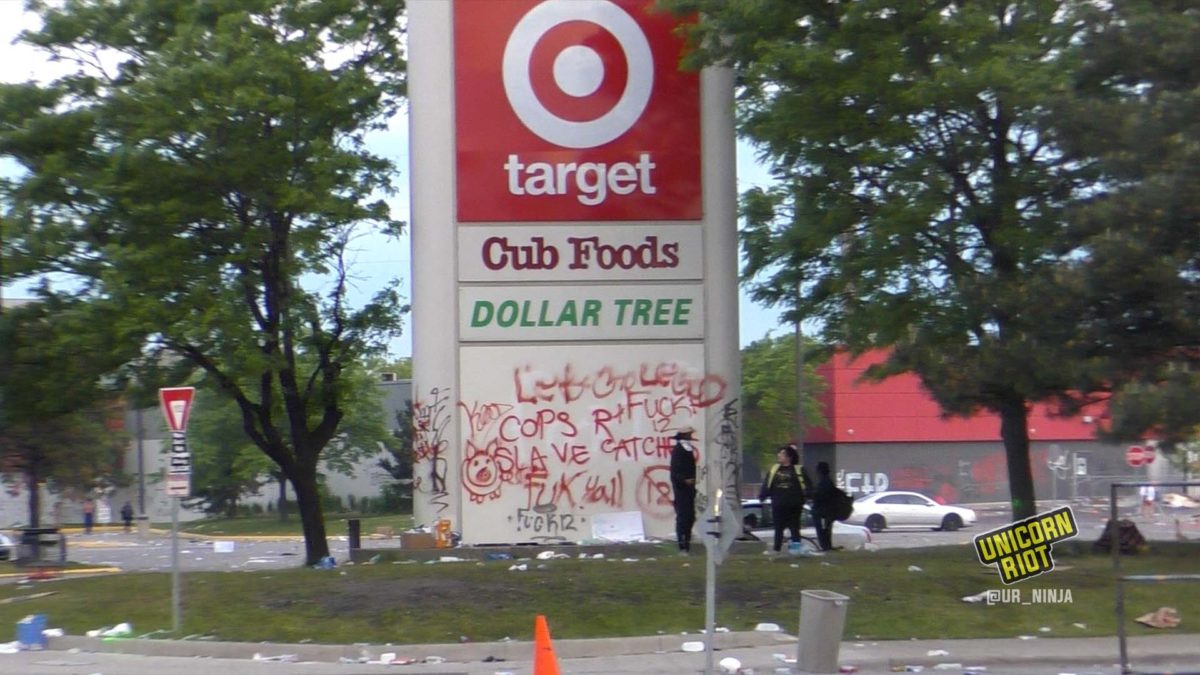 In 2015, because of systematic racial profiling in cases like Irving's, activists pushed the Minneapolis City Council to repeal spitting and lurking ordinances being weaponized by cops. But like Dr. Mayes stated, the system is always adapting. "Then I would get arrested for jaywalking or loitering," Irving said. "I used to get arrested for petty things so that's why I kept having a lot of contact with the police."
Irving said they were just kids in need of support. "Where could we go? Who could help us?," he asked. "That's the one thing we don't have is help." Irving said he got arrested many times for little things. "That's what made us start being geo-restricted."
Controversial geo-restriction orders ban someone from an entire geographical area, in this case from the so-called SafeZone. "Now you're kicked out of downtown," Irving explained. He said it was painful losing his job downtown after getting geo-restricted. Irving inevitably landed in prison for four years; he said that's how he eventually got off the DT100 list.
Another man who used the pseudonym Batman said being on the DT100 was demeaning. "It didn't humanize anybody. It wasn't for the benefit of human beings." He said it made him feel reduced to a number. "It was more for show. Like, 'Look what the city is doing.'"
Dr. Mayes said there's a direct connection between the Black Code laws of the 1870s, crafted to essentially re-enslave Blacks after emancipation, and the post-9/11 SafeZone and DT100 programs. He stated:
"You can draw a direct line between 2011 and '12 when we started to see [the DT100] emerge in Minneapolis all the way back to the 1860s and '70s, for sure."

Dr. Keith Mayes
Mayes posed the questions: "So what do you say when a government or a society purports to be more egalitarian than it was in the past? […] What do you say to a society that says that Black folks have made some serious advancements and that we are still moving forward in the area of civil rights and human rights? Well the evidence says something differently," he countered.
"It almost feels that we are living in a parallel universe."

Dr. Keith Mayes
Reflections closes with a somber voice talking about the effects of his mother's death and how he ended up downtown during a grief-stricken period in his adolescence. The youth describes a type of empathy missing for Black kids like him.
"I made myself homeless. I can never walk a mile in anybody's shoes, but I can understand what they've been through."

Reflections on the Downtown 100
U.S. Rep. Ayanna Pressley (D-MA07), a high-profile progressive member of the Congressional "Squad," recently tweeted that the U.S. as a nation lacks empathy: "There is no deficit of resources in America. There is a deficit of empathy."
Reflections on the Downtown 100, created by arts nonprofit Kulture Klub Collaborative can be seen below.
Today, the Downtown 100 still operates, only under a different name: The Strategic Justice Partnership. The website states that it is a collaboration between: "the DID, MPD, Minneapolis City Attorney's Office, Hennepin County Community Corrections, St. Stephen's Human Services, the Salvation Army, 1st Precinct neighborhood associations and other community and businesses and stakeholders." They claim the program offers "housing and treatment services for offenders in need of assistance."
After the murder of George Floyd by the MPD, and after the uprising claimed Minneapolis' 3rd Precinct police station and the Target across the street, the hashtag #LootEveryTarget began trending on social media, putting the corporation on blast for their long history of funding racist policing. Just a few weeks later, a group of police abolitionists called the They/Them Collective in D.C. held an "F the police" march which made a stop at the Columbia Heights Target store and demanded that the store stop calling the police on Black people. "Until you stop calling the police, we'll continue to shut your business down," leaders yelled into a bullhorn to crowds of protesters who repeated the calls for justice.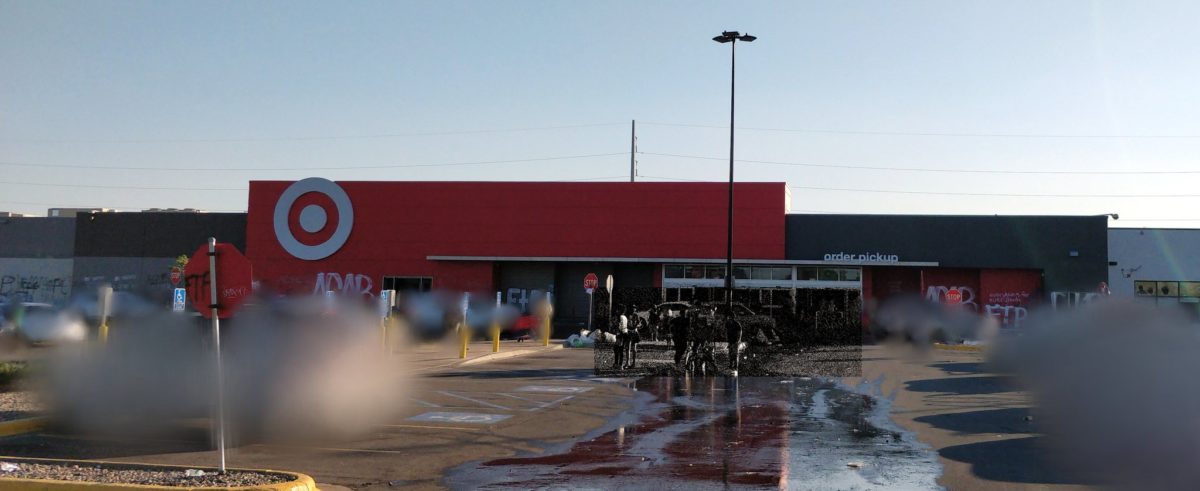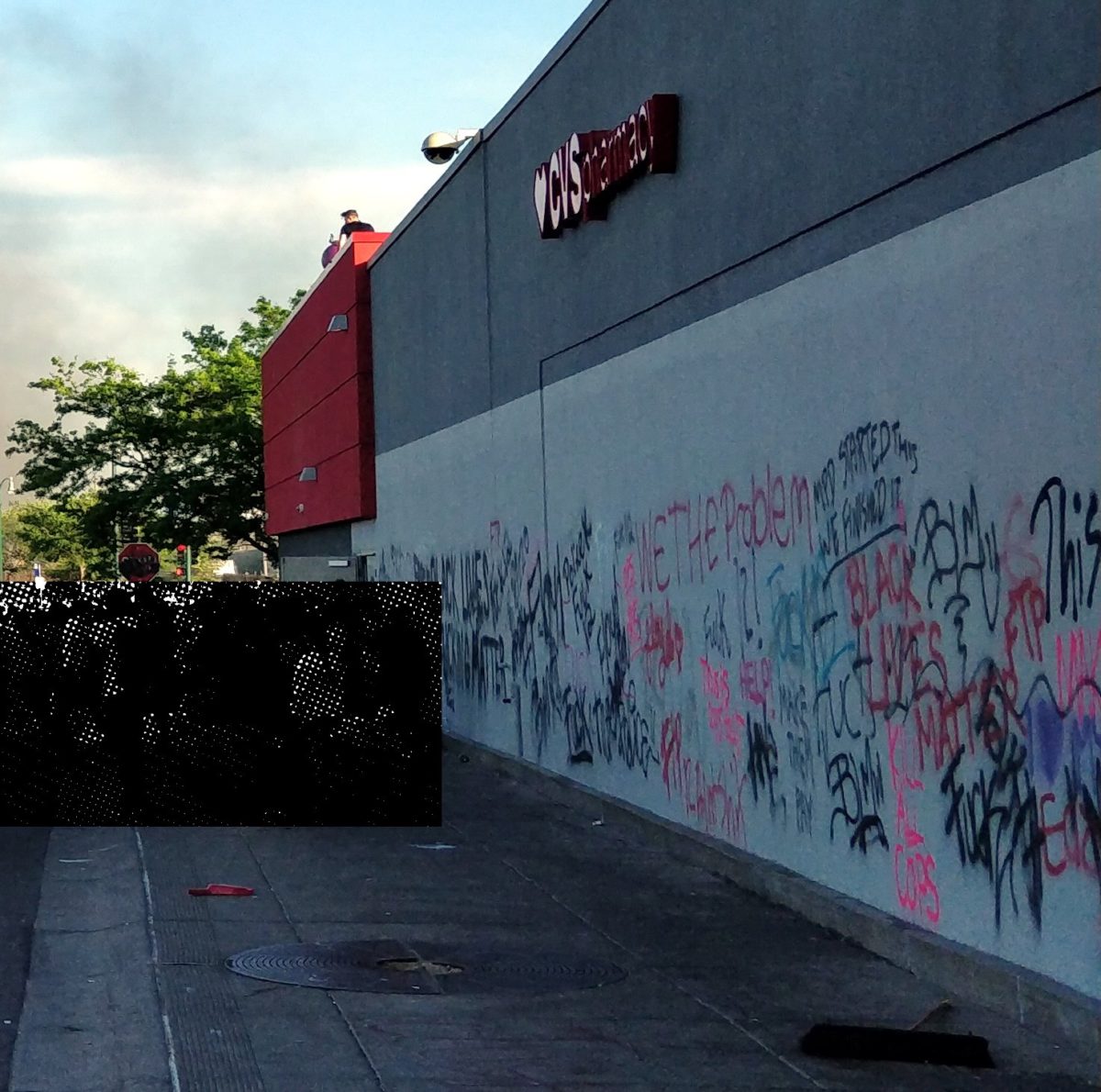 Last summer, another group of activists called Concerned Shipt Shoppers created an online petition demanding Target CEO Brian Cornell cease all funding to law enforcement, stating: "As long as Target Corporation continues to invest in the very systems that perpetrate violence in Black communities, any statements it makes in solidarity with Black Lives Matter ring hollow. By providing funding and legitimacy to punitive policing strategies in Minneapolis and across the country, Target bears a unique responsibility for the circumstances that led to the death of George Floyd and countless other victims of police brutality."
The petition was signed by a few thousand people. However, instead of divesting from police, Target—feeling the pressure from activists—pledged to invest $2 billion in Black businesses, which to activists is an admission of guilt. Although Target said they stopped directly funding the Safe City programs in 2015, which were an outgrowth of the SafeZone surveillance program that spread to 25 different cities across the US, it told Bloomberg it was sticking with police and wasn't abandoning its investments in law enforcement, while claiming to push for reforms.
These stories of harassment and brutality at the hands of the Minneapolis police from youths who were experiencing homelessness make it clear that the Target sponsored SafeZone network was a racialized surveillance dragnet that served as a feeder program from the streets to prison, with the primary goal of keeping poor Black and homeless people, who threaten Target's profitability, out of downtown Minneapolis.
About the author: Marjaan Sirdar is the host of the People Power Podcast and filmmaker of the upcoming documentary, Targeted: Young, Black, and Harassed in Downtown Minneapolis – Part 2. Disclaimer: Sirdar is also a former YouthLink employee.
Cover illustration by Dan Feidt from video still by Niko Georgiades.
---
Follow us on X (aka Twitter), Facebook, YouTube, Vimeo, Instagram, Mastodon, Threads, BlueSky and Patreon.
Please consider a tax-deductible donation to help sustain our horizontally-organized, non-profit media organization: