Minneapolis Faces Facial Recognition
Part 2 in the series: 21st Century Jim Crow in the North Star City
Minneapolis, MN – The new ordinance approved by Minneapolis City Council on February 12, limiting government use of facial recognition technology (FRT), does virtually nothing to protect people from law enforcement who are entrenched with corporations like Target, activists said.* Without including private entities in this ban, there is nothing keeping the wealthy from using police and private security to weaponize FRT against vulnerable populations, thus exacerbating the city's already worst-in-the-nation racial disparities between communities of color and whites.
Facial recognition technology (FRT) has enabled widespread human rights abuses in China against 13 million Muslims, and others. According to a 2019 investigative report by the New York Times, this technology helped transform entire towns into prisons in Xinjiang, home to the Uighur Muslim minorities. In January, the U.S. State Department declared it genocide.
21st Century Jim Crow in the North Star City – A Series
The Surveillance State
In 1990, Northampton, England pioneered the world's first public closed circuit television (CCTV) surveillance system to target "lifestyle offenders" and "terrorists".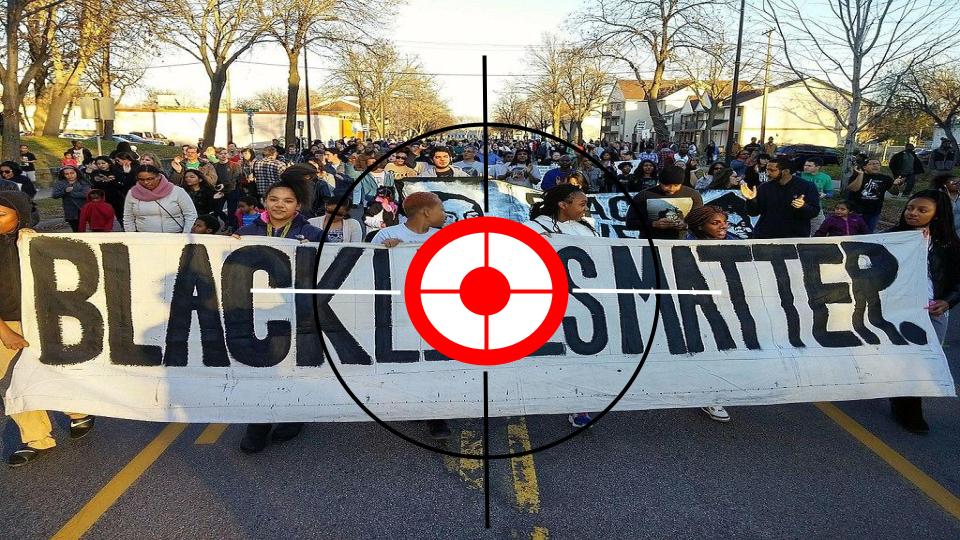 In 2004, Target Corporation and the City of Minneapolis collaborated to launch the new SafeZone surveillance system in downtown, modeled after Northampton. The SafeZone was a massive corporate donation of 30 surveillance cameras from Target to the city, which was the pilot program for its greater Safe City initiative.
The SafeZone cameras helped police track and evict "undesired elements" from downtown. Subsequently, Target began funding lawyers in the Hennepin County prosecutor's office who convicted "repeat offenders," going from three to 90 such convictions per year, according to the Washington Post.
That same year, a Target Corp. video forensics specialist used FRT to help catch and convict two juvenile arsonists in Houston, sending them to prison.
A year earlier, in 2003, Target opened two state of the art forensics labs (Minneapolis and Las Vegas) to aid loss prevention, but the retailer frequently found themselves assisting police around the country, including in the 2011 conviction of Mahdi Hassan Ali for a triple homicide at the Seward Market in South Minneapolis.
Ali, who has maintained his innocence, was just 15 years old when the crime took place. "He claims there is video of him at the University of Minnesota Riverside Hospital that would prove his case," according to Michelle Gross of Communities Against Police Brutality, who is in regular contact with Ali.
Target's Safe City became internationally recognized for partnering with law enforcement around the globe. In 2006, the Washington Post wrote that Target was impacting "local, state, federal and international agencies."

The Naysayers
In a 2003 Downtown Journal commentary* called "The police should not spy on Downtown streets," the writer recalled George Orwell's 1984, saying:
"They're floating a plan to have a Target-sponsored camera watch your public activities. We should just say no.

"Over a half century ago, Orwell simply said, "Big Brother is watching you."

"Police agencies are doing a lot these days by invoking the cry of "homeland security." …[After 9/11] A system has been developed to screen airline passengers by checking their credit records."

– Terrell Brown, Downtown Journal (2003)
---
FRT Cuts Corporate Costs
After erecting surveillance cameras everywhere, law enforcement in Northampton learned quickly that cost cutting measures relied on reducing human hours watching the monitors. Law enforcement outsourced the job to lower paid civilian staff.
China's technological advancements in FRT completely eliminated the need for humans to watch surveillance cameras, cutting costs substantially. By 2011, China, a country where citizens have no privacy rights, unveiled its own massive surveillance program, also called "Safe Cities".
Going back to 2011, American companies such as Northrop Grumman, General Electric, and IBM have worked with the Chinese Safe Cities program. Minnesota company, Honeywell, is also a "major vendor", according to market research firm Homeland Security Research.
Former U.S. navy SEAL turned billionaire military contractor, Erik Prince, has also provided security services for the Chinese government in the Xinjiang province. It was reported last year that his company Frontier Services Group (FSG) signed a contract with the Chinese government to build a training center which would train up to 8,000 security personnel. Unicorn Riot found an offshore corporate entity previously set up by Prince.
---
FRT Accelerates Oppression
China's surveillance juggernaut has been implicated in human rights violations by Beltway analysts such as the Center for Strategic and International Studies and the Brookings Institute.
Surveillance technologies that track masses of populations can assist states in carrying out genocidal activities. IBM's role furthering the European Holocaust through Hollerith machines is merely the first major example.
Human Rights Watch's 2019 report, China's Algorithms of Oppression: Reverse Engineering a Xinjiang Police Mass Surveillance App, describes an application used by cops to collect sweeping data including driver's license info, political affiliation, and blood type of the Uighur Muslims.
On January 20 outgoing Secretary of State Mike Pompeo declared Chinese policy in Xinjiang a genocide, for "crimes against humanity that include arbitrary imprisonment, forced sterilization, torture, forced labor and 'draconian restrictions' on freedom of religion, expression and movement." It listed "forced assimilation and eventual erasure of a vulnerable ethnic and religious minority group" as additional reasons, according to the New York Times. A week later, new Secretary of State Anthony Blinken said, "My judgment remains that genocide was committed against the Uighurs and that hasn't changed."
Xinjiang's massive surveillance state was built after the Chinese government accused a Uighur separatist group of committing sedition, following the "riots" in 2009.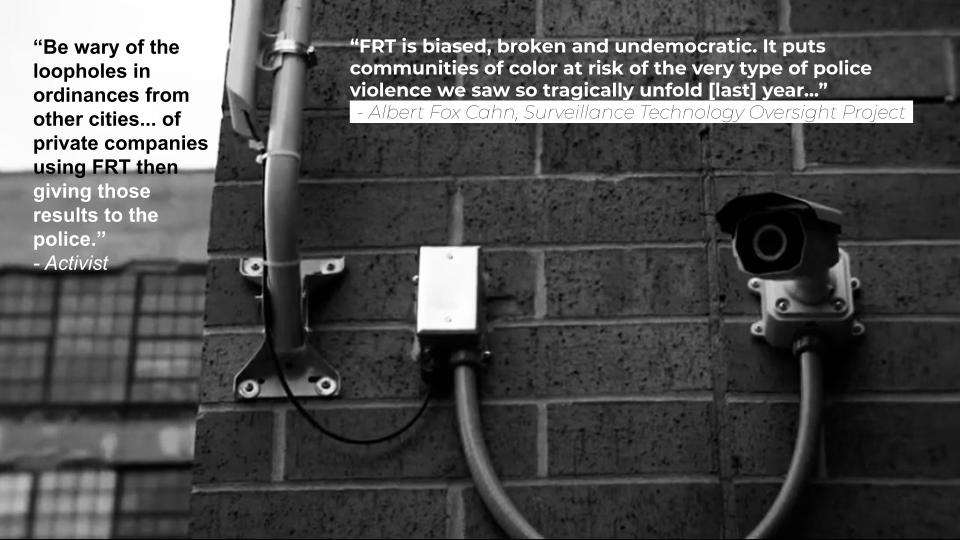 In general, Americans who identify politically on the left support greater protections on civil rights and civil liberties. However, the aftershocks of the January 6 insurrection in Washington D.C. may have redrawn the lines: liberals and progressives ran their own facial recognition tracking on social media, in efforts to bring the D.C. rebels to justice.
Cities like Oakland, Portland, Boston and San Francisco banned FRT prior to the Minneapolis ordinance. In December, Massachusetts governor Charlie Baker vetoed a major police reform bill including a sweeping ban on FRT. But as long as cities rely on surveillance cameras to protect people, there will be a need to watch them.
According to its proponents at a public hearing in Minneapolis, the same basic technology, FRT, linked to genocide in China, is said to be inevitable for the rest of us.
---
Proponents of FRT
On February 10, the city held a hearing on limiting the government's use of FRT in Minneapolis via a new surveillance policy ordinance. All but one member of the public spoke out against FRT.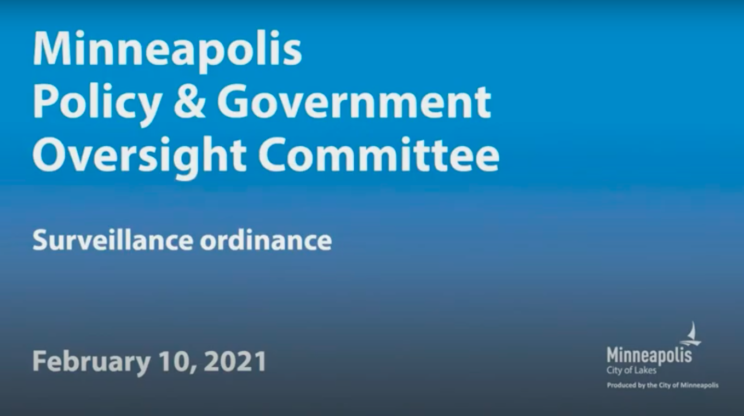 One brave proponent of FRT, Drake Jamali, from Security Industry Association, spoke against a blanket ban. Jamali said FRT has "proven benefits.. .in fighting identity fraud… thwarting malicious attacks against the public, solving hate crimes against the LGBTQ community, cracking cold cases, and… rescuing over 15,000 children from human sex trafficking…"
However, this ordinance allows private companies to continue its use, therefore it's not a blanket ban, like Jamali asserted.* Ironically, the vulnerable populations he referenced are often targets of law enforcement. FRT has long been used by social media companies and private companies across the U.S. It's being used to catch rioters after the fact, but it failed to "thwart" Trump and his supporters from carrying out the January 6 insurrection, even with weeks of open planning.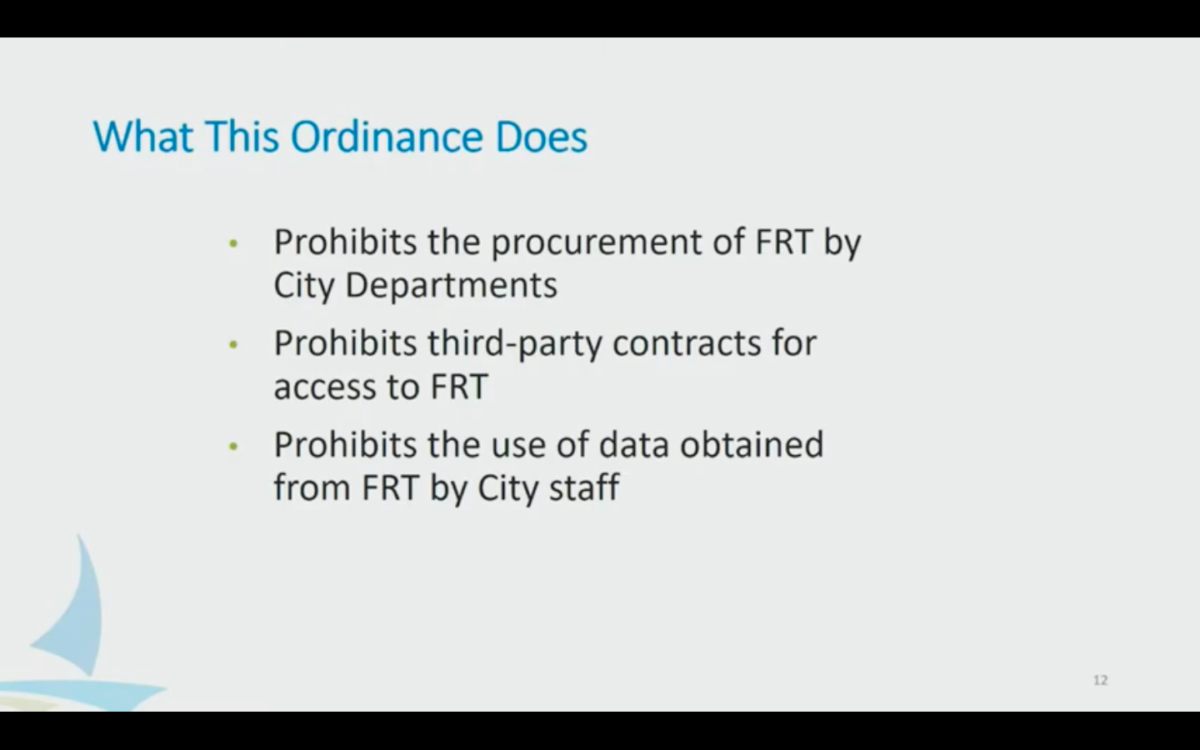 Councilmember Steve Fletcher (DFL) presented the ordinance to the public at the hearing. He cited an existing ordinance protecting residents' privacy data that states: "We do not collect data unless there is a reason to do so."
Michael Rainville, a city council candidate who is challenging Fletcher, told local news that this technology could be a helpful tool for police. "I believe the good of the public safety is first and foremost," adding, "We need to try everything we can to make our city safe again."
Council vice-president, Andrea Jenkins (DFL), implied at the hearing that racism was the problem and if we somehow defeated it, technologies like FRT would not be an issue. Both Jenkins and Fletcher are seen by some observers as contenders to replace retiring City Council president Lisa Bender.
"We're being surveilled at this very moment. …Surveillance technology is a part of our world. We must regulate it to make sure that everybody is being treated equitably," she said, advocating for all people to be equally targeted and surveilled.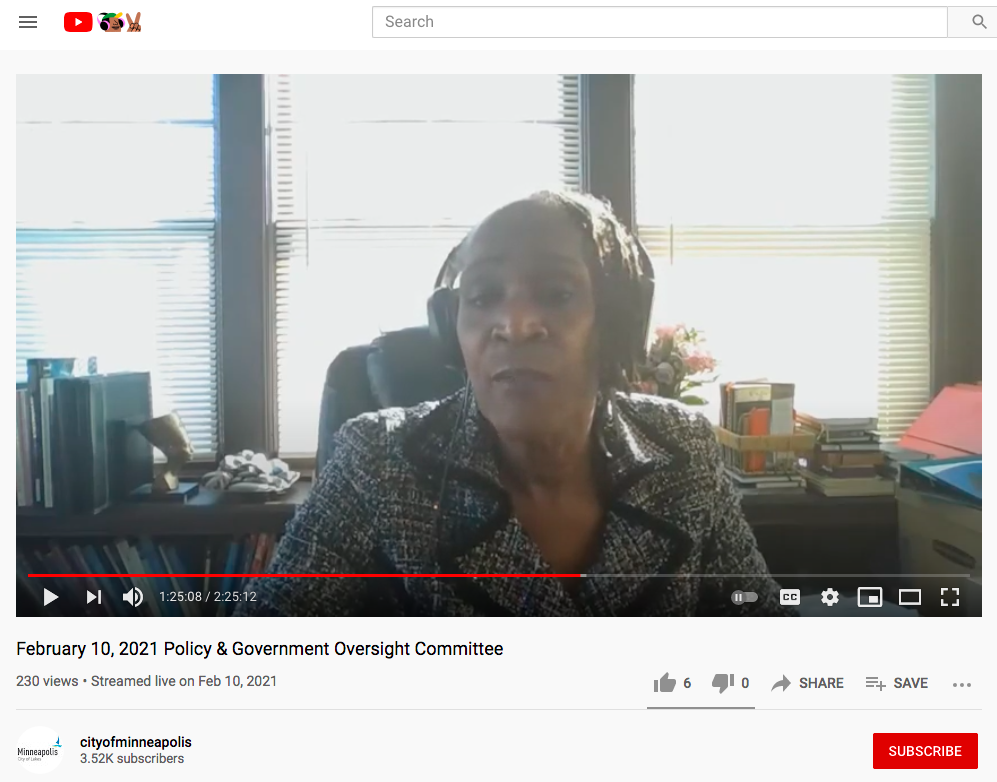 ---
"When the city agrees to use badly designed, oppressive technology…such as…[FRT], the message you are sending to residents is that you…approve of overreaching systemic racist strongholds masked as technological advancements. …Then we [voters] deserve to know why? Why would you condone this? …Why would you declare racism a public health emergency only to allow racism to be transferred to and through technology?

– Elizabeth Adams, Stanford University, Ward 7 – February 10th Surveillance Ordinance Hearing
Opponents of FRT
Amnesty International, who endorsed the ordinance, spoke against FRT. An activist with the group said, "Imagine Bob Kroll coming to power and getting his hands on this," speaking of the former police union president, who was named in a 2007 racial discrimination lawsuit by Minneapolis police chief, Medaria Arradondo and other Black officers.
In 2014, the American Civil Liberties Union (ACLU) of Minnesota published a report detailing systematic racial profiling by Minneapolis law enforcement. The ACLU, who hosted an online forum on January 29, listed in their recent petition pushing for a ban on FRT in Minneapolis, some of its dangers:
"Reinforce racial biases that already exist in policing
"Widen racial disparities in stops and arrests by misidentifying Black, brown and Indigenous people
"Make it easier for authorities like ICE to target vulnerable groups."
FRT opponents at the February 10 hearing made sweeping critiques. Ward 9 activist/educator Cynthia Gomez said: "Due to the entrepreneurial spirit at Target Corp., Minneapolis is already ground zero for the global surveillance state…This is not where we ever want policing… In this first amendment adjacent area," referring to the Target "SafeZone" program. According to the new documentary, Targeted: Young, Black and Harassed in Downtown Minneapolis, by the People Power Podcast, this program has created Jim Crow-like conditions for Black youth experiencing homelessness.
Several at the hearing stated that this ordinance was not strong enough.
"I'm particularly concerned with it being used in combination with existing camera systems on public transit, video doorbells… to create networks to surveil residents even more than what is occurring. …If anything, this ban does not go far enough to limit corporate use."

– Ruby Cromer, photographer, Ward 7
"FRT is biased, broken and undemocratic. It puts communities of color at risk of the very type of police violence we saw so tragically unfold [last] year…"

– Albert Fox Cahn, Surveillance Technology Oversight Project
"FRT cannot be trusted in the hands of MPD or …companies that scrape our social media accounts… Wide use of FRT would put every single residence in a continual police lineup every time we step outside our homes. …[you must] ensure that we do not simply replace racist police with racist technology!"

– Lyndon Burroughs, Ward 2
… "As a white guy who delves into writing software: My biases carry over into the creation of it. …[FRT] doesn't work. It has incredibly disparate impacts. And it inches us closer to an Orwellian surveillance society that no one wants to live in."

– Chris Weiland, co-chair of Restore the Fourth MN
---
Without strong legislation prohibiting the public and private use of FRT at state and national levels, an authoritarian future seems inevitable.
The overwhelming sentiment at the February 10 public hearing was that FRT will be primarily weaponized against Black people and is the last thing the City of Minneapolis should be considering with last year's murder of George Floyd that sparked global uprisings.
A draft of a Minnesota state legislative ban on FRT dated January 27 reads: "Ban on government use of face surveillance. A government entity or​ government official may not:​ obtain, retain, access, or use any face surveillance system or any information obtained​ from a face surveillance system; or​ enter into an agreement or arrangement with a private entity to obtain, retain, access,​ or use any face surveillance system or any information obtained from a face surveillance​ system.​"
At surveillance hearing on the Feb. 10,* councilmember Jenkins said, "I support this ban at this time because the technology is just not ready," citing disparities in recognizing dark skin.
Look no further than China, where FRT is working well to achieve its means. One day soon someone will create an updated version that works perfectly on Black skin. Will the council support it then, paving the way from Jim Crow to genocide?
About the author: Marjaan Sirdar is a freelance writer in South Minneapolis' Bryant neighborhood, where George Floyd was killed by the MPD. He is the host of People Power Podcast.
*Updated 4/16/2023 – Correction: Chris Weiland's name has been corrected.
---
Follow us on X (aka Twitter), Facebook, YouTube, Vimeo, Instagram, Mastodon, Threads, BlueSky and Patreon.
Please consider a tax-deductible donation to help sustain our horizontally-organized, non-profit media organization: